#CentralFloridaSaturdays
Some call my boyfriend and I foodies. I guess this is pretty accurate because we enjoy trying new restaurants and new types of food more than most. While others go on road trips, we go on food trips. Sometimes we drive until we see something new and different to try. We also look up local restaurants that we have never dined at and plan a trip to them.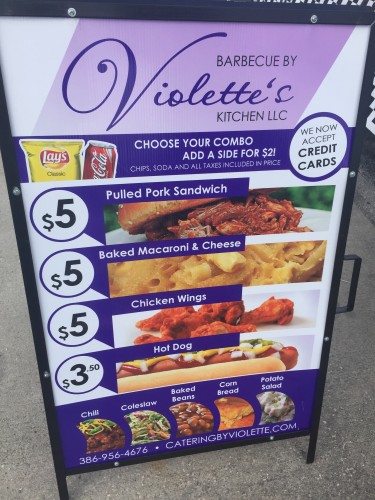 One Saturday we decided to go garage sale hunting, which is something we love to do in our area- Deltona, FL. We were looking for yard sale signs at every light and every street corner. It had been a long day so we were a quite famished. We decided to pick up something quick at the KFC on Providence Blvd and head home. Right before we reached our destination we saw a handwritten sign that said BBQ. We thought, "Why not? It's something different." We followed the arrow on the sign and arrived at a very unique set up in a local business parking lot.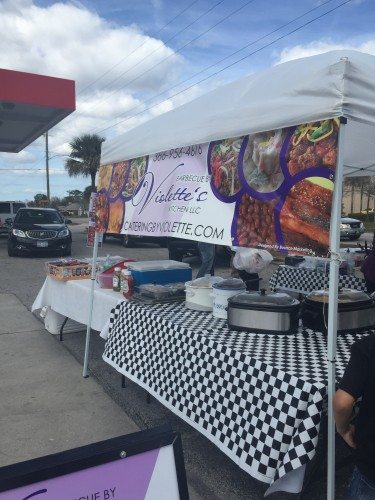 Under a tent stood, what we would learn later to be, a very sweet Haitian woman. Around her were 6-8 crock pots and tubs of food. We were caught off guard when we approached the tent because she greeted us as if we were old friends. She handed my boyfriend and I each a small plate and forks. She then gave us samples of everything in each pot and explained what it was we were trying. We immediately deciphered that these delicious items were home cooked by the lovely lady, Ms. Violette. Serving Caribbean and American food, you cannot go wrong with Violette's Kitchen (She caters too). This is one of the best places to eat in Central Florida!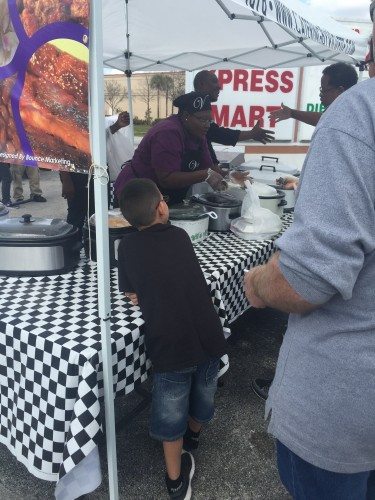 She had Caribbean fried pork (my personal favorite), Curry Chicken, BBQ Ribs, Mac & Cheese, Greens, Cornbread, Plantains, and DELICIOUS rice & beans. Everything, and I mean EVERYTHING, was absolutely delicious. It was hard for us to decide what to pick. I ended up with Curry Chicken, Greens, and Rice. My boyfriend chose the fried pork, rice, and mac & cheese. Our meals included a soda or bottle of water from the ice cooler. Our meals were placed neatly in bags with a napkin and plastic utensils. This was all for $10 a plate!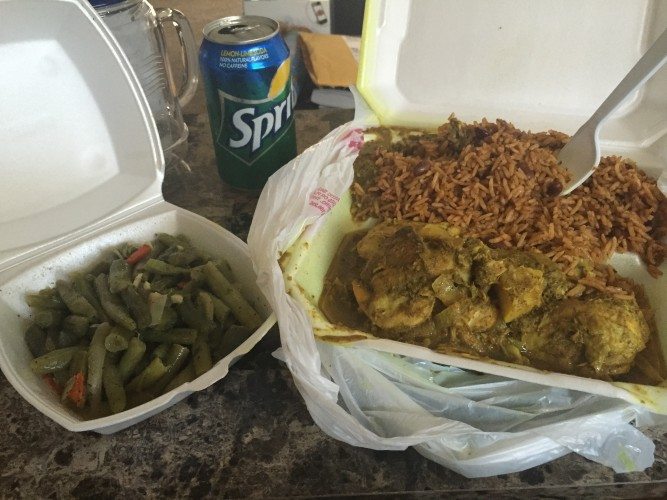 We have visited Violette a few times since then. Each visit she has something new for us to try, like her unique potato salad. If we miss a visit she wonders where we were. The food is delicious and her delightful greeting is even better. She recently moved to 1199 East Normandy Blvd, right on the corner of Normandy Blvd and Providence Blvd. You cannot miss her because their will be a huge tent that says "Catering by Violetta".
If you are ever in the area on a Saturday, you MUST stop by to see her! She will be out from 10am-4pm. You can like her on Facebook to learn more about where she will be and what's on her menu for the day!
Visit her here on Facebook
Visit her website: www.cateringbyviolette.com
Thank you for reading Visit Violette's Kitchen in Volusia County.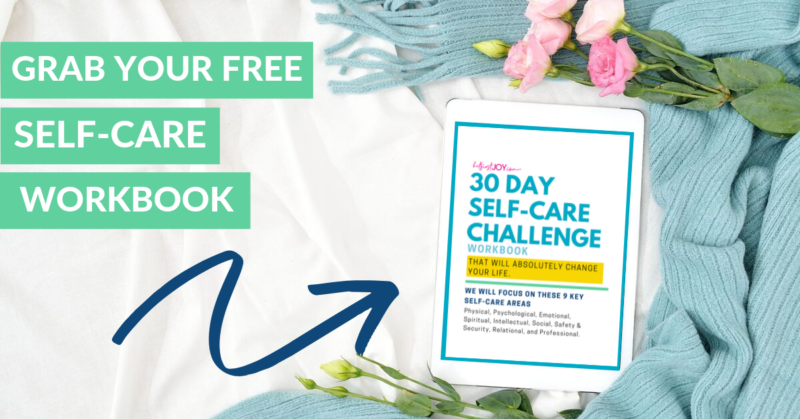 DISCLOSURE
This post may contain affiliate links and/or promotional products, all opinions expressed are that of But First, Joy only. Read my full disclosure.