Each week, Disney Screen hosts four classic Disney films. All four similar themed films play each day and are accompanied with a short film. New films start each Friday and each week has a theme (e.g. Pixar, Zero to Hero and Fun with Families) consistent with the four films being shown.
I just learned about Disney Screen and it's a genius idea! Disney comes up with the most unique ideas. I am totally going to go see my favorite Disney movies in theaters! Luckily there's a theater right near me in Orlando! See what theaters are near you.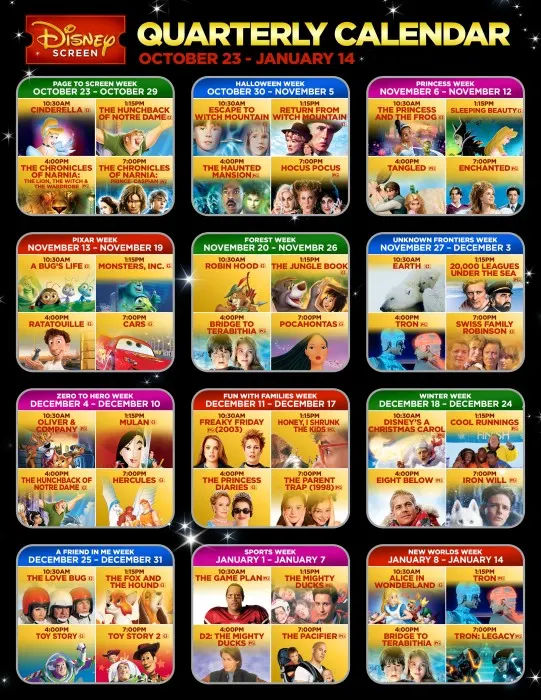 Passes are good for unlimited admission (one pass per person) and can be purchased for a day, week, month, or quarter. Disney Screen continues in Cinemark Theaters in six markets: Dallas, Chicago, Cleveland, Orlando, San Francisco, and Los Angeles.
Disney Screen is a first-of-its-kind membership program and ensures there's always something for families at the movies. It's the perfect family activity!
Your Disney Favorites are Back in Theatres! All Day. Every Day. For a Great Price.
For tickets and information, go to www.disneyscreen.com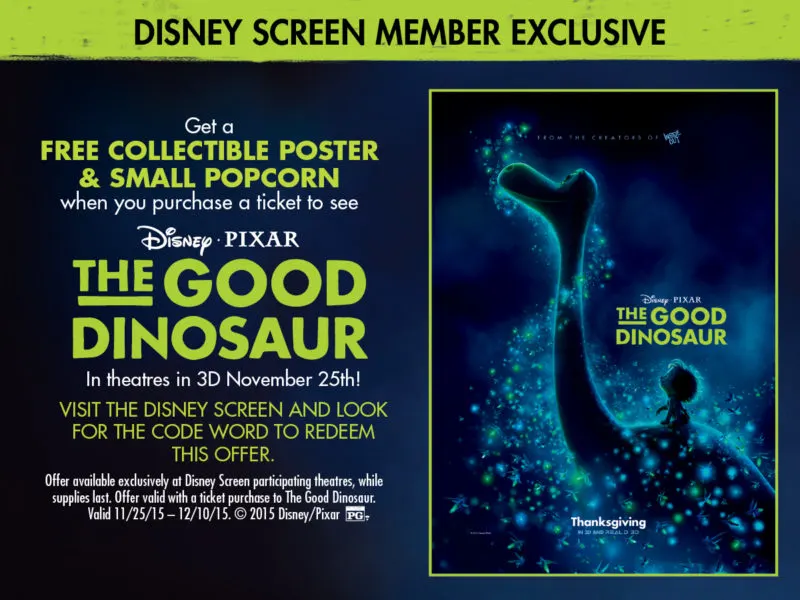 A special offer for The Good Dinosaur
Beginning today, visit the Disney Screen location in Huntington Beach, CA; Woodridge, IL; Valley View, OH and Orlando, FL and look for the code word displayed on screen. Then repeat the code word to the box office attendant when purchasing a ticket to Disney•Pixar's "The Good Dinosaur" and receive a free collectible poster and voucher for a small popcorn!
"The Good Dinosaur" asks the question: What if the asteroid that forever changed life on Earth missed the planet completely and giant dinosaurs never became extinct? Pixar Animation Studios takes you on an epic journey into the world of dinosaurs where an Apatosaurus named Arlo (voice of Raymond Ochoa) makes an unlikely human friend. While traveling through a harsh and mysterious landscape, Arlo learns the power of confronting his fears and discovers what he is truly capable of.
Directed by Peter Sohn and produced by Denise Ream ("Cars 2"), Disney•Pixar's "The Good Dinosaur" opens in theaters on Nov. 25, 2015.
Offer valid exclusively at Disney Screen participating theatres, while supplies last. Offer valid with a ticket purchase only to The Good Dinosaur. Valid 11/25/15-12/10/15.