The boyfriend and I play games weekly. If it were up to me, we would play every night, but our schedules don't allow that. We try to take one or two nights out of the week for our idea of a Family Fun Night. Tonight we played some games and next we will be watching one of our favorite shows together, while munching on some snacks. Tonight was the PERFECT night to have some family fun because we received some new games in the mail from Calliope Games!
We received 3 games, but we only played to because of our time constraints. We were SO excited because these are games that we have never played before. After reading the instructions by boyfriend couldn't wait to play. For him to be excited about games, is really saying something because he doesn't love them as much as I do. So, he rushed me off the computer so we get get started!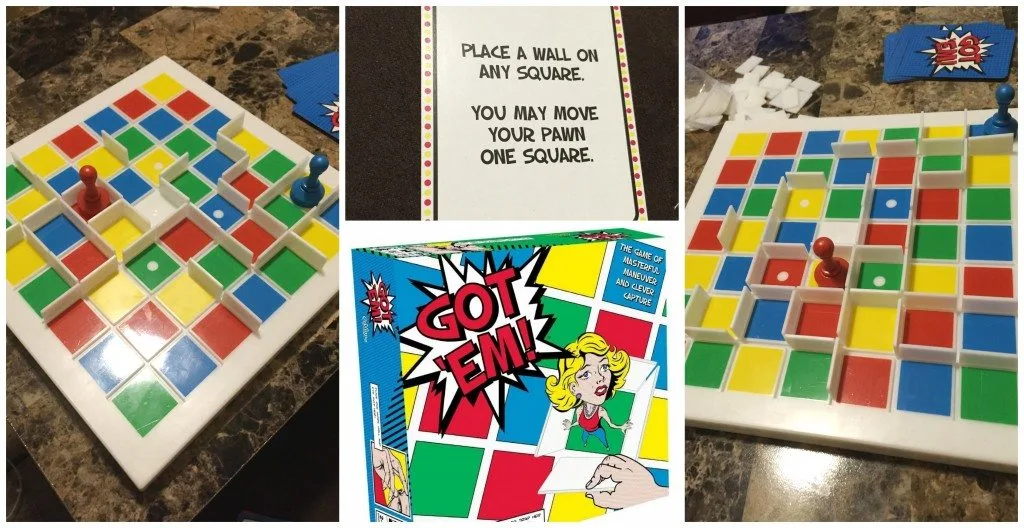 The first Calliope Game that we played was Got Em. First of all, the box is just so darn cool! It looks like a comic book! It is so appealing and is definitely something that could be sold in a variety of stores, even comic book stores. Immediately when you open the box you know that you have something unique on your hands! You have a plastic red, blue, green, and yellow checkered game board with indents around each square, 4 different colored pawns, Got Em cards, and rectangular pieces of white plastic (the walls). Just looking at this, you would have absolutely no idea how to play it. Good thing it comes with thorough and easy to understand instructions! I have to say, the instructions look really cool just like the box does. Anyways, the point of the game is to trap your opponent into a square by placing walls around them. You have 3 cards in your hand at all times, the cards give you options like "Place 1 wall on a yellow square and move your pawn up to 2 times". Your options are pretty open in this game. You basically move where you want, with the exception of diagonal, skipping spaces, or jumping walls. We LOVE Got Em! It is just so fun and intense!! One minute you could think you are winning and the next you are trapped in a darn square! This is a bit of a strategic game. It's definitely one of our new favorites because it's unique and different every time! You can always play a different way on the other side of the board, but we haven't tried that out yet. We played twice. My boyfriend won the first time and I won the second time. I think a TIE BREAKER is in store for us!
Purchase Got Em here
---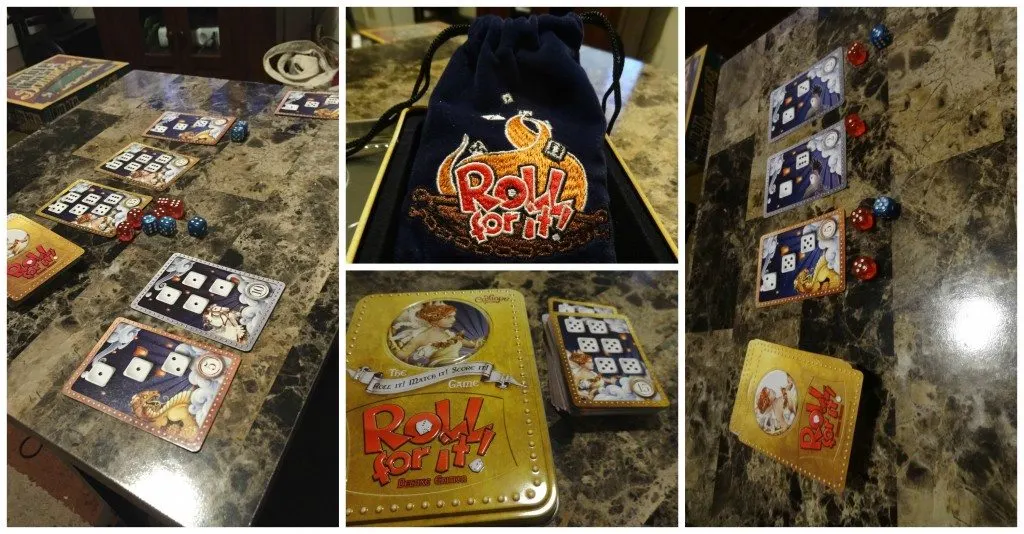 The next game that we played was Roll For It! Deluxe. I love the Deluxe because it comes in a beautiful tin container with a nice Roll For It felt bag to carry the dice and cards. Roll For It! is a really fun game that you could play all day. I've always loved dice games. The dice included in this game are tiny, colorful, and cute. Each person chooses the color that they'd like to play with. You receive 6 dice to roll. The first player to get 40 points wins the game! You lay 3 cards on the table. To earn points you must roll dice to match the cards. If a few of your days match a card, place them next to it and keep rolling until you get it. You have to be careful though- some sneaky boyfriend may steal your card by matching it before you. I liked this game. If you don't like long games, this is perfect for you. It took us no more than 15 minutes gain 40 points each time we played. We played this about four times and I won 1 out of the 4! My sneaky boyfriend liked to go after the same cards as me. I guess it was just his lucky night!
Purchase Roll For It Deluxe Edition here
---
Want to learn more about their games? Head to www.calliopegames.com
Connect on Social Media: Facebook / YouTube / Pinterest / Twitter / Google Plus