I partnered with the Central Florida Zoo for my son's first birthday! They offered me a discounted rate in exchange for my honest opinion!
A few weeks ago, my son turned the big O-N-E. As many parents can relate, his 1st birthday kinda crept up on us. One minute we were taking his 6-month photos and the next, we were scrambling to plan his first birthday party. It doesn't help that his birthday is 2 months after Christmas which feels like a week after Christmas when planning a party.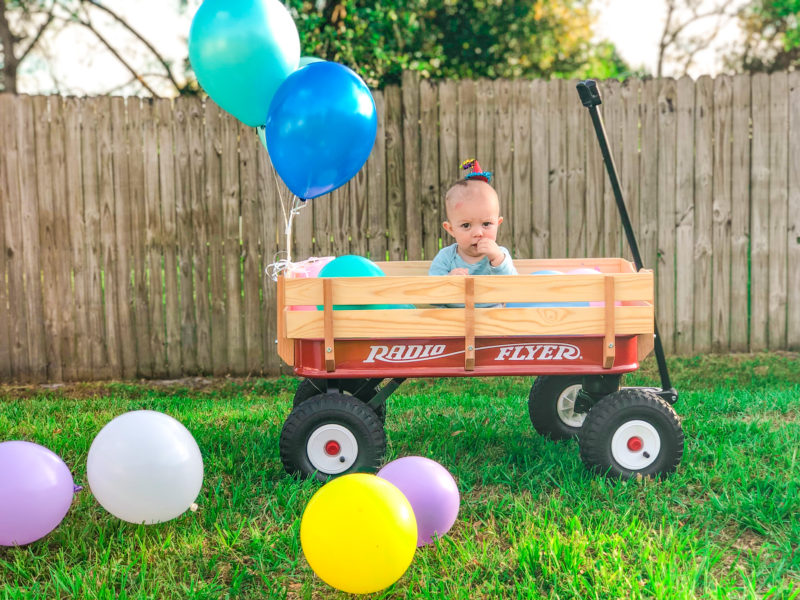 So, we started toying with different party ideas. Initially, we considered throwing his party at our house. Being a first time mom, I just didn't realize the work that goes into birthday parties. The thought of finding food, activities, decor, and entertainment really had me in a scramble. Friends told me that they'd thrown parties at bowling alley's, parks, and skating rinks. All of these ideas sounded great but not for a 1 year old. I wanted something that he could fully enjoy at his age. So, my husband and I started our research for Greater Orlando birthday party venues.
To our surprise, there were a lot of fun and unique party venue options in the Orlando area for toddlers and kids. There were places that simply rented out a party room, leaving all the fun and planning for us us. There were other locations that provided decor and fun, leaving the food and hosting to us. We had a difficult time choosing because many places were geared toward a specific age range and we wanted all the children in our family to have a good time. Also, we just couldn't justify spending $500+ on a venue in addition to the cake and food. There was one place that really stood out to us.
The Central Florida Zoo in Sanford, FL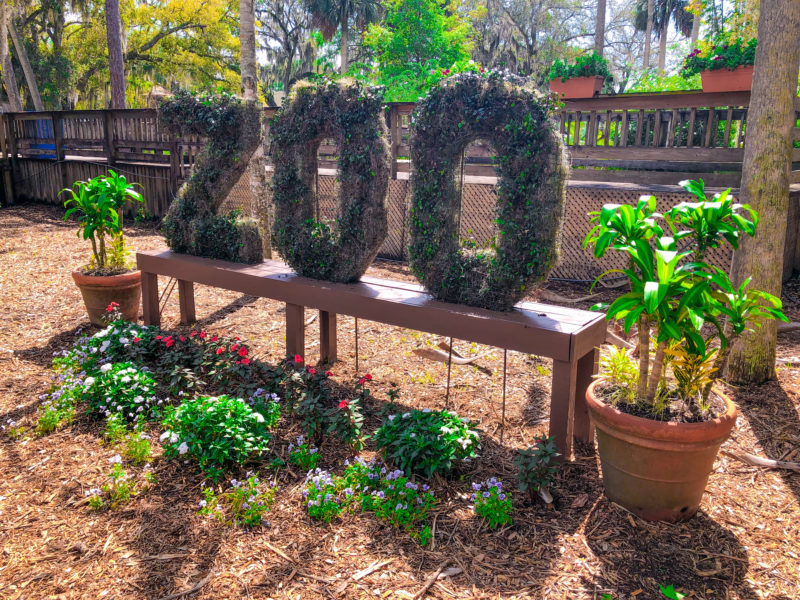 We live in Deltona, FL but we were willing to drive as far as Orlando for our son's birthday party if the price and location was right. When we saw what the Central Florida Zoo was offering – it not only made sense based on the location, the full party experience was 100% worth the price and we'd be spending well under $500 for 20 guests!
As I usually do, I spent a couple days thinking on it. I looked at the website over and over again. My husband and I really wanted to make sure this was something all of our guests would enjoy – especially the birthday boy! We finally put in a request and asked all of the questions we had: can we bring a wagon? Can we visit the zoo before our party? Can you hold the cake for us? All of which were answered with an ABSOLUTELY! It took no time for us to book our Central Florida Zoo Birthday Party.
What's included in the Central Florida Zoo Birthday Party Package?
All of the things. I know that sounds silly but it felt like they gave us everything we needed for a perfect 1st birthday party! The great thing is that they cater their parties to children of all ages! They take care of all the hard stuff!
Just bring the birthday boy and the cake.
They literally told me that. This is everything that's included in the Central Florida Zoo Birthday Party package:
A private, indoor party room with zoo-themed decor, highlighting your child's favorite color.
Zoo admissions for all of your guests!
1 topping pizza – 2 slices per guest.
Lemonade, fruit punch, and water.
Reserved parking space for the birthday child's parents.
Party hosts to keep your party running smoothly, to serve the guests, cut the cake, lead the birthday son, and to kick off games for the kids!
Birthday boy gets a gift pack from the zoo!
1 free train ride and carousel ride for all guests!
Crawling tunnels and floor toys for babies & toddlers (upon request).
High-chairs (upon request)
Animal encounter add-ons: For an additional price, you can choose a small animal for your children to pet and learn about during your party! Animals include: bearded dragon, bunny, guinea pig, snake, tortoise or turtle
Face Painting (at an additional price)
Personalized zoo-themed invitations that can be printed for your guests!
I especially loved that my guests and I could arrive at the zoo early! Our party was at 12:30pm so we got to the zoo around 10am and left around 4pm. It was nice to not feel rushed and to really enjoy the full zoo experience.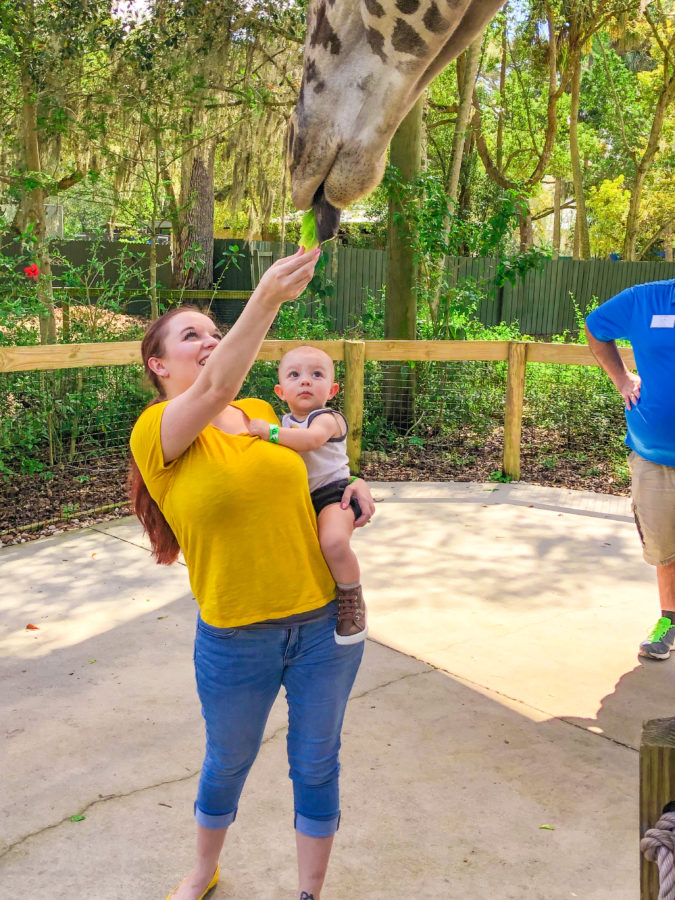 My review of the Central Florida Zoo Birthday Package
When we arrived at the zoo, we went to the admissions side door to drop off the cake. Not only did we get to skip the waiting, all of our guests got to enter the zoo without waiting. When you have a Zoo Birthday Party, you just head straight to the passholder booth just past the entrance to pickup your wristbands. These wristbands allow birthday party guests to enter the party room and get their free train and carousel ride at their leisure.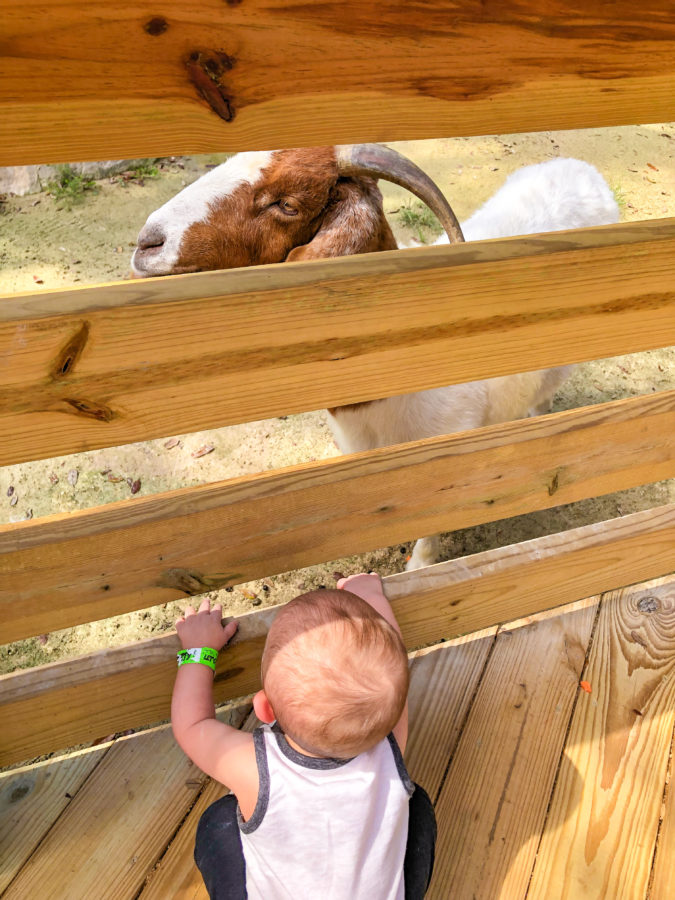 The zoo itself is fantastic. We loved how well laid out everything was, so we could easily navigate the zoo without getting lost, confused, or backtracking. We enjoyed seeing the unique animals and learning more about everything! The wooden bridges made it nice for my toddler to walk and for us to safely pull around our wagon. We strolled around the zoo for a couple hours before our party. To our surprise, there were adult beverages to purchase so some of our party grabbed a few beers.
At last – it was party time! We were welcomed by the sweet Mikaela and her co-host who was in training (I sadly don't remember her name). They were both so cheerful and enthusiastic – which I absolutely loved!
I was immediately taken aback by how lovely the party room was. I definitely couldn't have done a better job myself. The room was decorated from head to floor with zoo-themed party decor. There were plates and cups at all chairs, along with adorable hats for the guests to wear. My son's name placed on the wall with fun bubble letters. There were photo props, games, and a table with the pizza and cake.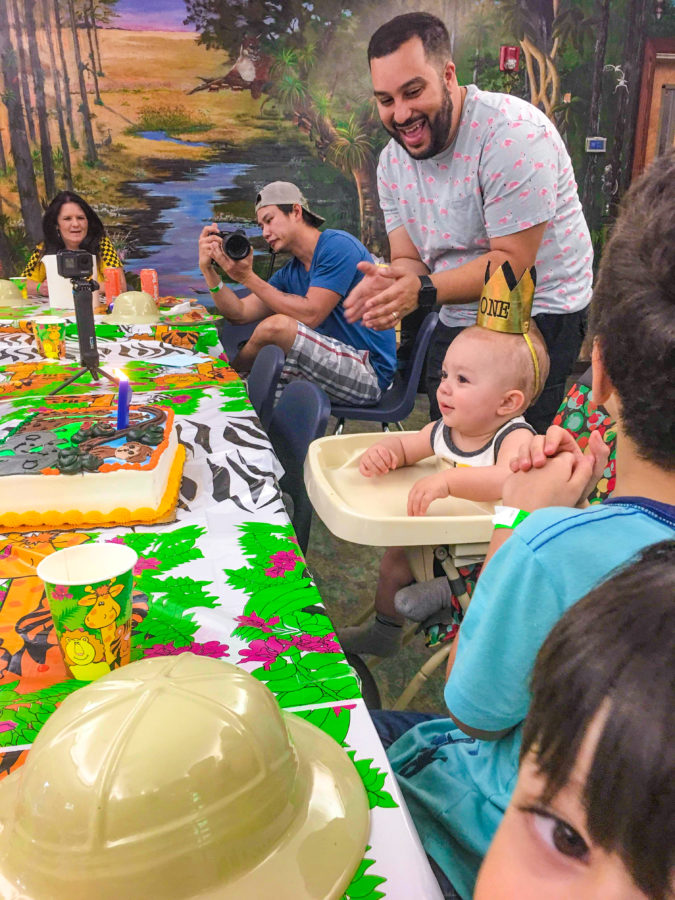 I immediately put the birthday boy on the floor so he could run around in the tunnels and ball pit. This ended up being a huge hit with all the kids! Even the older children crawled through the tunnels and played ball.
The hosts kept the party running very smoothly. They served pizza to all the guests, refilled drinks, played music, lead games, started the birthday song, and one of the party favorites: they brought in the cuddle bunny, Butterscotch, for the kids to pet. The hosts allowed the children to play with the bunny for as long as they wanted.
Per the zoo's request, we didn't unwrap gifts at the party because of the 1 hour allotted party time. I definitely see how that could have been a problem because they party was over before we knew it.
We left the cake with the hosts for us to pickup after the party and ran straight to the train line. My whole party of 20 or so rode the train together. Boy was this a treat! Everyone loved it – adults and children the same. The train runs on a very long track and was really fun. After the ride, the conductor walked us over to the carousel for a ride!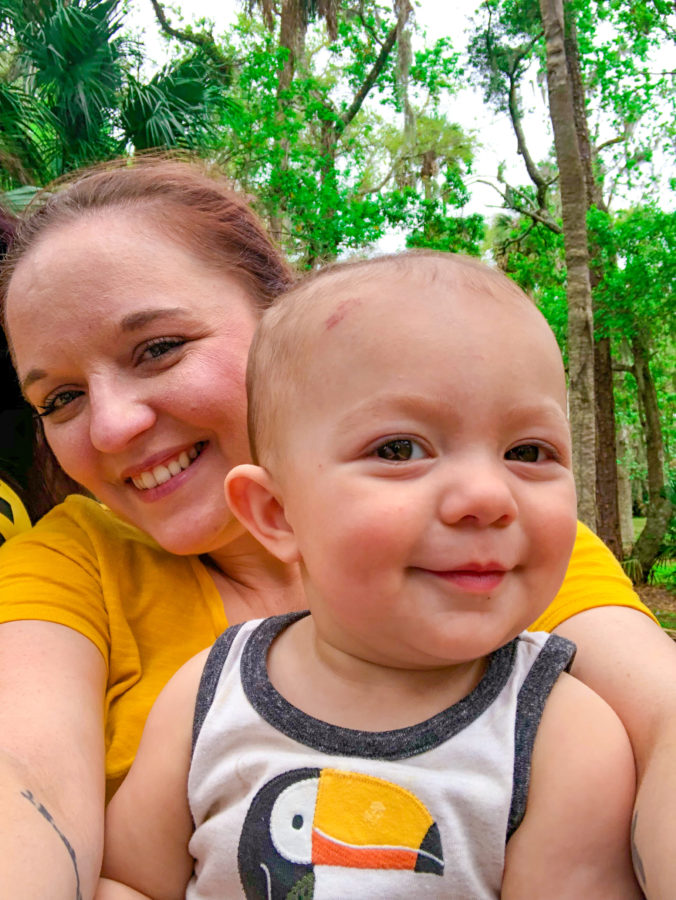 Overall, my son's 1st birthday party at the Central Florida was a huge success and it's one that we will remember forever. In fact, I see many parties at this zoo in our future. It just makes sense to give our guests a whole day of fun! Especially for us because we have guests who drove from another state and from the other side of Florida! It has to be worth it and this party was absolutely worth it!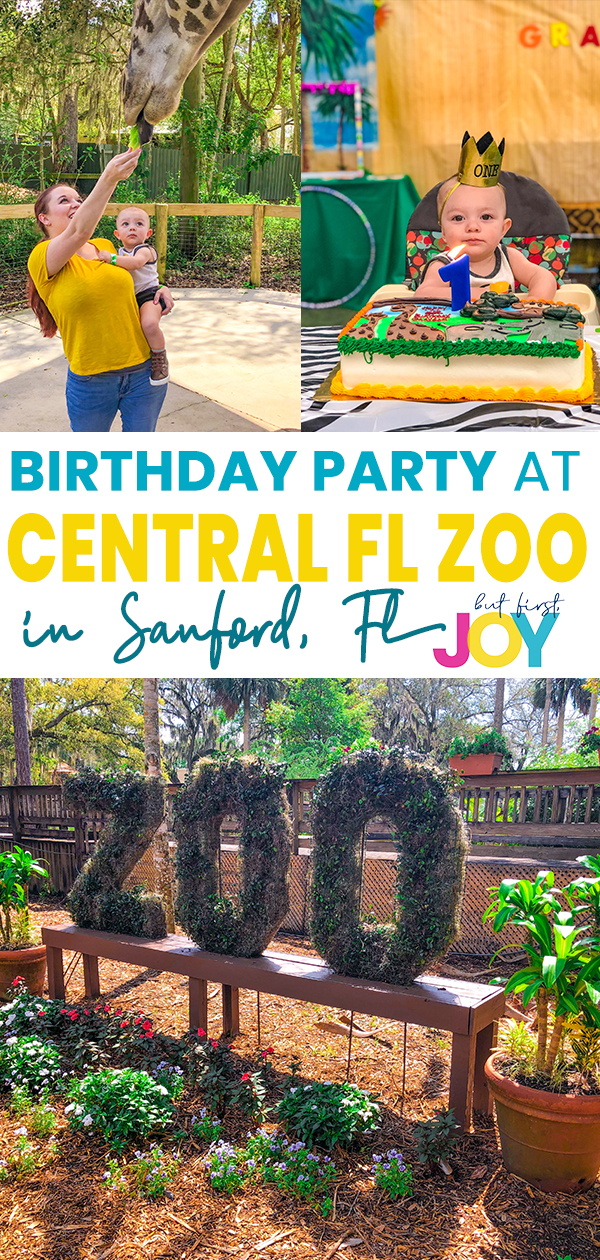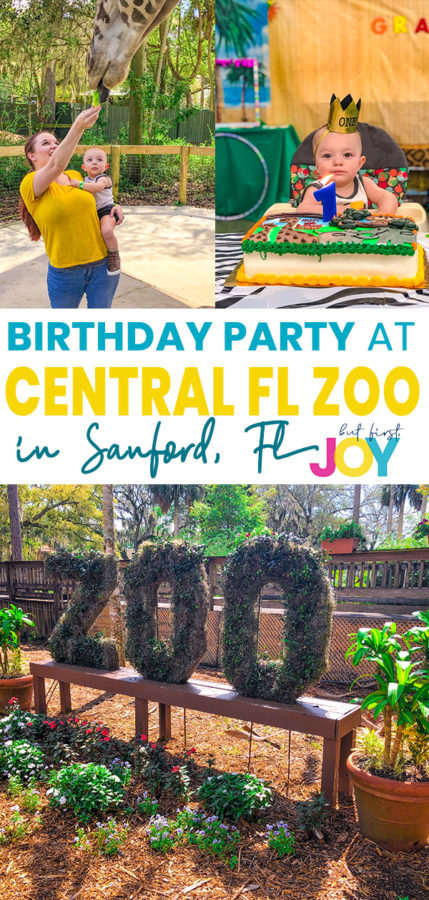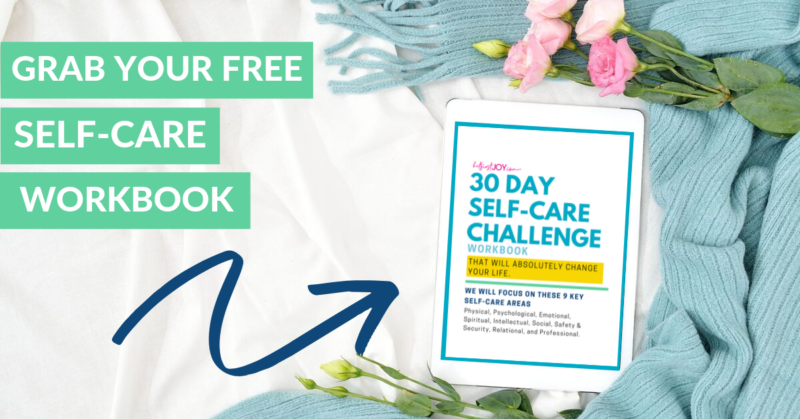 DISCLOSURE
This post may contain affiliate links and/or promotional products, all opinions expressed are that of But First, Joy only. Read my full disclosure.