MARVEL'S

ANT-MAN MICRO-TECH CHALLENGE
SEEKING CREATIVE TECH-SAVVY GIRLS TO FIND THEIR INNER SUPER-HERO BY CREATING SOMETHING "BIG" FROM somethingVERY SMALL!
I know a lot of my readers have very talented young girls in this age-range. This is a perfect opportunity to get your little tech-saavy babes recognized for all of their hard work and talents! I would love to hear about some of your girls' ideas! Good luck everyone!
BURBANK, CA – May 29, 2015 –Disney, Marvel Studios, Dolby Laboratories, Visa Signature and Raspberry Pi® are proud tounite to sponsor a nationwide MARVEL'S ANT-MAN MICRO-TECH CHALLENGE in conjunction with the July 17th release ofMarvel's Ant-Man, starring Paul Rudd, Evangeline Lilly, Corey Stoll, Bobby Cannavale, Michael Peña, Tip "T.I." Harris, WoodHarris, Judy Greer, David Dastmalchian and Michael Douglas as Dr. Hank Pym.
Building on the success of the Ultimate Mentor Adventure, Guardians of the Galaxy: Guardians of Good, Marvel is launching,ANT-MAN MICRO-TECH CHALLENGE with Raspberry Pi. The challenge invites girls nationwide, ages 14 – 18, in grades 9-12,to design and build a DIY project using at least one readily available micro-technology component, which can enable tinkerers,makers, builders and future Imagineers to execute big ideas with a board that fits in their pocket and costs less than a videogame. The projects can be utilitarian, artistic or just plain fun.
After completing a project, applicants will be asked to submit a short video demonstrating the project and explaining how it willinspire other girls to pursue interests in science, technology, engineering, or math.
The five winners will each receive: Two round-trip tickets to Southern California, including hotel accommodations, fromJune 28 through June 30, 2015, to be on the red carpet at the World Premiere of Marvel's Ant-Man at the Dolby Theatre® in Dolby Atmos® on June 29, 2015; attend a special "The Evolution of Technology" workshop on June 30 at The Disneyland®Resort where they will meet Walt Disney Imagineers who will introduce them to the broader scope of technology and howinnovation is inspired during a behind-the-scenes tour of The Disneyland® Resort; and receive a tour of the Walt DisneyStudios in Burbank, California.
Upon completion of the challenge, a STEM-based girls program in each winner's hometown will be selected to receive "re-create" instructions for each project. Each winner will have the opportunity to lead a workshop in building her project with thegirls in the selected program in her community. By sharing their work, the winners will accomplish big things from smallbeginnings by inspiring other young girls to follow their interests in computing, technology, and engineering.
Entries will be accepted from May 21, 2015 through June 11, 2015. For application forms, eligibility requirements, officialcontest rules and more information about MARVEL'S ANT-MAN MICRO-TECH CHALLENGE, please visit www.Ant-ManChallenge.com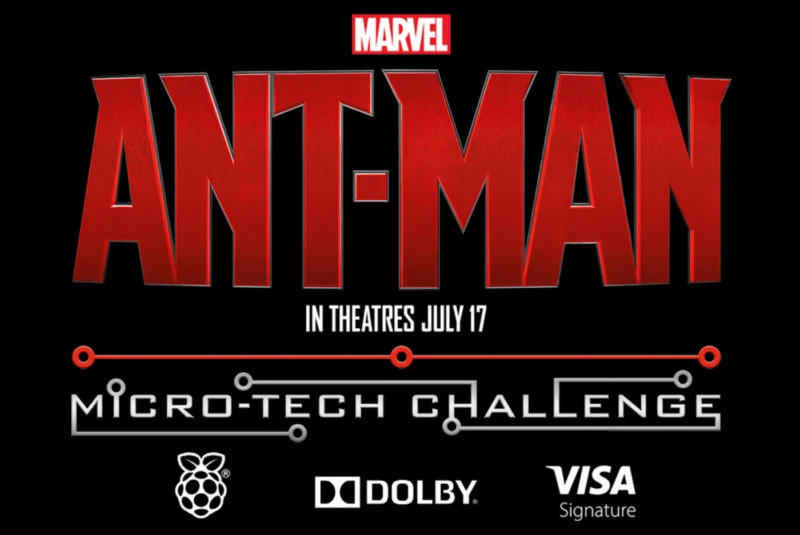 About the Contest:
No purchase necessary. Void where prohibited. Contest commences on or about 9AM PT on May 21, 2015 and ends at11:59 PM PT on June 11, 2015. Open only to girls who are 14-18 years of age on May 20, 2015 and legal residents of the50 United States or the District of Columbia and not employees of Walt Disney Studios Motion Pictures, Marvel, DolbyLaboratories, Visa Signature and Raspberry Pi, or any of their parent, related or affiliated companies nor members of theirhouseholds or immediate families. Limit one (1) entry per person. Winners must be able to travel on June 28, 2015. SeeOfficial Rules at www.Ant-ManChallenge.com for full eligibility and entry requirements, prize description, conditionsand limitations. The official contest sponsor is Walt Disney Studios Motion Pictures.
About Marvel's Ant-Man
The next evolution of the Marvel Cinematic Universe brings a founding member of The Avengers to the big screen for thefirst time with Marvel Studios' Ant-Man. Armed with the astonishing ability to shrink in scale but increase in strength, masterthief Scott Lang must embrace his inner hero and help his mentor, Dr. Hank Pym, protect the secret behind his spectacularAnt-Man suit from a new generation of towering threats. Against seemingly insurmountable obstacles, Pym and Lang mustplan and pull off a heist that will save the world.
Marvel's Ant-Man stars Paul Rudd as Scott Lang aka Ant-Man, Evangeline Lilly as Hope Van Dyne, Corey Stoll as DarrenCross aka Yellowjacket, Bobby Cannavale as Paxton, Michael Peña as Luis, Tip "T.I." Harris as Dave, Wood Harris as Gale,Judy Greer as Maggie, David Dastmalchian as Kurt, and Michael Douglas as Hank Pym.
Peyton Reed directs Marvel's Ant-Man with Kevin Feige, p.g.a. producing and Louis D'Esposito, Alan Fine, Victoria Alonso,Michael Grillo, Stan Lee and Edgar Wright serving as executive producers. The story is by Edgar Wright & Joe Cornish and thescreenplay is by Edgar Wright & Joe Cornish and Adam McKay & Paul Rudd. Marvel's Ant-Man delivers a high-stakes, tension-filled adventure on July 17, 2015.
About Marvel Entertainment
Marvel Entertainment, LLC, a wholly-owned subsidiary of The Walt Disney Company, is one of the world's most prominentcharacter-based entertainment companies, built on a proven library of more than 8,000 characters featured in a variety ofmedia over seventy-five years. Marvel utilizes its character franchises in entertainment, licensing and publishing. Formore information visit marvel.com. © 2015 MARVEL