This event was hosted by Disney. All travel & accommodations were provided by Disney.
Pinocchio is the most recognized and beloved film is the history of Disney animation. We all have a childhood memory involving Pinocchio. My greatest memory is collecting puppets and creating my own little Pinocchio story. Not only is Pinocchio being released on Blu-ray this year, The Walt Disney Family Museum just finished up their Wish Upon a Star: The Art of Pinocchio exhibit and I was lucky enough to attend this magical event!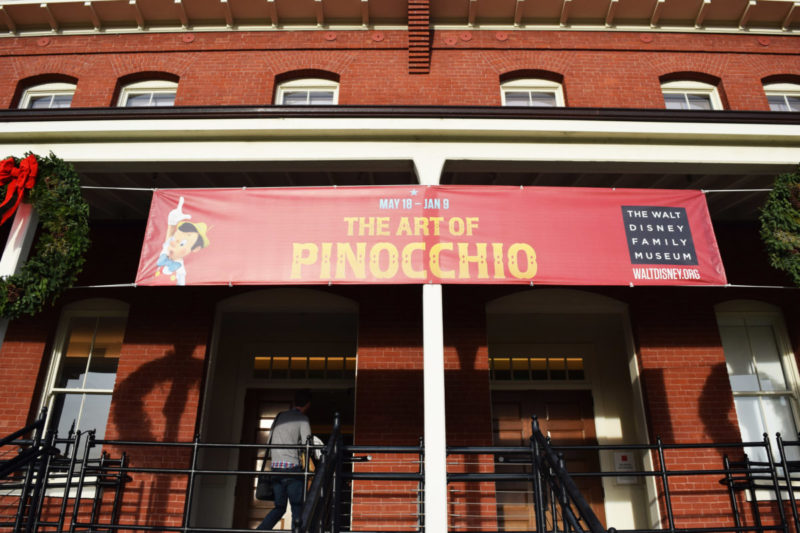 This was my first time visiting San Francisco, much less the Walt Disney Family Museum. There was so much to see in so little time, but we made the Wish Upon a Star: The Art of Pinocchio exhibition our top priority! Since Disney always takes really great care of us, we were guided through the exhibit by a lovely young lady with a love for Disney as great as ours. If you didn't get a chance to visit the exhibit, then take it from me when I say – you missed a lot. Don't you fret, though. I am here to guide you through the exhibition highlights.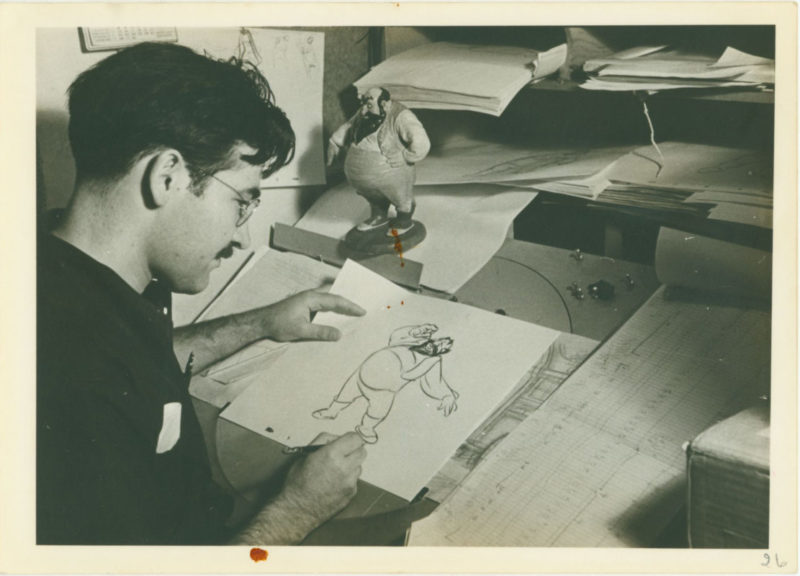 Phases of Production
One of the coolest things at the Pinocchio exhibit was getting a behind-the-scenes look at the production of this Disney classic. We got to see original storyboards from the film, which basically map out how the film is going to play out. Some of the storyboards included Pinocchio smoking a cigar from the famous pool haul scene. One of the most difficult scenes to animate was with Monstro the whale because of his massive size.
We got to experience the production process in a few fun ways, like flip books, clips, and artwork.

Original Artwork and Early Versions of Pinocchio & Geppetto
Part of the production process is finding the right look for Pinocchio. We were guided into a room with original, hand-drawn artwork from the production phases. We got to see an early version of some of the characters, such as Geppetto, who was much more short and chunky than the Geppetto we all know and love. It's also been noted that he looked a lot like Doc, from Snow White. The earlier version was also much more cranky, but Walt decided it would be much more favorable to make him a character that could be sympathized with. It's interesting to think of how different different the movie would have been if these character would have adapted these earlier versions.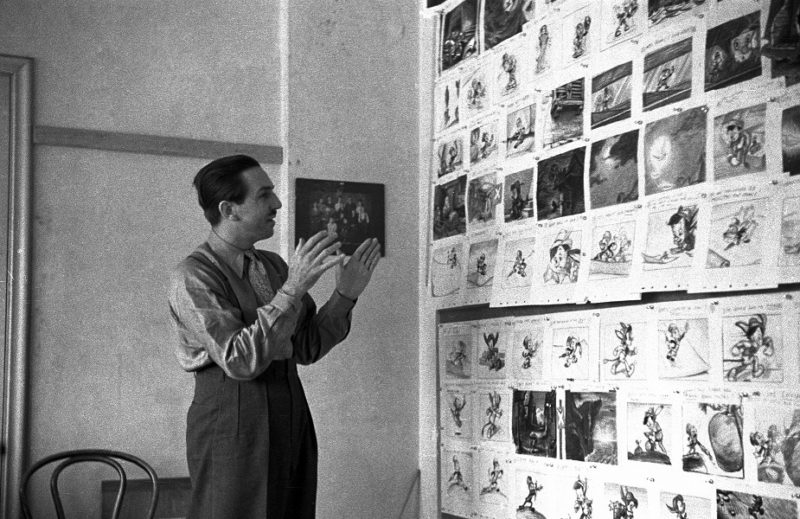 We also learned about how Pinocchio started out as a very unlikable character. They went through many different version of Pinocchio before finalizing the Pinocchio that we're familiar with. Earlier versions of Pinocchio were very boyish and not relatable. They ended up redoing the entire film because they needed a Pinocchio that an audience would love. American Animator, Fred Moore, recreated the Pinocchio exactly to Walt's liking – very boyish, but with hinges to keep that puppet feel. This redesign made him a lot more likable. Towards the end of the film, there was another struggle – how to make Pinocchio become a real boy, since he already looks like a little boy. There's not a huge change, but he was still likable regardless.
Published as an illustrated serial in Italy, the original story of Pinocchio by Carlo Lorenzini, better known by his pen name Carlo Collodi, (1826–1890) presented Walt Disney Wish Upon a Star: The Art of Pinocchio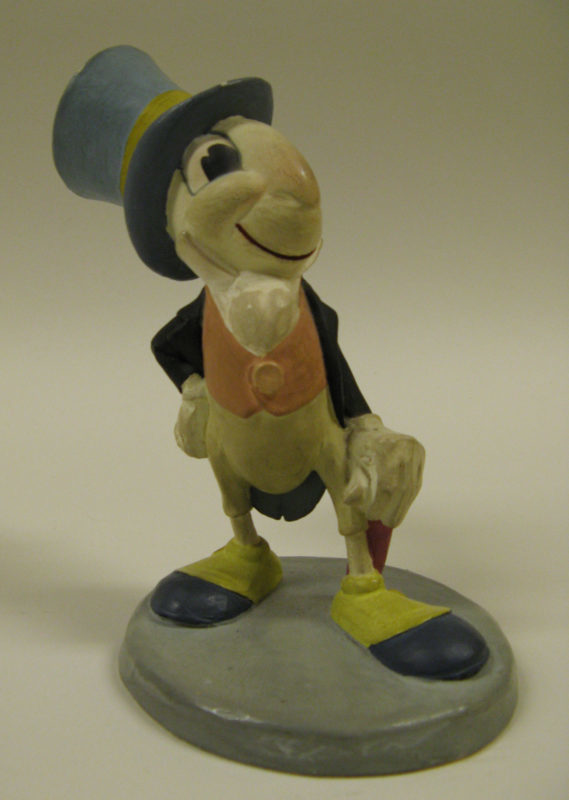 A tour through Geppetto's Workshop
Okay, this was by far the coolest part of the Pinocchio exhibit – touring Geppetto's workshop! The Walt Disney Family Museum had a special designer come in to create most of the pieces in the workshop. Additionally, the exhibit showcased actual maquettes and models that were used when filming Pinocchio. And a fun fact, Pinocchio inspired 3D design in other successful animated films, such as Snow White and the Seven Dwarfs. We even saw an adorable puppet of Pinocchio and a head of Pinocchio that Walt actually held. These designs helped animators get a 360 look at Pinocchio, so they could animate all the character movements. Oh, how I wish I had the photos to show you, but photos were prohibited. So just use your imagination.
With more than 300 objects—including original hand-drawn artwork, character model sheets, cels, maquettes, paintings, conceptual artwork, artifacts, flipbooks, and film clips—Wish Upon a Star showcases the intricate, labor-intensive processes of traditional hand-made animation as developed at the Studios. The story of Pinocchio's creation is presented in six sections: story, design, production, art direction, character development, and animation.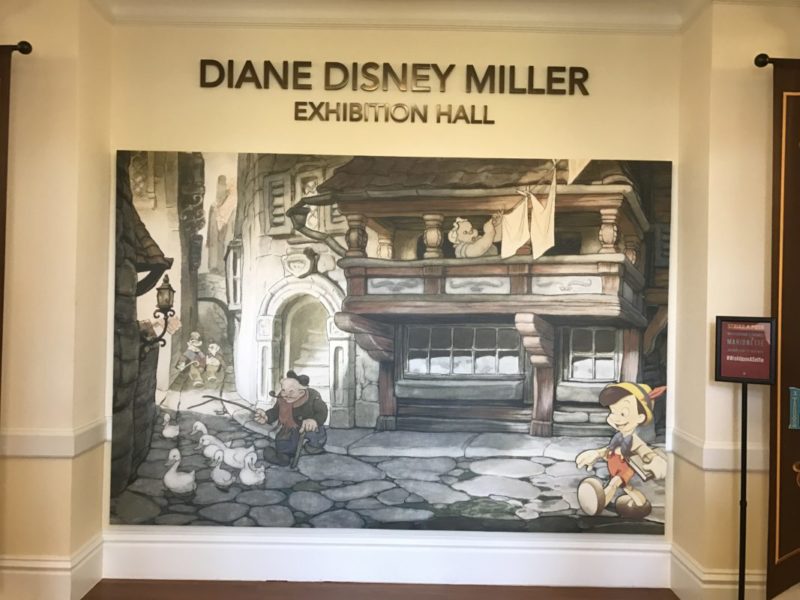 A fun fact about Pinocchio and Bambi
It was the second featured film by Disney, but Bambi was supposed to be the second, leaving Pinocchio as the third. Bambi took so long to complete that they had to push back the date. We got to see F3 written on all the character model sheets for "Feature 3" because it was third in line to be released. That's a little interesting tidbit for you!

More about the Wish Upon a Star: The Art of Pinocchio and The Walt Disney Family Museum
The Walt Disney Family Museum presents the fascinating story and achievements of Walt Disney, the man who raised animation to the level of fine art, transformed the film industry, tirelessly pursued innovation, and created a global yet distinctively American legacy. Opened in October 2009, the 40,000 square foot facility features the newest technology along with a vast collection of historic materials and artifacts to bring Disney's achievements to life, myriad interactive galleries presenting early drawings and animation, movies, music, listening stations, a spectacular model of Disneyland and much more.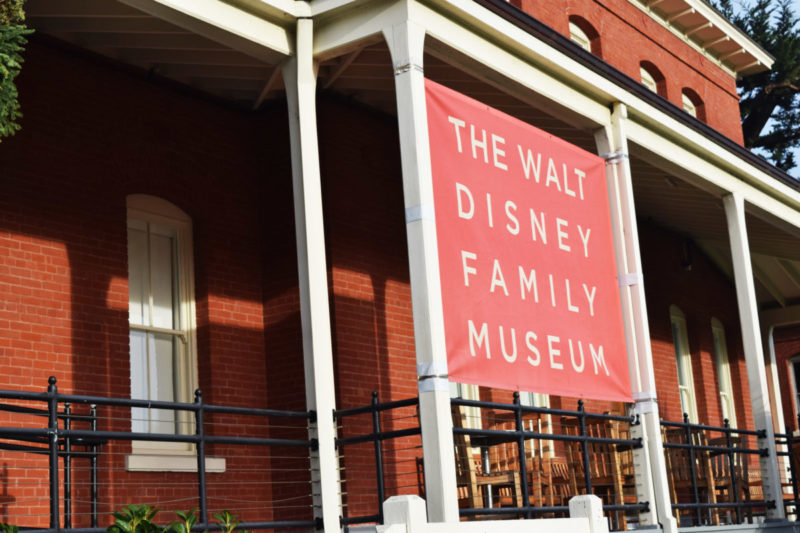 The Walt Disney Family Museum has created many world-class exhibitions, such as Disney and Dalí: Architects of the Imagination; MAGIC, COLOR, FLAIR: the world of Mary Blair; and Water to Paper, Paint to Sky: The Art of Tyrus Wong, several of which have traveled to other museums around the world. Wish Upon a Star: The Art of Pinocchio is the fifteenth exhibition originated by museum since 2012.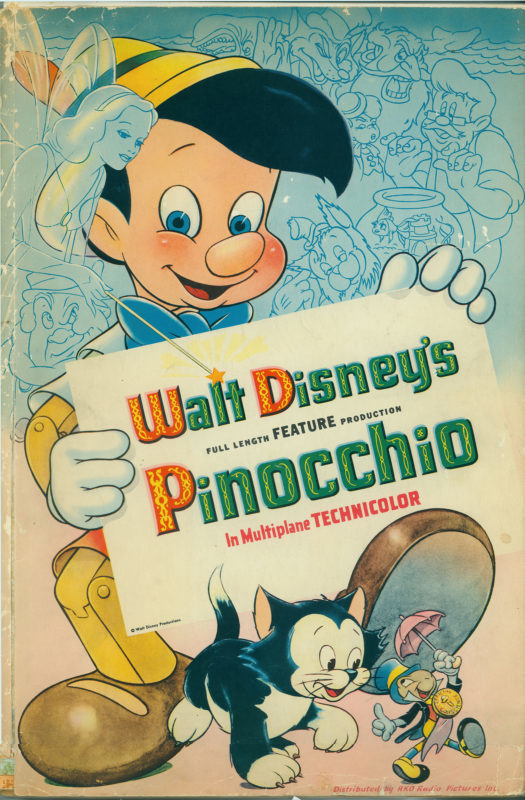 Wish Upon a Star: The Art of Pinocchio was organized by The Walt Disney Family Museum and presented in the Diane Disney Miller Exhibition Hall from May 18, 2016 through January 9, 2017.
Pinocchio will be available on DVD & Blu-ray 1/31/17
Disney's timeless tale
Pinocchio
, considered one of the greatest animated films ever made with two Academy Awards, joins the Walt Disney Signature Collection. Now it will delight a whole new generation of dreamers with its masterful animation, unforgettable characters and award-winning music. The movie which inspired the world to wish upon a star, arrives for the first time on
Digital HD and Disney Movies Anywhere on Jan. 10, and on Blu-ray™ and DVD on Jan. 31
with hours of new and classic bonus features.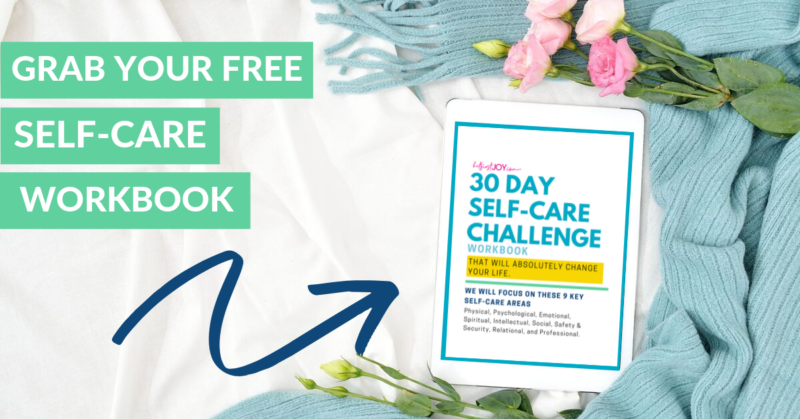 DISCLOSURE
This post may contain affiliate links and/or promotional products, all opinions expressed are that of But First, Joy only. Read my full disclosure.