I love walking into the new year knowing that a ton of new films are set to release on DVD/Blu-ray! What better way to start a new year than with a bunch of new films to binge-watch at home? The weather has been cool and rainy here in Florida. Basically, the cuddle weather is on point which means my Blu-ray collection is wearing out. I've watched everything at least twice already, so I'm loading up my wish list with these new films and I think you should too! Most of these have not been released just yet, but are available for preorder on Amazon.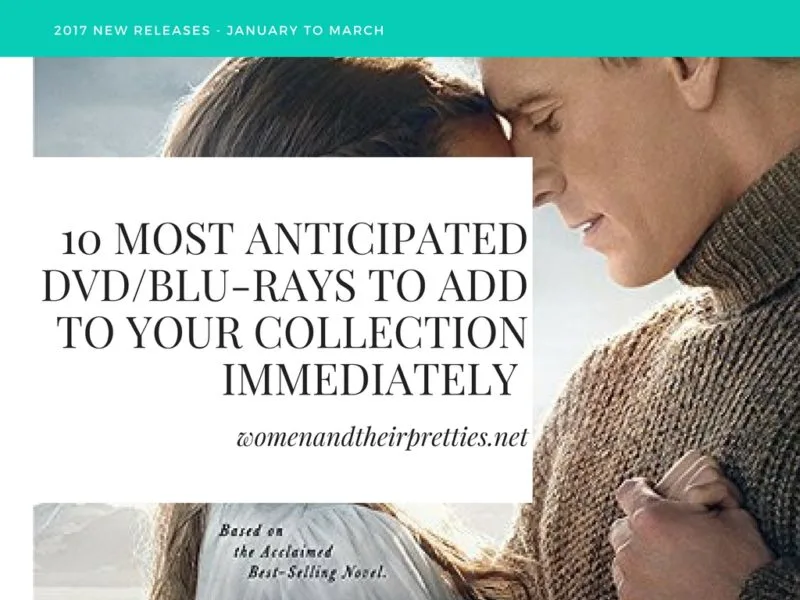 1. The Lion Guard – Life in the Pride Lands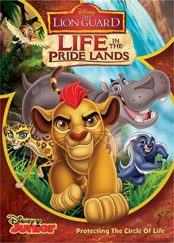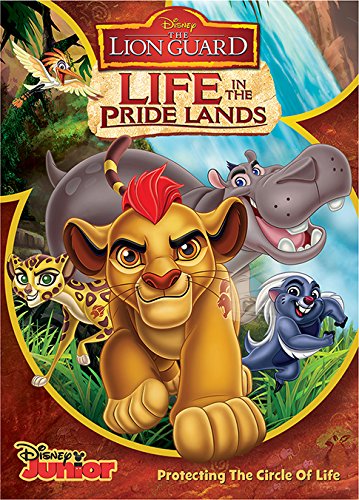 Where to Buy: Get it on Amazon – Releasing on January 10, 2017
Synopsis: Rough, tough and roarin' to go, your favorite heroes are back for more epic adventures based on the legacy of THE LION KING. Join Kion and his fearless friends as they celebrate within the Circle of Life and race to the rescue in five action-packed episodes also featuring King Simba, the spirit of Mufasa and the hilarious antics of Timon and Pumbaa. You'll go wild for all the ferocious fun, because whether THE LION GUARD team is tracking a rogue leopard, foiling tricky jackals or facing stubborn crocodiles, LIFE IN THE PRIDE LANDS is always "hevi kabisa" — totally intense!
DVD Bonus Features: Music Videos and "It's UnBungalievable!" Shorts
2. The Girl on the Train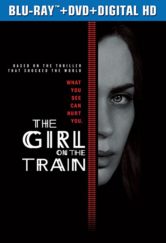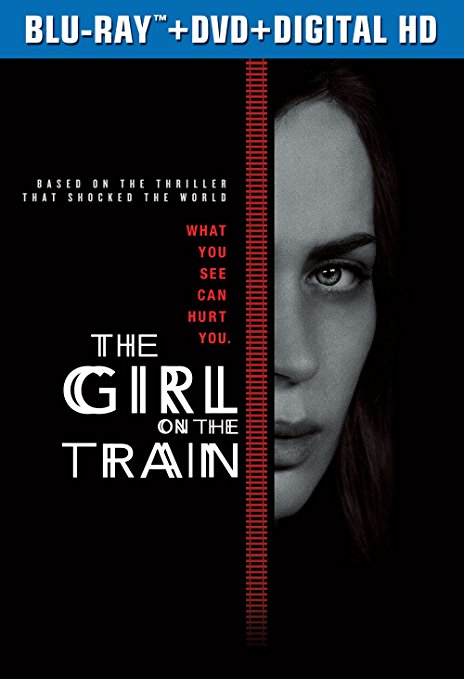 Where to Buy: Get it on Amazon – Releasing on January 17, 2017
Synopsis: The Girl on the Train is based on Paula Hawkins' bestselling thriller that shocked the world. Rachel (Emily Blunt), devastated by her recent divorce, spends her daily commute fantasizing about the seemingly perfect couple who live in a house that her train passes every day. Everything changes when she sees something shocking happen there, and becomes entangled in the mystery that unfolds.
Special Features on Blu-ray/DVD:
Digital Copy of The Girl on the Train (Subject to expiration. Go to NBCUCodes.com for details.)
Includes UltraViolet (Subject to expiration. Go to NBCUCodes.com for details.)
Deleted and Extended Scenes
The Women Behind The Girl
On Board The Train
Feature Commentary with Director Tate Taylor
Deleted and Extended Scenes
The Women Behind The Girl
3. The Light Between Oceans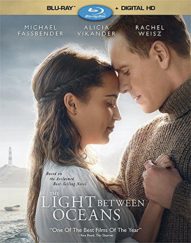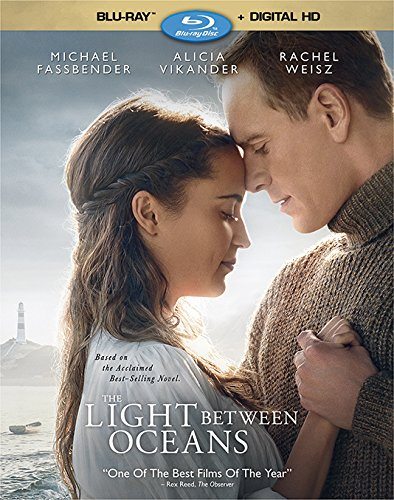 Read My Review: Light Between Oceans Review – For someone who's never read the book
Where to Buy: Get it on Amazon – Releasing on January 24, 2017
Synopsis: Lighthouse keeper Tom Sherbourne (Michael Fassbender) and radiant, spirited Isabel (Alicia Vikander) live together in married bliss on a remote, rugged island off the coast of Australia. But their windswept world is turned upside down when Isabel learns that she's unable to bear a child. One day, a drifting lifeboat washes ashore with a crying baby in it. The dilemma the couple now face will echo far beyond the island, engulfing and irrevocably impacting their world — and that of a stranger (Rachel Weisz) — in a passionate story about love, hope, and a fateful choice.
Bonus Features: The timeless tale of love, relationships, and impossible choices is a must for any of lush, beautiful romantic movies. This release includes never-before-seen bonus features, including a documentary which reveals director Derek Cianfrance's unique approach that allowed the all-star cast to embody their characters and examine the power of love; a historical look at New Zealand's Cape Campbell Lighthouse that serves as Janus Rock, a key element in Stedman's novel; and insightful and in-depth audio commentary led by Cianfrance.
4. Pinocchio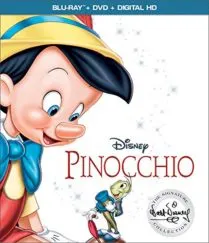 Where to Buy:
Get it on Amazon
– Releasing on January 31, 2017
Synopsis: Now a part of the celebrated Walt Disney Signature Collection, the timeless story of PINOCCHIO inspires a new generation with its masterful animation, award-winning music, unforgettable characters and exclusive, all-new behind-the-scenes Bonus Extras! With his faithful friend Jiminy Cricket by his side, Pinocchio embarks on fantastic adventures that test his bravery, loyalty and honesty until he triumphs in his quest for his heart's desire: to become a real boy.
More about the DVD/Blu-ray Release:
Disney's timeless tale Pinocchio, considered one of the greatest animated films ever made with two Academy Awards, joins the Walt Disney Signature Collection. Now it will delight a whole new generation of dreamers with its masterful animation, unforgettable characters and award-winning music. The movie which inspired the world to wish upon a star, arrives for the first time on Digital HD and
Disney Movies
Anywhere on Jan. 10, and on Blu-ray™ and DVD on Jan. 31 with hours of new and classic bonus features.
5. Queen of Katwe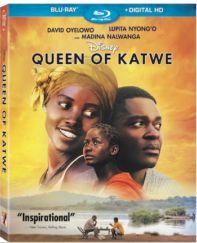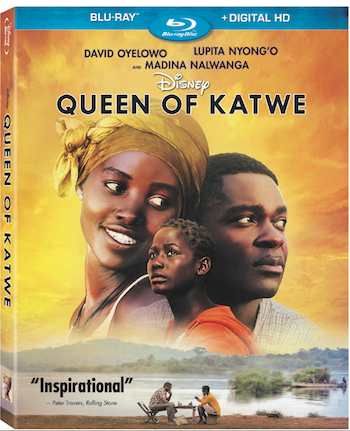 Where to Buy:
Get it on Amazon
– Releasing on January 31, 2017
Synopsis: Home audiences will cheer for Disney's Queen of Katwe, which has earned widespread critical acclaim. Based on the vibrant true story of a young girl (Madina Nalwanga) from the streets of Uganda whose world changes when she is introduced to the game of chess, and, as a result of the support she receives from her family and community, is instilled with the confidence and determination she needs to pursue her dream of becoming an international chess champion. It is a remarkable story of perseverance against all odds that will leave viewers feeling humbled and inspired. According to director Mira Nair, "The triumph of the human spirit is not to weep for what we don't have but to focus on what we do have and allow that to take us to a place we never imagined possible."
Bonus Features:
Queen Of Katwe: Their Story

– Discover the stories behind the people who came together to bring the film to life, and how they reflect the vibrant community, culture and spirit it celebrates.

A Fork, A Spoon & A Knight

– Director Mira Nair's short film about Robert Katende, a boy who grows up to transform a Ugandan city into a globally renowned chess sanctuary.

In The Studio With Alicia Keys

– Go behind-the-scenes with Alicia Keys for an inspiring look at the song's recording.

Alicia Keys "Back To Life" Lyric Video

– Sing along with on-screen lyrics.

Young Cardamom & HAB "#1 Spice" Music Video

– The Ugandan hip-hop duo bring the flavor in a music video directed by Mira Nair.

Audio Commentary

– With Director Mira Nair.

Deleted Scenes

(8) – With Introductions by Director Mira Nair.
6. Loving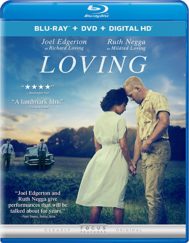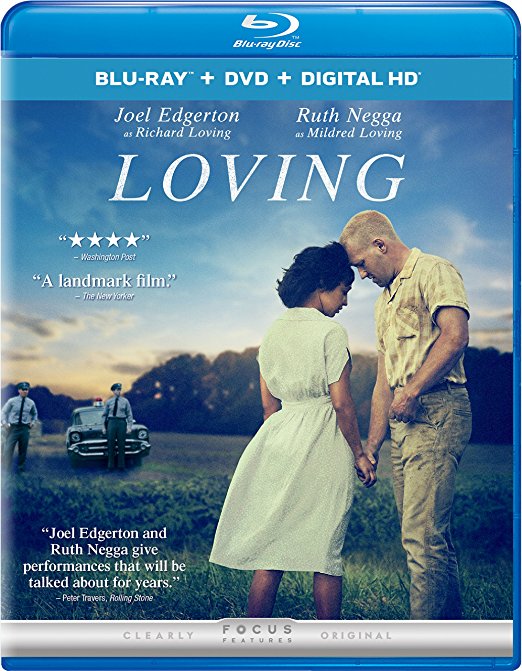 Read my review: 5 Things The Loving Movie Taught Me About Love, Faith, and Equality
Where to Buy: Get it on Amazon – February 7, 2017
Synopsis: In 1958, in the state of Virginia, the idea of interracial marriage was not only considered to be immoral to many, it was also illegal. When Richard (Joel Edgerton, Black Mass) and Mildred (Ruth Negga, World War Z) fall in love, they are aware of the eyes staring at them and the words said behind their backs. It is when they get married, however, that words and looks become actions, and the two are arrested. The couple decide to take their case all of the way to the Supreme Court in order to fight for their love in this passionate and gripping drama that critics are calling "a masterpiece." – Jason Gorber, ScreenAnarchy.com
Bonus Features:
Digital Copy of Loving (Subject to expiration. Go to NBCUCodes.com for details.)
Includes UltraViolet (Subject to expiration. Go to NBCUCodes.com for details.)
Making Loving
A Loving Ensemble
Loving v. Virginia
Virginia: A Loving Backdrop
Feature Commentary with Director Jeff Nichols
7. Almost Christmas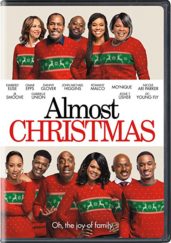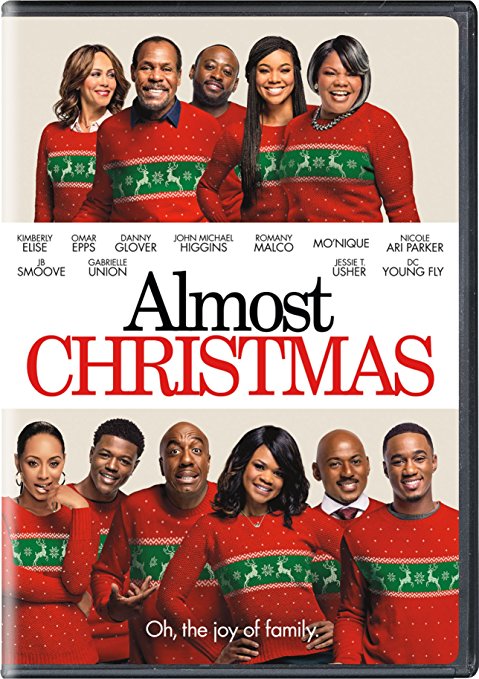 Read My Review: 6 things Almost Christmas taught me about family – My Almost Christmas Review
Where to Buy: Get it on Amazon – February 07, 2017
Synopsis: Oh, the joy of family. A new comedy from writer/director David E. Talbert (Baggage Claim) and producer Will Packer (Ride Along, Think Like a Man series), Almost Christmas tells the festive story of a beloved patriarch who asks his family for one gift this holiday season: to get along. If they can honor that wish and spend five days under the same roof without killing one another, it will be a Christmas miracle. Share the holiday love, laughs, and charm with an all-star cast including Danny Glover, Mo'Nique, JB Smoove, Gabrielle Union, Jessie T. Usher, and Omar Epps.
Bonus Features:
Even More Gags
Aunt May Unplugged
Home For the Holidays
The Director Diaries
Walter Meyers' Sweet Potato Pie
My Favorite Scene Is…
Working With Actors
Feature Commentary with Director David E. Talbert, Editor Troy Takaki and Apprentice Editor Gene Lewis Jr.
8. Doctor Strange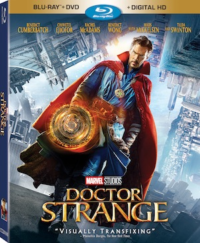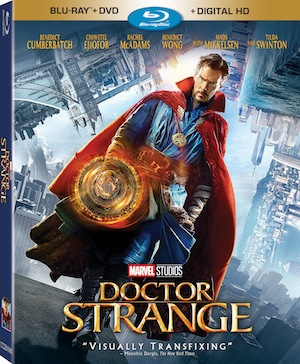 Where to Buy: Get it on Amazon – February 28, 2017
Synopsis: From Marvel Studios comes DOCTOR STRANGE, the story of world-famous neurosurgeon Dr. Stephen Strange (Benedict Cumberbatch), whose life changes forever after a horrific car accident renders his hands useless. When traditional medicine fails him, he travels to remote Kamar-Taj in search of a cure, but instead discovers the mystical arts and becomes a powerful sorcerer battling dark forces bent on destroying our reality.
Bonus Features: A Strange Transformation — Open your eye to a new dimension of the Marvel Cinematic Universe, and see how the filmmakers brought one of comic books' greatest characters to life|Strange Company — Find out what it's like for the cast to work on a Marvel film, and how Director Scott Derrickson engineered one of the most ambition, imaginative films ever|The Fabric of Reality — Take a closer look at the movie's extraordinary sets, meticulously crafted costumes and amazingly detailed production elements|Across Time and Space — Explore the endless hours of dance and fight choreography the actors endured in preparation for their physically demanding roles|The Score-cerer Supreme — Join composer Michael Giacchino and a full orchestra during live recording sessions, and experience the movie's mind-bending music|Marvel Studios Phase 3 Exclusive Look — Get an early peek at Marvel's spectacular upcoming films, including MARVEL STUDIOS' GUARDIANS OF THE GALAXY VOL. 2, THOR: RAGNAROK, BLACK PANTHER and AVENGERS: INFINITY WAR|Team Thor: Part 2 — See more of the hilarious partnership between Thor and his roommate Darryl in this satirical short|Audio commentary with Scott Derrickson|Deleted Scenes|Gag Reel
9. Mickey and The Roadster Racers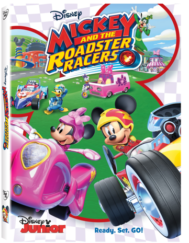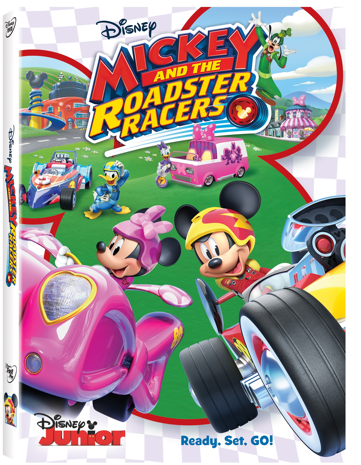 Where to Buy: Get it on Amazon – March 7, 2017
Synopsis: Rev up your engines and get set to cheer for MICKEY AND THE ROADSTER RACERS! Welcome to Hot Dog Hills, where Mickey and his pals run the coolest garage on the planet. Join them for high-octane thrills as they power up their amazing, transforming cars for races through the town… and around the world! With spirited competition and wacky new inventions, it's a wild ride that's turbo-charged with nonstop laughter and awesome adventures from start to finish!
More about the release: Mickey Mouse, his friends and fast, transforming racecars. What's not to love? MICKEY AND THE ROADSTER RACERS will be making its Disney DVD debut on March 7th, so mark your calendars for this high-octane release! Minnie and Daisy join in the racing fun and still finding time to help others. When these racers aren't zooming to victory, they're solving problems for anyone in need at their fabulous "Happy Helpers" headquarters. With friendly competition and fun new vehicles, MICKEY AND THE ROADSTER RACERS is a wild ride that's turbo-charged with nonstop laughter and awesome adventures from start to finish!
10. Moana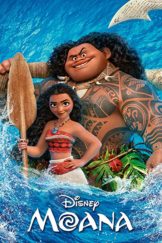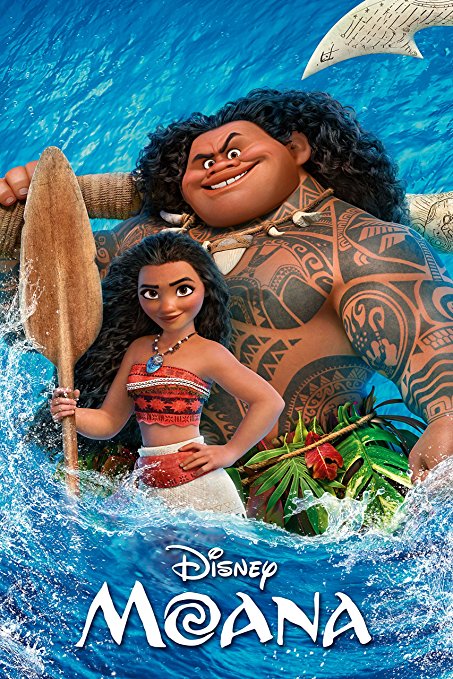 Where to Buy: Get it on Amazon – March 7, 2017
Synopsis: Three thousand years ago, the greatest sailors in the world voyaged across the vast Pacific, discovering the many islands of Oceania. But then, for a millennium, their voyages stopped – and no one knows why. From Walt Disney Animation Studios comes Moana, a sweeping CG-animated feature film about an adventurous teenager who sails out on a daring mission to save her people. During her journey, Moana, meets the once-mighty demigod Maui, who guides her in her quest to become a master wayfinder. Together, they sail across the open ocean on an action-packed voyage, encountering enormous monsters and impossible odds, and along the way, Moana fulfills the ancient quest of her ancestors and discovers the one thing she's always sought; her own identity.