The biggest Disney convention in the world is coming up and I'll be attending! Disney is flying me to CA for the 2017 D23 Expo and for Summer of Heroes at Disneyland. All magical opinions expressed here are honest! Literally, I am just this Disney obsessed.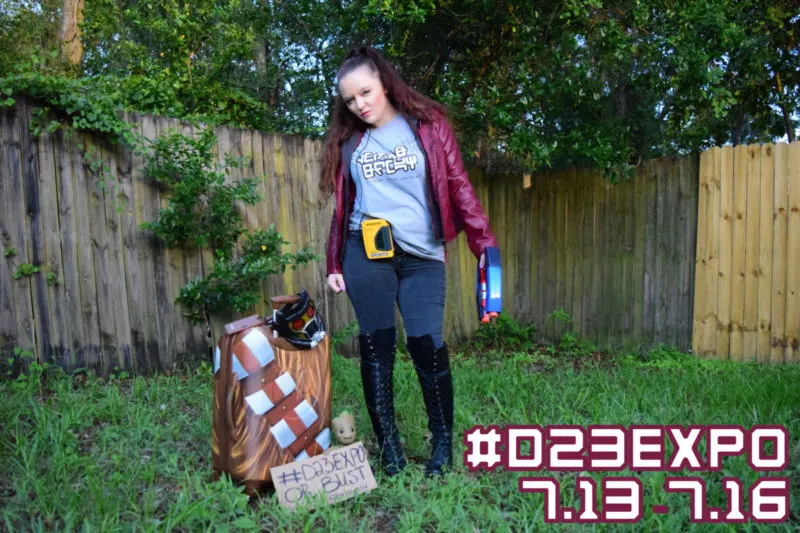 This has been a whirlwind of a year, in the best and worst ways. My rollercoaster of a life has been twisting and turning and now we're at the peek of the ride! I was invited by Disney to attend the most epic Disney Fan event in the world! I could barely breathe. I could barely read. I said yes to the event before reading the full email, before checking my calendar. It's that big of a deal.
I've had dreams of the D23 Expo since I first learned of it. In fact, I almost hopped on a plane to attend this biannual event in 2015, but the cards didn't play in my favor. I had serious FOMO as I heard the Disney announcements secondhand. I still kick myself when I think of Ellen Degeneres, my idol, and Johnny Depp (as Jack Sparrow) popping up. When I received an invite of my own, I didn't believe it. I stared at my laptop in disbelief. "You want little ole' me to be 1 of 25 bloggers at the 2017 D23 Expo!?"
If you're follow me on social media then you already know I'm going, but you don't know exactly what my plans are. Well, you didn't… until now. We just received our "tentative" itinerary, so I figured it was time to let the cat out of the bag. This is what we have planned, so make sure you're follow along from now until well after the expo, as I'll slowly be unveiling more details. But you should especially be following me on Instagram and Twitter for immediate announcements. I will literally be tweeting as the biggest 2017 D23 Expo announcements are made! Everything you need to know is below. If you're attending, be sure to say hi if you see me!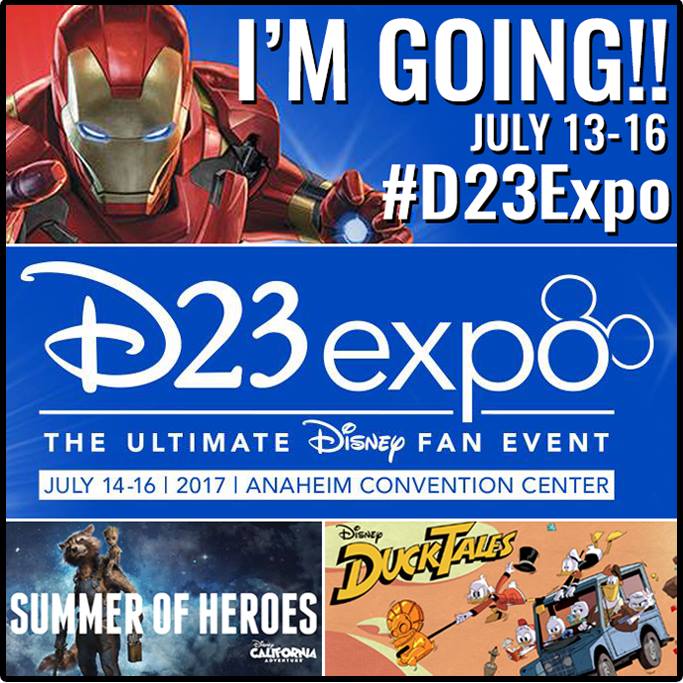 My 2017 D23 Expo Itinerary
Hashtags to follow: #D23Expo #DuckTales #SummerOfHeroes #Disneyland
Dates: 6/13-6/16
Friday – July 14th
We will be arriving at 9:30am (PST) at the D23 Expo, so be sure you're up and ready for some huge announcements!
10:00am – 12:00pm: Disney Legends Awards Ceremony in Hall D23
Oprah Winfrey, Carrie Fisher, Mark Hamill, Stan Lee, Julie Taymor, and other remarkable contributors to the Disney legacy will be honored as official Disney Legends during D23 Expo 2017. Hosted by Disney Chairman and CEO Bob Iger, the Disney Legends Award ceremony will be held at 10 a.m. on Friday, July 14, in Hall D23 of the Anaheim Convention Center, and will include special musical performances. This year marks the 30th anniversary of the Disney Legends Awards. The first Disney Legend was Fred MacMurray (The Shaggy Dog, The Absent-Minded Professor, The Happiest Millionaire), who was honored in 1987.
12:00pm – 2:00pm: I'll be exploring the D23 EXPO show floor. This means lots of photos, Instagram stories, and tweets – so be sure you're following along closely! You never know who we will run into.
2:30pm – 4:30pm: Pixar and Walt Disney Animation Studios: The Upcoming Films, Hosted by John Lasseter panel in Hall D23
Join host John Lasseter, chief creative officer of Pixar and Walt Disney Animation Studios, as he presents Pixar and Walt Disney Animation Studios: The Upcoming Films. Watch never-before-seen footage from Pixar's upcoming feature COCO and Walt Disney Animation's RALPH BREAKS THE INTERNET: WRECK-IT RALPH 2, and be prepared for surprise announcements, musical performances, and appearances by star voice talent.
The rest of our evening will be spent at Disneyland, where we'll be enjoying Summer of Heroes!
Saturday – July 15th
8:15am – 9:00am: Individual photos at Scrooge McDuck's Money Bin and 'swim' away with a professional 180-degree video capture. Can you say heck yes!?
9:00am – 9:30am: Screening the first episode of DuckTales!
9:30am – 10:00am: Q&A with Executive Producer Matt Youngberg and Co-Producer / Story Editor Francisco Angones
10:30am – 12:30pm: Disney, Marvel Studios & Lucasfilm – Live Action at The Walt Disney Studios panel in Hall D23
The Walt Disney Studios is home to the biggest and most beloved brands in filmmaking today, with a number of highly anticipated projects from Disney, Marvel Studios, and Lucasfilm in the works. At this exclusive Hall D23 presentation featuring never-before-seen footage, surprise star appearances, and more, you'll get a behind-the-scenes glimpse at an exciting array of spectacular films on the horizon from these world-class studios.
12:30pm – 2:30pm: More free time on the show floor!
3:00pm – 4:30pm: Walt Disney Parks and Resorts panel in Hall D23
Disney Parks and Resorts Chairman Bob Chapek will take the stage during this presentation to share what's new and what's next at Disney Parks and Resorts around the globe.
The rest of our evening will be spent at Disneyland, where we'll be enjoying Summer of Heroes!

Sunday – July 16th
8:30am – 9:30am: Exclusive access to the Walt Disney Archives exhibit "A Pirates Life For Me" on the D23 EXPO show floor
"Walt Disney Archives Presents––A Pirate's Life for Me: Disney's Rascals, Scoundrels and Really Bad Eggs" is a 12,000-square-foot exhibit, located on the Expo show floor, that will honor Disney's treasured pirates from film, television, and the beloved Disney parks attraction that has thrilled guests from Anaheim to Shanghai. Hundreds of props, set pieces, photographs, costumes and never-before-seen items will be on display.
Included in this collection will be a 23-foot-tall set model of the Black Pearl ship, the Dead Men's chest, and more original props and set pieces, including items from the new film, PIRATES OF THE CARIBBEAN: DEAD MEN TELL NO TALES.
Also on the show floor, the Archives will present "Fantastical Fashions," a dazzling selection of dresses worn by beloved heroines and sinister villainesses. Costumes from six of Disney's live-action fantasy films will be showcased including Enchanted, Maleficent and Beauty and the Beast.
10:00am – 11:00am: Celebration of an Animated Classic: THE LION KING panel in the D23 Expo Arena
Join a Disney Celebration of the magic, the music, and the majesty of the animated classic THE LION KING. Producer Don Hahn, Director Rob Minkoff, and animators Tony Bancroft and Mark Henn, along with some very special guests, reveal the secrets behind the making of the timeless animated classic.
11:00am – 12:30pm: Free time to enjoy the D23 EXPO show floor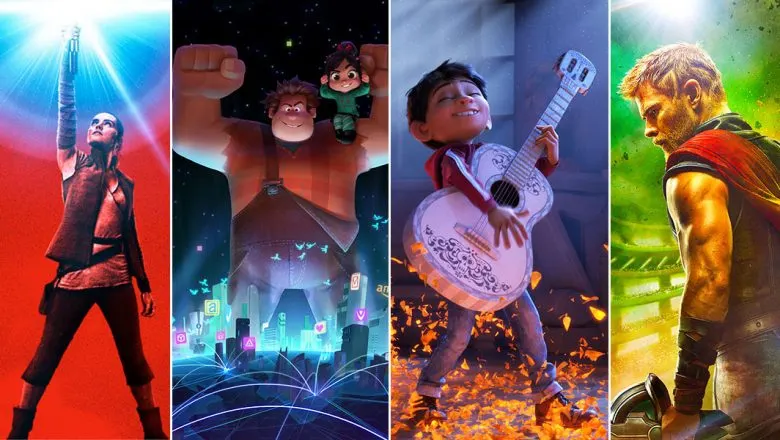 12:30pm – 1:00pm: Walt Disney Records The Legacy Collection Robin Hood overview at the Disney Music Emporium
The Disney Music Emporium is a pop up store on the D23 EXPO floor that sells collectible Disney music-related products
Walt Disney Records The Legacy Collection Robin Hood, a two-disc set, will be released for the first time during the expo. Disc one of the collection includes the songs and score and disc two includes previously unreleased demos and bonus tracks performed by Louis Prima. Also included are extensive liner notes by Disney historian and writer Paula Sigman-Lowery. The CD cover and 20-page booklet feature newly created artwork inspired by ROBIN HOOD from Lorelay Bove, a visual development artist at Walt Disney Animation Studios (Tangled, Winnie the Pooh, Wreck-It Ralph).
1:30pm – 3:00pm: A Whole New World of Alan Menken concert in Hall 23
"Under the Sea." "Be Our Guest." "Colors of the Wind." This is just some of the unforgettable music written by Disney Legend Alan Menken over the course of his unrivaled career. Menken's iconic melodies have been stuck in our heads and are firmly imprinted on our hearts—and now he's giving us the chance to hear them like never before. Menken will present a brand-new one-man show, A Whole New World of Alan Menken, in which the Disney Legend will perform songs from beloved Disney films and share stories from his incredible career in film, TV, and theater. This special concert will be filled with magical musical memories that will make your heart sing.
3:00pm – 6:00pm: Free time to enjoy the D23 EXPO show floor!
DuckTales premieres Saturday, August 12th on Disney XD
DUCKBURG — The new animated comedy adventure "DuckTales" will premiere in a one-hour television movie to be presented for 24 consecutive hours, SATURDAY, AUGUST 12 (beginning at midnight EDT/PDT), on Disney XD. Then, the series will debut with two new episodes SATURDAY, SEPTEMBER 23 (7:00 a.m., 11:00 a.m., 2:00 p.m., 5:00 p.m., 8:00 p.m., 10:30 p.m. EDT/PDT). Each will also be available on the
Disney XD
app and Disney XD VOD on these same dates.
The story unfolds as Donald Duck reluctantly takes Huey, Dewey and Louie to the home of their reclusive great-uncle Scrooge McDuck. Enthralled by their once-legendary great-uncle and the wonder of McDuck Manor, the triplets and Webby learn of long-kept family secrets and unleash totems from Scrooge's epic past, sending the family on an adventure of a lifetime to the Lost City of Atlantis.
The voice cast is David Tennant ("Doctor Who") as Scrooge McDuck, Danny Pudi ("Community") as Huey, Ben Schwartz ("Parks and Recreation") as Dewey, Bobby Moynihan ("Saturday Night Live") as Louie, Kate Micucci ("Garfunkel and Oates") as Webby Vanderquack, Beck Bennett ("Saturday Night Live") as Launchpad McQuack, Toks Olagundoye ("Castle") as Mrs. Beakley and Tony Anselmo ("Mickey Mouse") as Donald Duck.
Recurring guest voices include Lin-Manuel Miranda (Broadway's "Hamilton," Disney's "Moana" and "Mary Poppins Returns") as Duckburg's favorite hero Gizmoduck (his alias is Fenton Crackshell-Cabrera), Allison Janney ("The West Wing") as Scrooge's old flame Goldie O'Gilt, Margo Martindale ("The Americans") as the ruthless villain Ma Beagle, Paul F. Tompkins ("Bajillion Dollar Propertie$") as lucky duck Gladstone Gander, Kimiko Glenn ("Orange Is the New Black") as well-traveled teen Lena, Jim Rash ("Community") as mad scientist Gyro Gearloose, Josh Brener ("Silicon Valley") as tech billionaire Mark Beaks, Keith Ferguson ("Gravity Falls") as Scrooge's archenemy Flintheart Glomgold, Eric Bauza (Marvel's "Ultimate Spider-Man") as Beagle Boys and Corey Burton ("Star Wars Rebels") as scientist Ludwig Von Drake.
Have you ever been to the D23 Expo? Tell me in the comments below!
More 2017 D23 Expo Exclusives!