Every American Horror Story fan impatiently waits for an announcement of the next season because every season has a new plot, title, and characters. With the ending of American Horror Story: Apocalypse, there was some speculation about whether or not AHS had run its course. Apocalypse could have been the not-so-perfect ending. It had the ingredients for an ending that everyone would remember. Lucky for us horror film fans, Ryan Murphy wasn't done with this twisted series.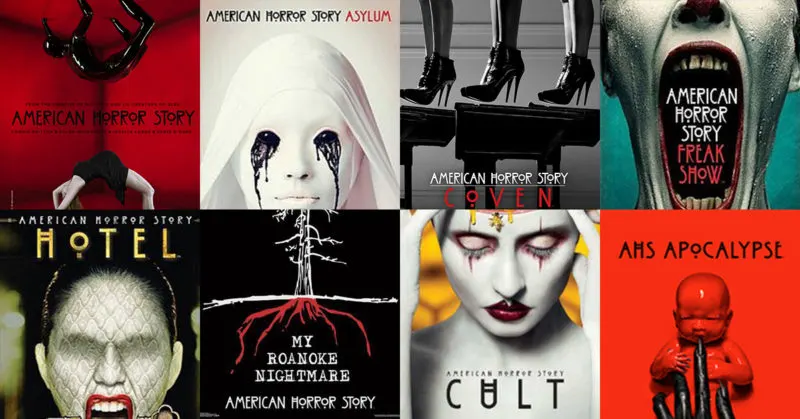 Yesterday, on Instagram, Ryan Murphy announced the American Horror Story Season 9 name: 1984. He's bringing us back to the 80's but it's not what you might think. We're not only talking about big hair and cassette tapes. We're talking about the rise of slasher films! Oh, you know: Michael Myers, Jason, Freddy – oh my! But, this isn't Friday the 13th and it's not Halloween. However, the first sneak peek is very reminiscent of those 80s favorites.
AHS 1984: Teaser Clip Breakdown
In the newly released clip of American Horror Story Season 9, we see a large man storming through the woods after a woman in cowboy boots. I'm speculating here but maybe she was at some sort of party or dance? Just as the young woman (or teenage girl) gets to a safe location, a knife slashes through the door right next to her face. This is totally a typical scene in a slasher film, which makes me laugh. The killer looks… interesting. It looks as if he's wearing a black ski cap with long hair coming out of his face. I know, that's odd but we've seen way worse in American Horror Story so it wouldn't be a long shot.
YOU'LL ALSO LIKE: 35 SHOWS YOU SHOULD ALREADY BE BINGE-WATCHING!
If you pay close enough attention, you'll see the new season name in the bottom right hand corner. With each scene, flashes a new number: 1984!
Here's what we know about American Horror Story Season 9 so far:
AHS Season 9 name is: 1984
The new plot is "Slasher Season"
Evan Peters will not be in this season – for the very first time since the show began. This hurts my heart and leaves me really wondering why! Is it because of his ex, Emma Roberts?
Olympian, Gus Kenworthy is joining the cast as the boyfriend of Emma Robert's character, which has me super excited! Will he be a new face in the future of AHS?
Emma Roberts is the only returning actress officially confirmed to return for Season 9… so far.
Per usual, it will be airing in the fall season!
That's literally all we know right now. American Horror Story is pretty great at keeping things secretive until they're ready to make an announcement. I've also learned that they've officially signed on for another season (10th) so the end isn't near after all.
What are your thoughts? I'm loving it. There's something about a good slasher film that gets me right in the gut. My only hope is that it's realistic enough to scare me and that it ties into the other seasons flawlessly.