Kernel Seasons is a wonderful company that offers a variety of products to add some (literal) flavor to your popcorn. For a reasonable price you can purchase popcorn seasoning salts, popcorn kits, party gifts, popcorn oils, and much more! I have been a fan of Kernel Seasons from the moment I found one of their popcorn kits at Cracker Barrel. The idea of adding flavor to your popcorn is pretty genius if you ask me.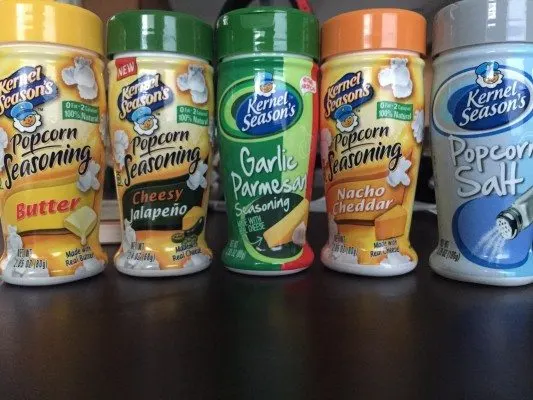 I have tried most of their seasoning salts. I can't get enough of them. I carry 3 of them in my purse with me just in case I go to a theater. Did you know that you can buy them in most theaters too? They come in different sizes and come in a lot of their kits and party gifts. They have familiar flavors like Popcorn Salt, Butter, and Kettle Corn. They have unique flavors such as, Cheesy Jalepeño, Garlic Parmesan, and Buffalo Wings. Another reason that I am so fond of the popcorn seasonings is because they can be used on more than popcorn. I have used mine on french friend, baked potatoes, and fish. It is all about what the amount you use and the flavor that you use. Try them on veggies, rice, and pasta too! If you are wondering if the flavor tastes how it sounds, it does! All of the seasonings taste just like their name reads because there is nothing artificial in them!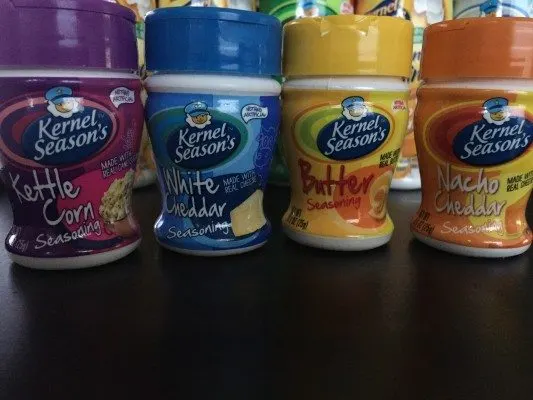 They also come in different sizes, so you can buy a large to keep at home and a mini to keep in your purse or at the office!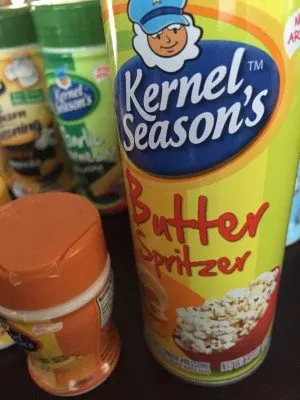 The Kernel Seasons Butter Spritzer is a must-have in my home. I am sure popcorn lovers have all tried pouring melted butter on their popcorn before. It wilts it and takes away the CRUNCH that delicious popcorn is known for. The Butter Spritzer is perfect because you can spray it right on your popcorn and it tastes delicious. It does not contain any artificial ingredients, so the flavor you get is the flavor you want!
Overall Kernel Seasons is a great company. They have found away to make America's most delicious snack even better! This is a company that I stand by. You can purchase Kernel Season's products online or in your local mass retail stores.
Thank you for reading America's Favorite Movie Snack Just Got Better! Click here to read my other Kernel Seasons Review.