Who loves movie night? Raise your hand! I am sure you are all raising your hands mentally right now. I personally love movie night. I always have and I always will. One of the very key essentials to a Family Movie Night is the snacks! What makes a good movie night? The movies, the comfort, and the SNACKS! I don't know what it is, maybe the nostalgia of snacking as a kid while watching movies, but I must have snacks while enjoying a movie. My problem is finding the right kind of snacks that are easy, fun, and delicious! When you think of movies what snack immediately comes to mind? POPCORN of course. No movie night is complete without a bowl of buttery, delicious popcorn. Movie night will never be the same again with the Kernel Season's Movie Night Party Pack.
About Kernel Seasons
Kernel Seasons was created by a college student who wanted to add a little flair to his favorite snack- popcorn. After experimenting with many different recipes and using his college friends as "guinea pigs, he realized that he couldn't settle on just ONE flavor. He created a popcorn seasoning line. This seasoning line has 12 different delicious flavors that will compliment your popcorn. There is a seasoning for everyone's taste.
Have a Sweet Tooth?
Kettle Corn Seasoning
Milk Chocolate Caramel Seasoning
Caramel Seasoning
Want some SPICE?
Cheesy Jalepeño Seasoning
Buffalo Win Seasoning
Like Classic Flavors?
Butter Seasoning
Garlic Parmesan Seasoning
Popcorn Salt Seasoning
Are you a Cheese Head?
White Cheddar Seasoning
Nacho Cheddar Seasoning
Want Something Unique?
Bacon Cheddar Seasoning
Ranch Seasoning
They also have a ton of great popcorn kits, gear, poppers, popcorn, and oils.
The Kernel Season's Movie Night Party Pack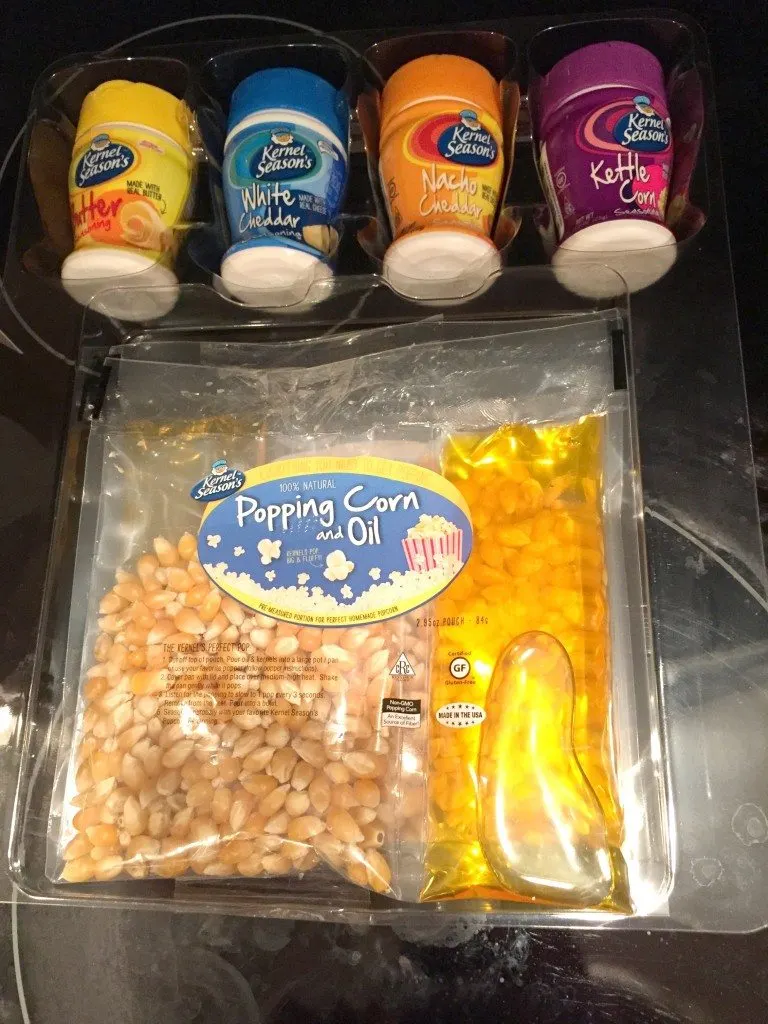 The Kernel Season's Movie Night Party Pack includes 4 seasonings- White Cheddar, Butter, Nacho Cheddar, and Kettle Corn. It also includes 2 packs of popcorn kernels and oil. This would make a GREAT Christmas gift or addition to a Family Movie Night!! The popcorn is so easy to pop! Simply cut one of the packages across the top (Cutting the kernels section and the oil section). Then throw it in your popcorn popper or in a large pot on your stove. Put the stove temperature to Medium and your kernels will begin popping within a couple of minutes. Shake the pot lightly as it is popping. After a few minutes the popping will slow. At that point you can remove the pot from the heat and let it sit to finish the popping. Afterward, add the seasoning salt(s) of your choice, pour in a bowl, and enjoy! This popcorn smells amazing and tastes even better! The seasonings are amazing! I actually own a few full size ones already. I love brining these seasoning to the theater with me. PURCHASE AT WALMART STORES
Purchase and Connect
This party pack can be purchased in Walmart stores beginning November 12, 2014
Head over to www.kernelseasons.com to purchase some of their other awesome kits and products!
Connect on Social Media: Facebook / Twitter / Pinterest / Google Plus