Welcome to the Foodie 2014 Holiday Gift Guide. Let's face it, we all love food! We either consider ourselves foodies or we know someone that is a foodie! Trying new and unique foods and snacks is fun! We have taken the time to find some of the most delicious and unique snacks and treats for the holidays! All of these gifts were tested and approved by Women and Their Pretties or Mama Smith's Blog (unless otherwise stated).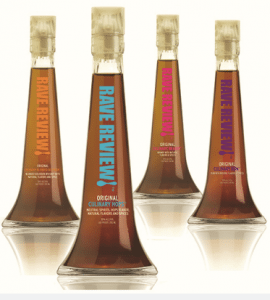 Rave Reviews Culinary Liquors
www.ravereviewspirits.com
Products: Rave Reviews Culinary Liquor- Brandy, Rum, Hops, and Bourbon
About: Rave Reviews created, tested, and tasted over and over again until they received Rave Reviews from chefs! That's how they got the name! All of their liquors have a very smooth taste. Each one has a variety of ingredients that create the perfect Culinary blends! The bottles are thoughtfully designed and very stylish! Just for an extra touch, their website has a variety of recipes you can use these with. Rave Reviews' Alcohol Spirits are chef tested and foodie approved! They are affordable and the perfect gift for any professional or home chef!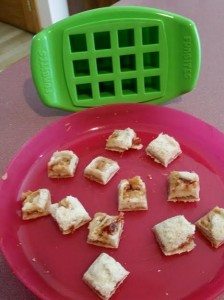 FunBites
Price: $12.99 each
Purchase Here
About: FunBites make mealtime fun! If you have a picky eater, or just want to have a little fun in the kitchen, then FunBites are for you! These food cutters come in three fun shapes – squares, triangles, and hearts – and are simple to use. Use them to cute sandwiches, fruits, veggies, even cheeses! These are mom invented and kid approved!
Coupon Code: Use FunBitesFun to get 20% off!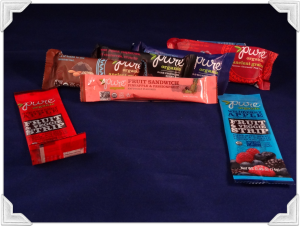 The Pure Bar
www.thepurebar.com

Products: Fruit & Nut Bars, Fruit & Veggie Strips, Fruit Sandwiches, and Ancient Grains
About: The Pure Bar has a variety of delicious, unique, and healthy snacks! All of their snacks are organic and glutton free! These snacks are healthy, but delicious! Even if you aren't a healthy eater, you will love these snacks. Any foodie would love the unique flavors that The Pure Bar has to offer! A Health/Fitness lover would enjoy these and they would make great stocking stuffers! Take a stroll around their website to see what yummy snacks they have! PURCHASE YOURS HERE
Want to Learn More? Read Joyce's Review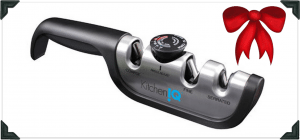 Kitchen IQ Knife Sharpener
www.kitchenIQ.com
Products: Knife Sharpeners and other kitchen tools
About: Ever had the dreadful experience of trying to cut with a dull knife? I bet every cook you know has! Preparing your meals should be easy. With a dull knife it isn't! Every cook and/or foodie deserves to have a great knife sharpener! Kitchen IQ has a great adjustable knife sharpener that every cook would be thankful for. Do the cooks in your life a favor and pick one of these up for Christmas! This is a great Christmas Eve gift; give it to them early, so they can use it while cooking your holiday meals! You can purchase them online or in stores at Crate & Barrel, Bed Bath & Beyond, and more!  PURCHASE YOURS ONLINE HERE
Want to learn more? Read Joyce's Review

Orange Glad Snack Box
www.orangeglad.com
Products: Baked Desserts and more!
About: Orange Glad is a Gourmet Dessert subscription box that sends you a box full of homemade goodies each month! They throw in a few other goodies that aren't homemade too. For only $13 a month (plus s&h) Orange Glad will send you a box each month