Why is it that baby boy gifts are still, in 2018, so hard to find? After having my son 8 weeks ago, I noticed that it's nearly impossible to find anything cute or unique for a boy at a major retailer. So, I went on a hunt for the best baby boy gifts that I could find in shops online and I came up with all these. I'm partnering or affiliated with the brands mentioned below but I'm fully confident in recommending them for the little guy you're shopping for. Enjoy!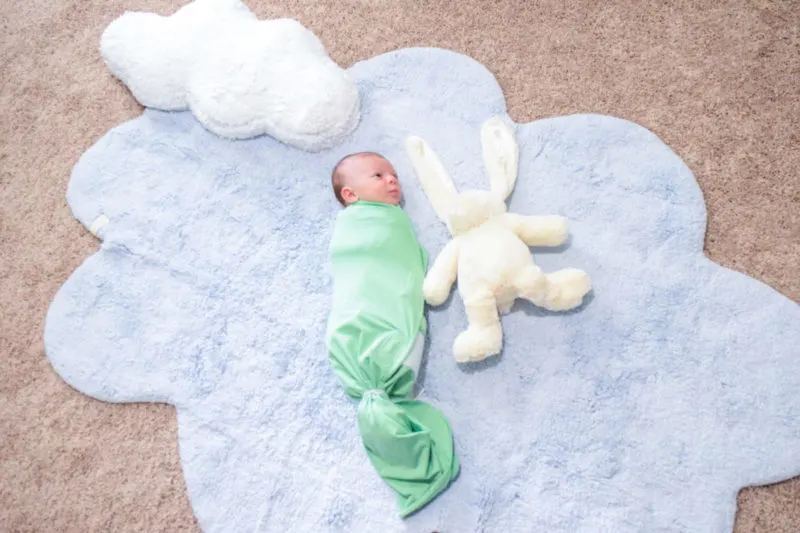 Many of you know that I waited until birth to find out the gender of my first child. While I had a feeling my bundle of joy was a boy, I didn't know for sure and really didn't care either way. Our friends and family, however, weren't too pleased with our decision to wait. Let's face it, everyone wants to shop for boy or girl stuff. Regardless of everyone's opinions, we directed friends & family to stick with gender neutral gifts. Basically, his entire room and wardrobe were white & gray for the first couple weeks. After my little gentleman was born, the hunt began for the best baby boy gifts that anyone could find. But, many of us hit a wall. After snagging a few cute Rosie Pope outfits, we all realized that there's a desperate need for cute boy gifts! Why do girls get all the fun colors and unique gifts? Boys just wanna have fun, too! So, I seemed out some incredible brands with the idea of helping others pick up something worthwhile for the new baby boy in their life.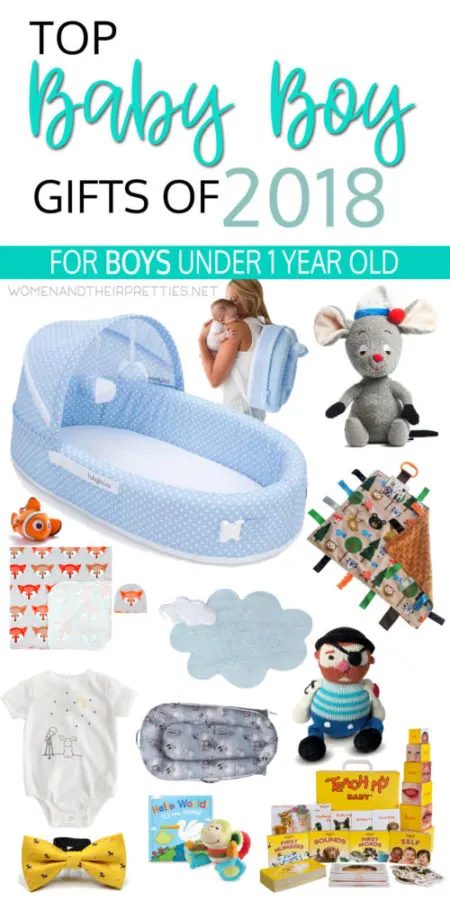 Best Baby Boy Gifts of 2018
1. Lil Lambs Dream Crib Sheet
Counting lambs always works.
Illustrated with love by Ellen Giggenbach, this crib sheet will have your babe literally laying down on a lullaby. Cue the twinkly music… sweet dreams little one! This is the perfect baby boy gift to bring some color to that nursery! Boys need some color, too! This is also a perfect gift for milestone
photos
!
---
2.
Jack the Sailor Rattle Buddy
Our Rattle Buddy was hand-knit at an artisanal women's collaborative in Peru using using G.O.T.S. certified organic cotton yarn and wool stuffing with a phthalate-free rattle inside. Perfect for your little one to snuggle with at bedtime or as a companion for exploring the great big world around them.
Get it here → FinnAndEmma.com, $28 (currently on sale for $25.20)
---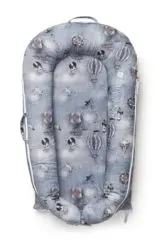 3.
DockATot Deluxe+ Mrs. Mighetto (Night Night)
The DockATot Delixe+ was the best thing to ever happen to my newborn's nap time routine! It provides the right amount of comfort and safety that I need, as a first time mom, to make it through these first months of transitioning into motherhood. My little guy loves to be next to mommy at all time and this allows us to do just that. The Mrs. Mighetto Night Night design was the perfect choice for my little man and I because mama loves taking good photos of her little man! Nestled high up in the clouds is a hidden world you probably never even knew existed. Powder pink kites dance through the warm air, enchanted tunnels with changing architecture, rainbows appearing suddenly to create lavish light shows. You'll find friends who can turn clouds into candy floss and fish who can sing as sweetly as the nightingale's song.
Limited edition collaboration with Mrs. Mighetto. Machine washable.
Get it here → DockAtot.com, $175 – $200
---
4.
The Ollie Swaddle
The Ollie Swaddle in the color Meadow gives baby boys the perfect amount of color, comfort, and style in his first few months of life. What we love about our Ollie Swaddle is that it stays in place, while other swaddles eventually loosen up, waking baby from his deep sleep. This swaddle will keep your baby boy sleeping on his back (the safest position) all night long and will give mommy a little more sleep each evening. While the swaddles comes in various colors, I prefer the Meadow green color because adds color to baby boy's wardrobe that you don't always find.
---
5.
Shopping Cart Hammock
The comfy Binxy Baby shopping cart hammock in gray triangles quickly and easily clips onto most carts, hangs elevated so you have plenty of room for groceries, then simply rolls up to fit in your purse or diaper bag when finished. Most infant car seats sit snugly inside the Shopping Cart Hammock and can be secured using the included safety strap. If you want your baby boy to be comfy and stylish on shopping trips then this is the perfect gift for him.
---
6. Puffy Dream Blue Rug
A rug can make or break the theme of a nursery. While shopping for my son, I came across a ton of baby girl rugs full of bright colors and flowers, but nothing for boys – until I came across Lorena Canals Rugs. In fact, I had a difficult time finding the perfect rug for my baby boy because of all the incredible options. As soon as I found the Puffy Dream Blue rug, I knew it was meant to be! I ended up building my baby boy's "Sweet Dreams Nursery" around it. This rug comes with its own built-in cushion, which makes it a great place for catnaps or story time (come rain or shine)! It's bound to be a favorite addition to your child's room.
---
7. Noobie Box- Boy Edition
This is by far my favorite subscription box for babies! I was shocked to see all the goodies included in my first Noobie Box for my baby boy. It even included a 3-piece outfit from Carters! 4 milestone boxes for your baby's first year – each box contains 5 full size products. Get all 4: Noobie Nest, Noobie Eat, Noobie Play & Noobie One.
---
8. Teach My Baby Learning Kit
Teach My Baby is the multi award-winning all-in-one learning kit for babies 6 months+. It's a great gift for baby boys or baby girls and is definitely the most useful gift you can give to a little one this year! Plus, it's a heck of a deal! Full of activities for infants and babies as well as screen-free, the kit has everything necessary for teaching baby the basics! Teach My Baby is divided into four sections to teach babies – First Words, First Numbers, Self and Sound & Touch. From finger puppets and books to blocks and puzzles, the kit is full of learning toys for babies that will give your mini scholar a head start. Teach My Baby promotes fine motor skills, hand eye coordination, parent-child interaction and self-esteem.
---
9. Love ALL Onesie
A big message of love, respect, and dignity for All in a little (and very cute!) package. Our super soft, super stretchy 100% cotton charcoal gray onesie features our five color heart with ALL cut out in the middle. Available in sizes 6 – 18 months.
---
10. QKiddo Bow Ties
Handmade bow tie designed with black puppies patterns on yellow fabric. This bow tie is effortlessly elegant, a must-have accessory for the boy in your life. It pairs wonderfully well with all collared shirts and is easy to include in any formal, professional, or casual look. Super perfect men accessory for formal events, like weddings, balls, parties etc.
Get it here → QKiddo.com, $9.95
---
11.
Learning Lovely Sensory Blanket
Kids of all ages love the lovey. It's a perfect first and forever security blanket that can grow with a child and encourages early learning with basic shapes, colors, letters and numbers. Accented with coordinating ribbons sewn shut for safety, this unique design ensures that little fingers do not get intertwined in ribbon loops. The variety of textured ribbons encourage tactile play. Children develop cognitively, socially and emotionally through sensory interaction. The forest design in particular is perfect for baby boys, along with many of their other designs. I can't wait to introduce this to my little one!
---
12.
Who Loves Me? Personalized Book and Blanket Set
Show a new baby boy you love them with a Who Loves Me? book and personalized 14″ x 14″ lovie blanket. Due to the production time required to embroider the blanket, Air shipping not available on this item.
Get it here → ISeeMe.com, $49.99
---
13. Personalized
Hello World book and Monkey Rattle Gift Set
Celebrate a new baby boy with this uniquely personalized gift set that includes a blue board book and plush monkey rattle! This is a great personalized gift that he will keep forever!
Get it here → ISeeMe.com, $39.99
---
14.
Foxy Baby Elephant Ears
Mischievous foxes are ready to be your little one's pal in our new Foxy print. The orange and white foxes pop on the charcoal grey background and are perfect for any sly baby boy! I personally love my baby Elephant Ears! They've been a game changer for diaper changes!
---
15. Diaper Bundles Subscription
Every baby boy needs to be fresh and clean! New parents expect diapers to be stinky but they often don't expect them to be so expensive. While you can't make changing diapers more fun, you can certainly make buying them easier. Be a hero and give our Diapers for a Year Subscription! Upon your purchase of this bundle, your recipient will receive an adorable teddy bear holding a certificate announcing your gift. The plush and gift announcement arrive sweetly packaged in one of our signature reusable storage boxes. The announcement includes simple instructions the recipient will use to redeem their diapers each month. Mom and dad will be able to choose the brand and size they need and will appreciate the ease of having diapers delivered right to their door every month! Your generosity will be remembered with every diaper change!
Get it here → Incredibundles.com, $199 – $719 (price varies depending on the bundle you choose)
---
16. ChangePal
An all-in-one diaper bag that features three zipper compartments for diapers, changing pad and wipes. The ChangePal comes in unique colors that suits any baby (even a baby boy) and parent's style and features built-in wipes holder (no need for extra wipes case) and adjustable shoulder strap for easy body carriage. The changing pad is perfect for avoiding public changing stations and is easy to wipe down and clean!
---
17.
Lil' Jammerz Plush Bluetooth Music Set
If you've ever watched a baby boy dance (or sleep) because his favorite song is playing then you'll know why this is the perfect gift. Lil' Jammerz™ plush musical friends are just what your baby, or anyone you know with a baby, needs. This portable group of charismatic characters will keep them entertained while they are awake and help put them to "la la" land when the time is right. With it's removable, rechargeable Bluetooth speaker, just pick the tunes that fit the baby's mood from your personal library, Internet radio or the free Lil' Jammerz™ app…it's time to jam on!
---
18.
Logan Black Leather Soft Sole Baby Shoes
Introducing "Logan", our adorable new line of booties for baby comes in butter-soft leather and is lined in comfy cotton to give additional cushion to those soft baby feet. These looties are perfect for beginning walkers, infants and toddlers alike. Give your baby boy some style that the other kids on the playground will envy!
---
19.
Munch Mitt – Aqua Blue – XO's
Give that baby boy something stylish to munch on and he fights his way through his teething phase. A convenient wearable teether from 3-7 months. Can be used up to 12 months of age, but is generally used as a standard soft hand-held teether from 7-12 months (once babies dexterity kicks in). Strap can be used to affix to a toy tether or car seat/stroller strap for convenience.
---
20.
Sleeps & Ladders Zippy Jamz
For once, you can combine style and convenience for that sweet baby boy! INSEAM ZIPPER FOR QUICK AND CONVENIENT DIAPER ACCESS makes diaper changing quick and easy even if your baby is sleeping, kicking or wriggling. So easy, you can use them with your eyes closed! Unzip. Change. Zip. Done. NO MORE AWKWARD AND CLUMSY SNAPS especially when it's dark, your baby is kicking and you get to that last snap and figure out you're one off…d@m# snaps!
Get it here → Amazon.com, $29.99 – $31.00
---
21.
Short Sleeve White Stars Bodysuit
Discover the stars in the night sky with bunny and imagine where it all may take you. Combining modern design with classic imagery, this short sleeved white bodysuit is made of cotton specifically designed by a former NASA scientist to be odor, stain, and water repellent. Perfect for a baby boy who dreams of the stars!
---
22.
Baby K'tan Snuggle Baby Carrier
A wrap-style snuggle baby carrier without the wrapping? YES! With the award-winning Baby K'tan PRINT Baby Carrier, you can enjoy hands-free, hassle-free, buckle-free babywearing anytime, anywhere. Wear baby in multiple positions, without any wrapping or buckling. This ready-to-wear trendy baby carrier slips on easily like a t-shirt and is individually sized XXS to XL for the perfect fit. Ideal for newborns and infants starting at birth up to 35lbs., the Baby K'tan Baby Carrier's patented double-loop design and unique one-way stretch delivers the security you want and the versatility you need to be on the go, hands-free and snuggle your little one close. Moms can even nurse discreetly and bond through skin-to-skin care modestly. No buckling or excess fabric wrapping to confuse or frustrate the user. Quickly switch between 5 different carrying positions without removing the snuggle baby carrier. All Baby K'tan Baby Carriers come in a matching carry bag that converts to a sash which provides added support for certain positions in your Baby K'tan Trendy Baby Carrier. These stylish baby carriers are machine washable and dryer safe.
---
23.
Jack Floor Pillow
Designed by a mom, the Pello Luxe Floor Pillow goes beyond the standard play mat, positioning pillow, or baby gym. The Luxe Floor Pillow provides comfort and support, promotes muscle development, and encourages independent play. The baby blue color is perfect for your little guy!
---
24.
Nemo Disney SoapBox
Seriously, what baby boy doesn't love Nemo? Combining lovable Disney characters with a splash of SoapSox innovation creates fun in the tub for all. Disney SoapSox have a unique back entry point designed specifically for liquid soap. Simply add soap, water , and work Nemo into a lather and let the bathing and fun begin. Disney SoapSox are machine washable and dryer safe.
---
25.
Jersey Shopping Cart Cover
Flowers are for the birds! Spoil that baby boy with a grey & white striped shopping cart cover. He should be stylish even at the grocery store! Designed to fit most standard shopping carts and doubles as restaurant highchair cover.
---
26.
Bassinet To Go Blue Dots
Bassinet to-go Blue Dots- Lulyboo reinvented the way babies sleep and play indoor and outdoor, with the creation of this flagship travel lounge. The Bassinet to-go conveniently folds into a backpack for easy portability while traveling or in the home, thus giving your baby a familiar place to sleep and play anywhere they go. This multi-use lounge can be used in place of a crib, playpen, changing pad or changing station on your travels. The bassinets 3- position canopy can be adjusted or removed to accommodate any environment. The machine washable and breathable fabric comes in three beautiful prints with two matching hanging plush toys for your babies enjoyment.
---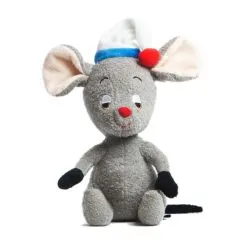 27.
Dream Pets Murphy Mouse
For a cheese party unlike any other, Murphy Mouse dreams of being the perfect host and best friend of your baby boy. Bringing comfort and creativity to everyday, the new plush friends by Dream Pets will be adored by little ones everywhere. Inspired by the iconic 1950's Dream Pets, this modern collection of softer and slightly larger plush creations is ready to share these fun and adventurous characters with the next generation of dreamers. Great gifts for young boys, the collection's characters inspire creative play that is not gender specific. Each character is unique in its own special way, from their accessories to their dreams, which are shown on the collector card that comes with each.
---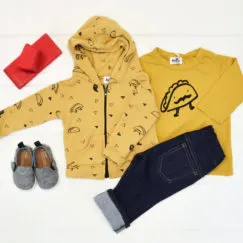 28.
Fresh Little Love
Baby boys have NEVER looked this good! Kick off every season with a Fresh wardrobe of Fresh gear for your Little Love. Every box includes 5-8 items that are nontoxic, eco-conscious, & totally cute. We'll ship you a box of seasonally curated clothes for your 0-2 year old every 3 months, automatically adjusting the size to grow with your child.
---
29. The Boy Box – Fox Swaddle & Hat Set
These super soft and stretchy blankets are perfect to wrap your precious babe. They make wonderful gifts and look fantastic in pictures with the matching hat. The versatility allows for multiple uses; they are great for tummy time, may be used as a nursing cover or sweet snuggle blanket as your little one grows. It is sure to be an instant favorite!
---
30. Nintendo Bumkins Bibs
Twice the SuperBib fun! Made from Bumkins' lightweight, easy wipe, machine washable waterproof fabric, SuperBibs are both comfortable and durable. Sized to fit ages 6 to 24 months, these bibs feature a back shoulder Velcro closure for a quick, adjustable and tug-proof fit. With a handy catch-all pocket for containing spills, this bib is a great addition to any mealtime!
---
31. Made For Me
From a child's first uttered "Dada" to his or her first unsteady steps, nothing can adequately convey the joy and awe of watching the birth and growth of a new child. Filled with adorable illustrations and the refrain, "You are the one made just for me," Made for Me is a winning presentation of tender moments that tie a father and his new child together forever.
Get it here → Amazon.com, $12.83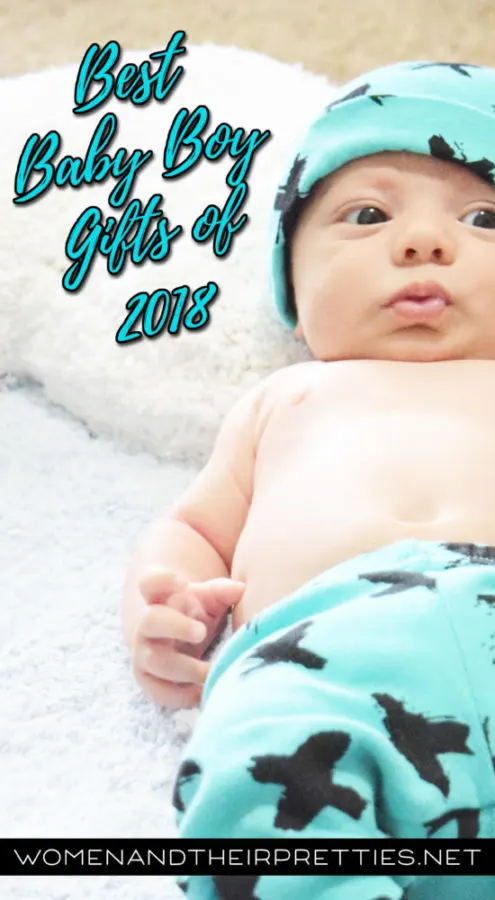 Well, what did you think? Did you find anything you like? Tell me in the comments below if you purchased something listed above.
Do you have a product that you'd like mentioned in this guide? Send me an email and we will collaborate!