Preparing for your first child is like blindly following a crowd to an unknown destination. You don't really know what you're doing or where you're going, you're just hoping that somebody has a good map!
When you're shopping for baby feeding must haves, you're taking advice from every mommy you know. Some are very lax with their parenting and some are almost overbearing with their advice. The most valuable advice I was given, was to take everything they tell me with a grain of salt and do as much research as possible before committing to any particular brand or product. So, that's what I did and I came up with these baby feeding products that claim to make meal time much easier for mommy & baby!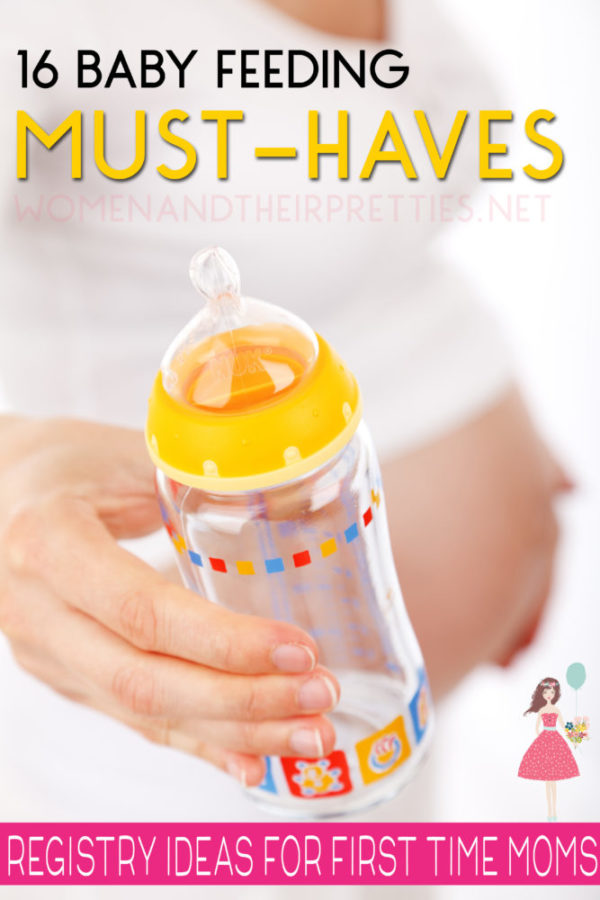 Top 20 Baby Feeding Must Haves
Whether you're breastfeeding, bottle feeding, or onto eating solids – I've got a little something here that could be very helpful. I hope you find what you're looking for, mommies!
Shopping for a Pregnant Mommy? Check out my Bun-In-The-Oven Gift Guide here!
1. GoPillow
The GoPillow is a hands-free, wearable breastfeeding pillow that is ideal for moms on the go or at home. This portable nursing pillow is worn on the arm to simultaneously provide a cushion for baby's head and support for mom while breastfeeding. While used as a nursing cover, the attached blanket/cover provides privacy during public breastfeeding and provides warmth for baby when used as a blanket or a wrap. It's not just a breastfeeding aid, it also moonlights as a portable pillow and swaddling wrap, a toddler pillow and blanket, a portable diaper changing surface and slides into the arm rest on planes to become a pillow for small children.
2. Silisnap Bib
Get Sili with Kushies' new silicone line of fun and practical feeding items! The Silisnap bib is the perfect bib that lasts all day! This handy bib features 3 detachable waterproof tops that snap on to a lightweight and super soft silicone catch all pocket for easy feeding and travel. The soft waterproof fabric is backed with terry and easily snaps on to a food-grade silicone pocket so you get the most out of this bib. You don't need to pack 3 bibs when out and about for the day; this bib has you covered for 3 meals and takes up minimal space on the go. Be sure to check out the rest of the new Kushies silicone feeding line. BPA, PVC and phthalate free.
3. Kate's Bra
This is one of the more constructed bra styles.  It shares the same comfort advantages of our other organic cotton/spandex shaping bras, but the Kate's was designed to meet more specific needs. The multipurpose cup pockets can hold a soft cup, a milk pad or a breast form for mastectomy clients, or simply add an extra layer of support and modesty.
4. Booby Boons Lactation Cookies
Booby Boons Lactation cookies are made the purist of ingredients including Stork and Dove's proprietary blend of natural, non-herbal galactagogues proven to increase breast milk supply naturally and safely.
Hey Mom! What's your favourite Booby Boons flavour: Cocoa Quinoa, Oatmeal Raisin or Chocolate Chip? Stork and Dove's Subscription* service allows you to choose exactly what you want and change it as you like!
*Note: Mail-Order/Subscription services are currently limited to Canada & U.S.A
Get it here → StorkandDove.com, $9.99 per bag or different prices based on subscription preferences
5. Wacoal Underwire T-Shirt Nursing Bra
Our lightweight and comfortable Nursing T-Shirt Bra combines amazing support with a beautiful design that makes you feel polished and ready for anything. Spacer cups with decorative lace give you opacity and a feminine look too. Cups that can be unclipped with just one hand make nursing easy even when you are on the go. Designed for a versatile fit, this bra allows you to adjust the band size as your body changes throughout your pregnancy and during the first months of motherhood.
6. Nummy Bowl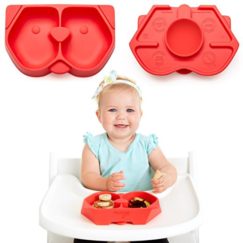 The Nummy Bowl's unique, patent-pending design secures the Nummy Bowl tightly to any high chair tray or table via a super-strong hidden suction cup. Caregivers simply place the bowl on any smooth surface, press down to attach the bowl, then lift the hidden tab to release it, preventing messy tips and spills. This unique design also makes it easier for young children to explore self-feeding, instilling a sense of confidence and independence. And, at roughly half the size of a placemat, the Nummy Bowl, which holds up to 11 fl. Oz., easily packs into diaper bags and is a better fit for most high chair trays. This innovation in feeding is designed for children ages six months and up. The Nummy Bowl is made of 100%, high-quality, food-grade silicone, free of BPA, PVC, Lead, and Phthalates, and is FDA approved and CPSC certified. Not only is silicone more practical in the kitchen – it's dishwasher, microwave, oven, and freezer safe – but it's also better for the environment. It is not toxic to aquatic or soil organisms and doesn't contain toxins such as BPA or BPS, like plastics. Silicone can be recycled, and breaks down into harmless ingredients.
Get it here → Amazon.com, $19.99
7. Lamaze Maternity Nursing Bra
Lamaze Maternity and nursing space- dye printed wireless bra. This bra is so cute you will not want to take it off. Design features snap down bust panels for easy breastfeeding. Wireless for your comfort. Has an inside bust sling for added support. Molded cups. Adjustable shoulder straps.
Get it here → Amazon.com, $26-$28
8. Lamaze Maternity Tanks
Comfort support camisole. Easy snap-open clip at shoulder. Modern silhouette. Easy to clean! This is perfect for nursing that sweet little baby! It gives mommy comfort and style, too!
Get it here → Amazon.com, $21.60
9. Jen's Bra
This shape-enhancing bra is one of our best sellers year after year.  The wide fabric band is super comfortable and stays in place. The center front  gathers create shape and separation.  The organic cotton/spandex blend fabric gives soft but substantial support. It also makes a good nursing or sleep bra.  Good for cup sizes A – DD.
10. Finn + Emma's Bandana Bibs
Bibs are a necessary part of teaching your little one to manage solids, but they can be boring. Not so with our bandana bib. Made with buttery-soft organic cotton and easy to care for, it's as cute as it is functional. A must-have item for every messy little eater's wardrobe.
11. Tommee Tippee Closer to Nature Bottles
Each of our feeding bottles have been created with the main aim to make switching between breast and bottle feeding a stress-free experience. We've designed the unique, easy-latch-on teat shape with breastfeeding experts so that they mimic the natural flex, stretch and movement of mum's breast.
Get it here → Amazon.com, $16.42
12. Medela Double Breast Pump – Electric
Pump in style advanced is a daily use breast pump designed for moms who pump several times a day. Includes tote bag with integrated motor unit, AC adaptor, battery pack, insulated cooler bag and ice pack, 5 ounce breast milk bottles, 24 mm breast shields, PersonalFit connectors, valves, tubing and instructions.
13. Inglesina Fast Table Chair
For use at home, while traveling or at the restaurant, the 2018 Inglesina Fast is a must-have table chair that is as comfortable as it is convenient. Parents love the Fast because of its simple, twist-tight couplings and its compatibility with most types of tables (up to 3.5″ thick), leaving them scratch-free. Fast is ultra-light, collapsible and easy to carry comfortably in a large bag that comes with purchase (hidden underneath the seat pad). So – no matter where you are – your child will be able to sit and act like an adult. Well, sort of. Fold-flat closing system for no-hassle use and easy transportation. Lifted backrest and firm seat for greater comfort of the baby. Handy rear pocket. Removable cover, hand washable at 86 F. Convenient, travel-friendly carrying bag included.
Get it here → Amazon.com, $69.00
14. Bumbo Multi Seat
Bumbo introduces the Bumbo Multi Seat, the next step in seating for your child. The Bumbo Multi Seat is ideal for babies who have already mastered the Bumbo Floor Seat and will see your child through to the toddler stage with a seat that grows with your child.
With attachment straps to easily convert from a floor seat to a booster seat, you can begin enjoying key developmental milestones from feeding to playtime as soon as your child can begin to sit unassisted. The seat's foam pad cushions your baby and can be removed to create more room as they grow. The removable tray attaches to the back of the Multi Seat for easy storage and transport.
A portion of the proceeds from your Bumbo product purchase will be donated to children in need.
Get it here → Amazon.com, prices cary depending on color
15. Jane's Bra Top
Our organic cotton/spandex shaping bras have been best sellers since 1994 and this bra was one of the originals. The crossover front design is comfortable and flattering.  The wide, double thick fabric band doesn't bind or ride up.  The racer back provides lots of support.  Good for everyday, nursing, or as a sleep bra. It does show under some tops, so pick another style if you need something for a sleeveless top or dress.
16. My First Mealtime Set
A decorated Sophie la girafe set for all baby's first meals! Includes:
Section plate, ideal for helping baby learn to distinguish between different tastes and flavors.
Leak-proof Sophie la girafe trainer cup with an ergonomic lip to encourage natural sucking. With a leak-proof system for no-mess, no-drip drinking. Later on, the lid can be removed and the cup used as a tumbler. Has a non-slip base and two handles for a firm hold. 6.01oz capacity.
Soft spoon with a flexible tip for extra gentle contact with baby's gums. Long, firm-grip ergonomic handle designed to reach the bottom of large baby food jars. Narrow and deep shape specially designed for baby's mouth.
An adorable embroidered toweling (320g) bib with Velcro® fasteners.
What other baby feeding must-haves do you recommend?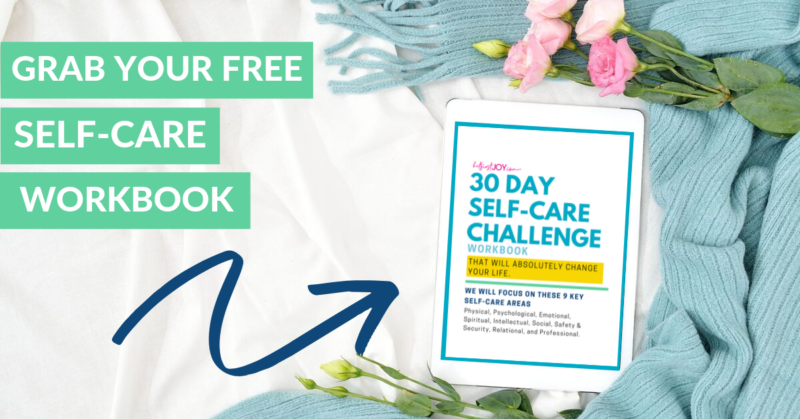 DISCLOSURE
This post may contain affiliate links and/or promotional products, all opinions expressed are that of But First, Joy only. Read my full disclosure.