Looking for gift ideas for a mama with a bun in the oven? I've gathered a list of the top gifts ideas for baby showers, holidays, & more! Spoil the mom-to-be and new baby this year!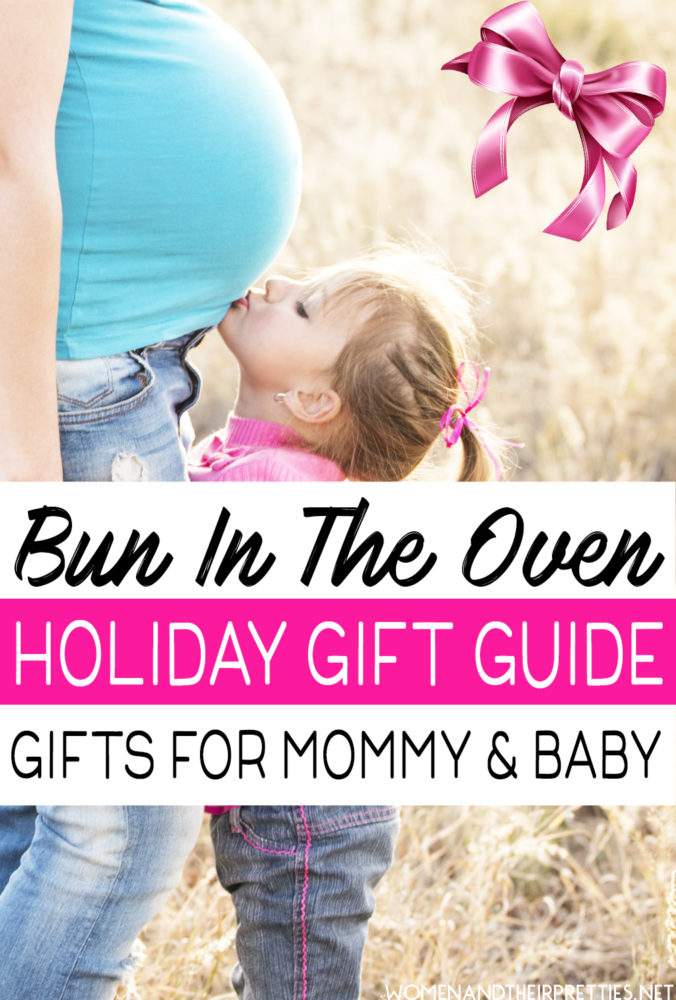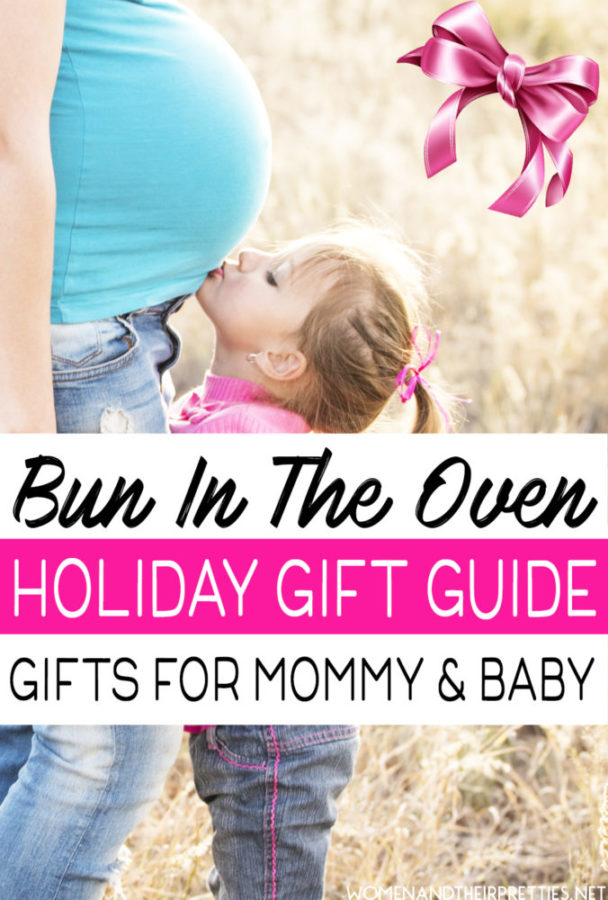 Bun In The Oven Holiday Gift Guide
I'm pregnant with my first child, which means I've searched high and low to find the best gift ideas for my new baby. From the biggest, most obvious gifts – to the smallest, sweetest gifts, I've found a little something to spoil all the mamas and babies. These gift ideas are great to pick up for a friend or for yourself. I couldn't help but to grab a few little things for myself along the way. I hope you find the perfect Bun In The Oven gift this year!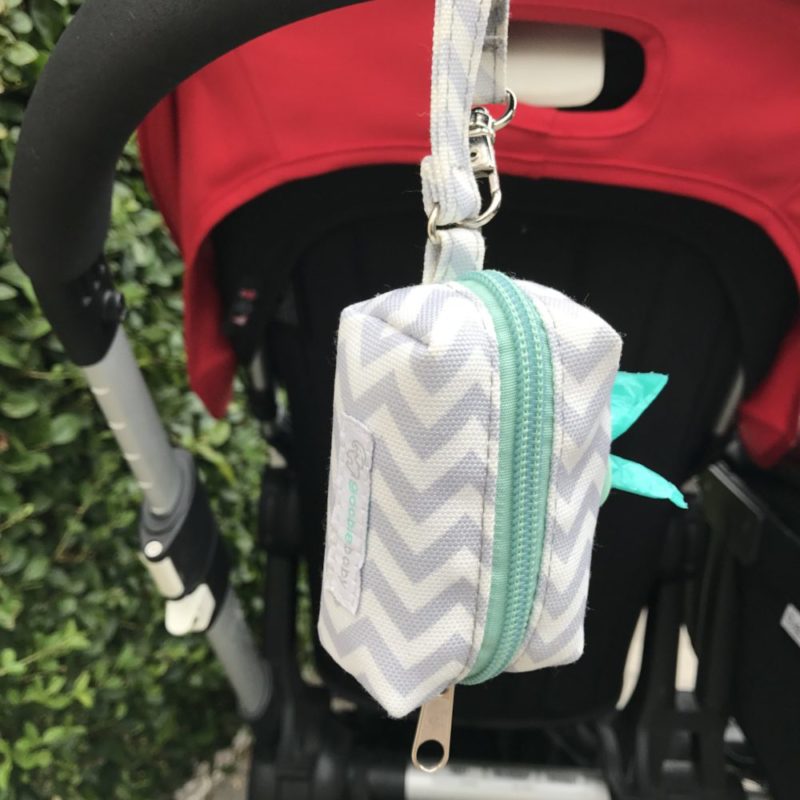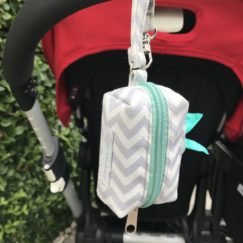 1. Diaper Waste Bag Dispenser
The Goobie Baby Diaper Waste Bag Dispenser will be your new best friend. It is the perfect accessory for busy moms on the go! You won't want to leave home without it.
Get it on: GoobieBaby.com or Amazon.com
2. Blair Slim Nursery Glider Swivel Rocker Chair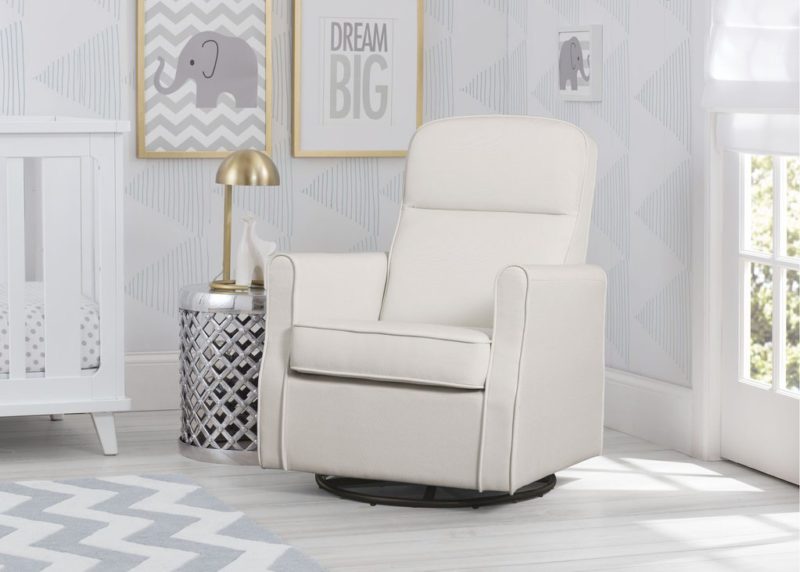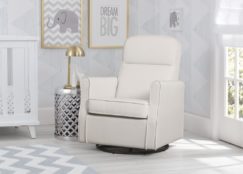 The Blair Slim Nursery Glider Swivel Rocker Chair from Delta Children allows you to sink-in and snuggle up with your baby, no matter how much floor space you have available. This glider features a striking, curved silhouette that stands up to real life—it's upholstered in durable woven fabric that is easy to clean. The smaller footprint of this petite glider helps you maximize every square inch without sacrificing comfort. The chair's smooth, built-in gliding and swivel system allows you to rock and relax with your little one for years to come.
Get it on: DeltaChildren.com or Amazon.com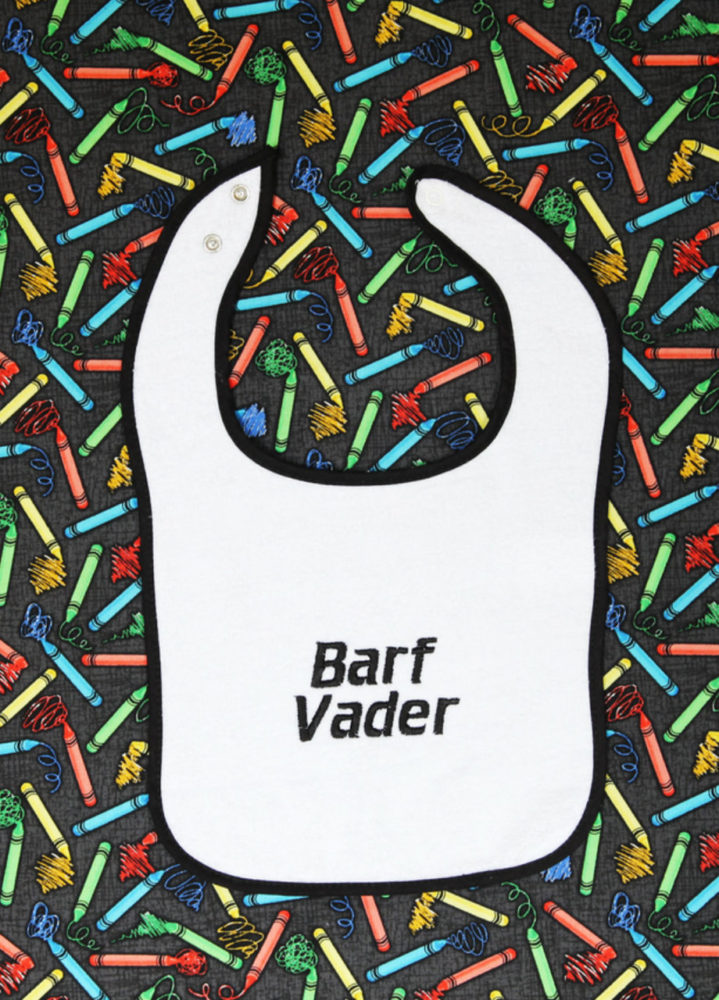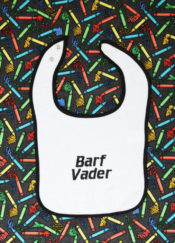 3. Barf Vader Embroidered Bib
Star Wars Fans – Here's the Star Wars bib for you!! White 100% Cotton Terrycloth Baby Bib with Black binding around the outside and neck area of the bib.  The saying "Barf Vader" is embroidered in a matching Black Thread.
These funny, unique bibs make great Baby Shower Gifts! 2 Snaps make this bib adjustable from newborn to toddler as your child grows – and they will grow!
Get it on: SassyBibs.com
4. FuzziBunz Cloth Diapers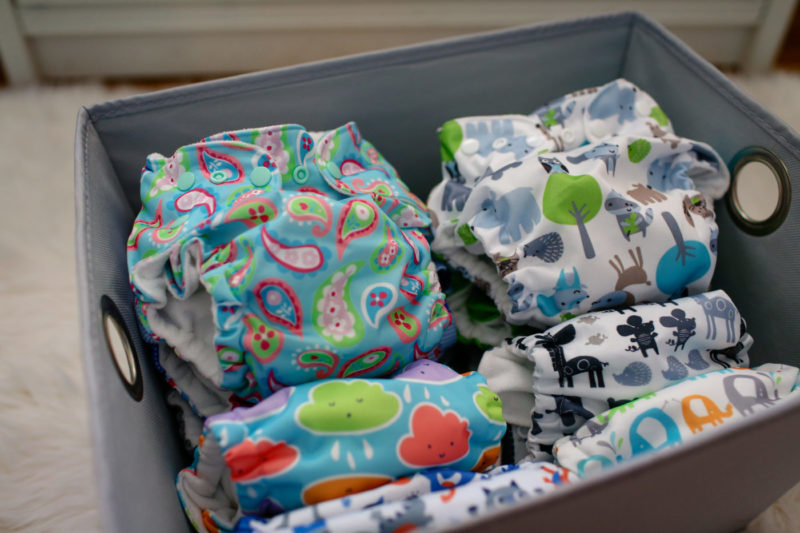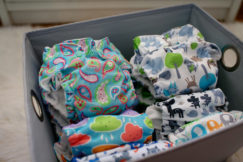 FuzziBunz are designed to bring your baby the the utmost in comfort and style with our buttery soft fleece and signature prints. Buttonhole elastic provides for 30+ size setting for a truly CUSTOM FIT at every stage. The only cloth diaper of its kind. With FuzziBunz 3 Point Leak Protection you enjoy stress free cloth diapering.
Get it on: FuzziBunz.com or Amazon.com
5. Reversible Waterproof Cotton Baby Bandana Drool Bibs
Absorbent cotton drool bib with waterproof inner layer
Reversible to match your baby's outfit. Stylish prints on both sides
Adjustable nickel-free snaps for ages 0-24 months
Trendy and stylish baby fashion accessory
Unique baby gift set
Machine washable
Get it on: GoobieBaby.com
6. BabyComfy Essentials Kit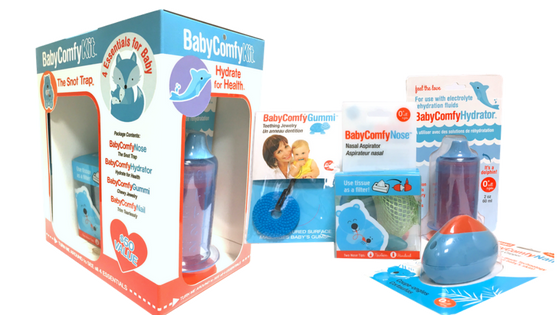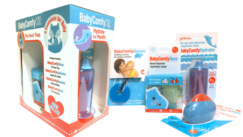 Four baby essentials baby shower gift set or gift it to yourself!
The Snot Trap™ BabyComfy Nasal Aspirator. The most effective nasal aspirator.
Baby Comfy Nail Deluxe Safety Clipper
BabyComfy Hydrator – Hydrate for Health!
BabyComfy Gummi – Chewy Jewelry. Looks great on moms.
Get it on: BabyComfyCare.com
7. Beautyrest Deluxe 3-in-1 Activity Rocker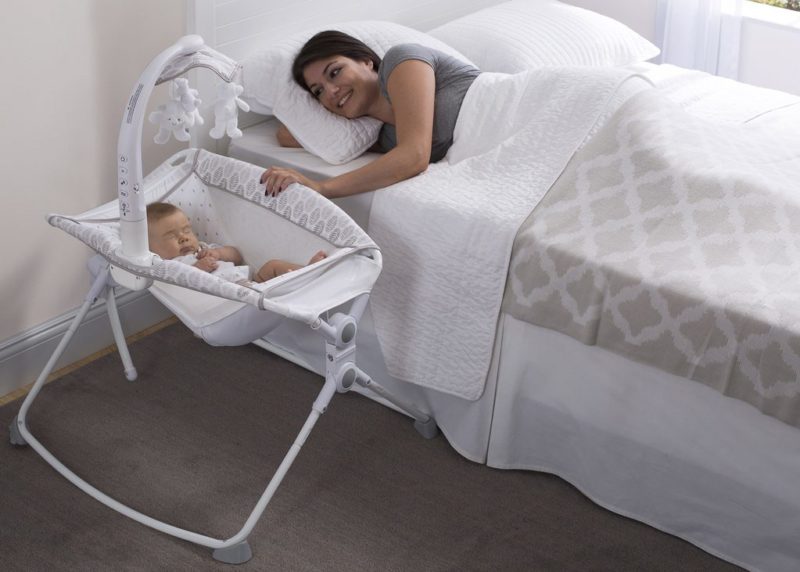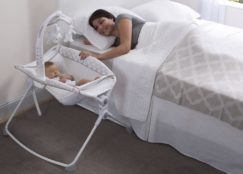 The Beautyrest Deluxe 3-in-1 Activity Rocker, Feeder and Sleeper for Newborns is a sleeper, feeding positioner and rocker all in one. This sleeper helps create a comfortable and restful environment with soft vibration, soothing lullabies, nightlight, twinkle lights and a mobile that features three spinning toys – it even rocks back and forth with a gentle push from you. The first newborn sleeper on the market to feature an adjustable height, this must-have can quickly convert into the feeding position from the sleeping position whenever Baby is ready to eat. Great for naptime, bedtime, and anytime in-between, this cozy sleeper allows you to keep your baby by your side as you move around the house. Its lightweight, foldable frame also makes it ideal for travel. Beautyrest Deluxe 3-in-1 Activity Rocker, Feeder and Sleeper for Newborn.
Get it on: DeltaChildren.com or Amazon.com
8. Naomi Teething Necklace
minimalist design, silicone necklace
100% non-toxic, food grade silicone – BPA & phthalate free
helps create tactile awareness & focus at feedings
necklaces have a custom breakaway clasp, snaps apart if tugged on
signature exposed cord design at neck prevents hair snags
dishwasher safe for easy cleaning (top rack, basket recommended)
comes packaged in our reusable cotton zipper pouch, perfect for storage on-the-go
approximate 15″ drop length
perfect gift for mom and baby!
Get it on: GoobieBaby.com
9. Promise Organice Baby Skincare
Promise Organic uses only high-performance natural ingredients as suitable for babies as they are for their loving parents. Your baby deserves a lotion free of parabens, synthetic fragrances, artificial colorants and silicones, and packed with high performance organic botanicals and extracts.
Get it on: CVS.com
10. Sophie The Giraffe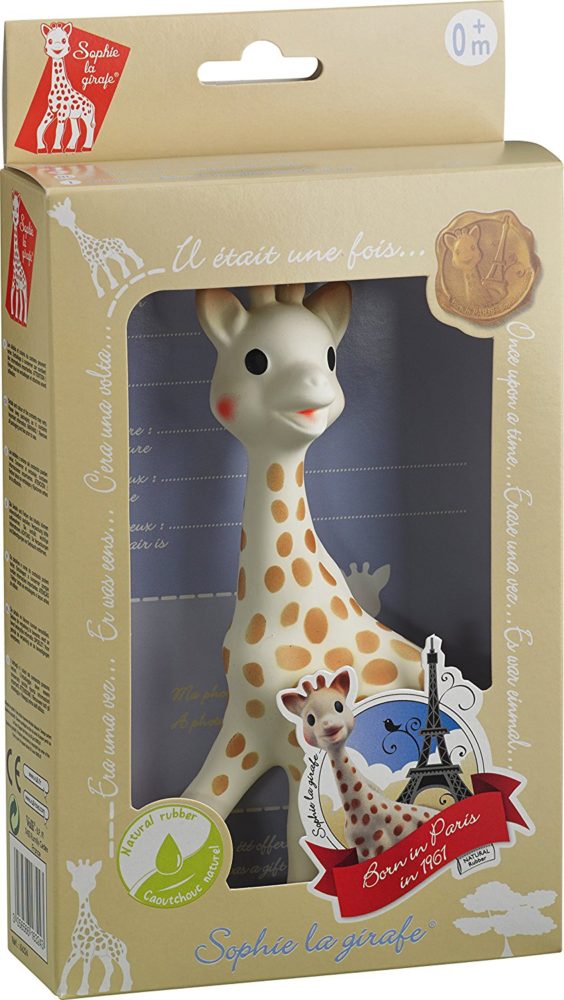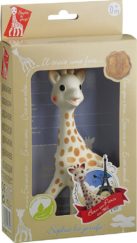 Sophie the Giraffe, full of discoveries and activities to awaken baby's senses. Sight: The dark and contrasting spots all over Sophie the Giraffe's body provide visual stimulation and make her easily recognizable to baby. She soon becomes a familiar and reassuring object. Hearing: Her squeaker keeps baby amused and stimulates his hearings. Taste: Sophie the Giraffe is very flexible and has lots of parts for baby to chew like ears, horns, legs. She is perfect for soothing baby's sore gum when teething and is completely safe. Made of 100% natural rubber and food paint. Touch: Sophie the Giraffe is perfect for baby's small hands. She is very light and her long legs and neck are easy for baby to grip. She is very soft to touch, stimulating soothing physiological and emotional responses. Smell: The singular scent of natural rubber makes Sophie the Giraffe very special and easy for your child to identify.
Get it on: SophieTheGiraffe-USA.com or Amazon.com
11. Boppy Bloom Comfort Care Kit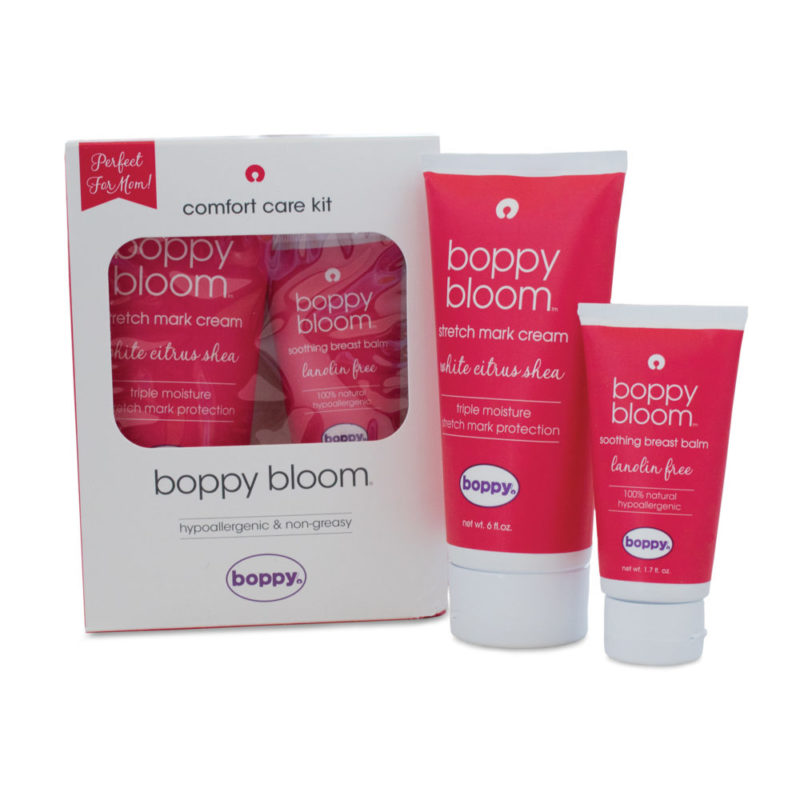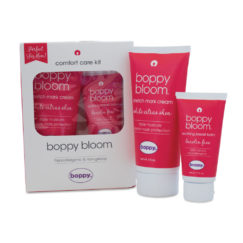 Boppy Bloom Stretch Mark Cream Net Wt. 6 fl.oz. and Boppy Bloom Soothing Breast Balm Net wt. 1.7 fl.oz. Give stretch marks and sore nipples the 1-2 punch with this dynamite duo of products from the Boppy Bloom Skincare Collection. The Stretch Mark Cream will quickly become your new BFF for fighting stretch marks and repairing set, itchy skin. The triple moisture blend of coconut, shea butter and vitamin E combine to smooth and hydrate skin for stretch mark protection. Help relieve sore, cracked nipples with our Soothing Breast Balm. Every Boppy Bloom product is crafted with the highest quality ingredients and without additives for a simple, trusted solution.
Get it on: Boppy.com or Amazon.com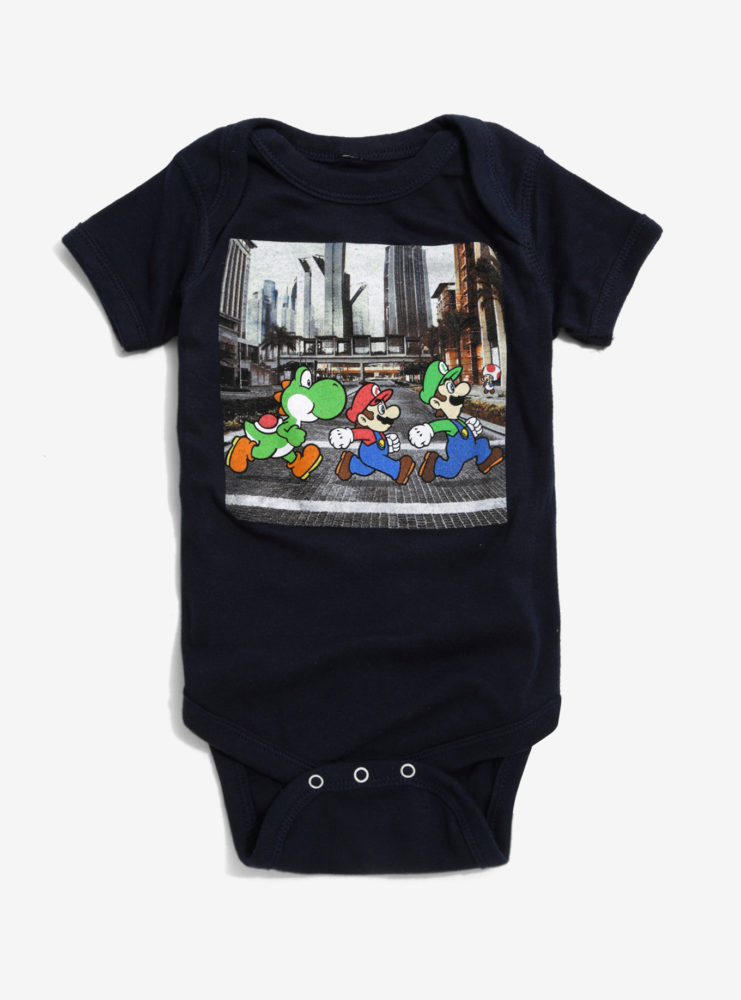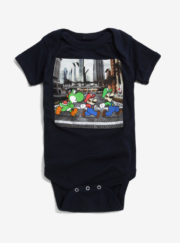 12. BoxLunch Onesies
BoxLunch is a pop-culture retailer with a cause to "Get Some, Give Back.." For every $10 spent online or in-stores, a healthy meal is donated to a person in need through its partnership with Feeding America. With onesies such as, Super Mario, Disney, and other pop culture references, your baby will be off to a geeky start in life!
Get it on: BoxLunch.com
13. Ordering Dinner Embroidered Bib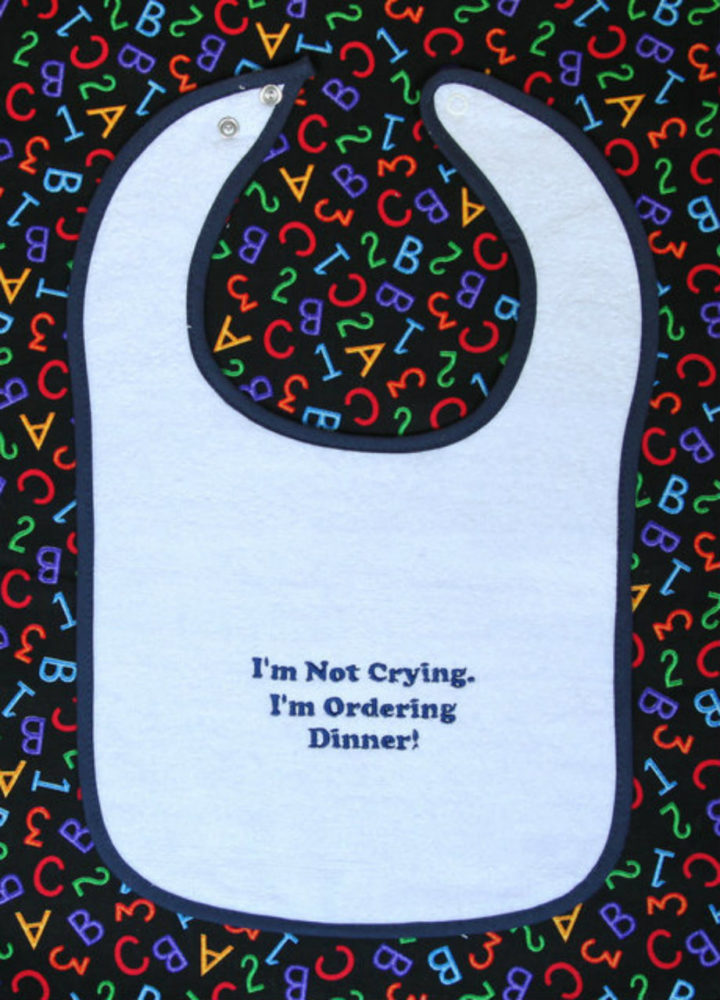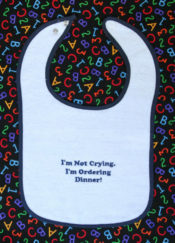 White 100% Cotton Terrycloth Baby Bib with Navy Blue binding around the outside and the neck area of the bib.  The saying "I'm Not Crying. I'm Ordering Dinner!" is embroidered in a matching Navy Blue Thread.
These funny, unique bibs make great Baby Shower Gifts! 2 snaps make this bib adjustable from newborn to toddler as your child grows – and they will grow!
Get it on: SassyBibs.com
14. Hawk + Sloane 6 Spray Set
Conquer parenthood one spray at a time! Can't decide your favorite Hawk + Sloane spray? Pick up all 6 of your favorite sprays in one combo set. Great for gifts and baby showers.
Get it on: HawkandSloane.com
15. Boppy Luxe Feeding and Infant Support Pillow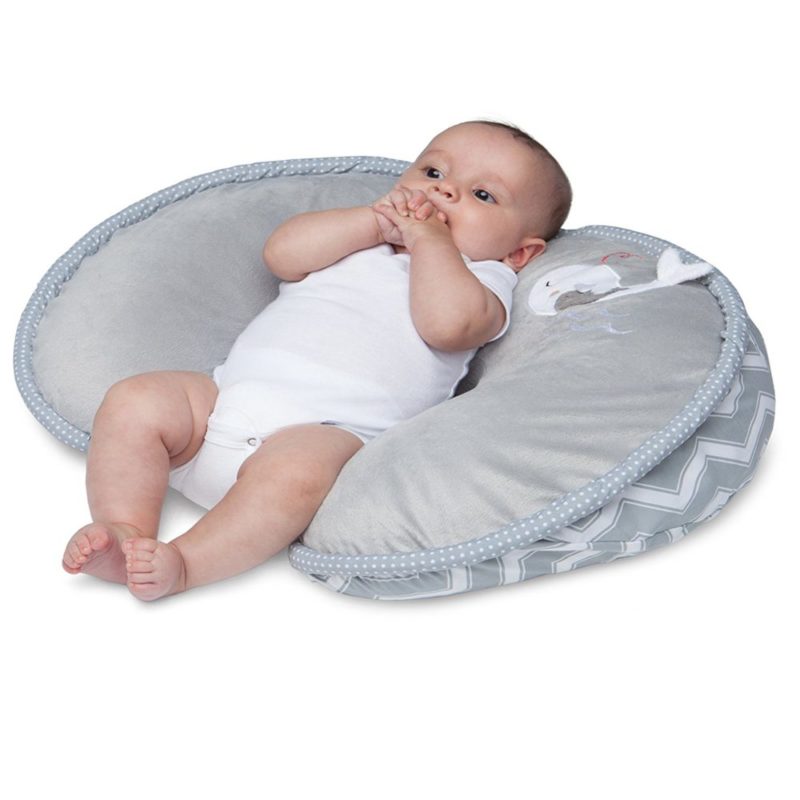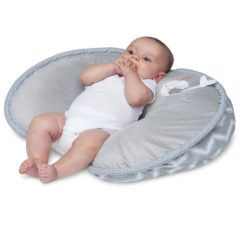 The original, award-winning Boppy Nursing Pillow and Positioner celebrates over 25 years of supporting moms, dads and babies. This versatile nursing pillow lifts baby to a more ergonomic position for comfortable breastfeeding and bottle feeding, giving relief to your arms and back. Bond with your new baby by using the Boppy Nursing Pillow while you're breastfeeding or bottle feeding. In addition to breastfeeding and bottle feeding, the Boppy Pillow transitions to the perfect support pillow for different stages of development including propping, tummy time and learning to sit. The Boppy Pillow supports baby as she grows and develops and this multi-use pillow can be used for babies up to one year old. Comes with a luxuriously soft minky slipcover that is removable for easy washing. Delightful applique and coordinating piping complete this ultra plush pillow. The Boppy Pillow and Boppy Slipcover are both machine washable and the slipcover is removable.
Get it on: Boppy.com or Amazon.com
16. Sleepy Toes (A Padded Board Book)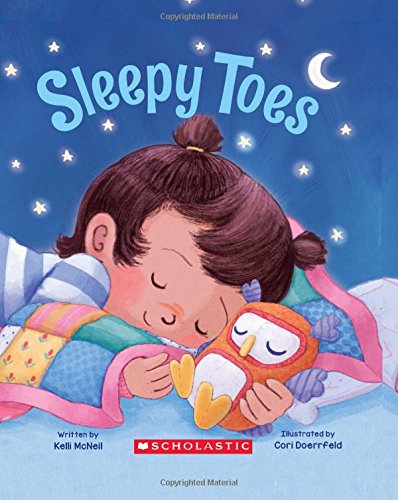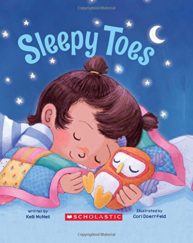 In the vein of such modern-day classics as Ten Little Fingers and Ten Little Toes and The Rabbit Who Wants to Fall Asleep comes an irresistibly sweet goodnight story just right for little ones who need to get the wiggles out before settling down for bedtime. With soothing mindfulness language filled with gentle rhymes by debut author Kelli McNeil paired with adorable artwork by Cori Doerrfeld, this simple story masterfully captivates and lulls readers into slumber — starting from their tickly toes all the way to their sleepy, blinky eyes!
Based on the author's grandmother's special mindful storytelling technique for quieting down rowdy grandchildren, this simple goodnight guide is sure to be a classic bedtime story in the making.
Get it on: Amazon.com
17. Green Tea Mask + Scrub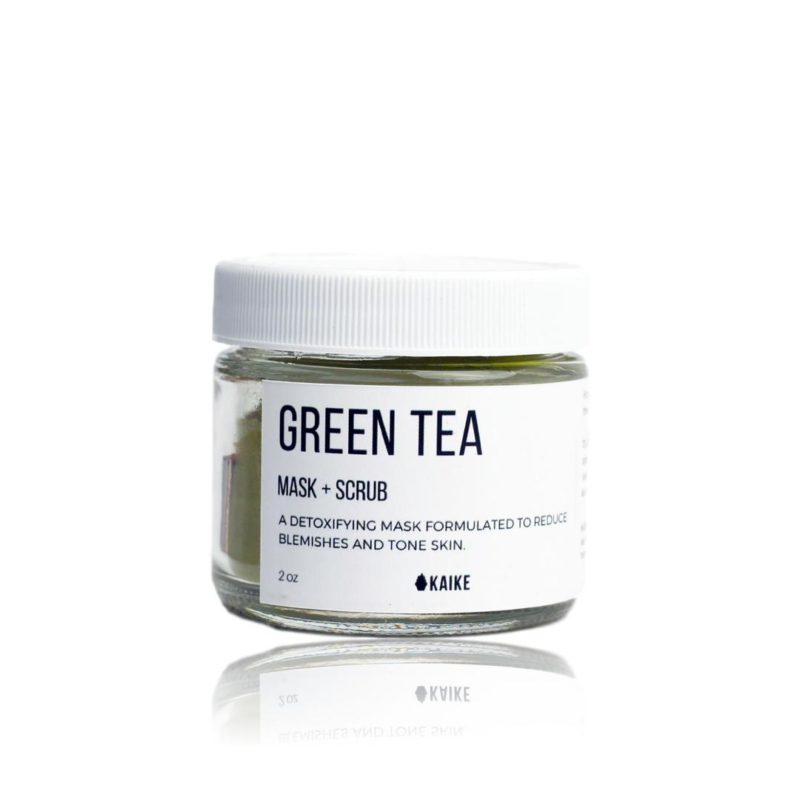 Spoil moms-to-be with a little bit of pampering! A detoxifying mask formulated to reduce blemishes and tone the skin.  For oily and acne-prone skin, this absorbent mask draws oils and impurities from the skin while reducing inflammation and free radicals that accelerate skin aging.
Get it on: ShopKaike.com
18. Heat Holders – The Warmest Thermal Socks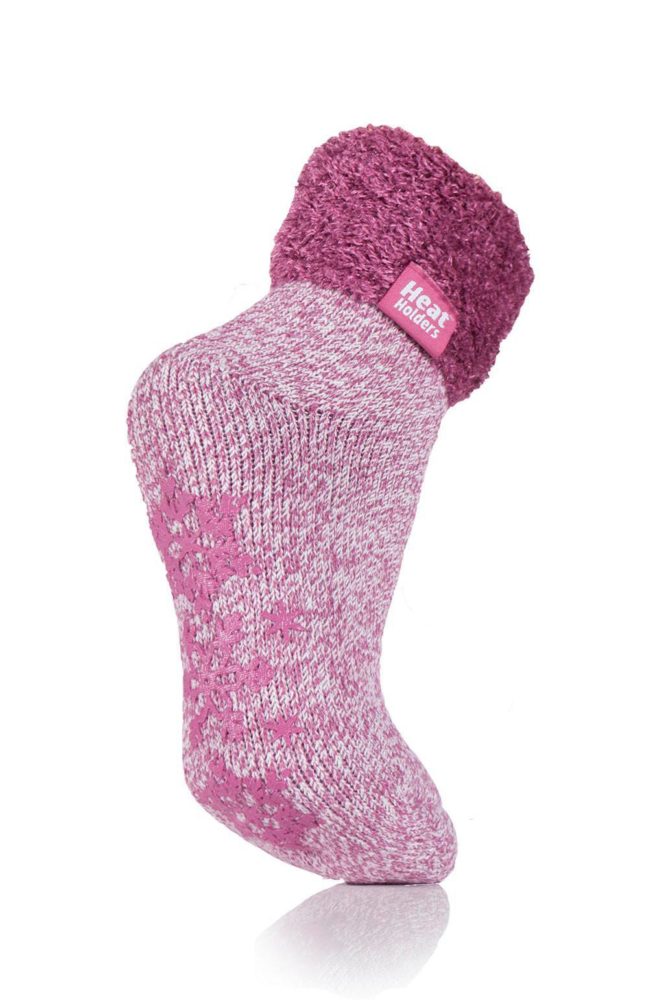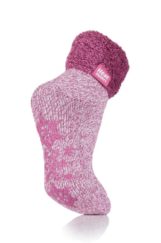 Heat Holders are the world's leading thermal sock brand who are yet to be beaten on quality and price. Whether you suffer from poor circulation or just want a bit of extra warmth during the chilly months. Heat Holders are particular good for those who suffer from water retention and swollen ankles, as Heat Holders socks are totally non-restricting. PERFECT for moms-to-be! They are pretty cute, too!
Get it on: HeatHolders.com
19. SnugRide® SnugLock™ 35 DLX Infant Car Seat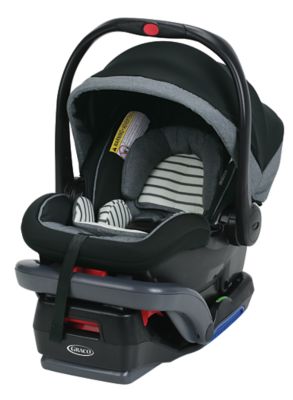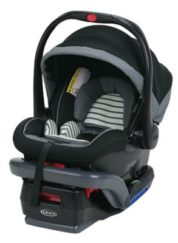 CLICK! That's the sound of a secure install. The SnugRide® SnugLock™ 35 DLX has a hassle-free installation using either vehicle seat belt or LATCH. In three easy steps you can feel confident you've got a secure install. To further make installation a breeze, the InRight™LATCH provides a one-second connection and the base with its 4-position recline and easy-to-read level indictor helps eliminate installation guesswork. Easy for mom, and comfy for baby. The 1-Hand adjustable handle leaves one hand free when adjusting the handle for easy in-and-out. The Silent Shade™ canopy adjusts without disturbing baby. Click Connect™technology provides a secure one-step attachment to all Graco Click Connect™ strollers making it easy to create a custom travel system that best fits your lifestyle. The SnugRide®SnugLock™ 35 DLX gives mom peace of mind and helps protect rear-facing infants from 4 – 35 lb and up to 32″.
Get it on: GracoBaby.com
20. Boppy Baby Chair
The Boppy Baby Chair is the best seat in the house. Part highchair, part booster seat, part floor seat, the Boppy Baby Chair is the new multi-tasker! The Boppy Baby Chair can be used for infants as young as 3 months and grows with baby until he reaches his first birthday. This resourceful chair comes with a removable, BPA-free, dishwasher safe tray so feeding your little one is a snap. The new Boppy Baby Chair was designed to go from floor seat with a skid proof bottom to table seat with adjustable straps. The Boppy Baby Chair passes all US safety standards and includes a three-point harness for baby and chair attachment straps. This baby chair is not only soft and durable, but easy to clean, so wiping down those orange carrots will be a cinch. And when you're done, it folds down for easy storage and portability so you can tuck it away out of sight, or take it with you. The removable tray, removable booster and attachment straps are included so you don't have to purchase additional accessories. Like mom, this little chair does it all.
Get it on: Boppy.com or Amazon.com
21. Pixel Pals – A Geeky Night Light
Get it on: GameStop.com
22. Birdie – Hand Sanitizer
Taking his cue from our real-life feathered friends, Birdie's function is to help you stay clean. At 3 inches tall and 2 inches wide, he's ergonomically designed to fit in your hand. Each Birdie contains 350+ sprays!
With soothing essential oils and nourishing aloe vera, his natural sanitizer quickly cleanses your hands and leaves them feeling soft and refreshed. You'll also discover 10 dry wipes in his base to help with dirt and grime—simply spray the sanitizing liquid onto a wipe to create a fresh towelette on-the-go!
Get it on: OlikaLife.com
What's the best Bun In The Oven gift you've ever received?
Looking for more gift ideas? Be sure to scroll around the Pretties Gift Guides section for all sorts of fun gift ideas for not only mommies, but for the whole family!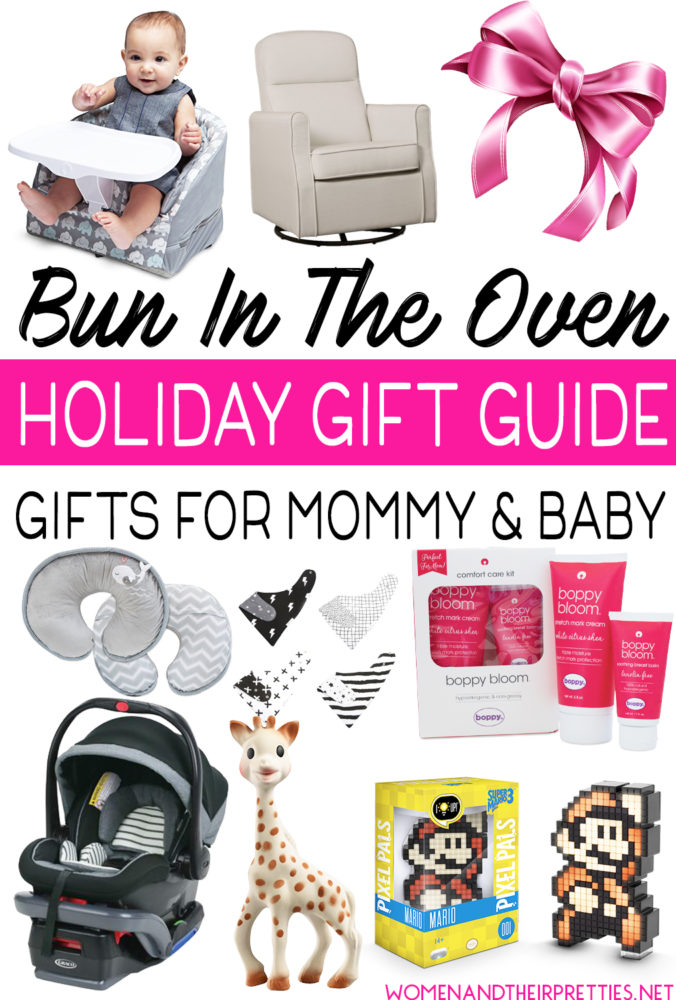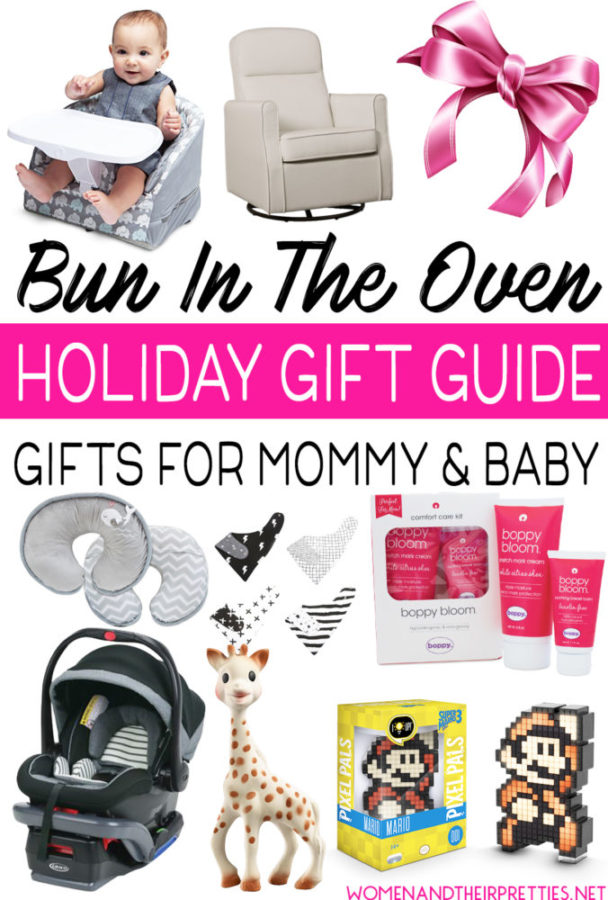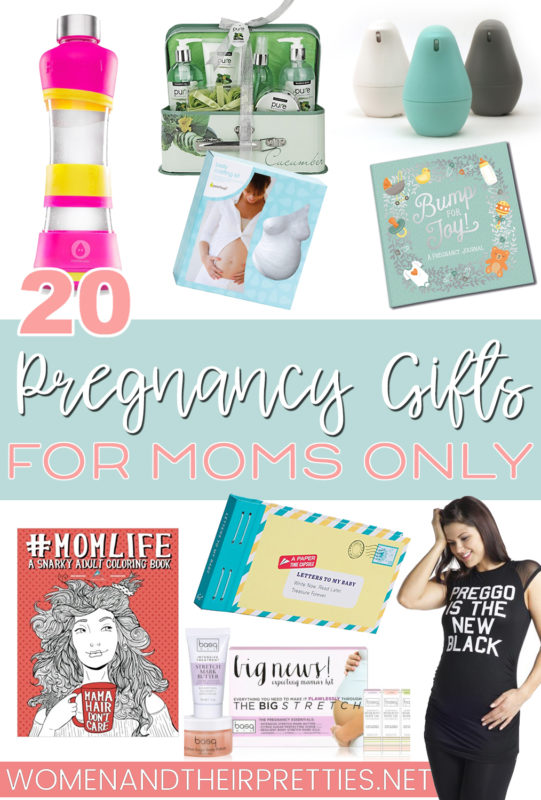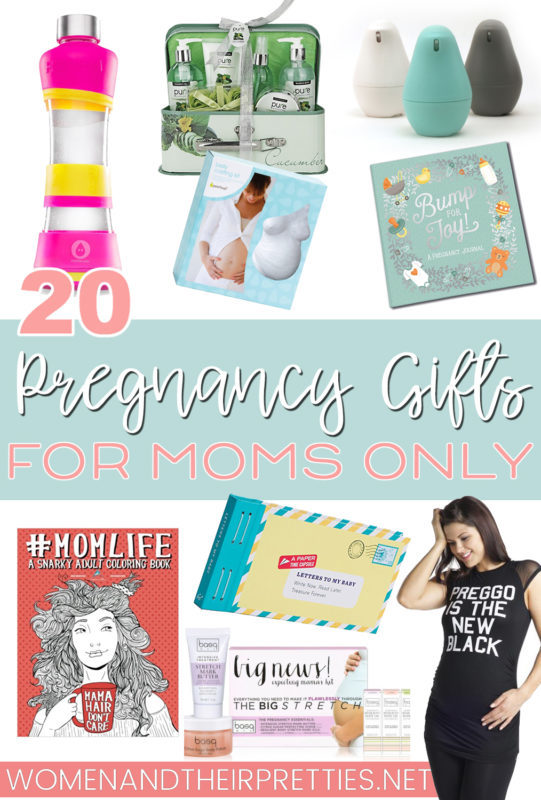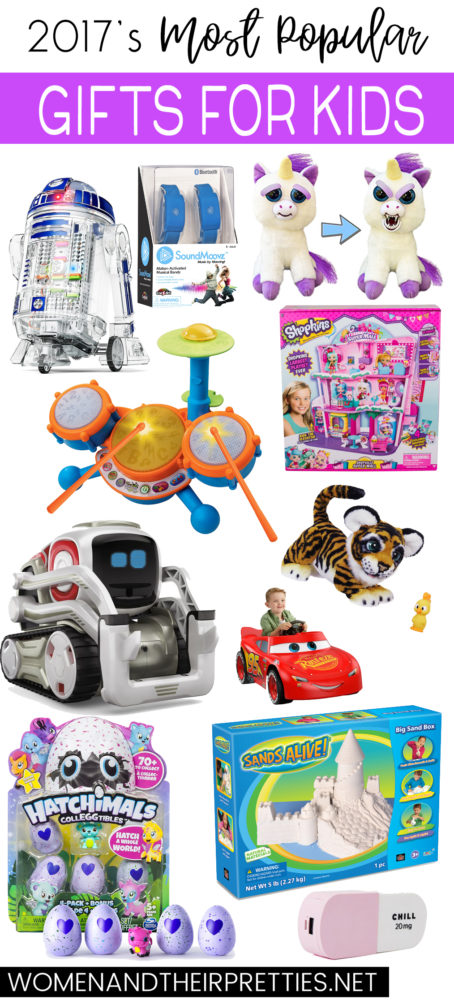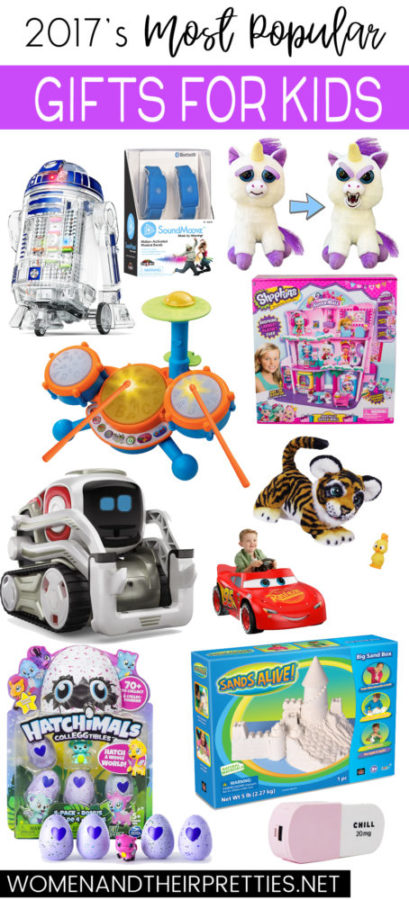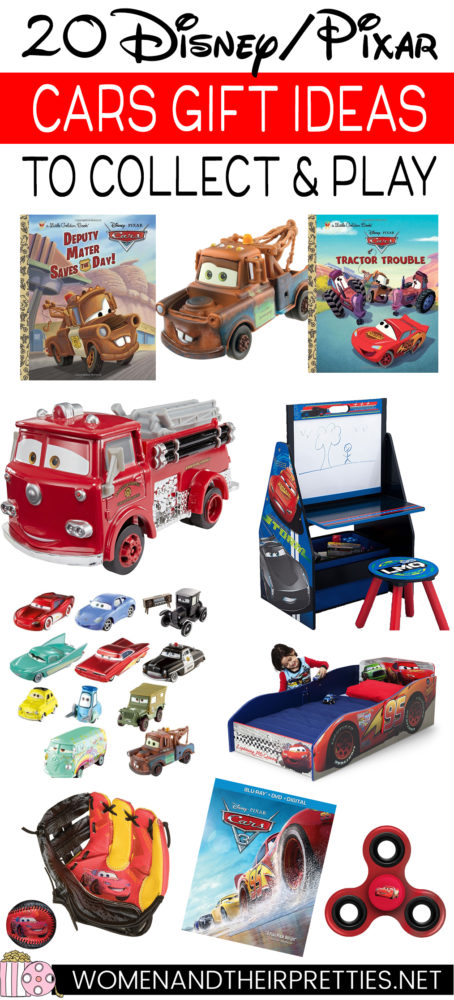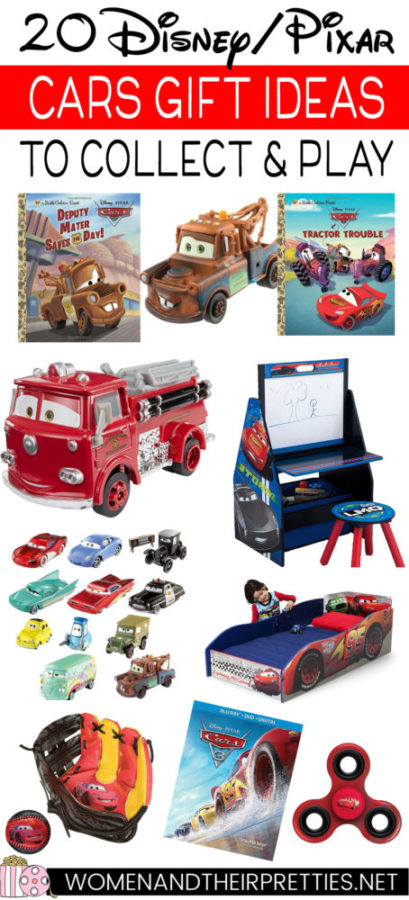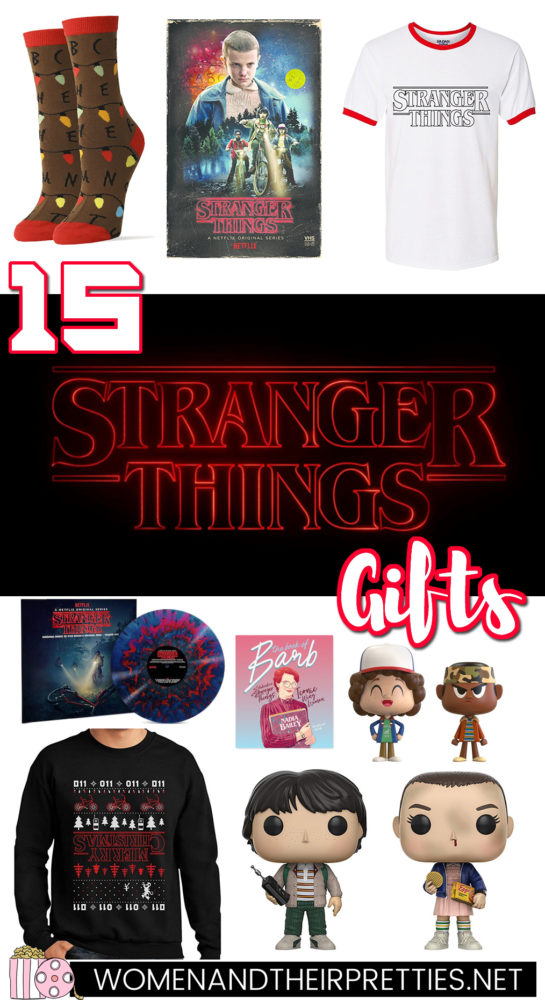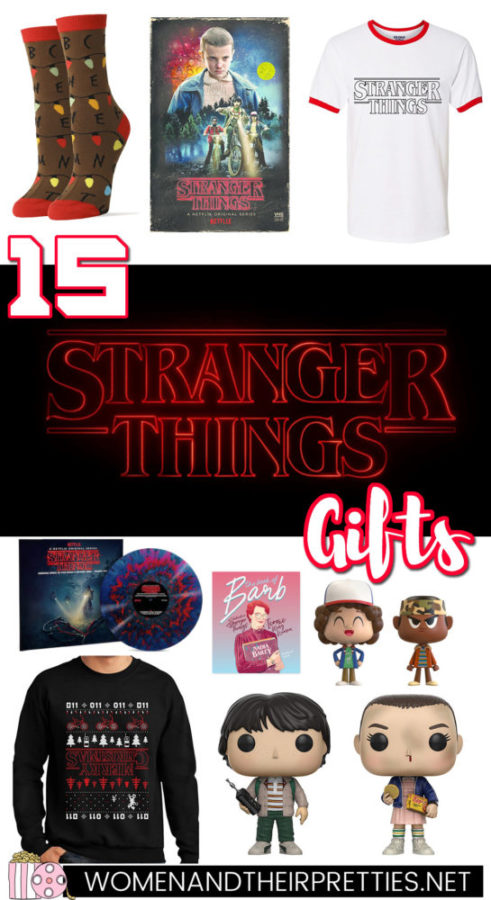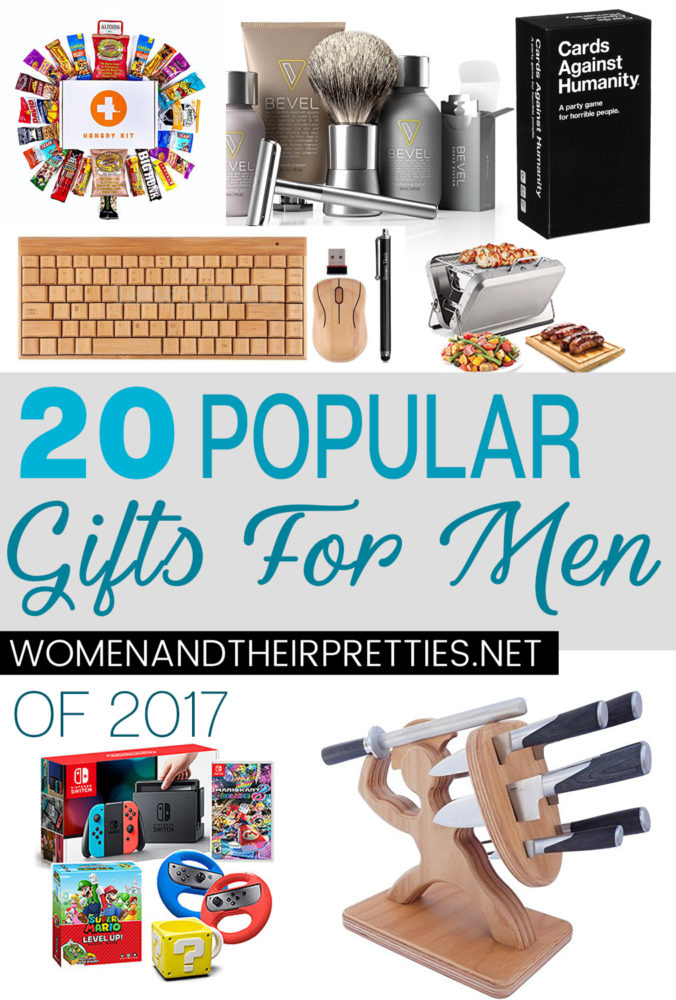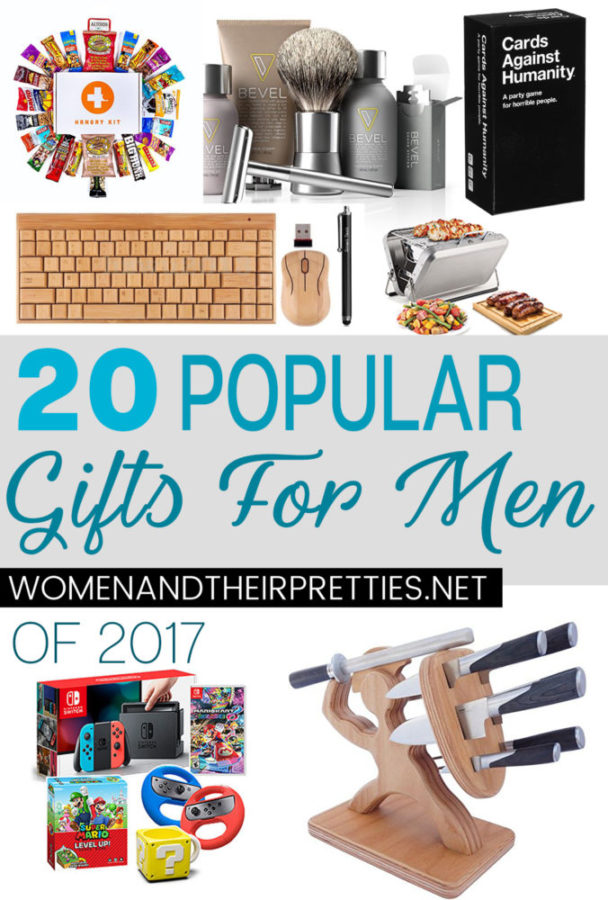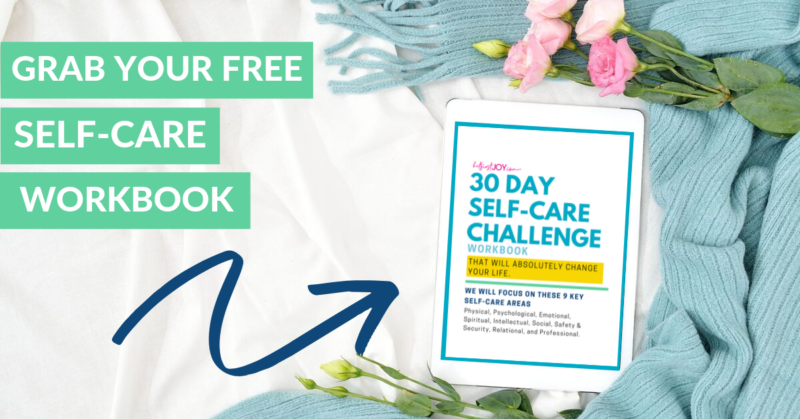 DISCLOSURE
As an Amazon Associate I earn from qualifying purchases. This post may contain affiliate links and/or promotional products, all opinions expressed are that of But First, Joy only. Read my full disclosure.