If you're looking for the best pregnancy gifts, then look no further. This Maternity Gift Guide has gifts for mommy and not baby because moms deserve to have a comfy pregnancy.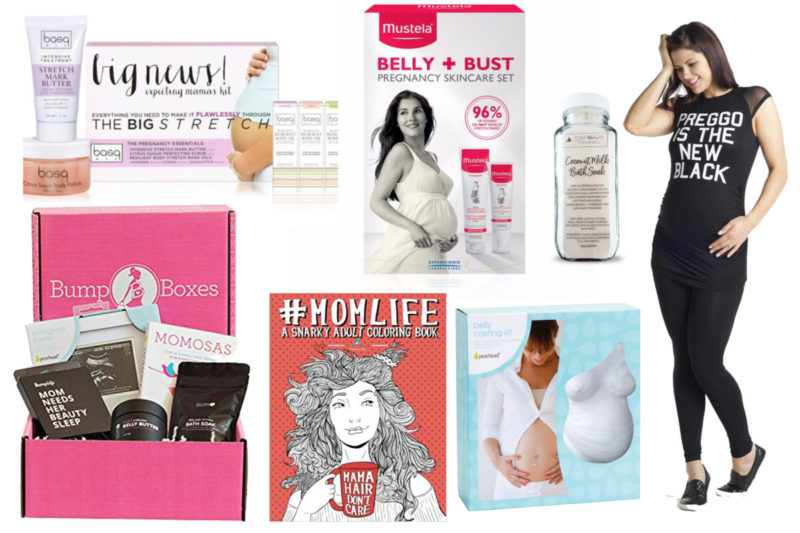 20 Top Pregnancy Gifts
I'm pregnant! The news is finally out there and I couldn't be more excited. I can't believe I'm going to be a mommy. I've waited until my second trimester to really start searching for the best gifts for pregnant women because I wanted to be 100% sure that baby was healthy. After 2 appointments, the doctor gave me the go ahead to announce it to the world… and to start preparing. As I was searching for things I needed to make my pregnancy more comfortable, I realized that every maternity guide includes gifts for the baby. Is it so bad to want gifts for mommy only? A breast pump and nursing bra doesn't help me while I'm pregnant. I'll save those for my new baby gift guide coming in 2018. For now, let's focus on the moms-to-be.
1. Maternity Basic Tee – Skinnytees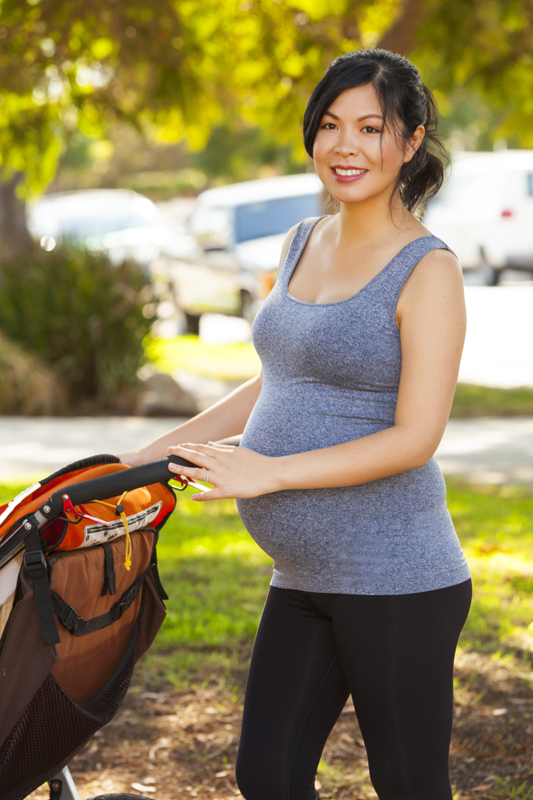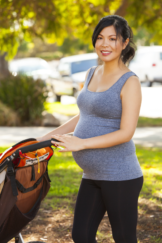 Here it is: the perfect tank. What makes it so great? How about the fact that it keeps your bra out of sight and is the perfect length to keep your look covered. This tank maintains its shape throughout the day so there's no need to pull it or tug it back into place.
Get it here: Skinnytees.com
2. Starlit Nursing PJ & Robe Set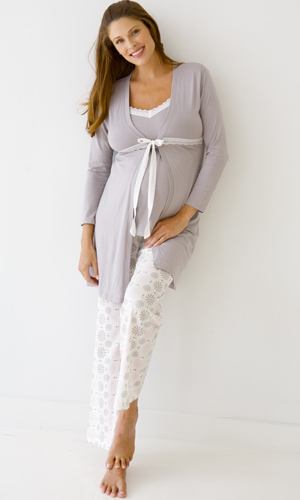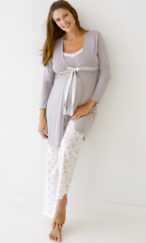 Feel radiant in this dreamily soft 3 piece gift set, an essential for all new moms. Perfect for nursing and lounging. Because, every mom deserves to feel comfortable.
Get it here: Belabumbum.com
3. Belly & Bust: Pregnancy Skincare Set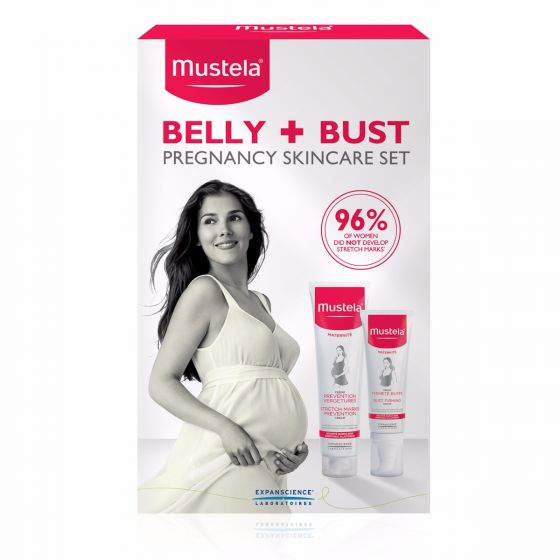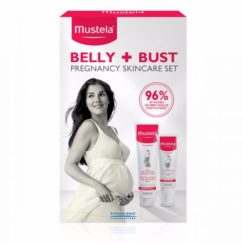 This essential starter set offers 2 specially formulated products, Stretch Marks Prevention Cream (5.07 oz) and Bust Firming Serum (4.22 oz), to safely support and care for the changing skin of new and expecting mothers.
Get it here: MustelaUSA.com
4. Organic Body Oil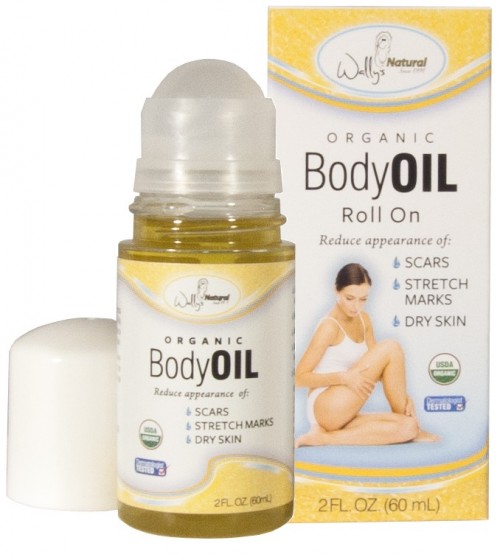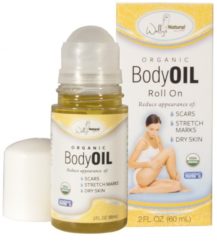 Whether you're a mom-to-be, on your third pregnancy, or simply want beautiful skin, Wally's Natural Organic Body Oil has you covered. Nourish your skin and improve the look of scars, stretch marks, and dry skin, this organic formula is sure to keep skin hydrated, naturally radiant, and restore your skin's supple feel and youthful appearance.
Get it here: Wallysnatural.com
5. Preggo + Pampered Gift Set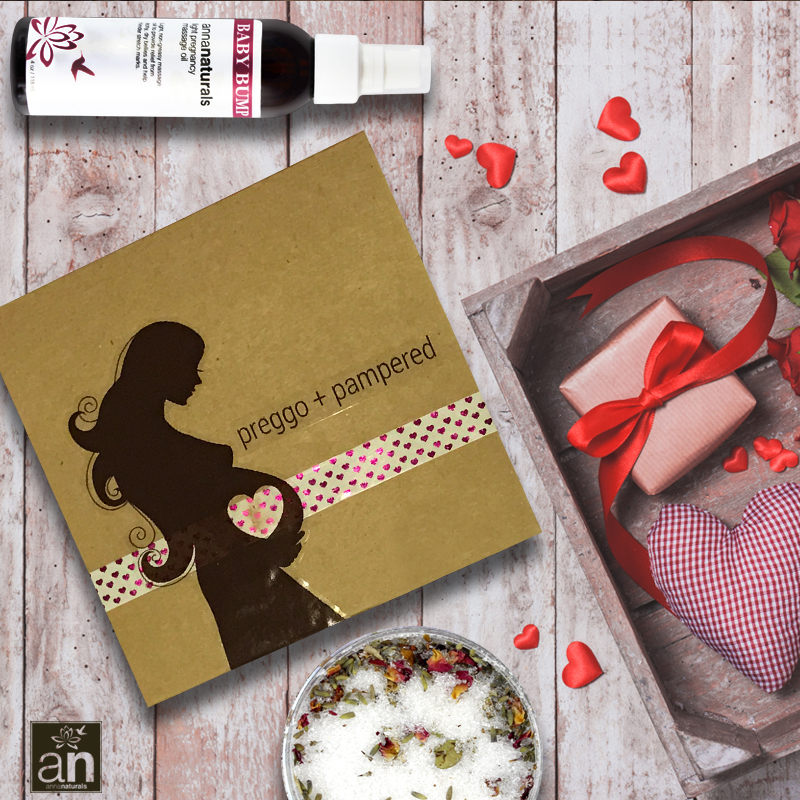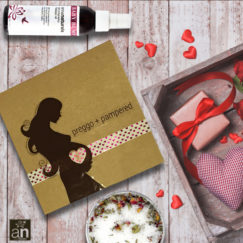 The perfect gift for a mama-to-be.
Preggo + Pampered includes all your pregnancy necessities – Keep it Down aromatherapy spray, Baby Bump Oil, Shrink My Feet soak, Glow: Walnut Scrub and All Smiles Uplifting aromatherapy spray.
Get it here: Annanaturals.com
6. Patience Scoop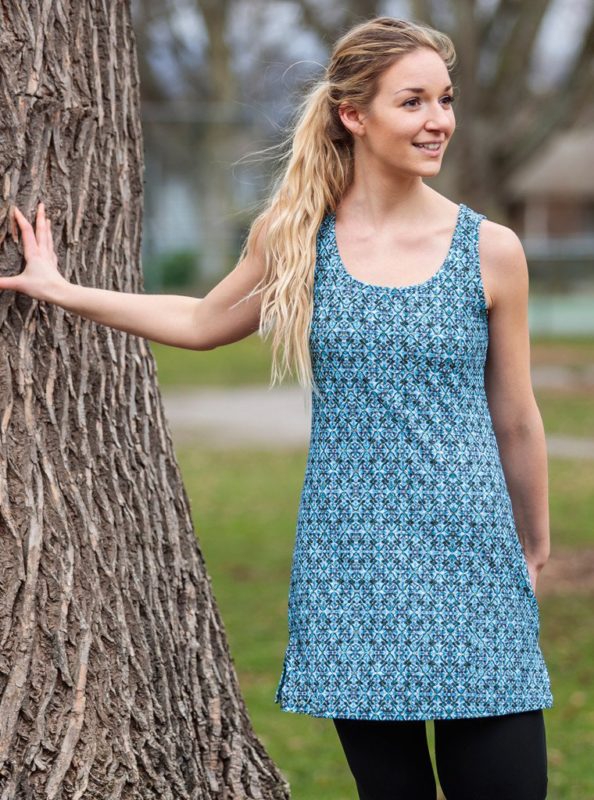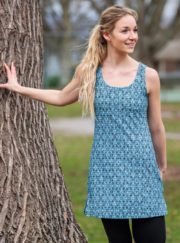 Patience is for all of you who patiently waited for the sister print to Gwyneth, a crazy-popular kaleidoscope print from years gone by. A fresh array of colors you can mix and match a dozen ways, yet still reads like a neutral. Good things come to those who wait.
Get it here: Nuu-muu.com
7. EatSmart Precision Tracker Scale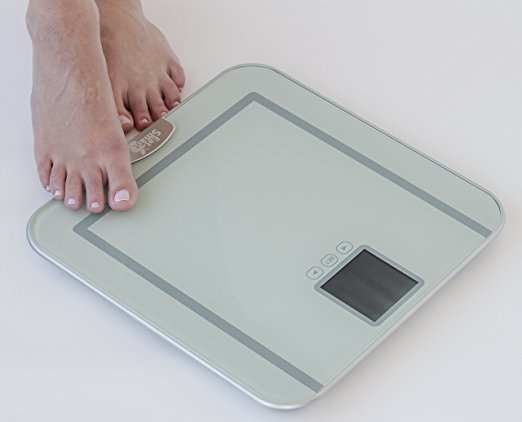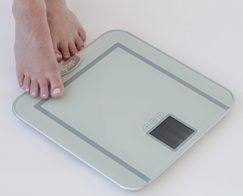 The Precision Tracker is the perfect tool to assist expecting Moms with maintaining a healthy weight gain during pregnancy and help motivate Moms to safely lose the excess weight after the birth of their baby.
What the Tracker Does – This innovative scale allows expectant Moms to monitor trends in weight loss or gains so that they can adjust their diet and exercise to get back on track.  At each weigh in, the scale will display three readings: current weight, weight change from the last weigh in, and total change from starting weight. 
Get it here: Amazon.com
8. Psi Bands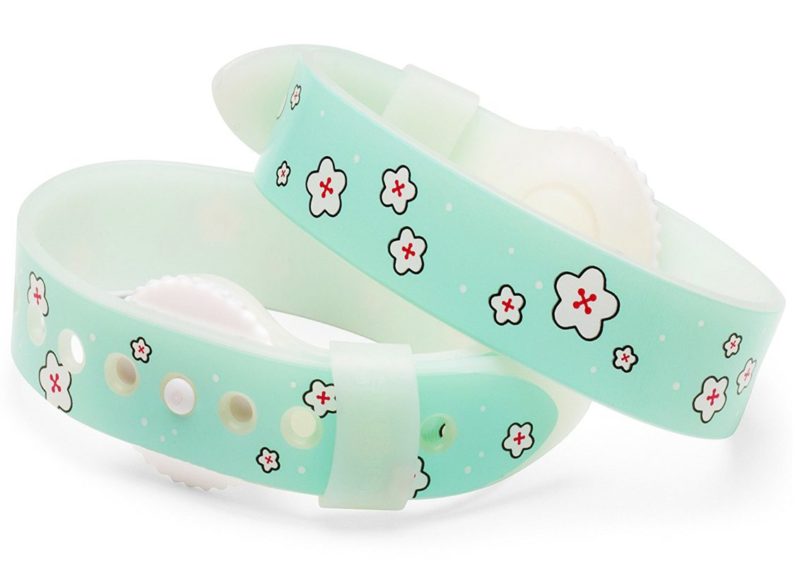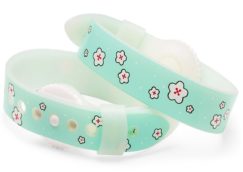 80% of pregnant women suffer from morning sickness.
Psi Bands are stylish, acupressure wrist bands, a medical device, for the relief of nausea due to morning sickness. They are drug-free (i.e. safe for mom and her unborn baby), fashionable/FUN colors, adjustable for personalized comfort and fit, affordable, & available at major retailers (in store and online). Scientific studies support the use of wrist acupressure in the relief of nausea due to morning sickness.
Get it here: Amazon.com
9. Big News! Expecting Mama's Mini Kit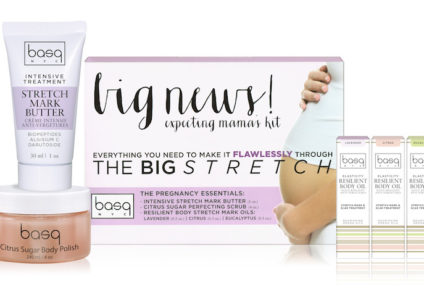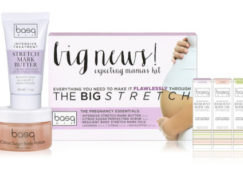 This mini kit includes all the must haves for optimal pregnancy skin care. Our best routine with all our award winning products designed to keep your skin resilient, smooth and prevent stretch marks during pregnancy. Three keys steps all in one kit: Exfoliate, Protect and Treat.
Get it here: BasqNYC.com
10. Meet Birdie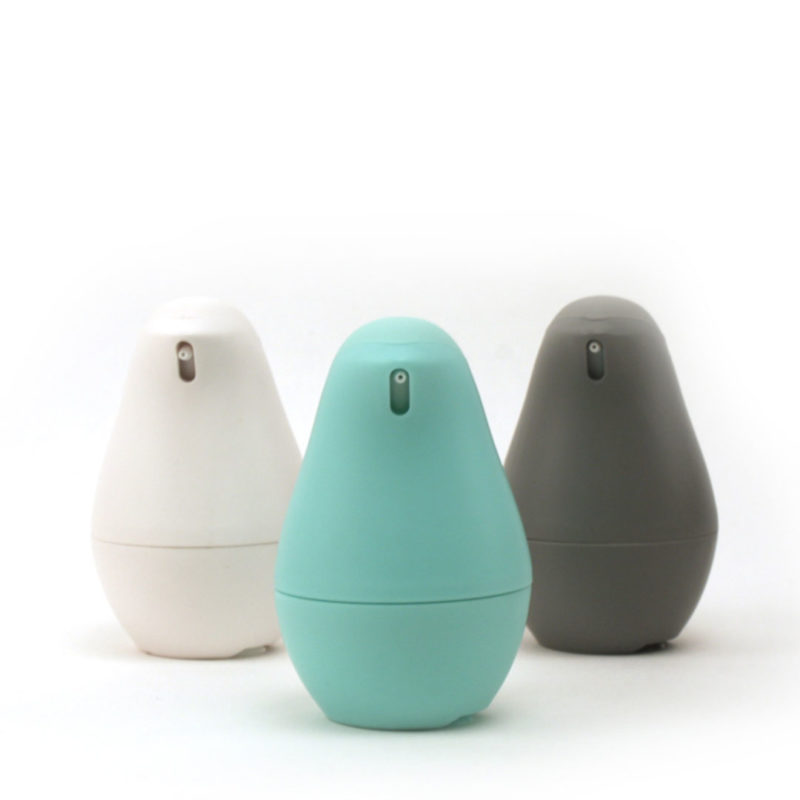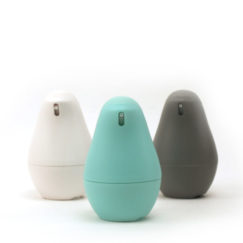 When you're first home with a newborn you really worry about germs. Whether you're encouraging guests to wash their hands as soon as they come over, or looking for a quick refresh before the early day doctor visits – Birdie is a great go-to with soothing essential oils and nourishing aloe vera which quickly cleanses your hands and leaves them feeling soft and refreshed. With 10 dry wipes in his base to help with dirt and grime—simply spray the sanitizing liquid onto a wipe to create a fresh towelette on-the-go too.
Get it here: OlikaLife.com
11. Coconut Milk Bath Soak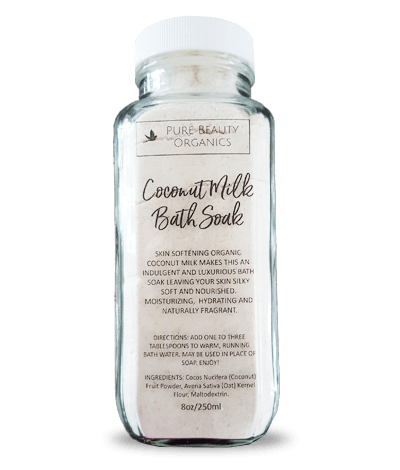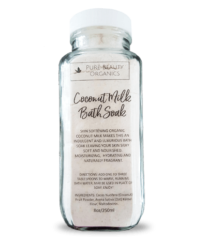 Give mom-to-be the gift of relaxation. This Coconut Milk Bath Soak is a sensational way to enliven your daily bathing ritual! Delicately ground oats are combined with protein-rich coconut milk powder to help soothe and rejuvenate skin by releasing dead cells and providing silky nourishment. Safe for baby and for those with sensitive skin.  May be used in place of soap.
Get it here: BellyButtonsandBabies.com
12. H2OPal Smart Bottle Hydration Tracker

Hydration is KEY while you're pregnant. Every new mommy needs something to help her reach the hydration levels needed to keep her and baby strong. Similar to a fitness tracker, H2OPal is a hydration tracker that works with your water bottle. It makes your life easier by helping you take in more water, fewer calories and improve your productivity and focus by avoiding dehydration. When it comes to building a successful habit, having a sense of progress is incredibly important but tracking your water intake manually isn't easy. H2OPal solves this as it logs data automatically and it sends you helpful reminders if you're falling behind.
Get it here: Amazon.com
13. Bump Boxes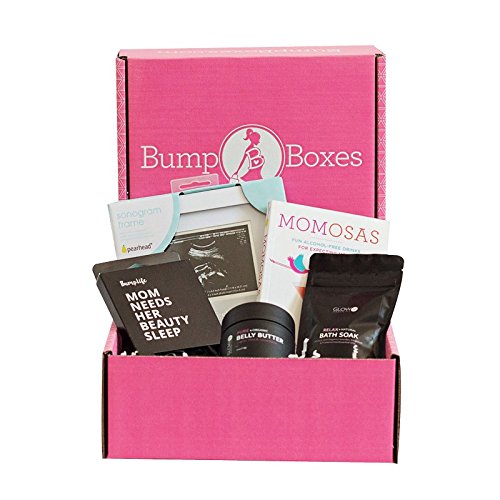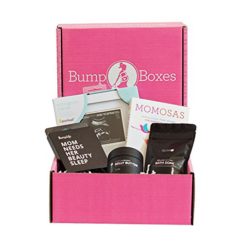 Monthly deliveries of healthy pregnancy, mom and baby products for every stage of your pregnancy to your little one's first birthday! Healthy products handpicked by our moms, tailored to your due date & designed to pamper you throughout your pregnancy!
Get it here: Amazon.com or BumpBoxes.com
14. Mom Life: A Snarky Adult Coloring Book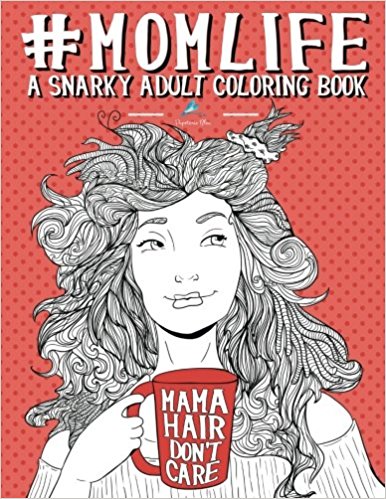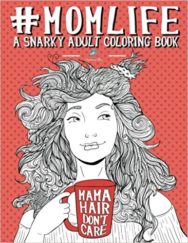 #Momlife is the best life!
It's 6:30 PM. By some miracle, one of your kids is asleep while the other is watching cartoons in a food coma. Quick! Here's your chance! Grab some colored pencils and markers, this coloring book, and run to the bathroom (don't forget the wine)! First, lock the door and enjoy the solitude of private urination. Second, gulp down that wine and enjoy the most relaxing five minutes of your day as you surrender to the quietness and creativity of coloring. Celebrate the humor and frustration that are the highs and lows of motherhood featured in the pages of this book.
Get it here: Amazon.com
15. Mommy's Firsts Wine Bottle Covers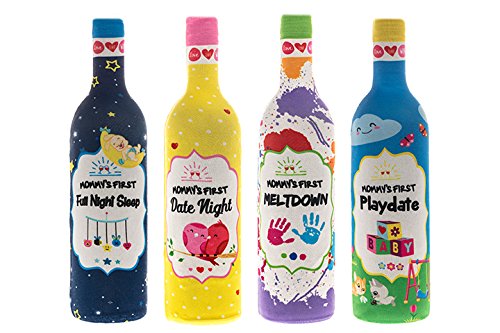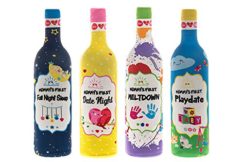 The catapult into motherhood brings diaper changes, feedings and sleep deprivation, a phase of the unfamiliar you. New moms deserve something special that is for them, salutes them and injects some lightheartedness into the weight of motherhood. You've accomplished two types of milestones – baby and yours. Let's celebrate you! Meltdown? Replace your tears with wine.
Get it here: Amazon.com
16. Mom's Survival Kit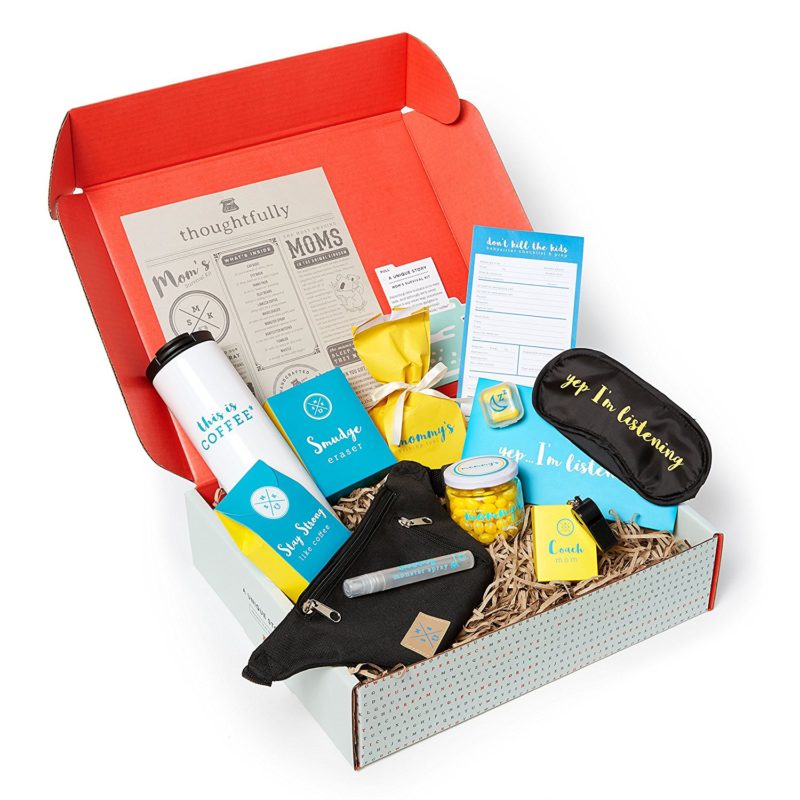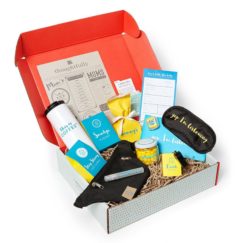 Parenting little humans is no easy task. And although we'd never want it any other way, sometimes an arsenal of mom-gadgets is simply essential for survival! A thermos of (wink wink) "coffee" for utmost concentration. An eye mask and ear buds for seizing rare nap moments. A Monster Spray for battle with anything lurking under the bed. A secret weapon (a.k.a. candy) for bribing the kiddos. And naturally, a fanny-pack to carry it all in the absolute coolest manner possible.
Get it here: Amazon.com
17. Complete Spa-At-Home Kit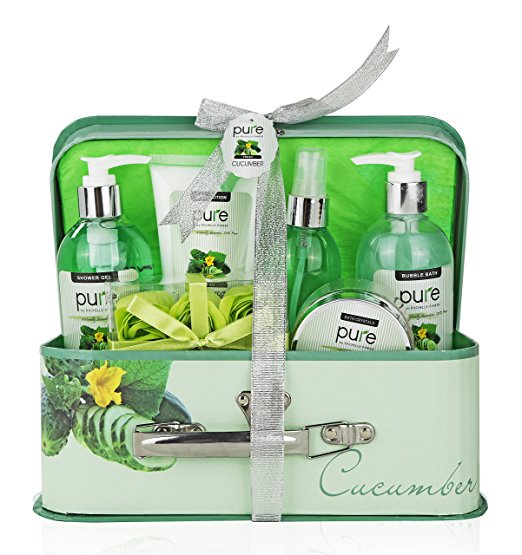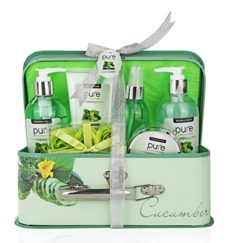 Each spa gift set is made with cucumber extract that revitalizes your skin! Cucumbers have been used for years for facial skincare. From the phytochemicals that cause the collagen in the skin to tighten and firm, to the vitamin C and caffeic acid, cucumber is naturally your skin's Best Friend and this gift set will definitely be the new mom's best friend!
Get it here: Amazon.com
18. Belly Casting Kit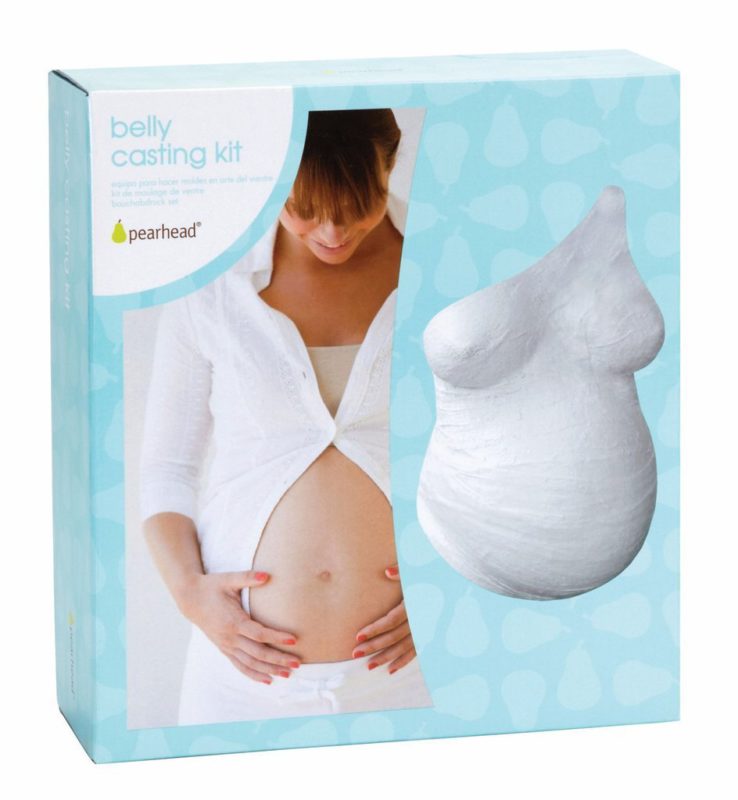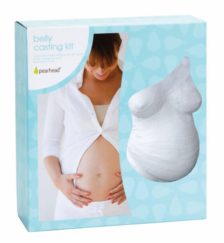 Pearhead's best-selling belly casting kit just got a little more exciting with this brand-new belly cast decorating kit! This kit includes everything you need to add some fun color to your belly cast. Decorate your already created baby bump mold with 6 different colors including; pink, green, light blue, royal blue, purple, and black. This kit also includes gold and silver glitter to add that extra sparkle onto your bump! The two-size brushes make it easy to color small design details or color in big shapes! There's also 3 stencils included with a variety of different shapes and designs.
Get it here: Amazon.com
19. 
Studio Oh! Guided Pregnancy Journal, Bump for Joy!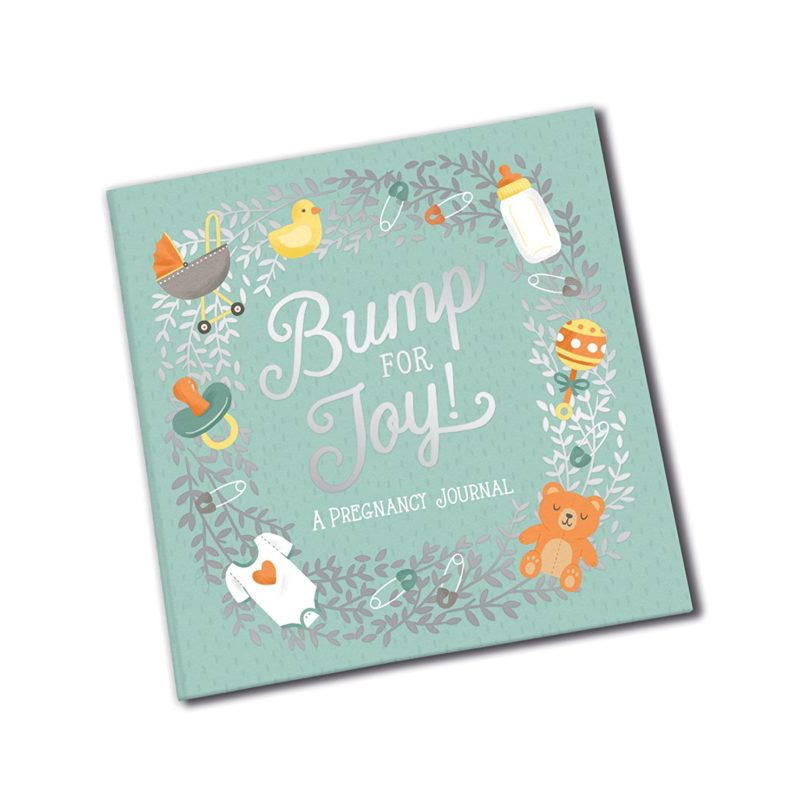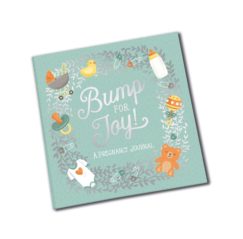 Create a unique keepsake by recording the most memorable moments of your Pregnancy! designed for both first-time and Veteran moms-to-be, this beautifully illustrated, 144-page journal is arranged by trimester and features a variety of writing prompts, checklists, and fill-in-the-blanks-plus plenty of space for tracking your growing Bump, displaying your ultrasound images, journaling about your feelings, and planning for baby's arrival. It's the perfect way to chronicle your nine-month journey and capture the memories you'll treasure forever.
Get it here: Amazon.com
20. 
Letters to My Baby: Write Now. Read Later. Treasure Forever.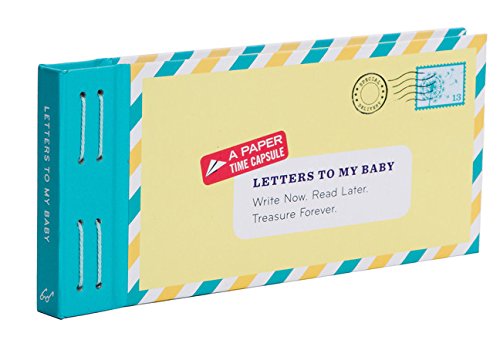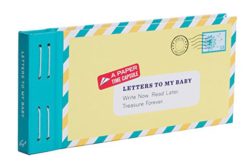 This book of 12 fold-and-mail letters invites mothers to capture the fleeting memories of their babies' first years. Each letter bears a prompt for moms to reflect on their hopes and dreams for their little ones. The letters can be postdated, sealed up, and gifted for the years to come. In the future, their children get to break the seals to receive the greatest gift imaginable: a tangible expression of their mother's love. This heirloom-quality keepsake makes a priceless gift for the expectant or the more experienced mother.
Get it here: Amazon.com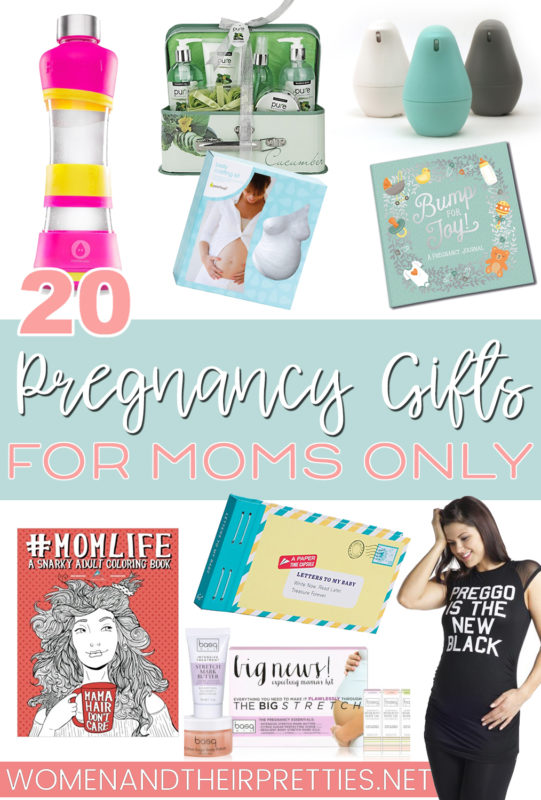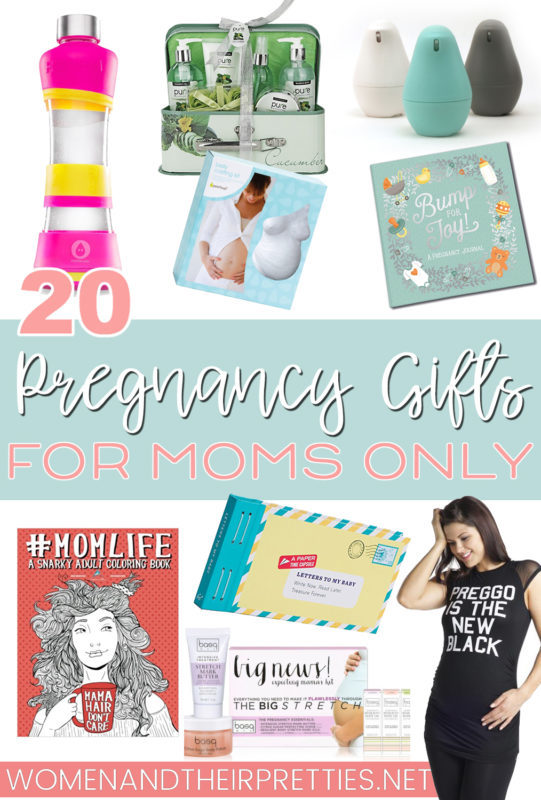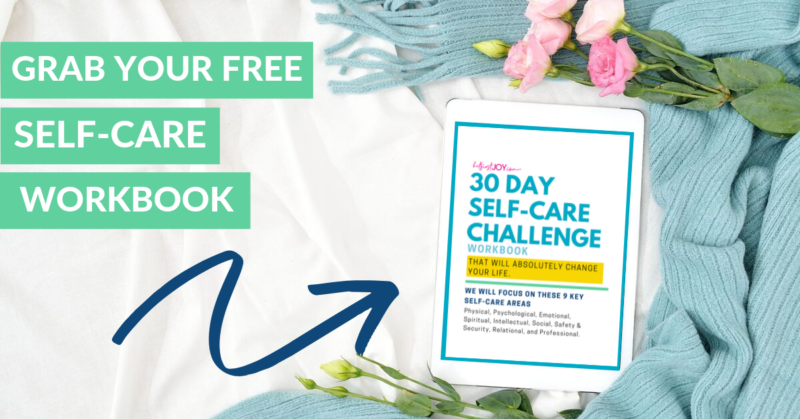 DISCLOSURE
As an Amazon Associate I earn from qualifying purchases. This post may contain affiliate links and/or promotional products, all opinions expressed are that of But First, Joy only. Read my full disclosure.