Are you looking to give your kids something everyone is taking about this year? With my 2017's Most Popular Kids Gifts for Christmas you'll find all the gifts your kids have on their wish list this year and maybe a few more things they don't even know about yet. This guide is in partnership with The Hopping Bloggers.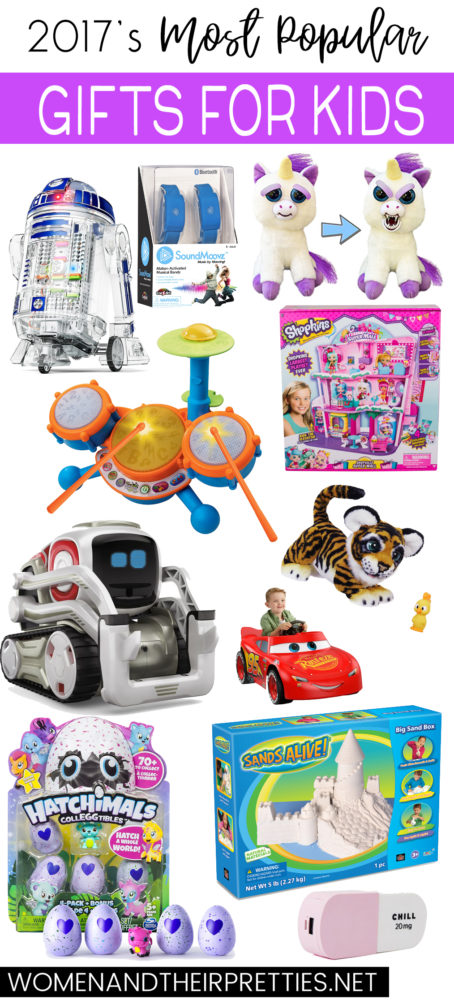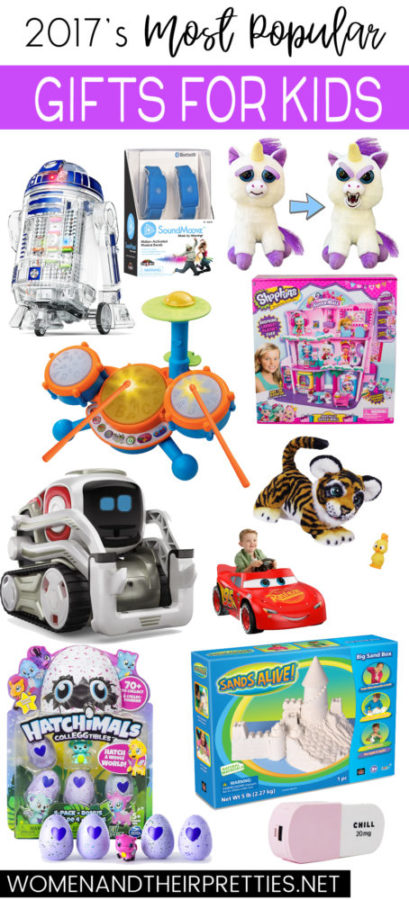 2017's Most Popular Kids Gifts for Christmas
1. Teach My
What better way to end the year, than some learning fun that will bring lots of cheer? Teach My are makers of award winning learning tools that help your child get a head start! Their products teach babies, toddlers and preschoolers the basic skills, things like; the alphabet, colors, shapes, numbers, reading and even math! Their aim is to encourage early learning, parent child interaction, self-esteem and help children to develop fine motor skills and excellent hand eye coordination. Bond. Teach. Play… 20 minutes a day!
Start shopping now: TeachMy.com
2. Hatchimals Surprise
Hatchimals Surprise are finally here and they have an unEGG-spected treat in store for you! For the first time ever, you can hatch TWO adorable Hatchimals! These loveable twins are hidden inside a magical speckled egg. Use your love and care to help them hatch! Hold and play with your egg and the Hatchimals inside will make delightful sounds that tell you how they feel! When its time to hatch, you'll see rainbow eyes! Once your first Hatchimal has pushed its way out of the egg, lift your second Hatchimal out and let the fun begin! Each twin has a unique personality! One twin loves to move, while the other twin can repeat whatever you say! Raise them from baby to toddler to kid and they'll learn new things at each stage! Your twins will talk, dance, sing, tell jokes, play games and more! These Hatchimals love to interact with each other! They'll say "I love you" and, like any siblings, they'll even bicker! Inside each Hatchimals Surprise you'll find magical, adorable creatures! Who will you hatch?
Get it on: Amazon.com
3. Chill Pill Portable Charger
Stay charged on the go with this power bank – designed to provide hours of extra talk, text, tweet, snap, and 'gram time. This is the perfect gift for teens this holiday season!
Get it on: Valfre.com
4. The Sleepy Star book
Written by a parent/educator/artist, The Sleepy Star is designed to make a child's bedtime routine easy, educational and entertaining.  It's soothing rhyming verse and whimsical illustrations keep young children engaged while it's text to visual connections promote word recognition and early reading. The Sleepy Star is delighting readers young and old alike!
Get it on: Amazon.com
5. Cozmo
Only the coolest robot ever invented. Say Hello to cozmo, a gifted little guy who's got a mind of his own and a few tricks up his sleeve. He's the sweet spot where supercomputer meets loyal sidekick. He's curiously smart, a little mischievous, and unlike anything ever created. You see, cozmo is a real-life robot like you've only seen in movies, with a one-of-a-kind personality that evolves the more you hang out. He'll nudge you to play and keep you constantly surprised. More than a companion, cozmo's a collaborator. He's your accomplice in a crazy amount of fun. Some robots just have it all.
Get it on: Amazon.com
6. Dorothy's Derby Chronicles book series
There are just not enough girl power books out there. These are fun, funny, raucous with a roller derby edge! Perfect for girls this holiday season!
Get it on: Amazon.com
7. Zoonicorn
The Zoonicorns represent a unique experience. Young animals are magically transported through their dreams to a wildly vivid and imaginative dream world, called the Zooniverse. Here they meet the Zoonicorns, a captivating cross between a zebra and a unicorn. The young animals are guided by the Zoonicorns, through clever and fun storylines, to discover life lessons and how their own inner-magic and power can help them deal with growing up. The Zoonicorns always know when a baby animal is in need of their help. They all have magical powers available to them through their horns, which activate with a deepening, golden glow and musical tone. But they use restraint when it comes to using them. The Zoonicorn's main goal is to always show their young friends how to solve their own problems, adapt their feelings to match their situation, and overcome their fears – and not to rely on wishful thinking. The target age of the programming is preschoolers, ages 3 – 6 years old, both girls and boys.
Get it on: Amazon.com
8. Power Wheels Cars 3 Lightening McQueen
Ka-chow! With this Power Wheels race car featuring Lightning McQueen, kids can bring the high-octane fun and excitement of the Disney/Pixar hit film Cars 3 to life! This sweet ride can drive over pavement or grass and features cool race car sounds and real phrases from the film! Your little driver will love creating all new adventures behind the wheel of this rad ride-on.
You might also like: 20 Pixar Cars Gifts for the Holiday Season
Get it on: Amazon.com
9. Hatchimals CollEGGtibles
Hatchimals CollEGGtibles are adorable, collectible Hatchimals that come inside small, speckled eggs. Hold the egg in your hands, rub the heart and when it changes from purple to pink, it's ready to hatch! Press on the egg to crack it and discover which Hatchimal CollEGGtible is inside.
Get it on: Amazon.com
10. Sands Alive!
Take your kids' creativity to the next level with the Sands Alive! kinetic sand play set!
Get it on: Amazon.com
11. Tsum Tsum Disney Advent Calendar
Enjoy counting down the 24 days until Christmas with the Disney Tsum Tsum Countdown to Christmas Advent Calendar. Open a new window each day to reveal a surprise Tsum Tsum figure or accessory and create a fun winter ski slopes themed scene. Collect, stack and display your favorite holiday themed Disney Tsum Tsum characters!
Get it on: Amazon.com
12. Wild Things Blankets
Kids will literally go wild (or fall asleep) as their favorite creature while using their imaginations to go on animal adventures. Each Wild Things blanket features unique details that allow kids to climb inside or wrap around to be transformed into playful animals!
Get it on: www.wildthingsblankets.com
13. Monopoly Advance to Boardwalk
Originally introduced in 1985 as the first ever Monopoly "spin- off!" Players compete to build multi-level, high rise hotels along the historic seaside boardwalk. The player with the most valuable property portfolio wins!
Get it on: Winning-Moves.com
14. Rubik's Junior Bear
The easy-to-grip Bear is much simpler than the original Rubik's Cube and will entertain kids with every twist and turn! Think of it as a "training" cube.
Get it on: Winning-Moves.com
15. Sunk!
A unique social, skill and action game where the task is to add water – one drop at a time – to the cup floating in the water filled Sunk tank, without causing it to sink.
Get it on: Winning-Moves.com
16. littleBits Droid Inventor Kit
Kids can create their own custom Droid and bring it to life using littleBits electronic blocks! With the free Droid Inventor app, they'll give their R2 Unit new abilities and take it on 16+ missions. Then they'll level-up their inventor skills, reconfiguring parts to design any Droid they can dream up.
Get it on: Amazon.com
17. Fiesty Pets
Feisty Pets are the latest line of fun and innovative toys from the creative minds at William Mark corporation- the creators of air swimmers! Feisty pets are a line of plush animals with "stuffed attitude"! Each pet changes expression from cute to 'feisty' when you gently squeeze it behind the ears. No batteries or extras necessary. Captivate and entertain any audience, young or old with these unique and animated animals! They're great to cuddle and play with, but are also perfect for a hilarious and innocent prank on friends and family! Collect each charismatic character- dog, cat, monkey, bear, bunny, panda, and lion.
Get it on: Amazon.com
18. Galactic Play Tunnel & Ball Pit
Let your child's inner astronaut come alive with this perfect 3pc galactic adventure play set. They will occupy themselves for hours at a time jumping, crawling, & playing hide-and-seek while learning all of the planets with our educational ball pit design.
Get it on: Amazon.com
19. Shopkins Super Mall
It's Shopkins largest playset ever! The Shopville Super Mall is the ultimate hangout for the Shoppies and their Shopkins! Ride the elevator and discover three levels of fun. There is so much for your Shoppies to do at the Shopville Super Mall! – Check out some tech, twirl along the fashion walk at the boutique, grab a bite with friends at the food court or catch a movie! Packed with fun moving features and 4 exclusive Shopkins, the Shopville Super Mall is the perfect place for a day out with your best friends!
Get it on: Amazon.com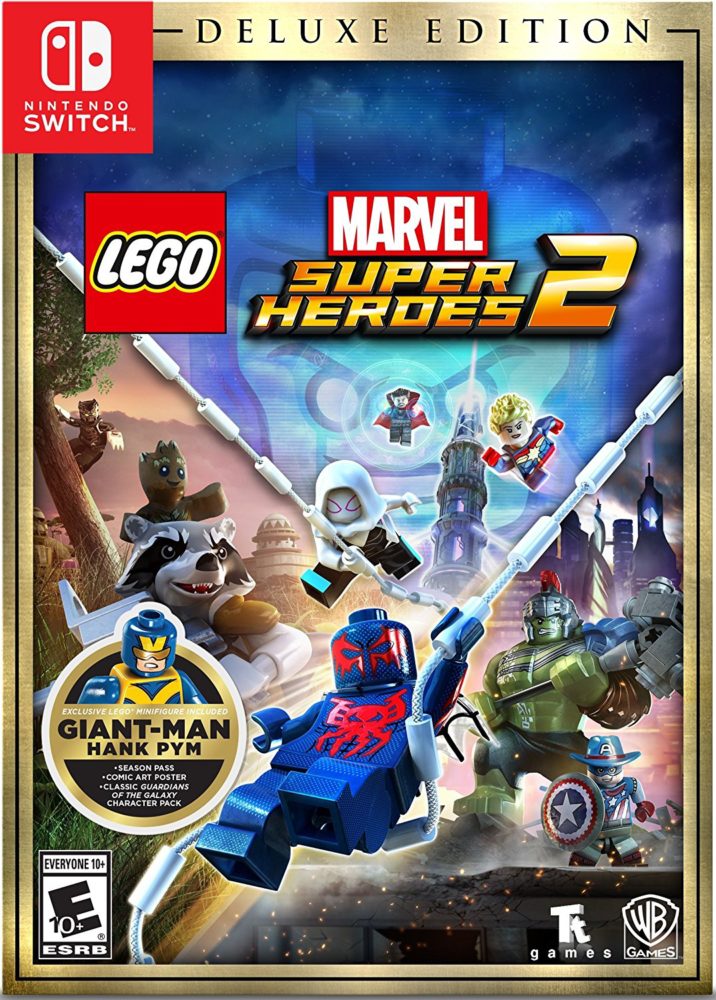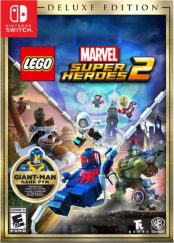 20. LEGO Marvel Super Heroes 2
An all-new, original adventure and sequel to the smash hit, LEGO® Marvel Super Heroes.
Bringing together iconic Marvel Super Heroes and Super Villains from different eras and realities, along with signature LEGO humor, the latest epic adventure from TT Games transports players into a cosmic battle across a myriad of Marvel locations ripped from time and space into the incredible open hub world of Chronopolis.
Available starting November 14, 2017 for PlayStation®4, Xbox One®, and PC. Coming to Nintendo Switch™ this holiday.
Get it on: Amazon.com
21. furReal Roarin' Tyler The Tiger
Welcome to the furReal brand's family of pets – engaging and often surprising friends that can become a child's favorite companion. Unlike other plush toys, furReal pets aren't intended to be merely watched or collected; they're designed to be played with, lived with, and loved. Their exciting and engaging play can help create unforgettable childhood memories.
Get it on: Amazon.com
22. Cra-Z-art Soundmoovz Musical Bandz
SoundMoovz , by Cra-Z-Art, is a new motion-activated electronic device that plays cool music and special effect sounds as you move! Experience the excitement by moving, dancing and creating unique musical beats – it is truly awesome! It's the next musical sensation of the new age…Muzic by Mooving! Device uses the latest Bluetooth technology, just simply power on for pairing, download the free app, choose over 400 sounds, and start the fun! The product comes with two special bands that users wear to enable the device. SoundMoovz can also be connected to a speaker for a bigger sound. Different modes include Musical, Instrumental, Robot, Karate and more! Multiple users can enjoy.
Get it on: Amazon.com
23. 
VTech KidiBeats Drum Set
Perform like a star with the KidiBeats Drum Set. Tap the three light-up drum pads and cymbal with the included drumsticks to hear each of their unique sounds for sensory development. Play along to built-in melodies in a variety of styles including rock, dance, pop or in your own style to encourage musical creativity. Four play modes include Free Play, Letters, Numbers and Follow Along.
Get it on: Amazon.com
24. HedBandz Game
Play Hedbanz, the quick question game of "What am I?" Ask "yes" or "no" questions to figure out if the cartoon on your head is an animal, food or man-made object. Be the first player to guess what you are and win! Hedbanz – the game where everybody knows by you!
Get it on: Amazon.com
25. Elf on the Shelf
Year after year, children and adults alike are baffled by the mystery of how Santa really knows who's been naughty or nice. After much urging by the elves and Mrs. Claus, Santa has allowed his biggest secret to be revealed in The Elf on the Shelf: A Christmas Tradition. At the start of each Christmas season, the elf appears to serve as Santa's eyes and ears, traveling back to the North Pole each and every night to make a detailed report of the day's activities. This keepsake gift set includes a light skin, blue eyed girl North Pole pixie scout elf and a hardbound watercolor picture book. Children can register their elf online to receive an official adoption certificate and a special letter from Santa.
Get it on: Amazon.com
26. The LEGO NINJAGO Movie Video Game
based on the upcoming big-screen adventure, will have fans battling hordes of enemies as their favorite Ninjago heroes – Lloyd, Nya, Jay, Kai, Cole, Zane and Master Wu – to defend their home from Lord Garmadon and his Shark Army.
Available now for Nintendo Switch, PlayStation 4, Xbox One and PC.
Get it on: Amazon.com beginning 11/9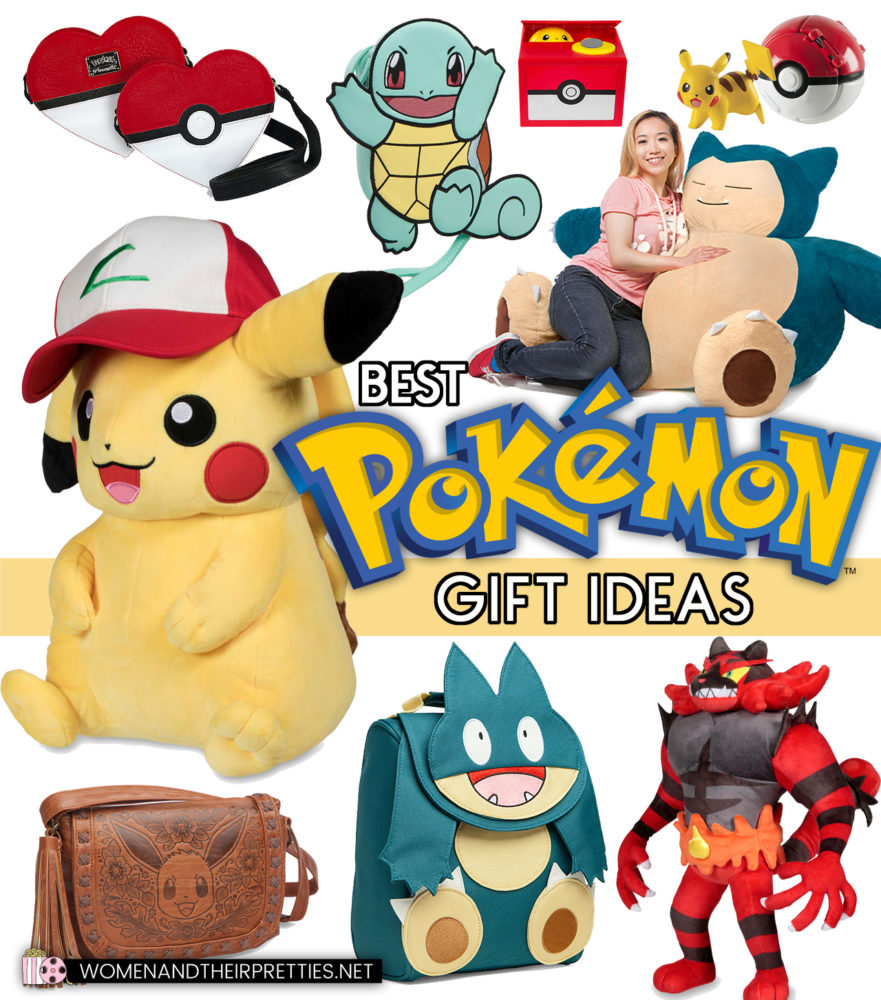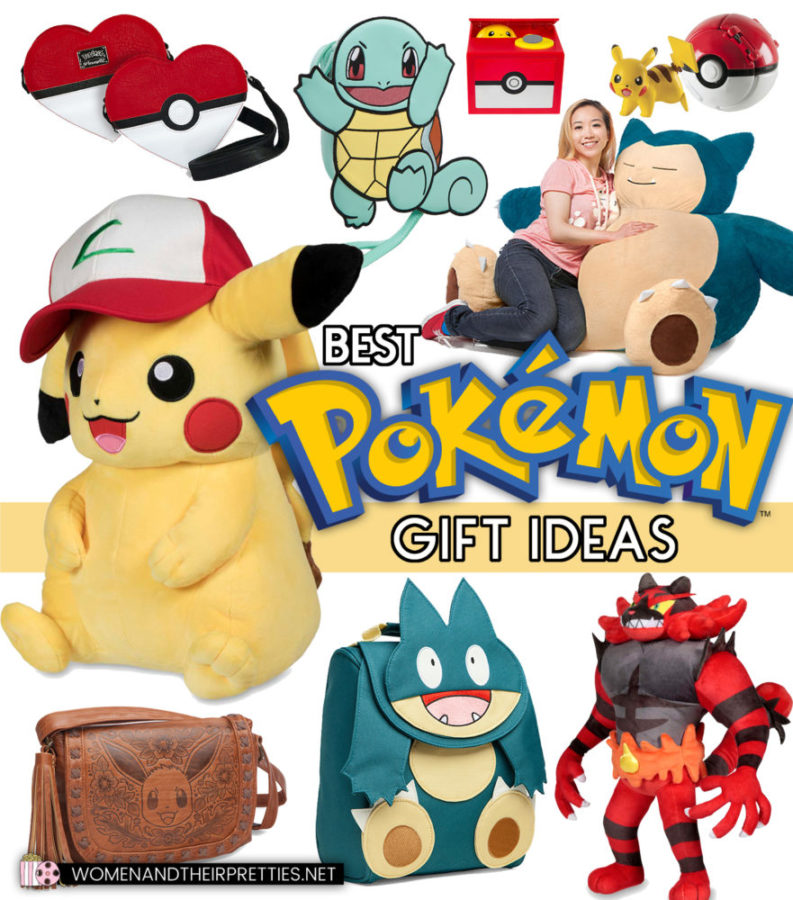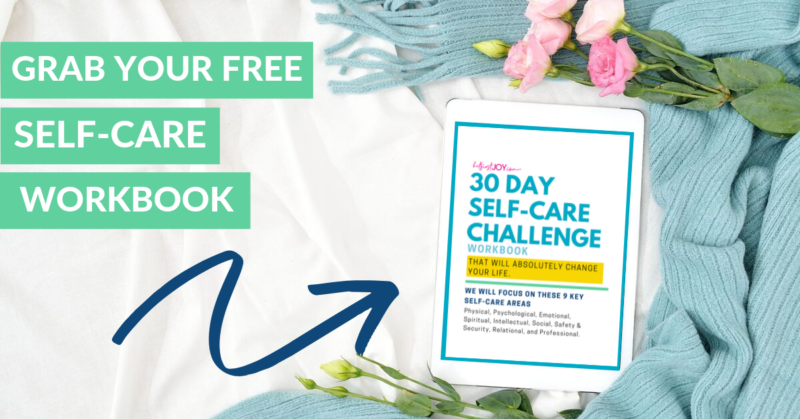 DISCLOSURE
As an Amazon Associate I earn from qualifying purchases. This post may contain affiliate links and/or promotional products, all opinions expressed are that of But First, Joy only. Read my full disclosure.