As a Florida native, I can confidently say that these are the best Florida beach towns to visit.
Summer is in session and all we can think about is feeling the sun on our skin and sand in our toes.
What better place to do that than in Florida? Florida is a popular destination for many families all year round.
RELATED: 10 Cheapest Things To Do in Florida with Kids
If you're lucky enough to live in the Sunshine State, you're probably happy to plan a weekend getaway to a nearby beach town.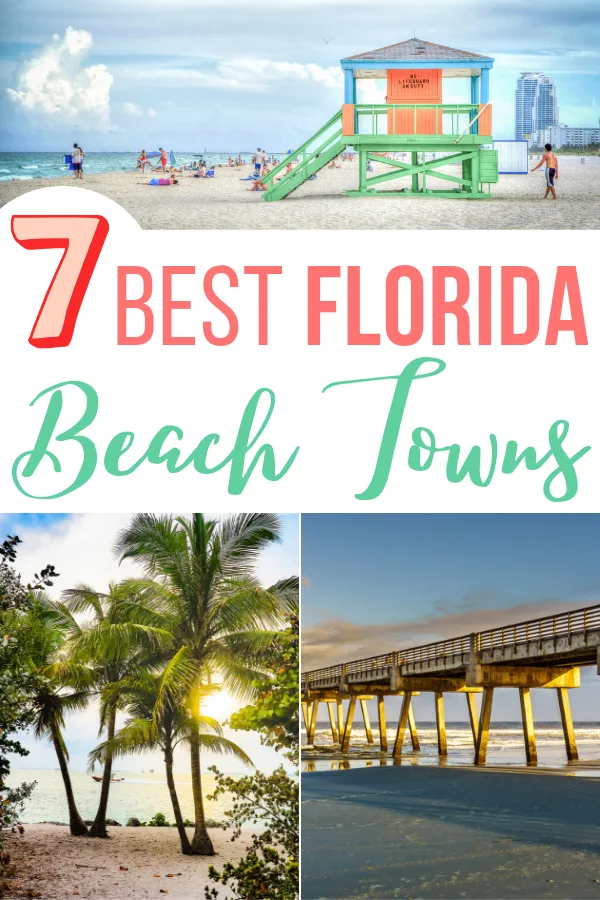 Whether you're a Florida local or a welcome visitor, you'll want to plan a trip to these lovely beach towns. Maybe you'll even want to retire here someday.
Best Florida Beach Towns To Visit For Your Next Vacation
1. Key West
Key West is about as far south as you can get in the United States.
Since this is so far away from the rest of the world, it makes you feel as if you're on a private island, without the stress or other woes that life brings you.
Key West is a popular Florida beach town that offers so many great things for families, adults, and couples to do.
I highly recommend renting a scooter to enjoy the wind in your hair as you explore this popular destination. You could even wander through Ernest Hemingway's House or drink at Florida's oldest bar!
2. Naples
There's so much to do while in Naples, also known as Florida's Paradise Coast. This Florida beach town seems to be well-known but not as frequently visited.
Located in Southwest Florida you'll find fine dining options and unique boutique shops throughout this sunny Florida city.
If you're feeling really adventurous while in town, why not check out Corkscrew Swamp Sanctuary for a little wildlife fun? Or maybe relax at the Health & Wellness Sanctuary of SW Florida.
3. Deerfield Beach
Deerfield Beach is just south of West Palm Beach and offers visitors a chance to enjoy a less crowded beach town.
You can fish off the 976-foot long pier right into the Atlantic Ocean or enjoy some island water sports. The Clean Beach Council named this beach "Blue Wave Beach" due to the clean, beautifully kept water.
You'll find that this Florida beach town is very fresh, clean, and relaxing as many people don't venture to Deerfield Beach when they think of visiting Florida.
4. Grayton Beach
Grayton Beach is a beautiful State Park destination that resonates with free spirits and those who enjoy a more laidback vacation.
The small village offers historic cottages that have white picket fences making you feel as if you've stepped back in time.
Enjoy a calm paddle on the water or a hike through the trails on the carefree beach town located in Northwest Florida.
5. Seaside
If you're looking for a Florida beach town that has a rustic appeal then look no further than Seaside, Florida.
This is a charming beach city to check out while in Florida as it offers traditional pastel architecture and is best viewed from the seat of a bicycle.
Due to the beauty of this romantic town, you'll want to rent some bikes and pedal through the neighborhoods to really take in the scenery.
6. Pensacola Beach
You'll find that Pensacola Beach makes you feel as if you're on a tropical island.
With Jimmy Buffet music playing and white sandy beaches, this Northwestern Florida beach town offers you a chance to sit back and relax as you enjoy a day of sun and fun.
You'll definitely get an old school vibe in this Florida beach town as you see surfers everywhere and guests lounging on piers. Pensacola Beach is a great location for guests who want to truly enjoy the Florida state.
7. Vilano Beach
While many people opt to visit the oldest town in America, St. Augustine, Vilano Beach is a quainter destination, in the perfect location!
Enjoy a lovely Bed & Breakfast while you're visiting Vilano Beach to get a real feel of this beach town's charming attitude. This beach town is located just North of St. Augustine.
Don't forget to hop on the Old Town Trolley tour while you're visiting to get a tour of the city with a historic talk. This Trolley Tour is fun because you can hop on and off as much as you want for the day! Basically, you can leave the car at the hotel.
Each of these Florida beach towns will bring you a relaxing and inviting scene to stroll around in during your visit.
From local shops to the ocean shorelines, you'll enjoy getting some much-needed sunshine in Florida when you opt to visit these beach towns in the sunshine state.