If you're eager to hear more about the Breaking Bad movie – then you'll love this fan review and best El Camino Movie Quotes.
If you haven't watched it: please be aware that this post does contain spoilers.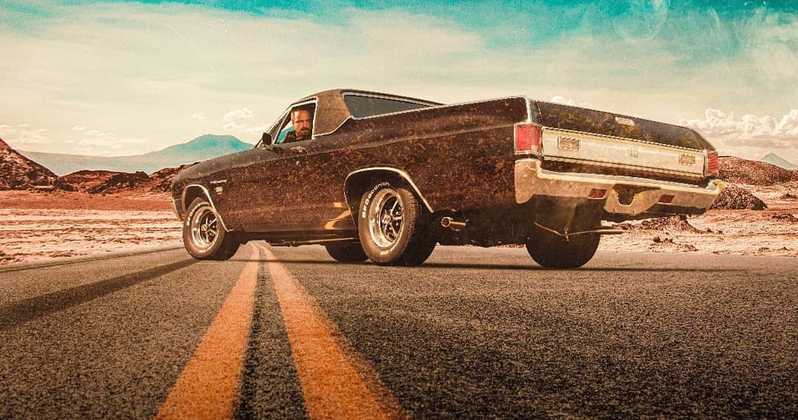 El Camino Movie Review – from a Breaking Bad fan
The Netflix Original movie, El Camino: A Breaking Bad Movie just dropped on Netflix and I watched it almost immediately. Breaking Bad was one of the few (serious) shows I watched live every single weekend. From beginning to end, I was absolutely hooked.
Like any good show, you feel connected to the characters; and boy did I love every single character on Breaking Bad. From the bad guys to the innocent by standards, everyone had a key role and they played it well.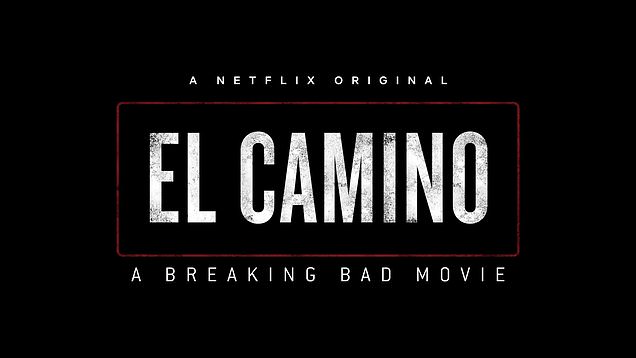 In fact, you'll find me quoting Breaking Bad in any given day. More so, you'll always find me identifying Bryan Cranston and Aaron Paul as their character names: Walt and Jesse. It's what I do.
You'll also love: 40 Shows You Should Already Be Binging (Breaking Bad is one of them)
Now that you understand my undying love for this epic show, you'll know my excitement about the Breaking Bad movie, El Camino. As a major fan, I was over the moon with excitement.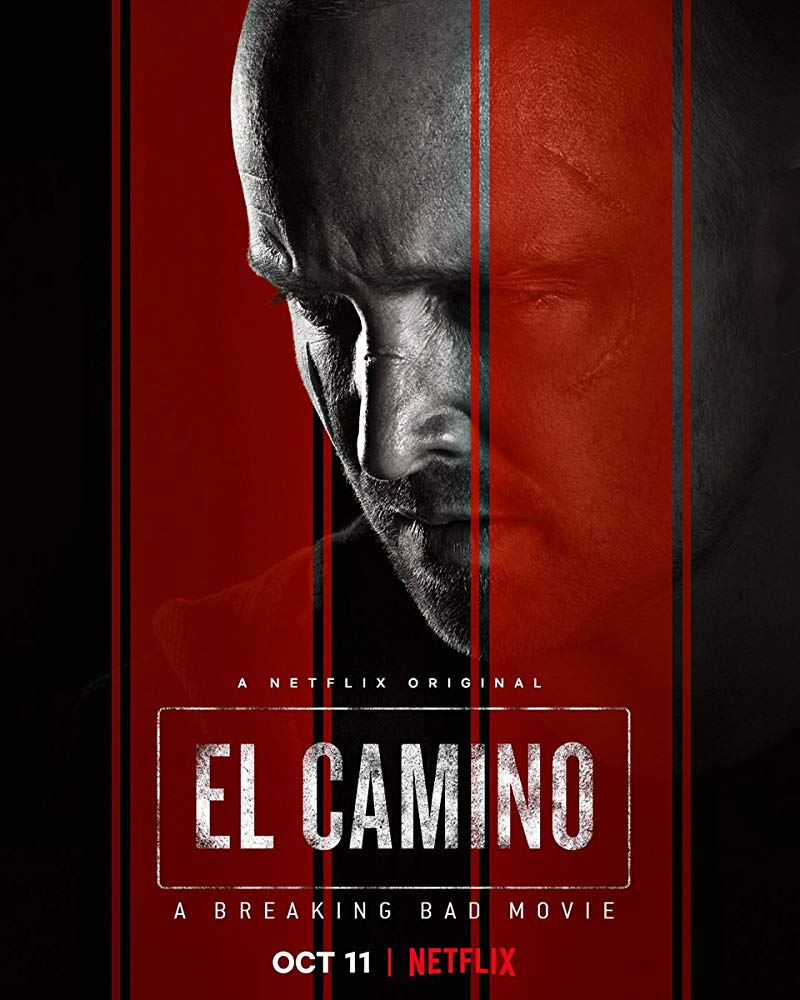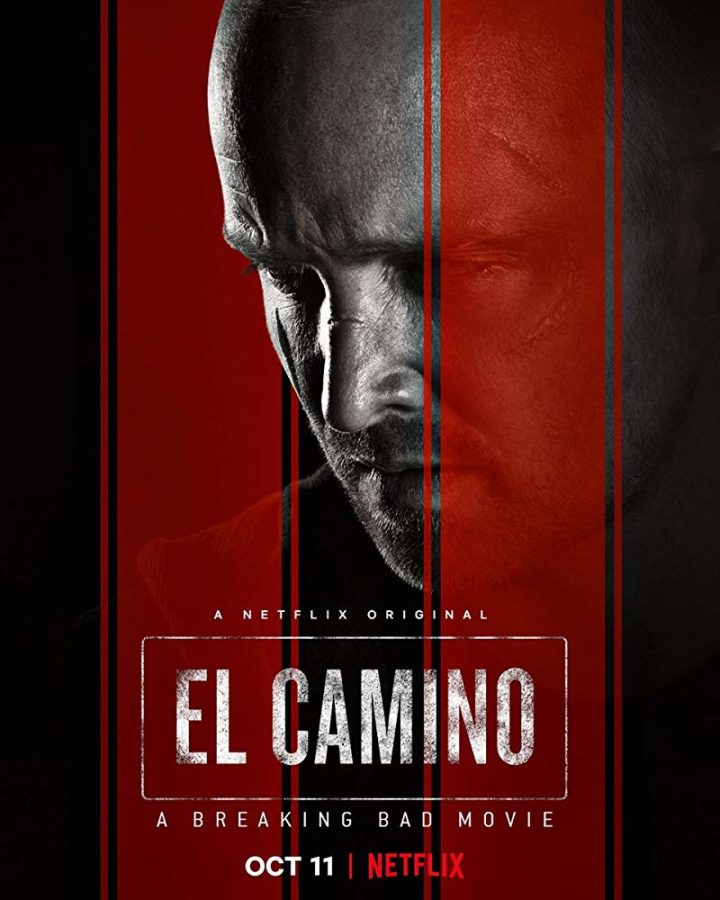 El Camino Movie Review
Finally, the day came and I turned the lights off and watched El Camino or as I like to call it El Camino: Jesse Pinkman's story. The film is fully based on Jesse's life after the series ended.
We get to see Jesse and Mike, two familiar faces, right away. Then, all hell breaks loose.
Badger and Skinny Pete are back at it and immediately show loyalty to their longtime pal Jesse has he returns from his cage.
I was happy to see so many of the same characters, all the while getting a good look at who Jesse is and where he's going. While much of the Breaking Bad focus was on Walter White and his endless problems, El Camino is all about Jesse.
After all, Walt is dead – remember?
Don't worry, writer and director Vince Gilligan, didn't pull one of those "back from the dead" stories. He truly cares about these stories and his delicacy definitely shows.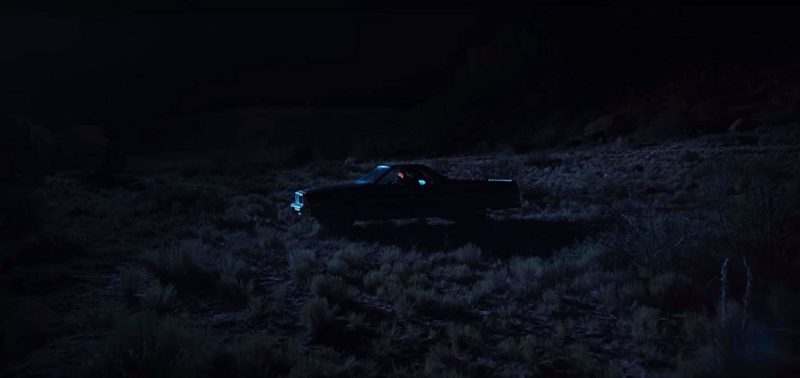 Can you watch El Camino without watching Breaking Bad?
The storyline is definitely for the Breaking Bad fans. In fact, watching it without seeing all of the Breaking Bad series would definitely leave one confused.
So, go ahead and buy the whole series now or just watch it on Netflix. Either way.
Much like Better Call Saul, the movie doesn't have an intense amount of action. Don't expect to walking onto the mid-series Breaking Bad.
However, the movie is at a much better pace than Better Call Saul and isn't drawn out or drab. While it's not very action-packed, it definitely has the Breaking Bad vibe. The color tone and mood are very much in tune with the show we all learned to love.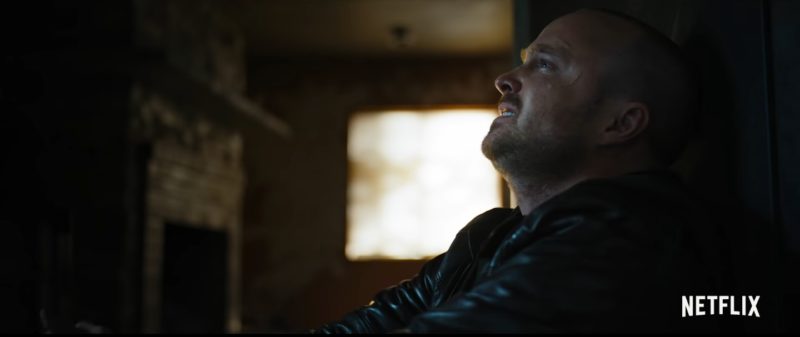 Additionally, it's important to mention that the film isn't lacking action. There just aren't a lot of "wow" moments because Jesse is laying low. Basically, he's in full survival mode as he tries to start over.
The flashbacks of Jesse's time in the cage, as a slave "cook", had me feeling really sorry for him. Treated like an animal, Jesse looks like a helpless abused child at times. Or maybe that's just the mom in me?
Either way, it really shows why Jesse has lost a bit of his spunk and in turn, why he just wants to get far, far away.
As far as the movie as a whole? I liked it. It was a longtime coming but I appreciated it. Was it needed? No. Will I remember it? Absolutely.
As for the burning question I know everyone has:
Is Walt in El Camino?
Yes! You do get to see a Walt scene. As you probably guessed, it's a flashback but a very telling one.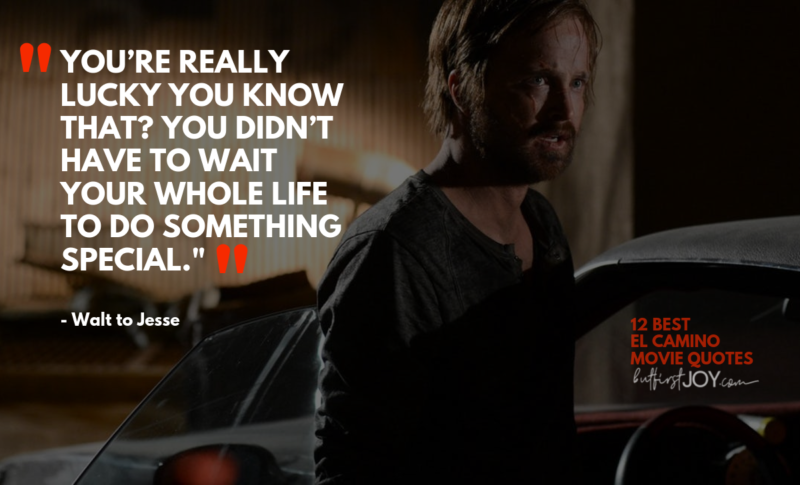 You'll notice Walt is coughing a lot as he talks to Jesse. Based on that and his conversation with Jesse, I believe this is showing the audience that Walt's cancer was back.
Basically, he wanted to control how and when he died, which is why the series ended the way it did. That was definitely the highlight of the film for me.
Does Jesse die in El Camino?
Also, if you're curious, Jesse does make it out alive. He moves far away, under a new identity… all alone.
Now for those El Camino Movie Quotes: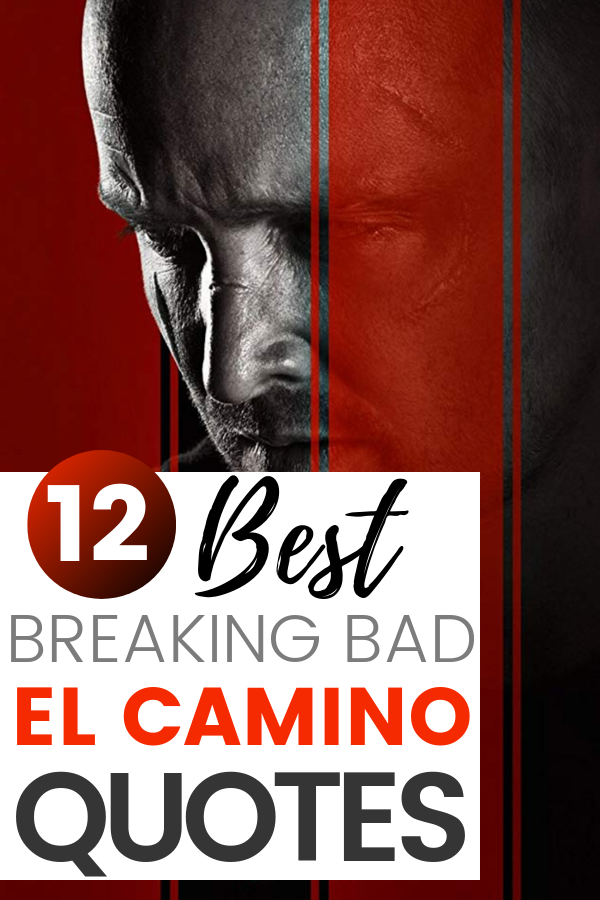 Best Breaking Bad's El Camino Movie Quotes
The film didn't have a whole lot of dialogue. When it did – there wasn't much that inspired me to take a note. But there were a few nuggets in there that I wrote down to share with you.
1. "I want to put things right." – Jesse. "Sorry kid, that's the one thing you can never do." – Mike
2. "I can't help it that I'm sized for love." – Jesse's friend, Badger
3. "Dude. You're my hero and shit!" – Skinny Pete to Jesse
4. "I'm not Cop Killer." – Jesse
5. "I was wondering when you were going to remember me." – Neil
6. "Your 22 against my 45. Winner takes all." – Neil "Like the Wild Wild West" – Jesse
7. "Yeah Bitch" – Jessie eating at buffet (Yes! We get one YEAH BITCH in the movie. It made me happy LOL)
8. "Only an asshole doesn't like pineapple" – Jesse to Walt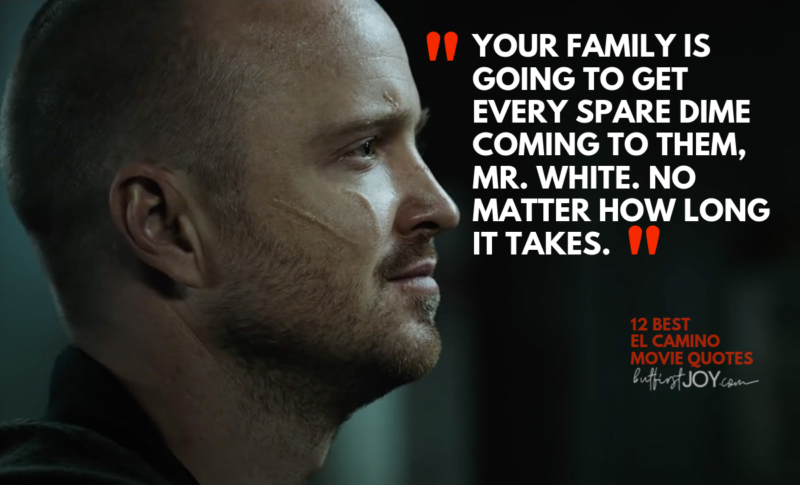 9. "Your family is going to get every spare dime coming to them, Mr. White. No matter how long it takes." – Jesse to Walt
10. "You're really lucky you know that? You didn't have to wait your whole life to do something special." – Walt to Jesse
11. "Not many of us get a chance to start fresh" – Lou
12. "I've been going where the universe takes me my whole life. It's better to make those decisions for yourself." – Jesse's ex, Jane (flashback)
The Netflix Event EL CAMINO: A BREAKING BAD MOVIE reunites fans with Jesse Pinkman (Emmy-winner Aaron Paul). In the wake of his dramatic escape from captivity, Jesse must come to terms with his past in order to forge some kind of future. This gripping thriller is written and directed by Vince Gilligan, the creator of Breaking Bad.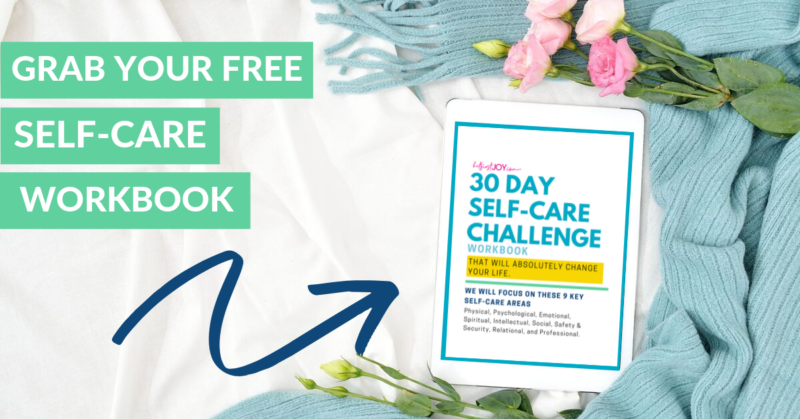 DISCLOSURE
As an Amazon Associate I earn from qualifying purchases. This post may contain affiliate links and/or promotional products, all opinions expressed are that of But First, Joy only. Read my full disclosure.