It's been a great 5 years with WOMEN AND THEIR PRETTIES, but it's time to say goodbye. The past year has been life changing for me, with my greatest accomplishment of becoming a mother. Those life changes have brought me to a new headspace that no longer fits with the WOMEN AND THEIR PRETTIES brand.
You see, WOMEN AND THEIR PRETTIES began as a fashion, style, and shopping blog. "Pretties" are our bags, jewelry, shoes, and more. As much as I've tried in the past couple years, I just can't seem to fit my content, what I want to write about, with the WOMEN AND THEIR PRETTIES name. They said all good things must come to an end and it was a good run, but not the best I can do. So, I'm moving on.

Introducing But First, Joy
After studying self-help books, podcasts, and shows, I decided to take my new-found JOY to the web by creating But First, Joy – a blog dedicated to helping women find joy in ordinary moments, start relationships with joy at the root, and to wake up each morning doing things that bring joy to life.
Read more about But First, Joy on the About Page.
So what does this mean for you?
Don't worry, ladies! You're still my #1 focus. I'll continue to post the type of content I'm posting now but I'll be putting more of a mindful spin on everything. Remember how I told you INTENTION was my word of the year? Everything I publish will be with you in mind! My overall goal is to encourage women to find joy in all the ordinary things. PUT JOY FIRST!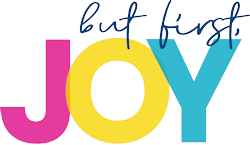 In the next couple weeks…
You'll see an entirely fresh blog design, a But First, Joy shop, and an exciting official launch giveaway! Things will be changing a little bit at a time, so I ask that you please bear with me and if you have any questions, send me an email!
A note to my readers
Thank you so much for following me on this exciting new journey. I have so many great things in store for you. It was YOU who made me confident enough to take my DREAM and turn it into a GOAL!