Is Pirates of the Caribbean 5 really worth seeing in theaters? Are they taking the Pirates series too far? In this Dead Men Tell No Tales review, we'll discuss the plot, cast, and more! This advance screening was hosted by Disney, but my post is unbiased.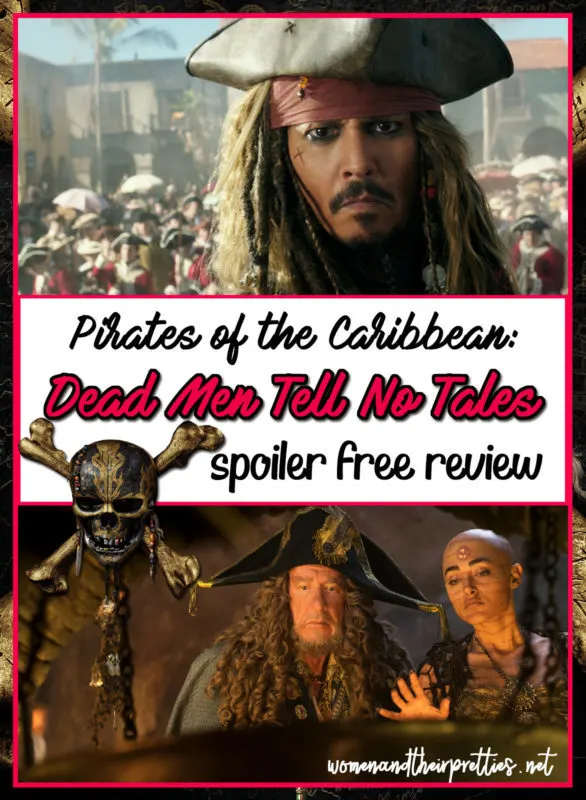 Okay, don't yell at me but I have only seen the first Pirates movie. So, I wasn't as excited for Pirates 5, as the Pirates of the Caribbean super fans. In fact, I was a bit nervous that the film would be too slow, too drawn out, or too confusing for a viewer like me. My fiancé dragged me to the theater because he was dying to see the new film. I'm glad he did because this is one of the best movies I've seen this year!
Spoiler Free Dead Men Tell No Tales Review
So many things about this movie impressed me. I'm not sure why I was expecting something less than perfection because Disney tends to keep new audiences and old fans pretty satisfied. I must say, though, this film is a whole new level of skill. The entire movie was flawless, so let's dive deeper into all the pretty little things this movie offered. Enjoy my full Dead Men Tell No Tales review. I look forward to hearing yours!
An easy-to-follow plot
Sometimes movies that are packed full of action like this one, have plots that are all over the place. I was definitely afraid of that with this film, especially since I hadn't seen the last 3. That wasn't the case at all. The plot was very well written and played out. No questions were left unanswered and it left me feeling all sorts of emotions.
The thought of a 2.5 hour movie can sound quite dreadful, but there isn't a single dull moment. From the very beginning until the end credit scene, there's humor, action, intensity, and even a few emotional moments. I gripped my fiancé's hand for the entire second half of the film because some moments were very gripping. There were twists and turns and off-the-wall comments that had my emotions in an uproar. There were even moments when the audience shouted out with excitement.
The plot makes sense and it will have you wanting to watch it all over again. Be sure to see it in 3D! It's one of those movies that has a very subtle 3D effect that you wouldn't know is there if you weren't wearing those geeky glasses.
More about the film:
"Johnny Depp returns to the big screen as the iconic, swashbuckling anti-hero Jack Sparrow in the all-new "Pirates of the Caribbean: Dead Men Tell No Tales." The rip-roaring adventure finds down-on-his-luck Captain Jack feeling the winds of ill-fortune blowing strongly his way when deadly ghost sailors, led by the terrifying Captain Salazar (Javier Bardem), escape from the Devil's Triangle bent on killing every pirate at sea—notably Jack. Jack's only hope of survival lies in the legendary Trident of Poseidon, but to find it he must forge an uneasy alliance with Carina Smyth (Kaya Scodelario), a brilliant and beautiful astronomer, and Henry (Brenton Thwaites), a headstrong young sailor in the Royal Navy. At the helm of the Dying Gull, his pitifully small and shabby ship, Captain Jack seeks not only to reverse his recent spate of ill fortune, but to save his very life from the most formidable and malicious foe he has ever faced."
Strong female presence
I'm all about strong and powerful women. I'm also all forfeminine and delicate women. I don't need a chick to be a fighter for me to respect her. However, Kaya Scodelario as Carina Smyth was everything this Pirates needed. It was so beautiful to see a woman as courageous and cunning as her. I only felt as if she was afraid once and it wasn't because she was fearing for her own life, but another. Her and Sparrow were a fun "team". His sarcasm was no match for her wit.
Along with Carina, we met the character, Haifaa Meni. She was a villainous, yet charming woman with a lust for revenge. She is feared by captains and pirates alike in Dead Men Tell No Tales and since this is a spoiler-free review, that's all I will say about her.
I love that both leading ladies weren't like anyone else. They were unequivocally themselves.
Stunning visuals
I cannot get over the visuals in this film. We're talking about the most stunning and clean visuals on film. I was completely in awe of certain scenes and characters. We're talking about dead, zombie-like sharks, ghost pirates with half a face, and a young Jack Sparrow. The creators of Pirates 5 really had some tricks up their sleeve. We saw the depths of the ocean and nothing could have been more accurate (from what I'd imagine) and beautiful. I'm all about realistic movies and even as crazy as Pirates of the Caribbean is, the visuals had me fully convinced that a ship of ghosts was out in the middle of the sea.
Pay attention to young Jack Sparrow because it's actually Johnny Depp with lots of CGI. It will have you tilting your head to the side because it's almost puzzling.
A bone-chilling villain
Captain Salazar is quite the villain. There's something so eery about the way he walks and how smooth he talks. It's as if he's floating, but he's not. I've never seen a villain quite like this one. Usually you can kind of see what/who a creator draws inspiration from, but the way he looks was all from the imagination because he's incredible. With a cracked face and hair that floats around his head, you'll be dreaming of this guy later. Trust me.
A perfect balance of emotions
Overall, Pirates of the Caribbean: Dead Men Tell No Tales left me feeling a little bit of everything. I felt the excitement and connection that I love when watching a well told story. The action scenes weren't boring or nonsensical. It gave me the edge-of-your-seat, gripping your partner's hand type of feeling. I felt the extremity of some scenes and I felt the heartache of others. This was a movie that stuck with me. It's still on my mind, even days after seeing it. I think it will go down in my top 10 2017 movie list.
I hope you enjoyed this spoiler-free Dead Men Tell No Tales Review.
Have a Dead Men Tell No Tales review you'd like to share? Comment below!
Be sure to enter to win this Pirates of the Caribbean Giveaway
Click the photo to enter this epic Disney giveaway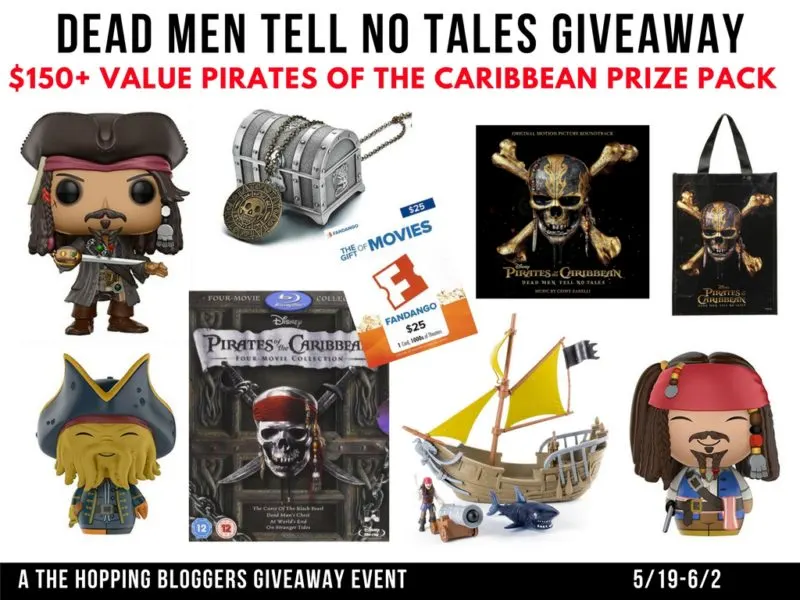 See Pirates 5 in theaters 5/26/17!