Disney loves to surprise up by re-releasing the Disney classic movies that we all love! They are slowly releasing the movies from the vault in with Disney Special Editions on Blu-ray. You can find these top 25 on Amazon right now. Get them while you still can!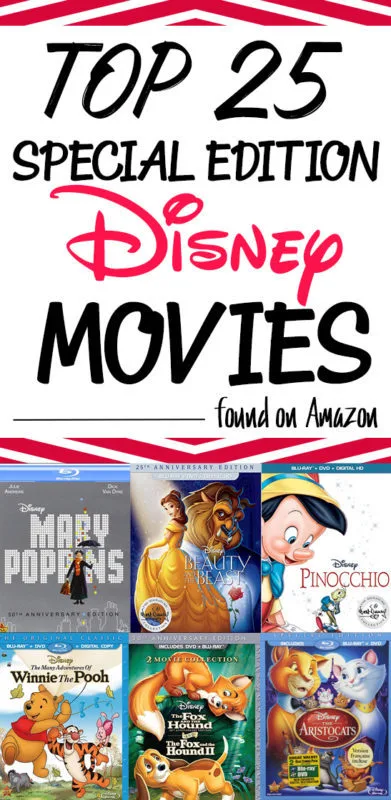 So many of our favorite Disney classics are being released from the Disney vault in a beautiful Special Edition Collections! I own about every single Blu-ray thus far, but I'm always happy to add more special editions and anniversary editions to my collection. The Disney anniversary collections basically Blu-rays released to celebrate big anniversaries, like the 25th or 50th. I've noticed that Disney is releasing a few each year now, so I thought it was about time for me to do a roundup post to help you feed your Disney addiction. As Maui would say, You're Welcome.
Top 25 Disney Special Edition Movies – found on Amazon
1. Bambi: 75th Anniversary Signature Collection – Get it here 6/6
Disney's
Bambi
, which celebrates its 75th anniversary this year, joins the Walt Disney Signature Collection. The Collection release includes a variety of new bonus material, including recordings of Walt Disney discussing the challenges and triumphs during the production of "Bambi;" deleted scenes and characters; stories and effects that "Bambi" had on the Studio, other films and artists; and much, much more. Additionally, the Digital HD release includes an exclusive, heartfelt feature on the incredible artist, Tyrus Wong, who inspired the film's soft watercolor backgrounds and beautiful palette. Bambi arrives home on
Digital HD and Disney Movies Anywhere on May 23, and on Blu-ray™, DVD and On-Demand on June 6
.
2. Robin Hood: 40th Anniversary Edition – Get it here
To commemorate its 40th anniversary, Disney proudly presents the unforgettable animated classic Robin Hood on Blu-ray for the first time ever. Experience all the fun, thrills and celebrated music of this legendary adventure with perfect picture and sound! Join Robin Hood, his trusted companion Little John and his hilarious band of Merry Men as they outfox greedy Prince John to save the good people of Nottingham. Dashing from one daring deed to the next, Robin won't rest until he wins the hand of Maid Marian and restores King Richard to the throne. One of Disney's most beloved movies is even better on Blu-ray Combo Pack!
3. The Sword in the Stone: 50th Anniversary Edition – Get it here
Disney proudly presents the 50th anniversary edition of a spellbinding and beloved animated classic. Conjure up magical family fun with the humor, adventure and Academy Award(R)-nominated music (Best Score — Adaptation or Treatment, 1963) of THE SWORD IN THE STONE — now on Blu-ray Combo Pack for the first time ever! Take an amazing journey with a young orphan named "Wart" and the extraordinary wizard Merlin. According to legend, only someone with the purest character and inner strength can pull the enchanted sword from the stone and claim the throne of England. Armed with newfound confidence and the power of friendship, Wart discovers his destiny and learns the best magic is the kind you find inside yourself!
4. Alice in Wonderland: 60th Anniversary Edition – Get it here
Experience the magic and majesty of Alice In Wonderland with the ultimate collector's dream. For the first time, Walt Disney's timeless classic bursts into brilliance in Blu-ray Hi Definition! Featuring Disney Enhanced Home Theater Mix, this remarkable digital restoration boasts pristine sound and unparalleled picture quality. Plus, fascinating bonus features including "Through The Keyhole: A Companion's Guide To Wonderland" and an exciting interactive game, "Painting The Roses Red", have been specifically designed for this landmark release.
Join Alice as she chases the White Rabbit and journeys into a topsy-turvy world that gets "curiouser and curiouser" as her fantastical adventures unfold. Meet the Mad Hatter, March Hare, Tweedledee & Tweedledum, the Cheshire Cat, the Queen of Hearts and more unforgettable characters, all set against a backdrop of awe-inspiring splendor.
Filled with spectacular songs and animation, this 2-disc 60th Anniversary celebration of Alice In Wonderland is more wondrous than you ever could have imagined!
5. Oliver & Company: 25th Anniversary Edition – Get it here
Celebrate the 25th anniversary of a Disney classic with the stunning Blu-ray debut of Oliver And Company, featuring perfect picture and sound. Relive this charming animated adventure, packed with excitement, fun and unforgettable songs by Billy Joel, Bette Midler and Huey Lewis. In the heart of New York City, Oliver, a mischievous orphaned kitten, is befriended by Dodger, a carefree pooch and his ragtag family of misfit mutts. Life gets even better for Oliver when he is adopted by a lonely little girl named Jenny. But when tough guy Sykes and his Doberman sidekicks try to keep Jenny and Oliver apart, the spirited kitten and his newfound friends discover the meaning of courage and find a home where they truly belong.
6. Dumbo: 70th Anniversary Collection – Get it here
For the first time ever, in celebration of this landmark film's 70th anniversary, experience the daring adventures of the world's only flying elephant with a dazzling all-new digital restoration and brilliant Disney enhanced high definition theatre mix sound. The inspirational tale of Dumbo, the courageous baby elephant who uses his sensational ears to soar to fame with the help of his clever best friend Timothy Q. Mouse, will thrill and delight audiences of all ages. And now, the award-winning music and empowering messages about friendship and belief in yourself reach new heights in this must-have Blu-ray high-definition presentation of Walt Disney s animated classic Dumbo!
7. Aladdin: Diamond Edition – Get it here
Climb aboard for a magical carpet ride with nonstop laughs, action-packed adventure and Academy Award(R)-winning music that will make your heart soar (1992: Best Music, Original Song, "A Whole New World," Original Score). Now for the first time ever, a whole new world of Disney's ALADDIN is revealed in a whole new way on Blu-ray and Digital HD — with never-before-seen bonus! With the help of a hysterically funny, shape-shifting, 10,000-year-old Genie, street-smart commoner Aladdin and clever, confident Princess Jasmine join forces against the evil sorcerer Jafar to put an end to his plans to take over the kingdom!
8. Hercules: Special Edition – Get it here
Have a mighty fun time with HERCULES, Disney's animated classic from the creators of ALADDIN and THE LITTLE MERMAID. Nominated for an Academy Award(R) (Best Music, Original Song, "Go The Distance," 1997), this legendary family favorite is packed with colossal laughs and nonstop adventure. Taken from the gods as a newborn and adopted on Earth, Hercules is just an awkward pillar of strength trying to fit in. What he wants most is to impress his father Zeus. When Hercules discovers Hades' sinister plot to take over Mount Olympus, he goes from zero to hero and, with the help of his pals Pegasus and Phil, discovers that real strength comes from the heart!|British artist/political cartoonist Gerald Scarfe was brought in to assist with character design, and he remained involved as an ongoing artistic advisor to the animators.
9. Tarzan: Special Edition – Get it here
Disney's legendary adventure is better than ever as TARZAN bursts onto Blu-ray for the first time ever with spectacular picture and amazing sound. Filled with thrills, laughs, and Academy Award(R)-winning music (Best Music, Original Song, "You'll Be In My Heart," 1999), this family favorite will make you go wild. Disney's magnificent adaptation of Edgar Rice Burroughs' story begins deep within the jungle when baby Tarzan is adopted by a family of gorillas. But his "Two Worlds" collide with the arrival of humans, forcing Tarzan to choose between a "civilized" life with the beautiful Jane and the life he shares with his fun-loving friends and his gorilla family. Enjoy this wild and wonderful adventure in a whole new way on Disney Blu-ray!
10. Pocahontas: Special Edition – Get it here
Disney heroine Pocahontas sparkles in this captivating classic, available for the first time in breathtaking Blu-ray High Definition! The rich animation and Academy Award(R)-winning music (1995, Best Original Musical or Comedy Score and Best Original Song, "Colors of the Wind") burst forth with all the "Colors Of The Wind" in this amazing 2-movie collection of POCAHONTAS and POCAHONTAS II: JOURNEY TO A NEW WORLD — this 3-disc combo also features a DVD of each film! Fun and excitement are "Just Around The Riverbend" as Pocahontas and her friends Flit and Meeko find adventure at home and abroad in these sweeping stories from the earliest days of American history. This POCAHONTAS 2-Movie Collection delivers action-packed stories of adventure, friendship and courage that your family will cherish forever.
11. The Jungle Book: Diamond Edition – Get it here
Now for the first time ever on Blu-ray with glorious digital high definition, Disney's Jumpin' Jungle Classic has never looked so lush or sounded so good. Beloved characters, swinging music and new behind-the-scenes bonus features make this Diamond Edition Blu‐ray a must-have for every family's classic collection.
Meet the most unforgettable characters and embark on a thrilling adventure with Mowgli as he journeys deep into the jungle and learns "The Bare Necessities" of life from happy-go-lucky Baloo the bear. Meet Bagheera, the wise old panther, and crazy King Louie, the orangutan. But watch out for the cunning tiger Shere Khan and Kaa, the ssssneakiest snake in the jungle.
Explore your family's wild side as you venture into The Jungle Book for extraordinary adventures and a heartwarming tale that celebrates the true meaning of friendship.
12. Sleeping Beauty: Diamond Edition – Get it here
Fall under the glorious spell of Disney's ultimate princess fairy tale! The magic is real as you experience all the pageantry and power on Blu-ray — and for the first time ever on Digital HD — with incredible high-definition picture and thrilling, soaring sound! Beauty, wonder and adventure spin together in a grand legend that transcends time as Maleficent, one of animation's most spectacular villains, sends the kingdom's beloved Princess Aurora into an enchanted sleep. In a majestic story that awakens all your senses, Good Fairies arm brave Prince Phillip to defeat a fearsome fire-breathing dragon and rescue Aurora. But success in battle may not be enough, for the only way to awaken the Princess is with true love's kiss! Create memories that will last a lifetime with Disney's illustrious SLEEPING BEAUTY — a must-own for every family's classic collection!
13. Snow White and the Seven Dwarfs: Signature Collection – Get it here
Forever enchanting and inspiring, SNOW WHITE AND THE SEVEN DWARFS embodies The Walt Disney Signature Collection's legacy of animation. In this epic story of love and friendship, the kind and beautiful princess SNOW WHITE wins the hearts of the Seven Dwarfs and triumphs over the evil plans of a wicked Queen. Share the movie called "The Greatest Animated Film Of All Time," in High Definition Blu-ray and for the first time ever on Digital HD, with special features for the entire family!
14. Pinocchio: Walt Disney Signature Collection – Get it here
Now a part of the celebrated Walt Disney Signature Collection, the timeless story of PINOCCHIO inspires a new generation with its masterful animation, award-winning music, unforgettable characters and exclusive, all-new behind-the-scenes Bonus Extras! With his faithful friend Jiminy Cricket by his side, Pinocchio embarks on fantastic adventures that test his bravery, loyalty and honesty until he triumphs in his quest for his heart's desire: to become a real boy.
15. Beauty and the Beast: 25th Anniversary Collection – Get it here
Be our guest at the enchanted 25th Anniversary celebration of BEAUTY AND THE BEAST, universally acclaimed as one of Disney's finest animated features and now honored in the Walt Disney Signature Collection. Join brave, independent Belle on the adventure of a lifetime as she sets out to rescue her father and finds herself in the enchanted castle of a mysterious beast. Enjoy this timeless tale overflowing with unforgettable characters and Academy Award(R)-winning music (Best Song, Best Score, 1991)!|It took more than 600 animators, artists, and technicians three and a half years to complete the project.|BEAUTY is the first animated Disney feature scripted by a woman, Linda Woolverton.|The film marked the first time each animator was credited on screen specifically for the character he or she brought to life.
16. Mary Poppins: 50th Anniversary Collection – Get it here
Released from the Disney Vault in celebration of its 50th Anniversary, this beloved classic shines like never before on Blu-ray with an all-new digital restoration. Winner of five Academy Awards(R), including Best Actress (Julie Andrews), Best Song ("Chim Chim Cher-ee") and Best Visual Effects, Mary Poppins is a movie experience your family will enjoy over and over again.
"Practically Perfect In Every Way" Mary Poppins flies out of the windy London skies and into the home of two mischievous children. With the help of a carefree chimney sweep named Bert (Dick Van Dyke), the spirited nanny turns every chore into a game and every day into a "Jolly Holiday." Share the music, share the magic, share the joy of Mary Poppins with a whole new generation for the first time on Disney Blu-ray.The movie received 13 Academy Award(R) nominations and won 5 Oscars(R) for Best Actress, Best Song, Best Music Score, Best Film Editing, and Best Special Visual Effects. It also received a special scientific award for the creation and application of Color Traveling Matte Composite Cinematography, which helped make the combination of live action and animated actors in the film possible.
17. Pete's Dragon: 35th Anniversary Edition – Get it here
For the first time ever on Blu-ray, you and your family can rediscover Disney's classic musical adventure — the 35th Anniversary Edition of PETE'S DRAGON in dazzling Blu-ray High Definition with an all-new digital restoration! When Pete, an orphan, and his best friend Elliott — an invisible green dragon — wander into the seaside village of Passamaquoddy, the townspeople think he's behind a slew of hilarious mishaps. But after a daring rescue, they change their tune and believe in Pete's fire-breathing buddy. Filled with friendship and fun, and featuring the Academy Award(R)-nominated "Candle On The Water" (Best Original Song, 1977), this family classic on Disney Blu-ray turns every viewing into a Brazzle Dazzle Day.|The original story called for Elliott the dragon to remain invisible throughout the entire film.|Animators opted for an oriental, rather than occidental, dragon, because oriental dragons are usually associated with good.
18. The Aristocats: Disney Special Edition – Get it here
US Blu-Ray/Region All pressing. The DVD is NTSC/Region 1. In the heart of Paris, a kind and eccentric millionairess wills her entire estate to Duchess, her high-society cat, and her three little kittens. Laughs and adventure ensue as the greedy, bumbling butler pulls off the ultimate catnap caper. Now it's up to the rough-and-tumble alley cat, Thomas O'Malley, and his band of swingin' jazz cats to save the day.
Includes bonus download of The Aristocats: Disney Classics Storybook app.
19. The Fox and The Hound: 30th Disney Anniversary Edition – Get it Here
In celebration of THE FOX AND THE HOUND's 30th anniversary, Disney proudly presents a special 2-movie collection of THE FOX AND THE HOUND and THE FOX AND THE HOUND II — in dazzling Blu-ray(TM) High Definition for the first time ever! Experience these timeless tales of true friendship, set against a backdrop of comedy and music in perfect harmony. And now, both inspiring classics sparkle on Blu-ray with spectacular sound and unsurpassed picture quality. Plus, this 3-Disc Combo Pack includes a DVD of each film! Featuring lovable characters, brilliant animation, stellar voice talent and unforgettable songs, THE FOX AND THE HOUND 2-MOVIE COLLECTION includes two fun, heartwarming stories of loyalty and trust that your family will treasure for all time.
20. Winnie The Pooh: Special Edition – Get it here
Whether we're young or forever young at heart, the Hundred Acre Wood calls to that place in each of us that still believes in magic. Share all the fun, whimsy and wonder of THE MANY ADVENTURES OF WINNIE THE POOH in this resplendent Special Edition of the original Disney classic — now digitally restored and remastered in high definition to thrill a whole new generation! Experience the very first time Tigger "pounces" Pooh; laugh out loud when Pooh's rumbly tumbly gets him stuck in a hilariously sticky situation… All your favorite Hundred Acre Wood characters come alive in this timeless motion picture overflowing with rich animation, masterful storytelling and unforgettable songs. Stuffed with extraordinary bonus features including the beloved short film "A Day For Eeyore," THE MANY ADVENTURES OF WINNIE THE POOH will make fans of all ages shout "Hip Hip Pooh-Ray!"
21. Lilo & Stitch: Special Edition – Get it here
Disney proudly presents the hilarious family favorite LILO & STITCH and its sensational sequel LILO & STITCH 2: STITCH HAS A GLITCH on Blu-ray for the first time with perfect picture and sound. Relive two unforgettable comedies about bringing friends and family together even when they seem worlds apart, in one incredible collection! Lilo is a lonely little girl, and Stitch is a mischievous little creature from outer space. When Stitch crash-lands in Hawaii, Lilo adopts him as her pet, but he soon turns her world upside down. The laughter continues as Stitch helps Lilo prepare for the big island hula contest in the hysterical sequel. Discover that 'ohana means family, and celebrate the unbreakable bonds of friendship like never before with these two unforgettable movies on Disney Blu-ray!
22. Mulan: Special Edition – Get it here
1. "An impressive achievement ranking with BEAUTY AND THE BEAST and THE LION KING!" — Roger Ebert 2. Deleted Scenes — Never-Before-Heard Song; Alternate Openings 3. Songs of MULAN 4. Music Videos Featuring Jackie Chan, Raven, And Christina Aguilera 5. "Discovering MULAN" — Embark On A Behind-The-Scenes Adventure With The Filmmakers 6. Early Presentation Reels 7. Progression Reels 8. DisneyPedia: "Mulan's World" — Explore The Fascinating World Of Ancient China With Your Host, Mushu 9. MULAN Fun Facts 10. Audio Commentary 11. Storyboard-To-Film Comparisons
23. Monsters, Inc: Collector's Edition – Get it here
Experience the film that captured the hearts of critics and fans around the world in a breathtaking new way. MONSTERS, INC. is "visually dazzling, action-packed and hilarious," raves The Boston Herald. Lovable Sulley (John Goodman) and his wisecracking sidekick Mike Wazowski (Billy Crystal) are the top scare team at Monsters, Inc., the scream-processing factory in Monstropolis. When a little girl named Boo wanders into their world, it's the monsters who are scared silly, and it's up to Sulley and Mike to keep her out of sight and get her back home. Open the door to a phenomenal world of excitement and imagination that will have you screaming for more. Loaded with sensational bonus features, including the theatrical short "Partysaurus Rex," MONSTERS, INC. is hours of fantastic family fun.
24. The Lion King: Diamond Edition – Get it here
The wait is over. For the first time ever, experience the majesty of Disney's epic animated masterpiece as it roars off the screen and into your living room on Blu-ray and Blu-ray 3D. With a spectacular digital picture, spine-tingling high definition sound and immersive bonus features—you will feel the love for this critically acclaimed and universally beloved classic like never before.
Embark on an extraordinary coming-of-age adventure as Simba, a lion cub who cannot wait to be king, searches for his destiny in the great "Circle of Life." You will be thrilled by the breathtaking animation, unforgettable Academy Award®–winning music (1994: Best Original Score; Best Song, "Can You Feel The Love Tonight") and timeless story. The king of all animated films reigns on Disney Blu-ray 3D—magic in a new dimension.
25. Cinderella: Special Edition – Get it here
The most celebrated of all the Disney classics, CINDERELLA, is also known as one of Walt Disney's all-time favorite films. CINDERELLA has enchanted generations with its spellbinding story, charming music, and endearing characters that live in your heart forever. The beloved fairy tale becomes pure Disney magic as beautiful Cinderella shares her dreams of romance and a better life with the lovable mice Gus and Jaq. When Cinderella's cruel stepmother prevents her from attending the Royal Ball, the delightful Fairy Godmother appears! With a wave of her wondrous wand and a bouncy "Bibbidi-Bobbidi-Boo," the Fairy Godmother transforms a simple pumpkin into a magical coach — and Cinderella's rags into a gorgeous gown. At the ball, Cinderella falls in love with Prince Charming, but must flee before the stroke of midnight breaks the spell! Now with an all-new digital restoration, Disney's Enhanced Home Theater Mix, and all-new games and music videos, this 2-Disc Special Edition of Cinderella is the perfect fit for everyone who believes dreams really do come true. Also available on Video.
What Special Edition Disney movies do you already have in your collection?