Emotions Activities for Toddlers are a sure way to help them understand feelings at a very young age. These are 10 games and activities to teach children empathy.
I always promised myself that I'd raise my child to be loving, kind, and caring.
Now that I'm a mother, I realize that it's a lot of work.
Telling our children to be nice isn't enough; we need to be active in their emotional growth.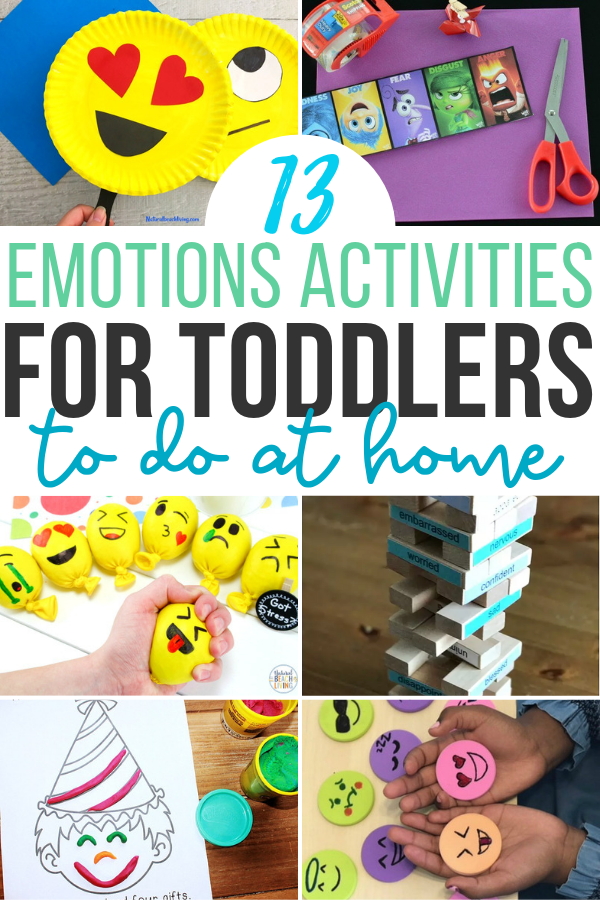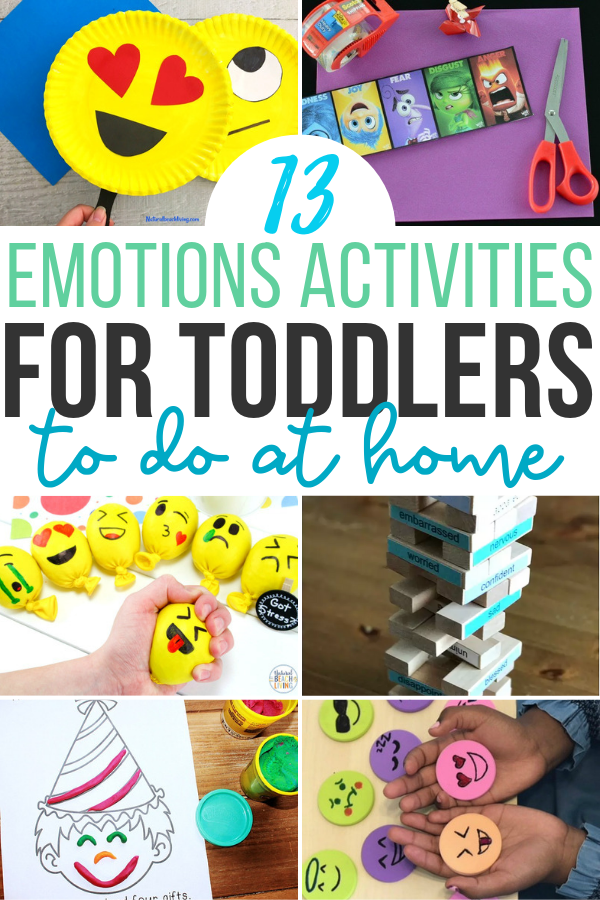 By being empathetic towards our children and reading books about feelings to them, we can definitely ensure that they are learning how to express and receive emotions.
But, is it enough? Do they really understand? And, how do we know?
That's a little more complicated. We can teach and ask questions but how do we know they really understand?
Unfortunately, we can't be with our children at all times to watch their behavior. We don't know how they are interacting with other children or reacting to negative situations. Basically, we can't do it all for them but we can emotionally prepare them.
We can't do it all for them but we can emotionally prepare them.
13 Feelings / Emotions Activities For Toddlers & Preschoolers
By participating in these emotions activities for toddlers & preschoolers, you're setting them up for possible situations.
These activities are easy to do at home and are designed to help young children understand and express their feelings.
Activities that teach children feelings may seem minimal, like boredom busters, but they have a much deeper value.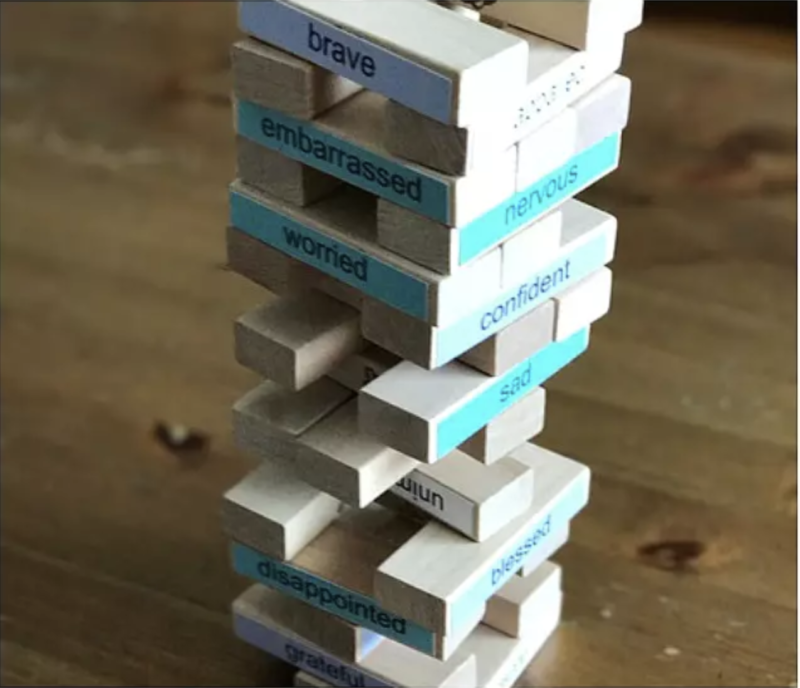 This feelings game for kids is the perfect way to get children talking about their feelings. There are multiple ways to play, along with a printable. I love the idea of pulling a block and describing a time when you felt that way.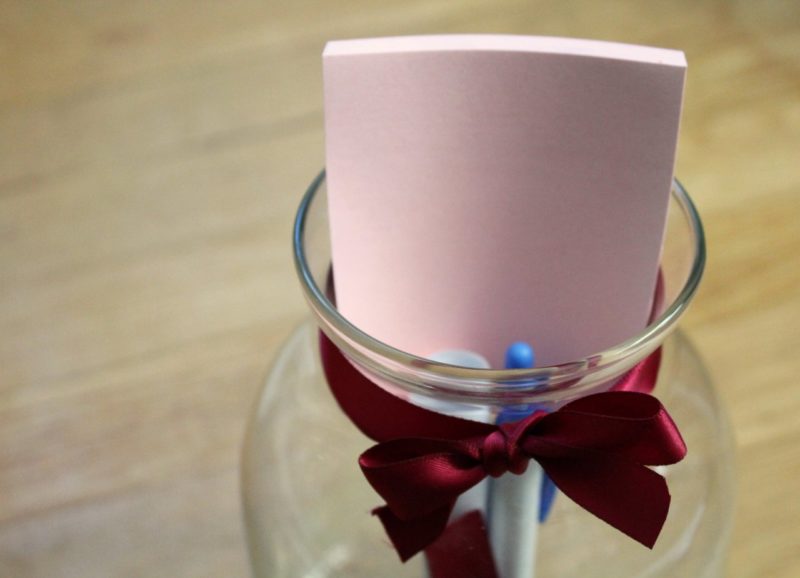 2. Memory Jars by Strength and Sunshine
This memory jar is such a lovely way for kids (or even adults) to make note of the things they are thankful for and great memories that are worthy of keeping. Even the little moments are worth mentioning and ready when you're having a bad day.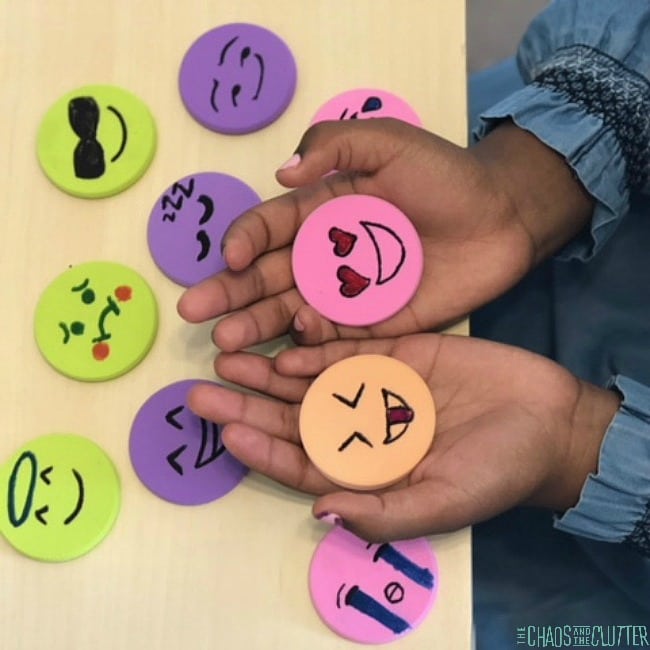 3. Emoji Squishies by The Chaos and the Clutter
These emoji squishies could be the perfect way for children to share how they are feeling without the pressure. Teach little ones to grab a squishy with their current emotion and then discuss it together. These can be kept in a common area for children to access at anytime.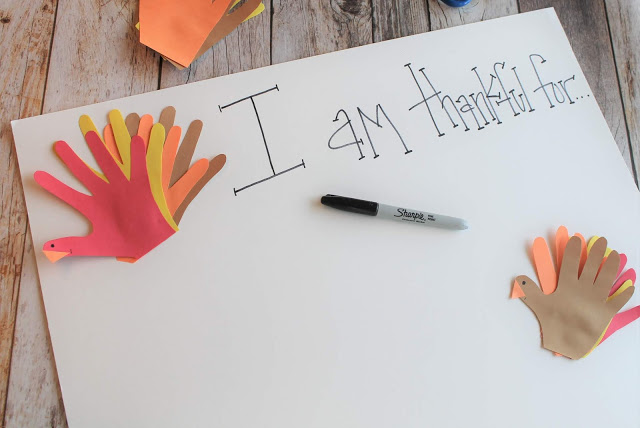 A Thankful Chart is a lovely family gratitude activity. While this particular chart is Thanksgiving themed, it can definitely be something you do every month. Basically, the family writes something they are thankful on a decorated poster board for all throughout the month.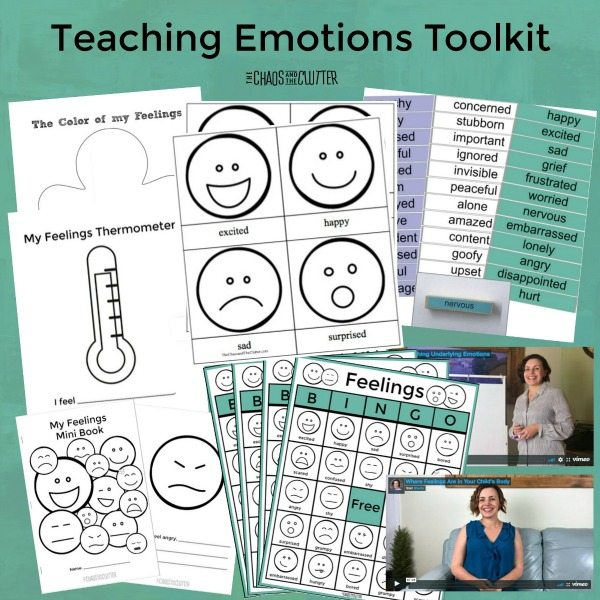 An Emotions Toolkit is the perfect idea for little ones who need help expressing their emotions. Additionally, this will help teach them what emotions look and feel like. This kit includes a free printable!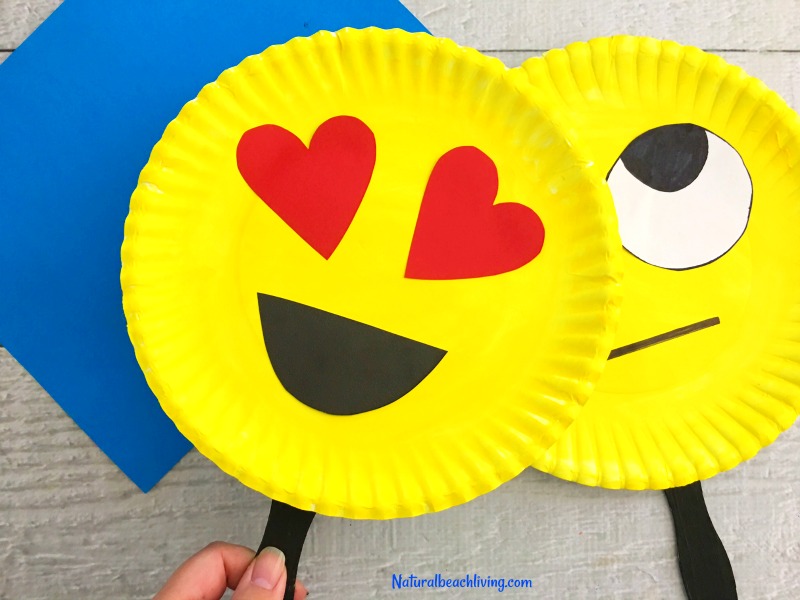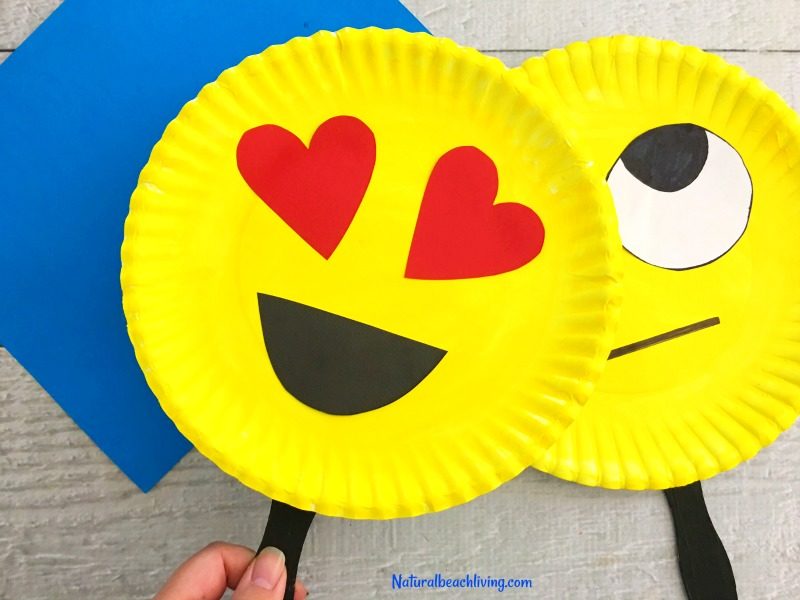 These emoji paper plates will teach toddlers to hold the expression to their face that they are currently feeling.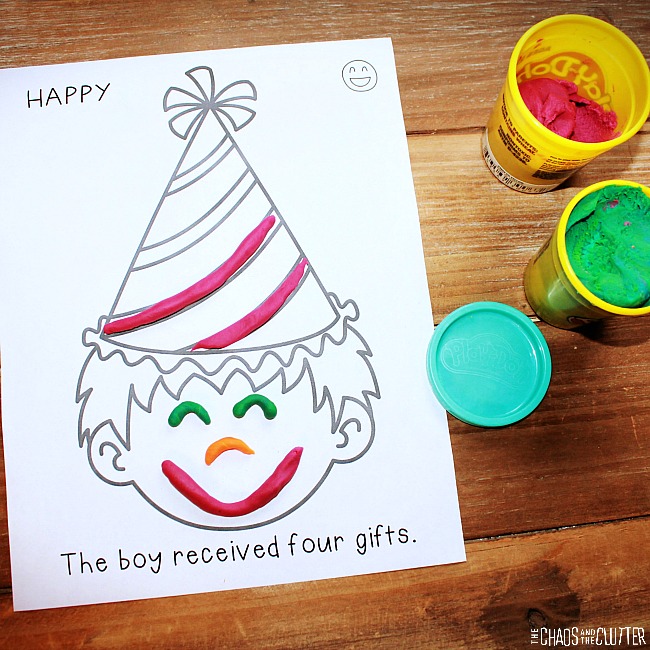 These emotions playdough mats may be birthday themed but they can totally be used at anytime. You can teach your toddler and preschooler to make different faces with the playdough and then give scenarios for them to decide which feeling makes since.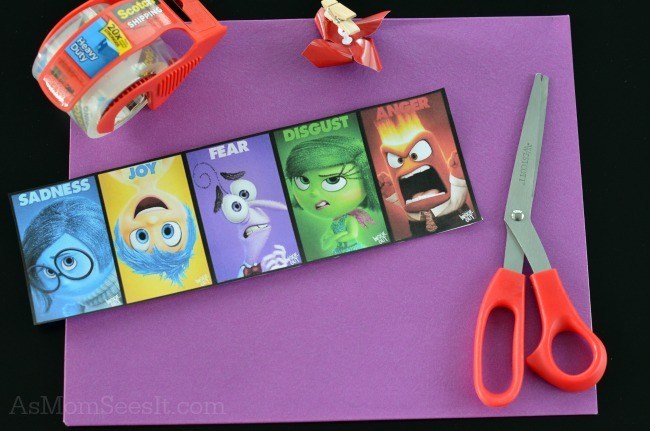 Not only is this emotions slider a fun way for kids to express their feelings, it's Inside Out themed! Get the free printable and make this right away!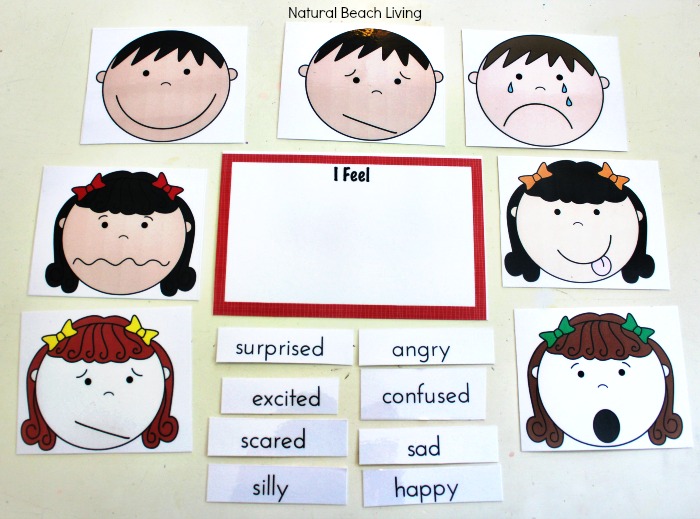 These free printable visual cards for feelings is fantastic for toddlers and children! Put the many emotions on a stick and kids can hold them up when they are feeling a certain way. In turn, they can play amongst one another to identify emotions.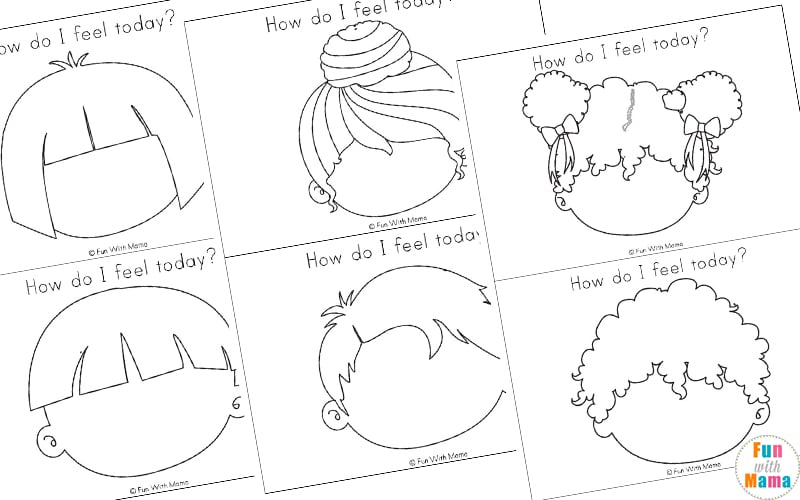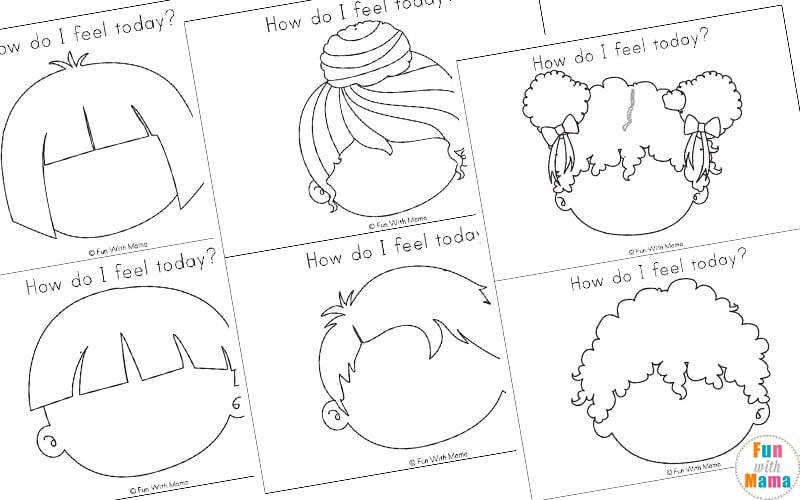 This is another emotions printable pack that will help young children identify their feelings.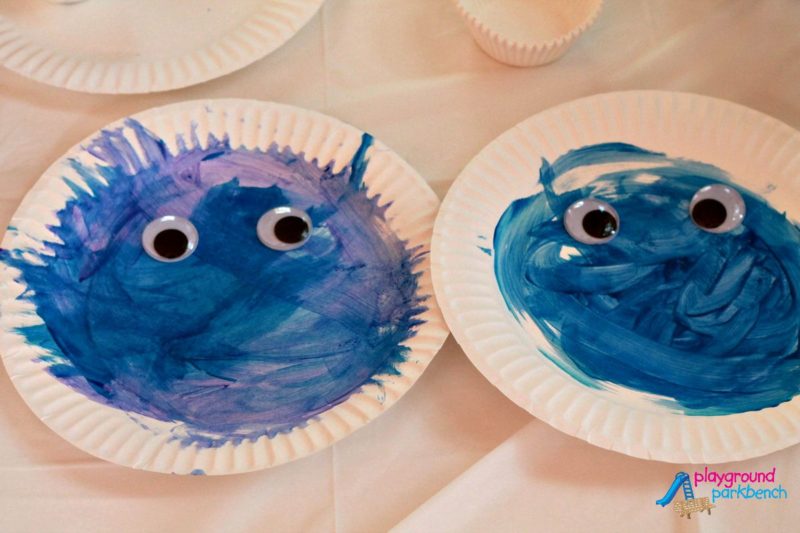 The Pout-Pout Fish book series is my son's favorite (you can get the books on Amazon). The books teach so many valuable lessons about bullying, feeling left out, and changing your perspective. I love the idea of making different faces for Pout-Pout Fish!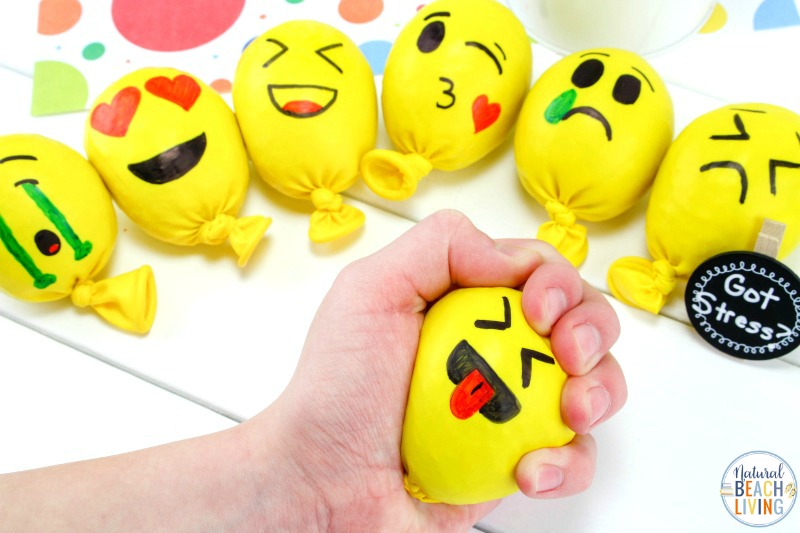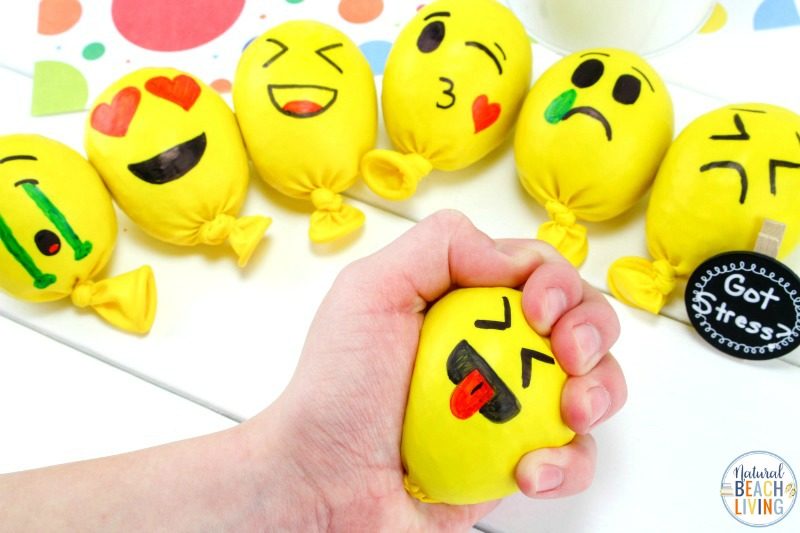 Emoji stress balls can be easily made right at home. In fact, you can allow children to help along the way. Just be sure they don't eat the supplies. *AHEM* my toddler. I think it would be fun to use the negative emotion emoji balls to relieve some stress.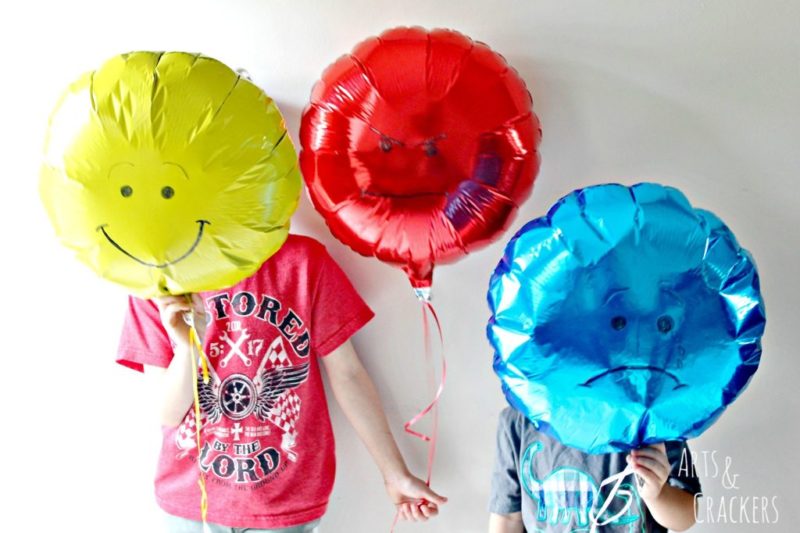 Because emojis are life, these balloons are another easy and cheap way for kids to get their feelings out.
All of these emotions activities for toddlers can be made right from home using supplies that you may already have around the house. While these are great for toddlers and preschoolers, get the other children involved. Also, it's important that you play along as well!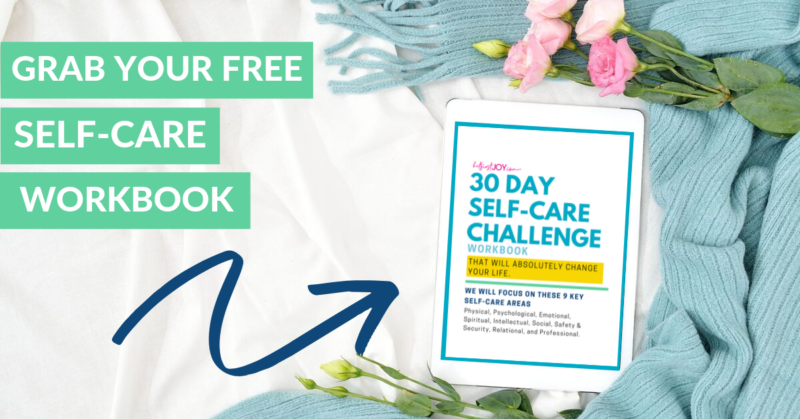 DISCLOSURE
As an Amazon Associate I earn from qualifying purchases. This post may contain affiliate links and/or promotional products, all opinions expressed are that of But First, Joy only. Read my full disclosure.