It's important that children learn kindness and compassion at a young age. With these empathy books for children, kids can learn how to identify and express emotions.
We've long questioned whether or not empathy could be taught to children. Had you asked me 10 years ago, I may have said, "No! You're either born with empathy or you aren't".
Now, I have stronger, well-studied beliefs about empathy in children.
Are children born with empathy?
Yes! Studies have shown that empathy is a gene that can be inherited. In fact, I believe that I was born with empathy based on these "10 Signs That You're an Empath".
To add, my paternal grandmother is the biggest empath I've ever known and I favor her very much. My mother is also quite the emotional empath.
Does everyone in my family have the empathy gene? Definitely not! I was just lucky enough to not only inherit this superpower, but to recognize it and strengthen it very early on.
Now that I have a son, I want to ensure that he understands his feelings and knows how to properly manage them.
Can we teach children empathy?
Absolutely! In fact, there are various methods for teaching children empathy that are far from complicated.
A few examples are:
Lead by example
Be a giving family
Show your child empathy
I've written a full guide to teaching your child empathy that is sure to help you!
Books that teach children empathy:
Another foolproof way to get children talking about their feelings and understanding empathy is by reading to them.
Don't just buy any book that looks cute on a shelf. It's important to choose books for children that are intentional. There are thousands of ABC and 123 books. From workbooks to flash cards, there's everything to teach children basic education.
But, what about feelings and emotions? What about empathy?
The honest truth is that there isn't much out there for the little ones. However I'm confident that the demand for children's empathy books is on the rise. Millennial moms tend to be quite intentional with their parenting, despite the stigma they carry.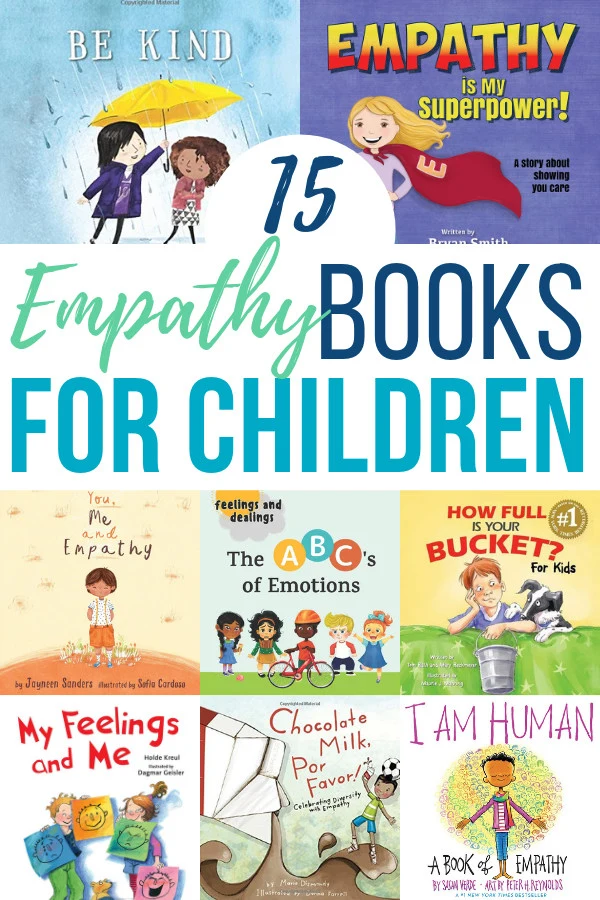 These kid's books about feelings will help teach children empathy. Children can learn everything from understanding how to express their feelings to how their words affect others.
A hopeful meditation on all the great (and challenging) parts of being human, I Am Human shows that it's okay to make mistakes while also emphasizing the power of good choices by offering a kind word or smile or by saying "I'm sorry."
At its heart, this picture book is a celebration of empathy and compassion that lifts up the flawed fullness of humanity and encourages children to see themselves as part of one big imperfect family—millions strong.
Using a spectrum of vibrant colors and a menagerie of animals, this unique book does for the range of human moods and emotions what Oh, the Places You'll Go! does for the human life cycle. Here is a wonderful way for parents to talk with children about their feelings.
The Feelings Book vibrantly illustrates the wide range of moods we all experience. Kids and adults will appreciate Todd Parr's quirky intelligence as he pays special attention to the ever-changing, sometimes nonsensical emotions that we all feel.
Targeted to young children first beginning to read, this book will inspire kids to discuss their multitude of feelings in a kid-friendly, accessible format, told through Parr's trademark bold, bright colors and silly scenes.
Louis always interrupts! All of his thoughts are very important to him, and when he has something to say, his words rumble and grumble in his tummy, they wiggle and jiggle on his tongue and then they push on his teeth, right before he ERUPTS (or interrupts). His mouth is a volcano! But when others begin to interrupt Louis, he learns how to respectfully wait for his turn to talk.
My Mouth Is A Volcano takes an empathetic approach to the habit of interrupting and teaches children a witty technique to help them manage their rambunctious thoughts and words.
5. Be Kind by Pat Zietlow Miller
When Tanisha spills grape juice all over her new dress, her classmate wants to make her feel better, wondering: What does it mean to be kind?
From asking the new girl to play to standing up for someone being bullied, this moving story explores what kindness is, and how any act, big or small, can make a difference―or at least help a friend.
In How Full Is Your Bucket? For Kids, Felix begins to see how every interaction in a day either fills or empties his bucket. Felix then realizes that everything he says or does to other people fills or empties their buckets as well.
Follow along with Felix as he learns how easy it can be to fill the buckets of his classmates, teachers and family members. Before the day is over, you'll see how Felix learns to be a great bucket filler, and in the process, discovers that filling someone else's bucket also fills his own.
The book, Chrysanthemum, is a funny and honest school story about teasing, self-esteem, and acceptance to share all year round.
The young girl, Chrysanthemum, thinks her name is absolutely perfect—until her first day of school. "You're named after a flower!" teases Victoria. "Let's smell her," says Jo. Chrysanthemum wilts. What will it take to make her blossom again?
9 Stories in 1! What Should Danny Do? is an innovative, interactive book that empowers kids with the understanding that their choices will shape their days, and ultimately their lives into what they will be.
Written in a "Choose Your Own Story" style, the book follows Danny, a Superhero-in-Training, through his day as he encounters choices that kids face on a daily basis. As your children navigate through the different story lines, they will begin to realize that their choices for Danny shaped his day into what it became. And in turn, their choices for themselves will shape their days, and ultimately their lives, into what they will be.
We teach toddlers to identify colors, numbers, shapes, and letters—but what about their feelings? By illustrating such common emotions as happiness, sadness, anger, fear, and calm, this sensitive book gently encourages young children to open up with parents, teachers, and daycare providers. And kids will LOVE the bright illustrations and amazing 3-D pop-ups on every page!
Feelings are neither good nor bad, they simply are. Kids need words to name their feelings, just as they need words to name all things in their world.
The Way I Feel uses strong, colorful, and expressive images which go along with simple verses to help children connect the word and the emotion. Your child will learn useful words, and you will have many chances to open conversations about what's going on in her/his life.
This vibrantly and expressively illustrated book invites children to talk about feelings. It takes readers through a range of potential emotions without ever calling them "good" or "bad," allowing children to recognize and examine their own emotional world.
It's Gabe's first day of school in America, and he doesn't speak English. This story shows how a simple act of kindness is worth more than a thousand words. Kindness really is a universal language.
Why does her brother cry when it's dark? Why does her classmate Kayla take so long to do her math? And what's up with that . strange-smelling dish that Priya brings to lunch every day?
With the help of her parents, Amelia soon learns about the importance of empathy and starts to see the power it can have! Will Amelia be able to put her new-found skill to good use and help others find the strength in empathy as well? Written for readers in grades K-6, this storybook also includes tips to help parents and teachers foster empathy in every child.
This Social Emotional Learning (SEL) storybook supports emotional health and connection!
This therapeutic tool develops emotional intelligence and social skills through rhyme while moving through the alphabet. Kids discover a wide range of 26 common emotions which builds empathy, self and other awareness, and interpersonal connection. While reading, kids learn how to identify emotions through facial expressions, body language, and in social contexts.
One of the most important social skills a child can learn is empathy. Being able to understand how another person is feeling and recognizing their needs helps people to connect to one another across race, culture and the diversity that is ever-present and so important to our world.
This charming story uses verse, beautiful illustrations and a little person called Quinn to model the meaning of empathy. Throughout the story, Quinn shows an abundance of understanding, compassion and kindness towards others. Showing empathy towards others is a learnt trait, and one to nurture and cherish with the children in our care.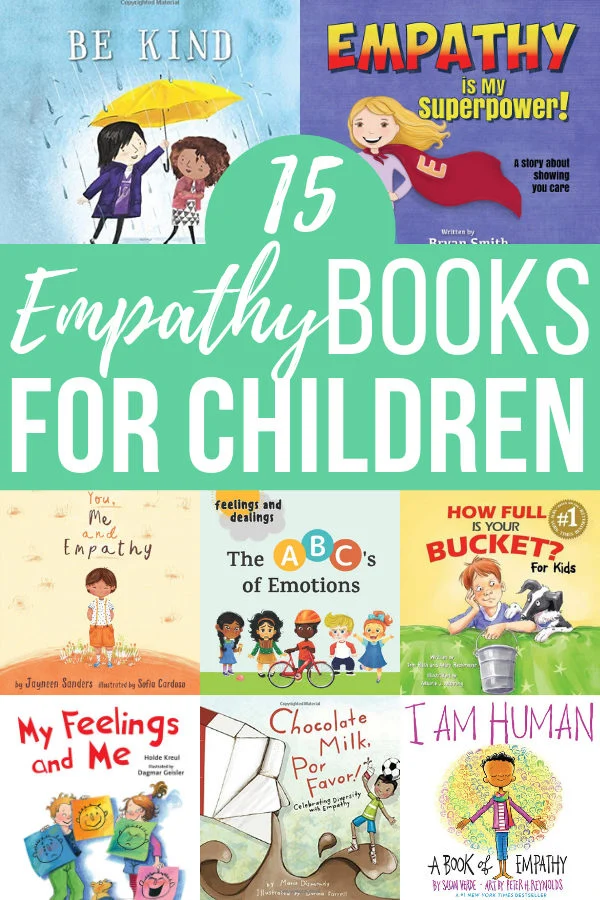 All of these books teach children about kindness, compassion, feelings, and empathy. Do you have any favorite empathy books for children? Tell me in the comments below!