Are you looking for the best sweets, treats, and drinks to try at Epcot's Flower & Garden Festival? These are the must-try Epcot Flower & Garden food and drinks that I highly recommend. I attended this event courtesy of Disney! All opinions are my own.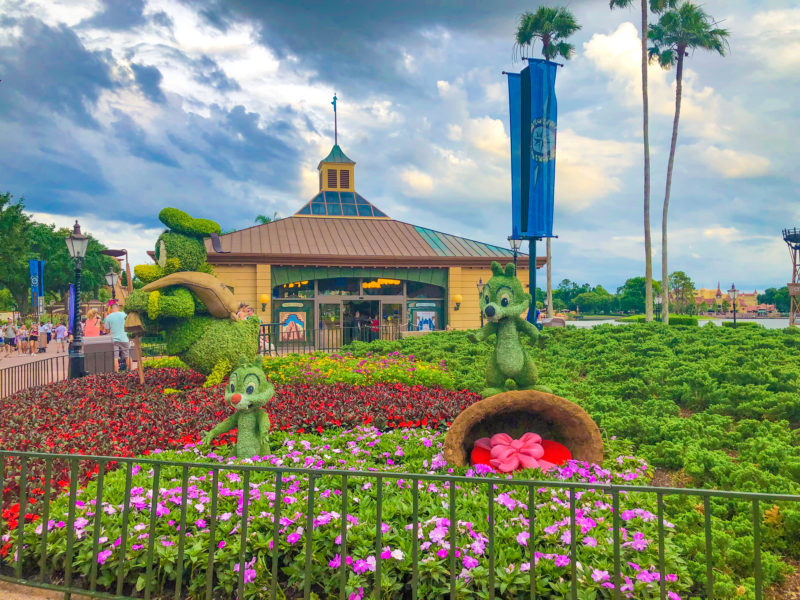 Eating and drinking around the world at Epcot has always been on my Disney Bucket List. It wasn't until I was invited to Epcot's International Flower & Garden Festival this year, that I actually had the pleasure of taking advantage of the festival food. I was really looking forward to the all of the new changes since I last attended the Flower & Garden Festival in 2016.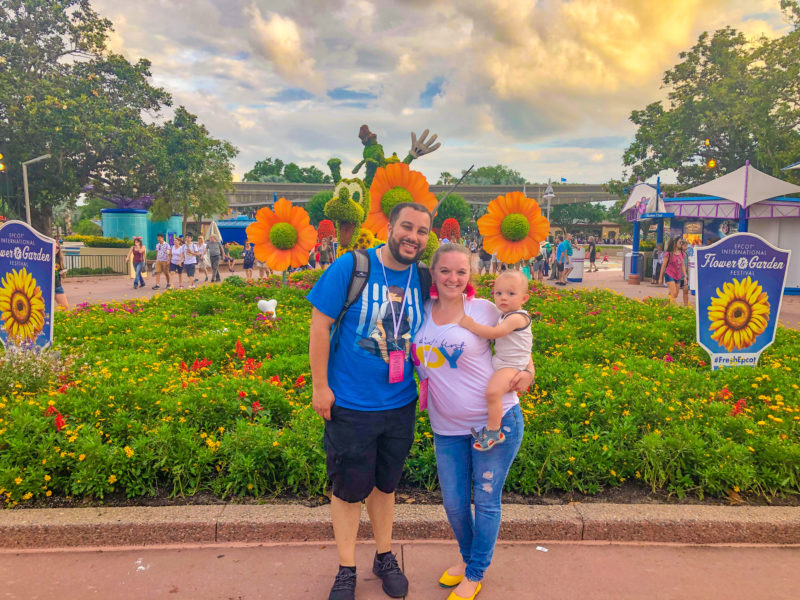 Upon arriving at the festival, we picked up an Epcot Flower & Garden Festival Passport booklet which listed all of the Epcot festival sweets, treats, and drinks. This helped up to keep track of where we were going and what we were eating. Being the major planners that we are, my husband I had already made a list of the Epcot festival foods we were going to try based on the epic breakdown of the 2019 Epcot International Flower and Garden Festival food and drinks from the Disney Food Blog!
You'll also like: 2019 Disney World Bucket List – 25 Things To Do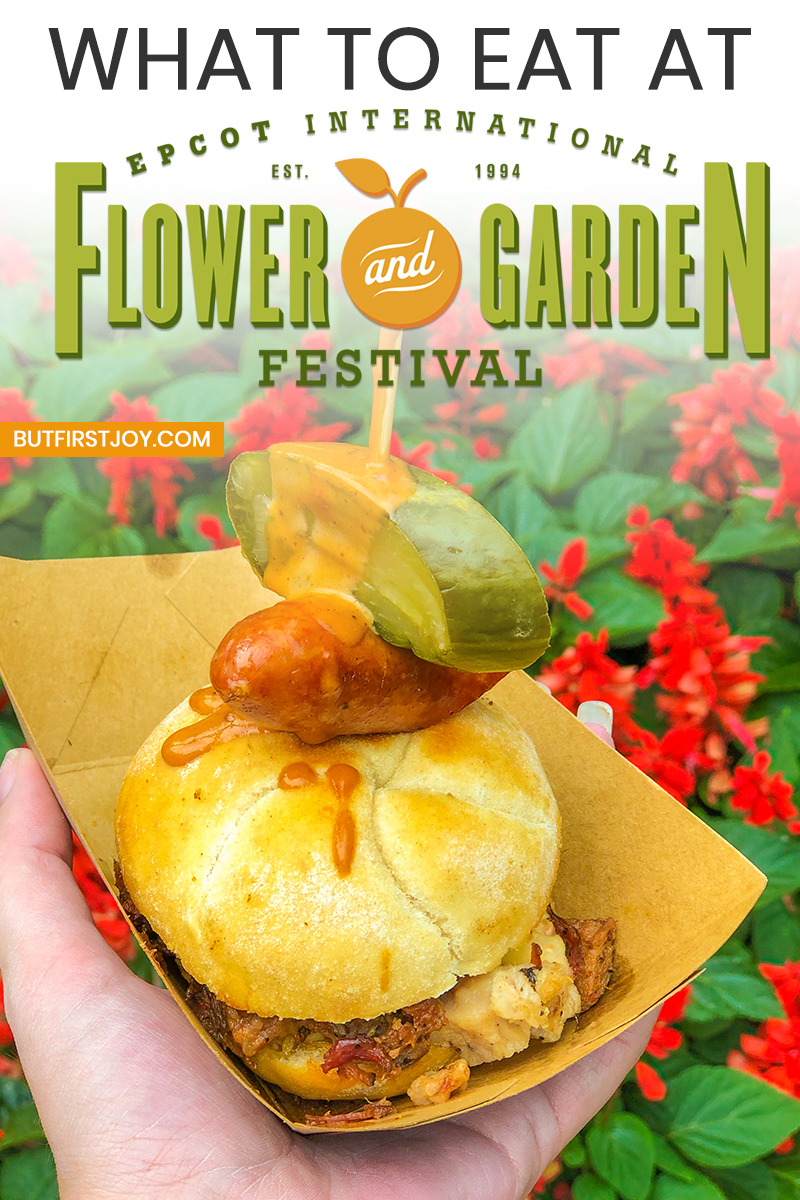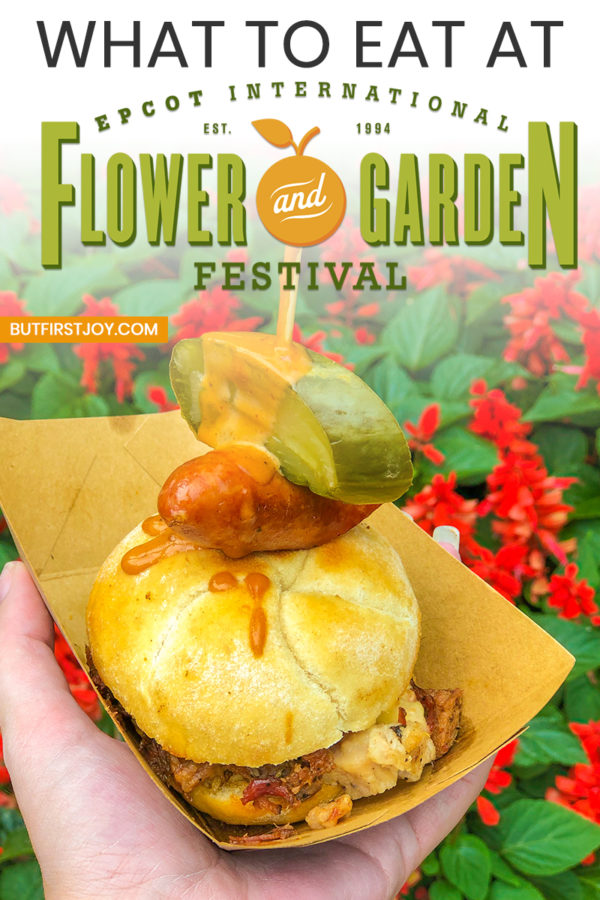 8 Must-Try Epcot Flower & Garden Food and Drinks
So, we had a pretty good idea of what we wanted and the name of the restaurants. Surprisingly, we ended up trying everything we had on our list plus a little more!
1. Crispy Citrus Chicken with Orange Aïoli and Baby Greens – $5.75
Located at: The Citrus Blossom
This was my favorite food from the whole Epcot event and it wasn't something originally on my list. Actually, my sister-in-law ordered this and insisted that I try it. I am so glad I did because it was basically everything.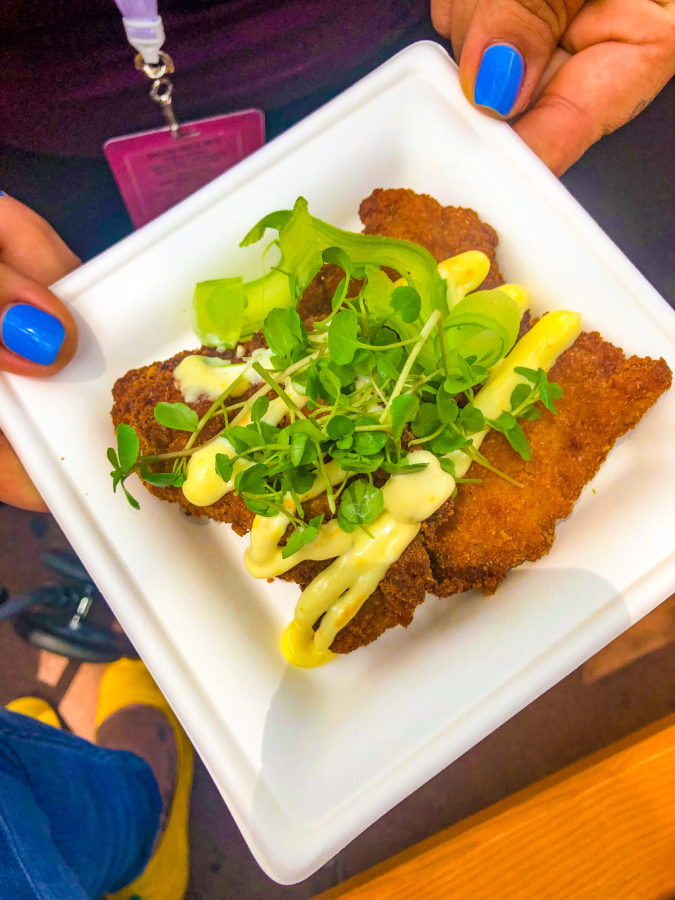 The small plate of crispy chicken topped with the delicious orange aioli is the perfect combination. The baby greens and spiraled celery gives the perfect amount of freshness to this yummy Flower & Garden treat. There's something about the breading that gives this chicken just enough crunch, along with the sweetness of the orange, that makes you crave it again and again.
I craved this so much that I went back for a seconds before our day at Epcot ended.
2. Orange Cream Slushy in a Souvenir Orange Bird Sipper Cup – $14.99
Located at: The Citrus Blossom
If you loved the orange pushup pops as a kid, then this Orange Cream Slushy is for you. I personally found this to be a little too sweet for my taste but my husband swore it was the best! It literally tasted like an orange creamsicle melted into an Orange Bird cup.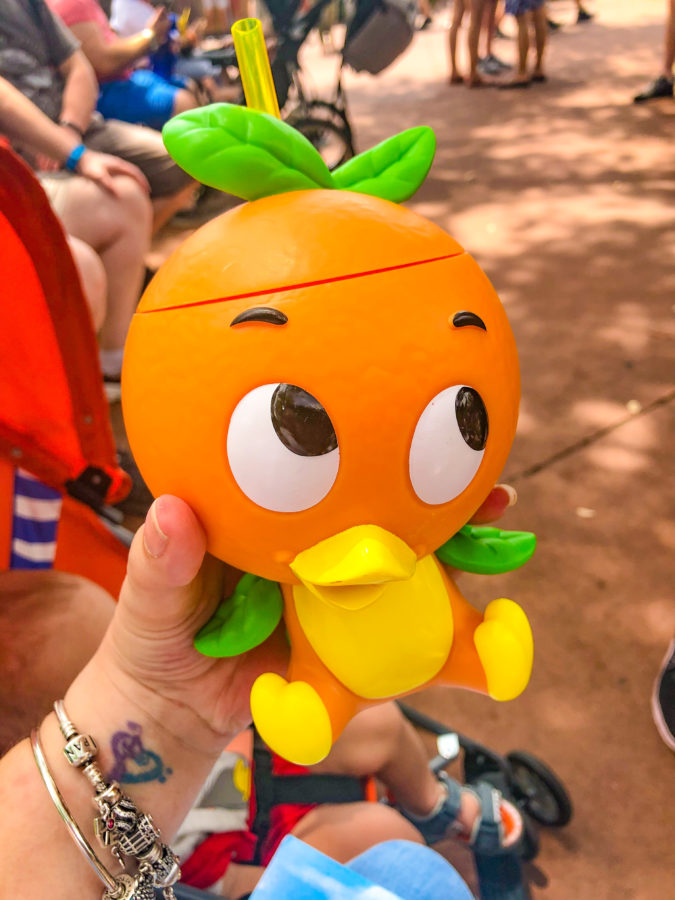 Oh, and the Orange Bird Sipper Cup is obviously the main reason to order this. I grabbed it for a friend but once I actually saw the cup – I almost ordered another for myself. It's way too stinking cute!
3. Pineapple Soft-serve Ice Cream with Fanta – $6.00
Located at: Pineapple Promenade
This was absolutely delicious. Obviously pineapple soft-serve is a big deal but add some Fanta to it and it becomes next level good! This was the perfect cold treat on a hot Florida day.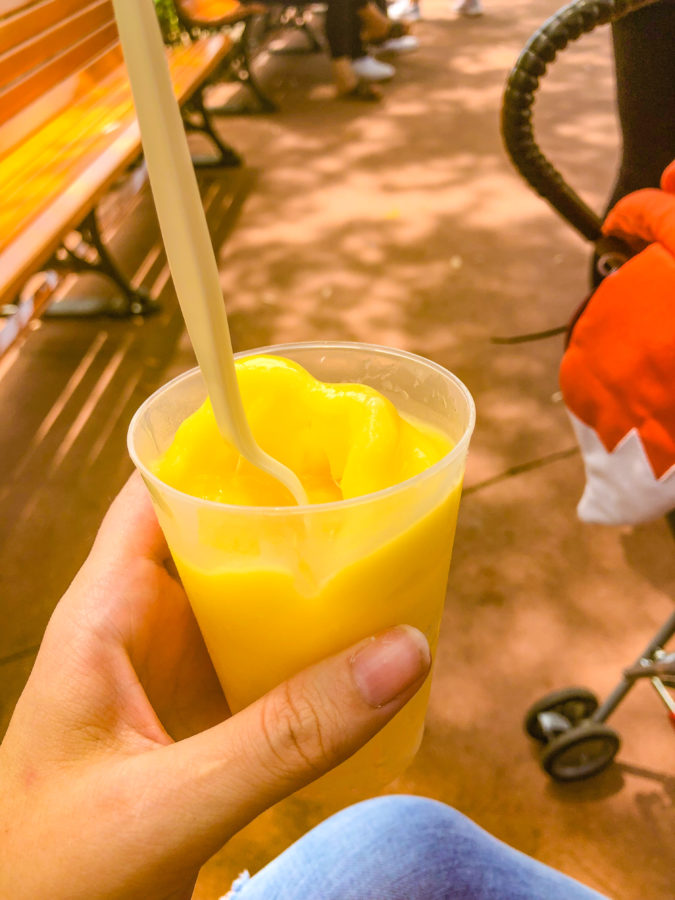 Oh, and I forgot to take a nice photo with the swirl. I was too hot and too ready to dig in. Especially since this was the number one thing I'd planned to try!
4. Tres Leches – $4.50
Located at: Jardin de Fiestas
Milk-soaked Sponge Cake topped with Cajeta Whipped Cream and Almond Powder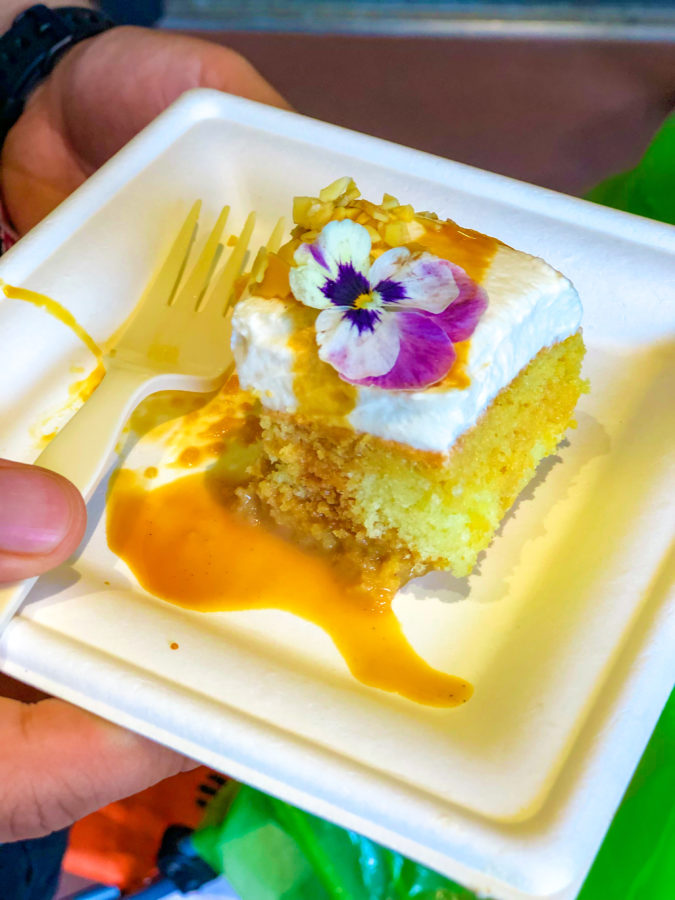 My husband was the most excited about Tres Leches. It's his favorite dessert and he tries it anywhere he goes. This is one of those desserts that makes you roll your eyes back with each bite.
5. Beef Brisket Burnt Ends and Smoked Pork Belly Slider – $7.50
Located at: The Smokehouse: Barbecue and Brews
with Garlic Sausage, Chorizo, Cheddar Fondue and House-made Pickle
Oh. My. Carnivore Heart. This was truly what dreams are made of. If you need something filling and delicious – order this. It's full of flavor and the slide is loaded with meat. While we tried to order different things, this was the exception we made. No regrets.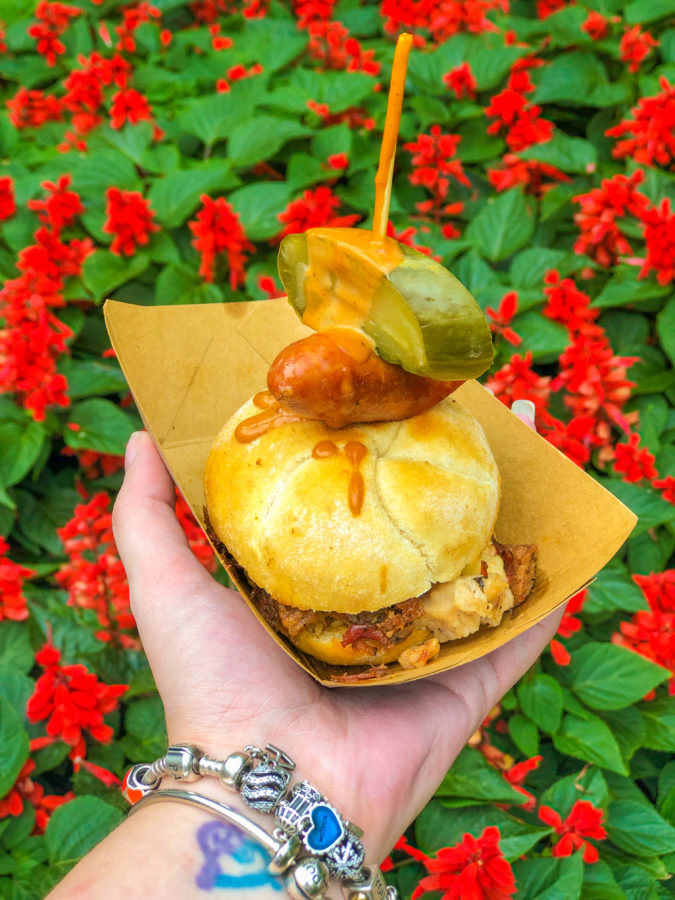 Please keep in mind that this is a bit messy but don't miss out! You can even add additional BBQ sauces at the stand! Plus, the best seating is right under a canopy over there!
6. Carne Guisada with Black Bean Cake and Cilantro Lime Sour Cream – $6.25
Located at: Florida Fresh
I was pleasantly surprised by this Epcot Flower & Garden Festival food! It's not something that necessarily sounds tasty to me but my husband was all about trying it. I'm glad he did because it was really flavorful. They chefs who come up with these recipes are really impressive.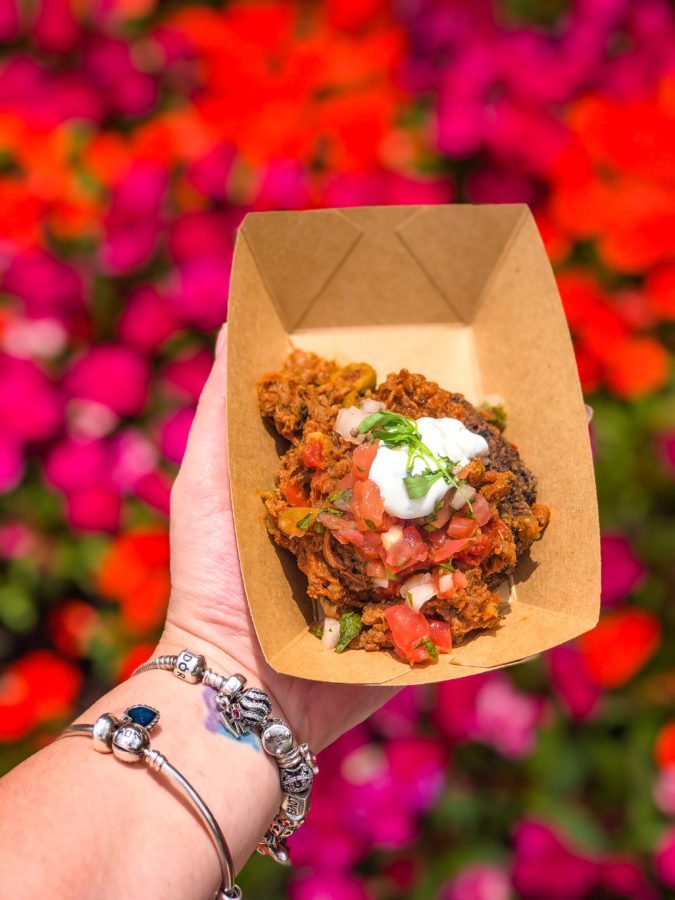 The black bean cake is basically like a sort of pancake. It was loaded with the shredded beef and topped with the Cilantro Lime Sour Cream. The combination of flavors, along with the serving size, made for a really nice afternoon plate. This was another filling dish.
7. Watermelon Cucumber Slushy (non-alcoholic) – $4.25
Located at: Florida Fresh
If you're visiting Epcot for the International Flower & Garden Festival then you need to be fully prepared for the heat! That means trying lots of cold treats.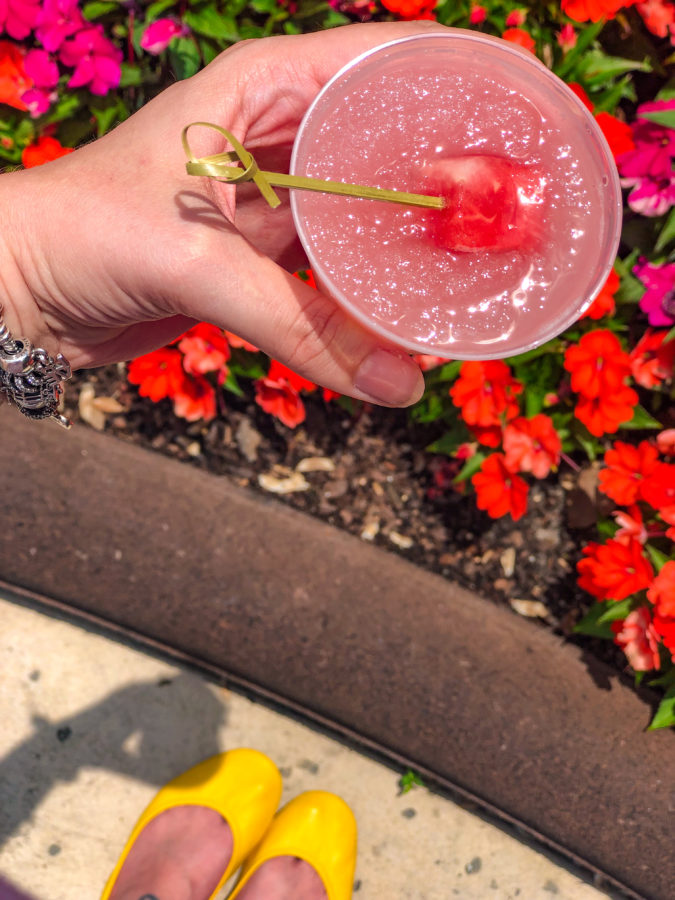 This Watermelon Cucumber Slushy tastes really fresh! It is very sweet but not so much that it isn't enjoyable. I'd definitely order it again!
8. Harp Lager Draft – $9.50
Located at: Rose & Crown Pub
Okay, this is not part of the Epcot Flower & Garden food but it's the best beer you will find in Epcot. My husband and I don't visit Epcot without ordering one of these.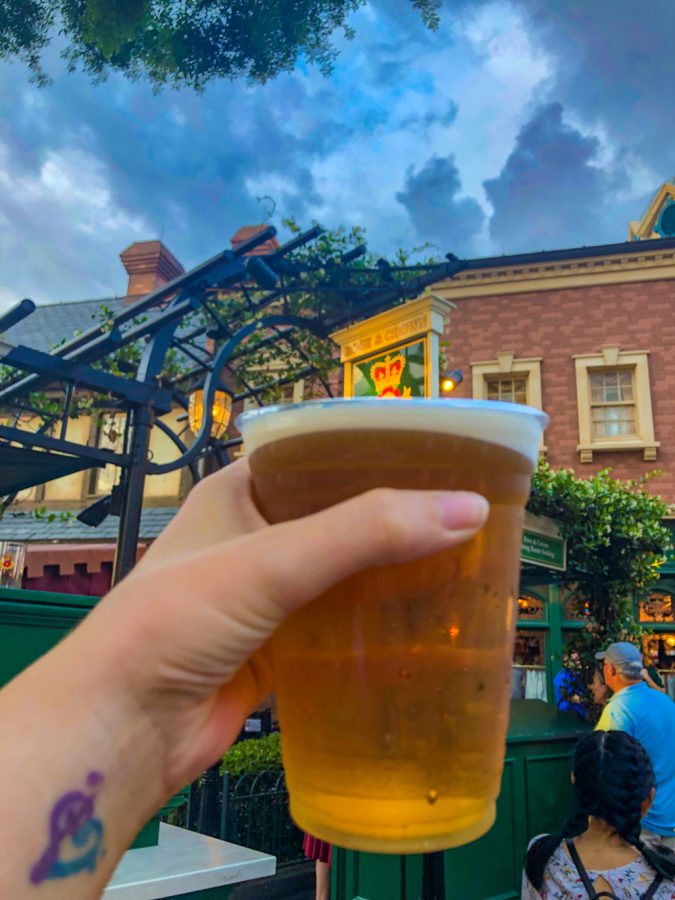 Not only is it refreshing and light, it's the coldest beer around. Dare I say the coldest beer in Orlando? There's Pub Counter Service so you don't have to sit in the dining room to enjoy a cold brew!
Get your Epcot International Flower & Garden Festival tickets between now and June 03, 2019!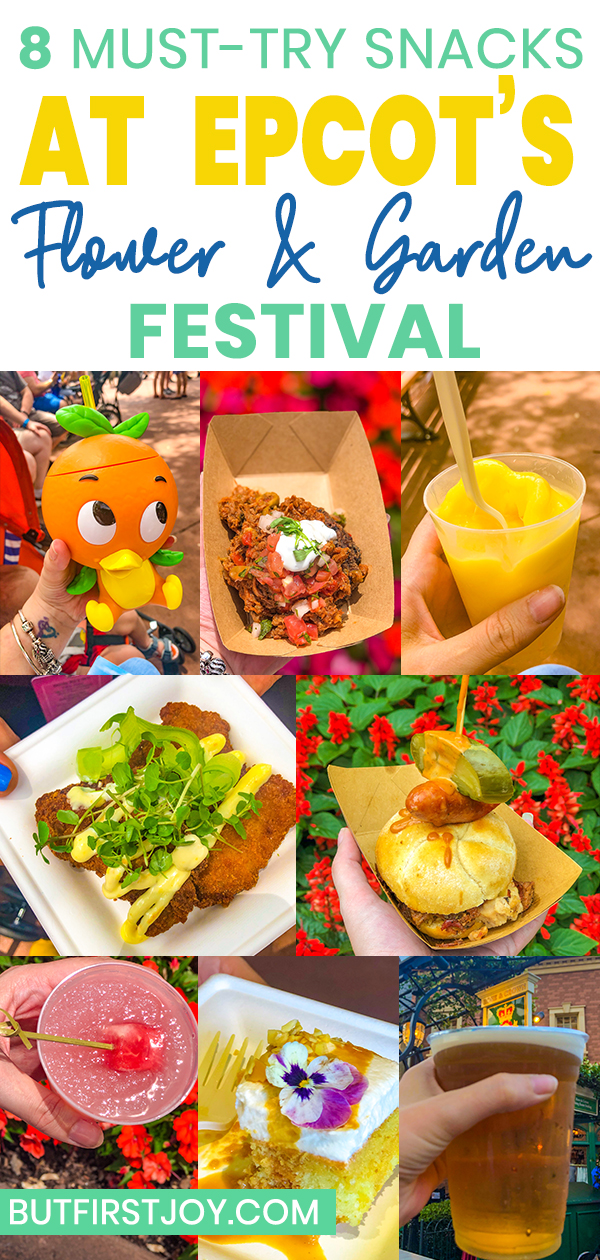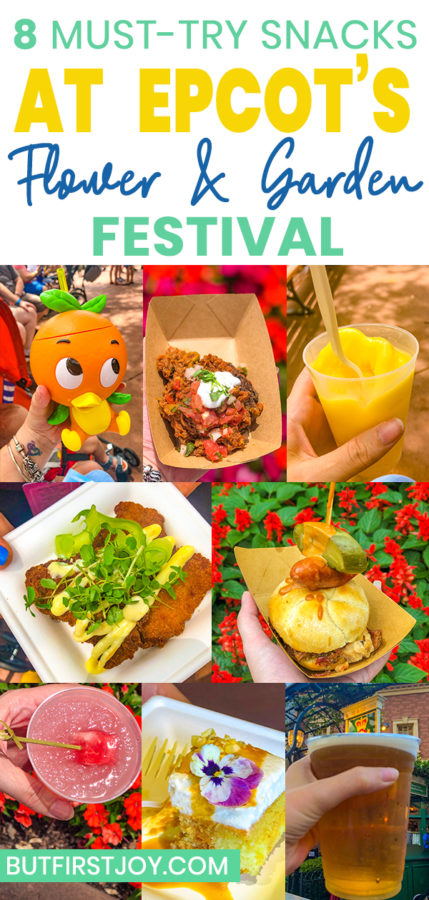 Do you have a favorite Epcot International Flower & Garden Festival food? Tell me in the comments below!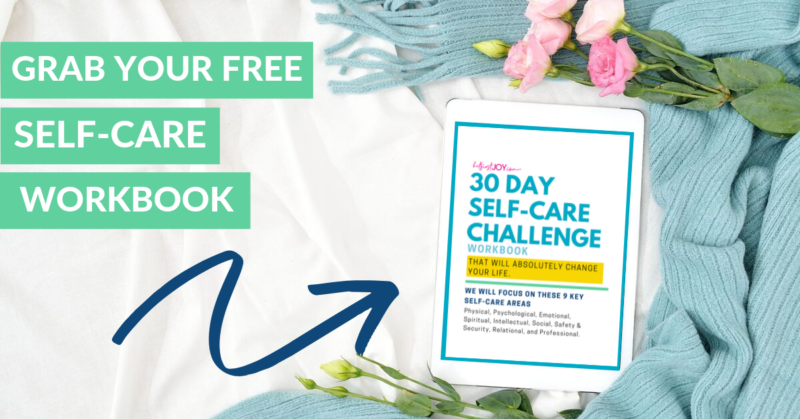 DISCLOSURE
As an Amazon Associate I earn from qualifying purchases. This post may contain affiliate links and/or promotional products, all opinions expressed are that of But First, Joy only. Read my full disclosure.