If you're wondering about all the things to do at the 2019 Epcot Flower & Garden Festival, I'm giving you a complete rundown of the food, shopping, topiaries, and special additions that are only available during this event. Thanks to Disney for inviting me to this event in exchange for my honest opinion.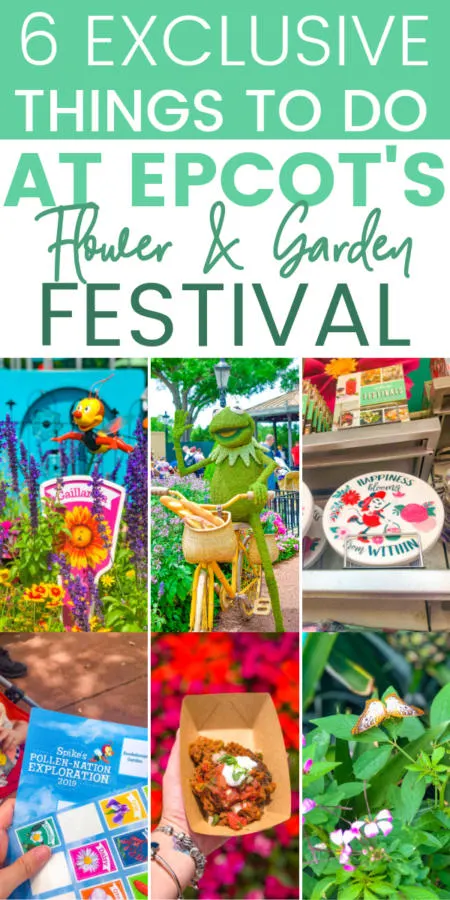 After drooling over the Epcot food last week, I thought it would be a good time to talk about exactly what to do at the 2019 Epcot Flower & Garden Festival! With a little under 3 weeks left until the festival ends, I really want to give you all the reasons to experience this event before it's too late.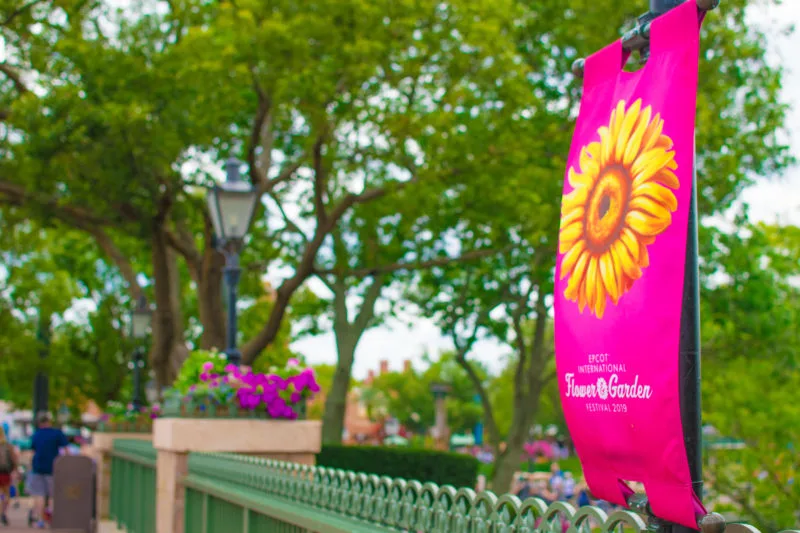 You may recall seeing this on my 2019 Walt Disney World Bucket List. It's truly an event that you don't want to miss – especially this year because the topiaries and food are better than ever before.
Some say Epcot is boring but I say that they just aren't doing it right! How could visiting different countries in a single day be boring? That's just insanity!
6 Exclusive things to do at the 2019 Epcot Flower & Garden Festival
Start your Epcot planning now because you will be all in once you find out about this great Disney event. Don't worry – it doesn't require a special ticket so you can grab a regular ticket or use your annual pass to attend this fresh and floral springtime event!
1. Eat all the Festival Foods
Obviously, this is my first recommendation and always the best thing to do at Epcot because food is life. Especially Disney food! Take advantage of the exclusive new sweets, treats, and drinks at the 2019 Epcot Flower & Garden Festival. You can check out my top 8 recommendations in my Flower & Garden Festival food post.
2. Visit the Butterfly House
I was overjoyed to visit the Butterfly House because who doesn't want a butterfly to land on their finger? It didn't happen for me but I truly marveled over these beautiful creatures in a natural habitat.
You and the kids will have the pleasure of seeing a variety of butterfly species and if you're careful enough – one might land right on you.
3. Join the Scavenger Hunt
This is my second Disney Scavenger Hunt but my first Epcot Scavenger Hunt. Spike's Pollen-nation Exploration Scavenger Hunt can be joined with the purchase of a Scavenger Hunt map.
For $6.99, guests can hunt around the park for Spike, the bee in different gardens. Once you find Spike, you'll find the corresponding flower sticker for your map! It's actually much easier than you think!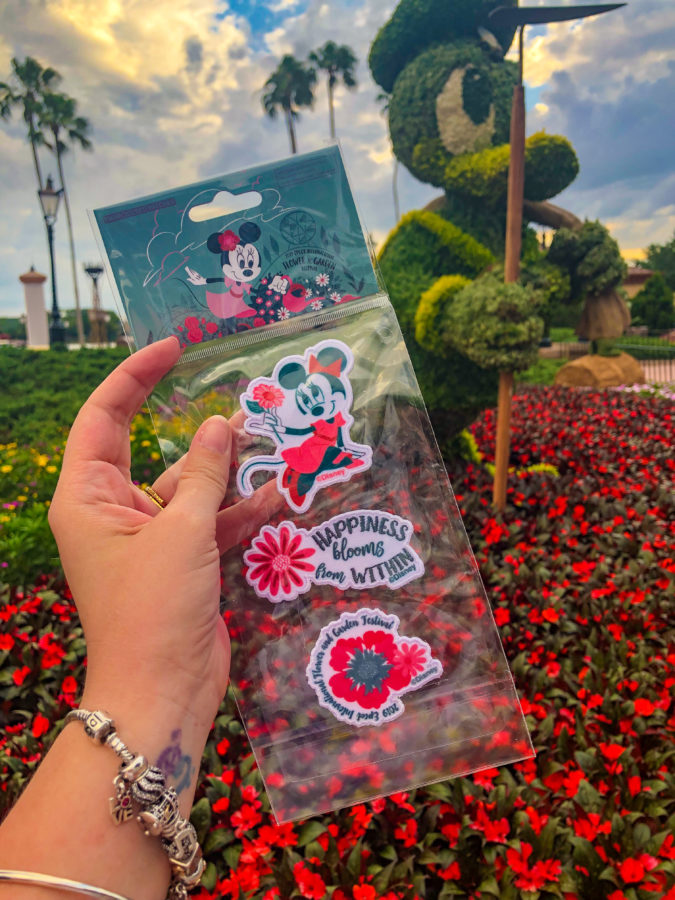 After you fill your entire map, take it to one of the specified locations where a cast member will check your map and offer you a sweet prize! This year we were given an option to choose between 4-5 packs of 3 festival patches! I chose the Minnie's Garden Party because she's way too adorable.
4. Find your favorite topiaries
The Disney-themed topiaries are absolutely adorable. I seriously couldn't control my excitement! I tried to take photos of all the topiaries but I'm sure I missed some.
My favorites were hands-down the Winnie the Pooh and friends, located at the United Kingdom Pavilion. Just look at this adorable photo of my son in front of those! My husband completely marveled over The Lion King topiary!
5. Shop the Epcot Flower & Garden festival merchandise
This girl right here loves to shop! I had a hard time not buying all of the things. This year was particularly exciting because there were 5 Epcot Flower & Garden festival themes to shop from.
Minnie's Garden Party
Mickey's Garden Shed
Violet Lemonade Collection
Figment's Imagination Goes Wild
Spike and Donald
Minnie's Garden Party is super cute and feminine, just like she is. The Violet Lemonade collection was absolutely gorgeous!
6. Rock out at a special concert!
Last but not least, you can rock out to the Epcot Garden Rocks Concert Series! I didn't have the pleasure of attending a concert this year but I did a few years ago when I visited this festival, which you can see here.
You can see the full 2019 concert lineup on the Disney World website. If I had a choice, I totally would have seen Simple Plan and Sister Hazel!
Looking for more Walt Disney World fun? Visit my Disney Parks section.