I know that Halloween was just yesterday, but it's time we start thinking about Christmas. It's never too early to begin planning, prepping, and shopping. I'd like to ask that you take time this year to make purchases that count. I know sometimes purchasing products for a charitable donation, means getting something you only kinda like. You know what I mean: rubber wrist bands, keychains, cheap t-shirts, etc. With Sevenly's CAUSEBOX, you don't have to sacrifice quality to make a difference. They deliver social conscious products in a quarterly box that is specifically curated for women who want to change the world!
Fall CAUSEBOX Reveal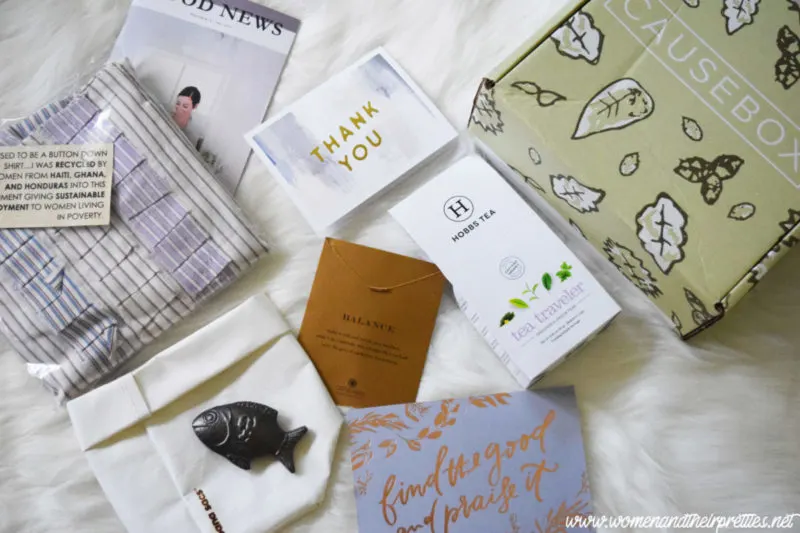 This quarter's CAUSEBOX contained the following:
Liz Alig Upcycled Apron ($42)
Dogeared Jewelry Balance Necklace ($54)
Urban Sacs Creative Sac ($22)
Gramr Gratitude Co Thank You Card Six Pack ($16)
Hobbs Tea Tea Traveler Pack ($24)
Lucky Iron Fish Iron Supplement ($25)
Jenessa Wait Find The Good and Praise It ($10)

CAUSEBOX Gift Ideas
Purchase a subscription for someone else – pay monthly
Purchase a subscription for someone else – pay for the full year
Subscribe to the box yourself and separate give the individual contents as gifts to friends and family!
Sometimes, it takes one single act of kindness to change someone's life. Why not do it now? The CAUSEBOX is a win-win. You get something fun and unique, while supporting and contributing to life changing acts.
Subscribe to the CAUSEBOX for less than $50 a quarter. Less than $50 helps provide jobs, meals, education, clean water, and more to countless women, men, and children around the world!
Use Code: womenandtheirpretties for $10 off!