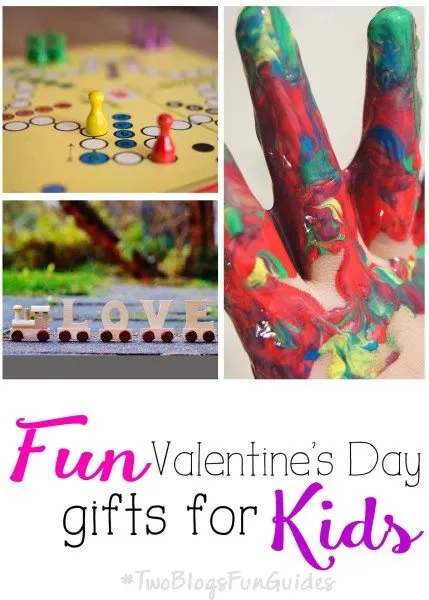 Welcome to the 2016 #TwoBlogsFunGuides Fun Valentine's Day Gifts For Kids guide! This guide is full gifts idea that children will love on Valentine's Day. You can expect books, toys, or even clothing for kids! Each of these gifts are personally recommended by Women and Their Pretties and/or Mama Smith's. Be sure to check daily because we are constantly adding the new items that we discover! This guide includes affiliate links.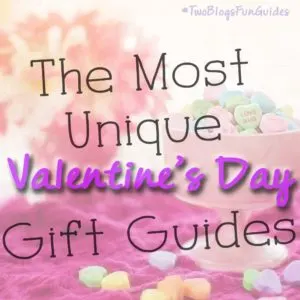 #TwoBlogsFunGuides / #ValentinesDay / #GeekGifts

Fairy Good Heart Stuffed Toy (With Secret Pocket)

I just love everything about this stuffed toy. First of all, it's very beautiful. The quality is very impressive. It definitely isn't a cheap material that you pull out of a machine. It's made with love (pun-intended). What really makes this stand out is the secret pocket in the back. The pocket can be used from small gifts, notes, or even a tooth/money for the tooth fairy! This is a very fun gift for kids and it's super cute. "A Transitional Object for Kids Who Miss a Parent. The Fairy Good Heart stuffed toy was inspired by Nancy Fagan's experience as a therapist and divorce mediator. It is a soft, simple plush toy designed as a symbol to remind children that they are loved. Fagan hopes that parents will use the toy to teach their children about unconditional love and family ties. The Fairy Good Heart™ toy is based on the character of the same name in the book series, the Fables of Fairy Good Heart. Originally conceived as a comfort for children whose parents are dealing with divorce proceedings, the Fairy Good Heart™ toy can also be used in any situation where adults and children are separated. These might include shared custody living arrangements, military deployments, prison terms or even extended business trips. Features of the toy include a "parent pocket" where parents can insert notes, photos or other keepsakes for their children, and a simple design that's small enough to fit in a suitcase and large enough to give small children something substantial to hug."
Purchase Here
Connect with The Brand: Facebook / Pinterest / Twitter
---
Just Dance Disney Party 2

Just Dance and Disney are back together, bringing the greatest dance game for the whole family with music from the hottest Disney Channel shows, in Just Dance: Disney Party 2! Dance like the stars from the most popular Disney Channel shows and movies. With a great selection of family favorite songs, fun dances, and kid-friendly gameplay, children of all ages can dance along with family and friends. My young daughters LOVE this game – and OK, I do too. I like to break a sweat while dancing to the songs I love from movies like Teen Beach 2 and Descendants. This has quickly become a family favorite – and a day has not gone by since it arrived at our house that we have not danced along to Disney Channel favorites!
Purchase Here
Read Our Reviews: 6 Ubisoft Video Games that Every Gamer Needs
Connect On Social Media: Facebook / Twitter / Instagram
---

Moodster Feelings Flashlight

Squash those afraid-of-the-dark fears with the Feelings Flashlight. Shining a light on feelings has never been easier or more fun than with The Moodsters! Before naptime or bedtime, point the flashlight toward the ceiling or a wall, and The Moodsters will magically appear, offering wisdom and humor for every emotion. Includes full-color, 32-page storybook, "The Scary Sleepover." What I love about Moodsters is that they aren't your typical "toy story". They care about our children's feelings and emotions and want us to help them break down their walls.
Purchase at Target or Purchase on Amazon
Connect On Social Media: Facebook / Twitter
---
Budsies

Budsies is a South Florida-based company that brings artwork to life. Budsies are beautiful custom-sewn stuffed animals created from any drawing or photo. First launched in August 2013 by Founder & CEO Alex Furmansky, the company is headquartered in Boynton Beach, Florida. Since its start, over 13,000 Budsies have been created for happy customers across 63 countries around the world, including the U.S., France, India and Australia. Whether artwork, people, or pets: we make the world more huggable!
Purchase Here (and get 20% off!)
Read Our Reviews: Make Your Child's Drawing Come to Life with Budsies
Connect On Social Media: Facebook / Instagram
---
Daniel Tiger's Neighborhood: Would You Be Mine?

"WOULD YOU BE MINE?" features eight stories including "It's Love Day!" and "Daniel's Love Day Surprise." In "It's Love Day," Daniel makes special heart cards to bring to school and hand out. While at school, some of the kids explain how they like to say "I love you" to their friends and family – Prince Wednesday likes to sing, and Miss Elaina likes to give hugs. In the story "Daniel's Love Day Surprise," Daniel helps his mom make a special heart-shaped pizza and finds a way to show Grandpère how much he loves him by setting up a special treasure hunt just for him featuring sparkling purple hearts. The other stories included on this DVD are "Daniel and Miss Elaina Play Rocketship," "Daniel Plays at the Castle," "Friends Help Each Other," "Daniel Helps O Tell a Story," "Margaret's First Chime Time," and "Tiger Family Fun." One of the key ingredients that sets this series apart is its groundbreaking use of catchy musical strategies grounded in Fred Rogers' landmark social-emotional curriculum that reinforce each theme and that preschoolers and parents both sing – and use – together in their daily lives. Some of the strategies kids will learn from the stories on this DVD include "find your own way to say, I love you" and "friends help each other, yes they do, it's true." My girls sure do love Daniel Tiger – and so do I! He always teaches great lessons, and the songs are very catchy. My girls are constantly singing them while they do things like Daniel Tiger!
Purchase Here
Connect On Social Media: Facebook / Twitter
---
WordWorld: Be My Valentine
This new DVD includes five stories, two of which are Valentine's Day themed. "My Fuzzy Valentine" features Sheep working to create a valentine song for her best friend Bear. Unfortunately she has trouble finding just the right rhyme to finish her song. With help from Fly, she uncovers the perfect rhyme and makes Bear a valentine with real heart. In "Love, Bug," Bug wants to sign a valentine for his favorite WordFriend, but doesn't know how to write his name. With lots of encouragement from Frog he learns that with a little practice he can write his name and give his valentine. In addition to these two great stories, this DVD also includes "Sh-Sh-Shark," "Princess Sheep" and "There's an Ant in Every Giant." WORDWORLD demonstrates the connections between letters, sounds, words, and meaning in order to empower children to advance from learning letters to learning how to read. Some of the words kids will learn by watching this DVD include heart, bug, shoe and crown. My daughters are huge fans of WordWorld! I love it as well because it had them both spelling things as young as two years old! This show is very well put together and a must see for any young ones!
Purchase Here
Connect On Social Media: Facebook / Twitter
---
Monkey Love Popcorn Tins (The Popcorn Factory)
These tins are just the cutest! This is a great gift idea for kids this Valentine's Day. You can include some other treats and maybe a couple of movies for a fun night in! "Nothing will make your valentine happier than gallons of gourmet popcorn packed in a cute-as-a-monkey tin. Our Monkey Love design tins come filled with three mouthwatering flavors: Butter, Cheese and Caramel."
Purchase Here
Connect On Social Media: Facebook / Twitter / Pinterest
---
He's All Boy Flash Cards
What a unique and fun way for boys to learn. You've heard the saying "he's all boy". Well these flash cards or for boys who love to laugh, get dirty, and learn! "What holds a boy's attention? Yep, you guessed it! Potty Humor! So let's use this to our advantage and get our boys engaged in learning their ABC's. Our bright illustrations and funny words will have them laughing as they learn the Alphabet! Choose our ABC flashcards to help your son (or daughter) love learning!"
Purchase Here
Connect On Social Media: Facebook / Twitter / Pinterest / Instagram
---
Pound Puppies: A Rare Pair

It's raining cats and dogs – and an alligator – at Shelter 17! On January 19, 2016, join the pound puppy pals in Pound Puppies: A Rare Pair, on DVD everywhere from Shout! Factory Kids and Hasbro Studios. Lucky, Niblet, Cookie, Squirt and Strudel are back for five more exciting adventures of the Pound Puppies! From trying to get a kitten and a puppy adopted into the same home, to trying to place an alligator named Rover(!), to sneaking into the Kennel Kittens' compound to retrieve a stolen gadget, this team of determined canines will do whatever it takes to find the perfect loved ones for each and every pet at Shelter 17! Winner of the 2012 Humanitas Prize in Children's Animation, the Pound Puppies series stars the voices of Eric McCormack, Yvette Nicole Brown, Michael Rapaport, John DiMaggio, Alanna Ubach, René Auberjonois, and M. Emmet Walsh. Episodes Include: Catcalls, The Really Weird Dog, The Call Of The Squirreldog, Kennel Kittens Return, and Once A Ralph, Always A Ralph.
Purchase from Shout! Factory Here
Connect On Social Media: Facebook / Twitter
---
Ziploc Products

Legend has it that Valentine's Day used to be about celebrating simple acts of love and kindness. Somewhere along the line it turned into a high-pressure holiday with quite the price tag. Let's ditch the craziness and get back to L-O-V-E. Ziploc has collected small gift ideas that pack a big love punch to prove that you don't have to spend a lot of money to make a lasting impression. Try mixing and matching these tiny gestures to show your lovelies how much you care. I personally love Ziploc products, and am so excited to use them to hold some homemade sweets and treats that I will be giving to friends and family. What will you do with Ziploc this Valentine's Day?
Purchase Here
Connect on Social Media: Facebook / Pinterest
---

Dabbawalla Bags
These bags are much cuter in person. They are soft, a great size for young children, and absolutely adorable. Load these with some Valentine's Day gifts for your little loves this year! Dabbawalla Bags stands apart with its colorful line of individually-crafted bags. Each bag is made out of revolutionary biodegradable and recyclable material that is 100% toxic-free and machine-washable. Dabbawallas are tough enough for rough-n-tumble fun, yet stylish enough to stand out from the crowd. With traffic-stopping colors and an array of whimsical designs to please every member of the family, Dabbawalla Bags are the fun, functional, and environmentally-friendly way to tote your gear.
Purchase Here
Connect on Social Media: Facebook / Pinterest / Twitter / Instagram
---

Zoku Ice Cream Maker

Give the kids a fun Valentine's Day gift that the entire family can enjoy together. Make individual portions of ice cream, custard, frozen yogurt, gelato, sorbet, or sherbet in as little as 10 minutes with the Zoku Ice Cream Maker! Whether you prefer classic flavors like vanilla bean, mint chocolate chip, fresh strawberry, or dark fudge, or you like to create your own flavors, fresh ice cream can now be a spur-of-the-moment decision. Top your creation with fruit, candy pieces, nuts, or brownie chunks, and for a classic flourish, add a bright red cherry on top.
Purchase Here
Read Our Reviews: Make Your Own Ice Cream with Zoku
Connect on Social Media: Facebook / Pinterest / Twitter / Instagram
---
I Wonder

Do you ever wonder…? If sheep knit woolen socks or if llamas dance on mountain rocks? Young readers giggle and grin as they imagine their favorite animals doing all kinds of silly things-such as skunks flying kites at sunset! Filled with rhyming words and quirky, written by Essa White and fill of colorful illustrations by Lois Dahl, I Wonder will delight both beginning readers and younger children at story time-and open their worlds to the joys and possibilities of wonder. For ages 2-6 in hardback, softcover, and Kindle.
---
Beatrix Potter Book

Acclaimed and award-winning master of the historical fiction picture book Deborah Hopkinson takes readers back to Victorian England and the home of budding young artist and animal lover Beatrix Potter in her new picture book BEATRIX POTTER & THE UNFORTUNATE TALE OF A BORROWED GUINEA PIG (Schwartz and Wade Books | on sale February 2, 2016 | illustrated by Charlotte Voake | Ages 4–8). When Beatrix brings home her neighbor's pet guinea pig so that she can paint it, well . . . it dies! What will she do? Marking the 150th anniversary of Beatrix Potter's birth in 2016, BEATRIX POTTER & THE UNFORTUNATE TALE OF A BORROWED GUINEA PIG is enchanting and hilarious, and looks inside the life of this prolific author.
---
Aquaball

Aquaball is a naturally flavored water, enhanced with Vitamins B3, B5, B6, B12 and C and has 0 grams of sugar, 0 calories, no artificial flavors or colors and no high fructose corn syrup. It comes in four flavors: Grape, Fruit Punch, Orange and Berry Blast. Both parents and kid's everywhere will love these fun and healthy beverages with their favorite characters from Disney and Marvel.
Find Where to Purchase Here
Connect on Social Media: Facebook / Instagram
---
Peanuts Products

How do I love thee, Snoopy? Let me count the ways… Whether it's watching A Charlie Brown Valentine, reading (and re-reading) a favorite Peanuts book, or enjoying some Whitman's chocolate packaged with a Snoopy plush, every Valentine's Day millions of fans around the world find a variety of ways to share their love of the Peanuts gang. This year, for the first time, Oriental Trading is offering an array of colorful Peanuts toys, party supplies, and crafts for Valentine's Day. Also new are adorable Peanuts Pez and a ready-to-read book, called Happy Valentine's Day, Charlie Brown, from Simon and Schuster. And, returning by popular demand, are Whitman's chocolates featuring a Snoopy plush, A Charlie Brown Valentine DVDs from Warner Home Entertainment, and holiday cards from Hallmark.
Purchase Here
Read Our Reviews: Celebrate Valentine's Day with Snoopy & The Peanuts Gang
Connect on Social Media: Facebook / Twitter / Instagram
---
CVS Valentine's Day Gifts

Shopping for your little ones on Valentine's Day can sometimes be hard. I know as a mom, I want to give them things they will love, but I don't want to fill them up on candy either. CVS has everything from stuffed animals, to stickers and playsets, to yes, candy. Their items features your kids' favorite characters like Minions and even Star Wars characters like C-3PO! If you are looking for a huggable, lovable stuffy – or one that will sing and dance – check out CVS this Valentine's Day, you are sure to find everything you want there, and more!
Find Where to Purchase Here
Read Our Reviews: Get All Your Valentine's Day Gifts at CVS
Connect on Social Media: Facebook / Twitter
---
Chop Kick Panda

Lu is a large lovable panda who is the sixth generation owner of the Tae Kwon Do dojo. What Lu doesn't know is that buried beneath the dojo is the ancient Amulet of Fury. The mythical amulet gives its owner ultimate power and protection. When the villainous tiger warrior, Kudo, terrorizes the small village in pursuit of the amulet, it s up to Lu and his rag-tag team of martial artists to stop him! This DVD also features 3 bonus films – What's Up?, Puss in Boots, & Tappy Toes! It would make a great Valentine's Day gift for any little one – just think of the fun family movie nights you can have watching it! My girls really enjoyed it and I am sure your little ones will too!
Purchase Here
Connect on Social Media: Facebook / Twitter
---
The BFG

I must have read The BFG at least 50 times when I was younger. I was one of those kids that could always be found in a book. I read several books a week and reread my favorites – The BFG was one of those. I can vividly remember sitting under my covers and reading it many nights (kind of perfect, isn't it?). When I heard that Disney was going to be making The BFG into a film, and directed by Stephen Spielberg no less, well, let's just say I was excited. The movie comes out on July 1st, 2016 and to get your child excited about it, why not pick up a copy of the book for Valentine's Day? They are sure to love it – my girls do! The BFG is no ordinary bone-crunching giant. He is far too nice and jumbly. It's lucky for Sophie that he is. Had she been carried off in the middle of the night by the Bloodbottler, or any of the other giants—rather than the BFG—she would have soon become breakfast. When Sophie hears that the giants are flush-bunking off to England to swollomp a few nice little chiddlers, she decides she must stop them once and for all. And the BFG is going to help her!
Purchase Here
Connect on Social Media: Facebook
---
Teach My Learning Kits

Teach My Preschooler is the multi award-winning all-in-one learning kit for preschoolers age 3 years+. Requiring no screens, the kit has everything for teaching preschoolers the basics. Teach My Preschooler is divided into four sections: Reading, Printing, Numbers to 100, Adding and Subtracting. Developed with education consultant, Judith Rowlands, M Ed., Teach My Preschooler is designed to give preschoolers a head start, develop fine motor skills, encourage parent/child interaction and increase school readiness skills. Teach My also has these kits for Baby and Toddler available as well as bathtime kits! Check them out a Target near you!
Find Where to Purchase at a Target Near You Here
Enter to win a Deluxe Kit of Your Choice Here!
Read Our Reviews: Teach My Learning Kits Spotted at Target
Connect on Social Media: Facebook / Twitter
---
LEGO Valentine's Cupid Dog

Add canine fun to Valentine's Day with this posable LEGO Valentine's Cupid Dog featuring white shirt and bow tie elements, plus a red heart and bow-and-arrow element. I grew up playing with LEGOs and so did my husband. We are now raising our daughters with LEGOs too! They just love putting together the sets (and taking them apart to use thier imaginations to make new things). This Valentine's Cupid Dog is beyond adorable and would be a great gift for any LEGO loving little one!
Purchase Here
Connect on Social Media: Facebook / Twitter
---
Kohl's Cares

Kohl's Department Stores is committed to giving back to the communities it serves by supporting kids' health and education nationwide through its philanthropic platform Kohl's Cares. Since 2000, Kohl's has raised more than $274 million for kids health and education initiatives through the Kohl's Cares cause merchandise program, recognized more than 22,000 outstanding kids through the Kohl's Cares Scholarship Program and donated more than 3.2 million hours of associate volunteer time through the Associates in Action volunteer program. Kohl's is currently offering award-winning children's books from renowned author/illustrator Leo Lionni and complementing accessories priced at just $5 each, with 100 percent of net profit benefiting children's health initiatives nationwide!
Purchase Here or at a Kohl's Near You!
Read Our Reviews: Kohl's Cares: Valentine's Day Gifts That Give Back
Connect on Social Media: Facebook / Twitter