Are you shopping for a someone who isn't impressed by material things? Well, this list of simple gifts for minimalists is sure to please!
The minimalism lifestyle isn't something everyone understands. Because of that, shopping for a minimalist can feel absolutely impossible. What do you buy someone who is very particular about the things in their life?
To really get an idea of what to buy a minimalist, you should first understand the minimalist lifestyle – at least a little bit.
What you should know about the minimalist lifestyle:
It's first important to know that minimalism isn't only about the things in a person's home. It's more so a simple way of living. Because of the positive affects of minimalism to mental health, it's much deeper than clearing clutter.
According the The Minimalists,
"Minimalism is a tool that can assist you in finding freedom. Freedom from fear, Freedom from worry. Freedom from overwhelm, Freedom from guilt, Freedom from depression, Freedom from the trappings of the consumer culture we've built our lives around. Real freedom."
As you can see, this is more than a phase individuals experience. It's and entire way of living that completely transforms the lives of individuals.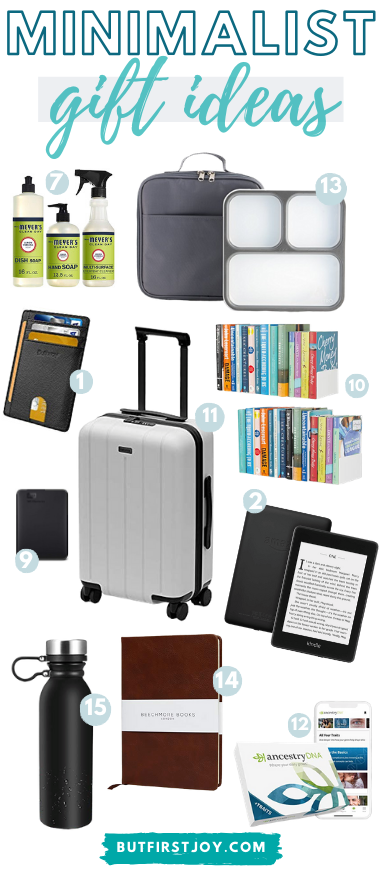 Simple Gifts for Minimalists
To be specific, minimalists appreciate the little things in life. They are more likely to enjoy something small and thoughtful than something big and expensive. Likewise, a handmade, personalized, or custom gift is always a great idea!
1. Minimalist Wallet
One thing that comes to mind for anyone thinking of gifts ideas for minimalists, it's a minimalist wallet. While we're slowly transitioning into a life of less stuff, we aren't entirely there just yet.
However, my husband has a minimalist men's wallet that is kind of the craziest thing I've ever seen. It's made of barely anything and is so flat that it doesn't crease his pockets. Likewise, you can barely even see the wallet in his pocket.
One major thing that causes clutter in homes, it's books. I think many of us who enjoy reading have a hard time letting go of the books we love.
I think any minimalist would appreciate an eReader like the Amazon Kindle, which is my personal favorite. You can load this up with your giftee favorite books or include an Amazon Gift Card with the Kindle. Digital books are actually just as pleasing as paper ones. Especially when traveling!
3. DIY Cookies in a Jar
One of my favorite gifts to give to those who have it all, is a DIY gift in a jar. From bakes goods to other jar gifts, this is surely to be a gift that will be used and appreciated. In fact, they can choose to reuse or recycle the jar afterward. So, it's a double win.
Here are a few of the DIY gifts I've made recently:
4. Foodie Gift Basket or Bundle
Food is always a great idea. A foodie gift basket is the way to go for someone who doesn't want their home filled with more things. These are a few of my favorites that you can grab on Amazon:
A subscription to Audible is a fantastic gift idea for just about anyone, but especially a minimalist! This audiobook service is a great form of entertainment that can be enjoyed on the recipient's cellphone, tablet, or computer.
6. Hire a Maid for a Deep House Cleaning
I don't know a single minimalist who doesn't appreciate a clean house. In fact, many minimalists choose to have less stuff so their home can be easier to clean.
You can find local cleaners in any city who will offer a one-time deep cleaning service at the date and time of the giftee's choice. Just be sure to discuss this with the individual beforehand to ensure that they are comfortable with this.
Minimalists tend to really appreciate products with minimal ingredients and Mrs. Meyer's is a brand everyone seems to swear by. Grab this bundle for the giftee to give them something that will be useful to their life.
8. An Experience They Will Love!
One way to avoid giving something that will not be liked is to give the gift of an experience. Whether it be a thrill seeker gift idea, like skydiving or a hot air balloon ride, or a relaxing experience, like a spa day or a weekend at a resort, the gift of an experience will never be wasted on a minimalist.
Minimalists love less. Less in their homes, less chaos in their lives, and even less on their computers and phones. A Portable External Hard Drive is a great gift idea for minimalists who want a good digital detox! This gift will allow them to backup all of their important photos, files, and memories. In turn, this will help them to free up space on their computers and phones.
A floating bookshelf is truly a must-have for any minimalist home. This allows individuals to store their favorite books without the extra floor clutter. It gives homes a modern look, as well!
Minimalists are known for traveling with very little. With capsule wardrobes and minimal must-haves, they need luggage that provides more with less to lug around. The CHESTER Minima is lightweight, durable, a great size, and offers organized compartments which make packing a lot easier!
Everyone is at least a little curious about where they came from. An ancestry DNA kit is one of my favorite gift ideas for Minimalists because it gives them SO MUCH without taking up any space in their homes.
My husband is someone who wants to carry as little as he can to work – this is especially important when it comes to his lunchbox. He wants it to be flat enough to store and carry easily, while still leaving room for a pen and paper. This lunchbox is perfect for the minimalist because it offers all of the features I mentioned above!
Journaling is a great way for minimalists to clear space in their minds by letting go of any negative, hurtful, or intruding thoughts. A leather journal is a great gift for the minimalism lifestyle because it will be appreciated by both men and women. Plus, it creates less waste and is something that can be added to a memory box or passed down from generation to generation.
Waste less, reuse more! A bottle that can be reused is an easy and great gift idea for the minimalist. I recommend grabbing one that supports hot & cold liquids, to give your recipient something that can replace a water bottle and a mug!
Do you want to learn more about minimalism? Check out the section dedicated to Minimalism on my blog!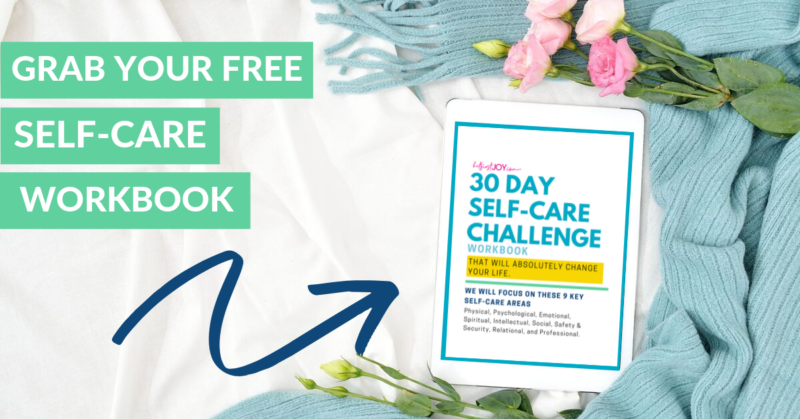 DISCLOSURE
As an Amazon Associate I earn from qualifying purchases. This post may contain affiliate links and/or promotional products, all opinions expressed are that of But First, Joy only. Read my full disclosure.