In this digital detox challenge I'll not only give you tips to take a break from technology; I'll teach you how to build more enjoyable online experiences.
Let's face it:
Technology is here to stay and the digital world is an important piece of our lives.
We have work requirements, social obligations, and so much more that requires an online presence.
Birthday party invites, business meetings, in-depth conversations.
We cannot deny the role technology plays in our lives. We can literally change the world with a single tweet because people are listening and do care.
I think we can all agree that social media isn't all bad. In fact, I've learned a few vital lessons from social media.
With all that said, why would we want to learn how to disconnect from tech? Why do we need to participate in a Digital Detox Challenge?
Before I explain why, I want to talk about what a digital detox actually is.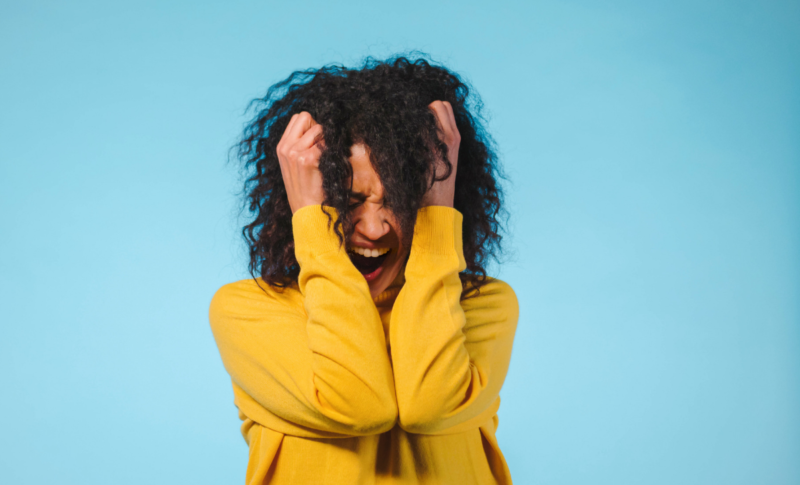 What is a Digital Detox Challenge?
Just like a body detox, where you rid your body of toxins and unhealthy things in an effort to start over fresh; a digital detox is the process of removing harmful things from your mind, caused by technology and social media.
The only way to begin this Digital Detox Challenge is to admit that we have a problem with electronic devices. In fact, many would call it an addiction.
The point of turning this into a challenge is to hold ourselves accountable each week. By challenging ourselves, we are insuring that we remain mindful of our digital consumption for 4 full weeks.
In this case, we will be distancing ourselves from technology because it has become less of an enjoyable experience and more of something that decreases our productivity or brings us down.
This Digital Detox Challenge will consist of a series of tasks to complete each week. If you participated in my 30 Days of Self-Care Challenge, you remember the daily tasks.
This will be different and much more attainable for the average individual because you'll have a checklist of tasks that you can complete any time during the course of a week.
The tasks will be separated into 4 weeks of work, with a minimum number of tasks to choose from each week.
I want you to work these tasks into your schedule so they feel less like a chore and more like something you're excited to do.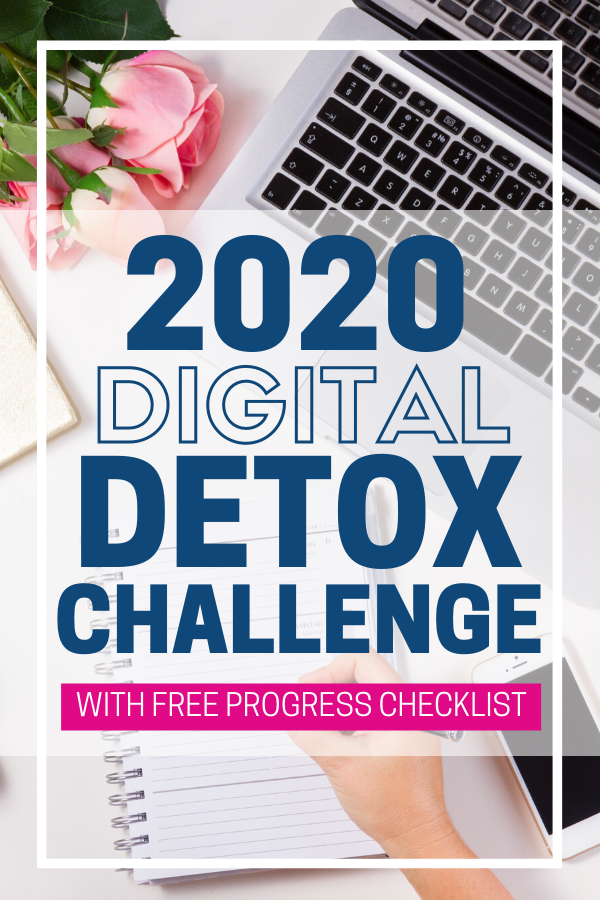 Do you need a digital detox?
The overall goal of this challenge isn't to cut social media and technology out of your life. That's nearly impossible.
What I want is for you to break those bad habits (like grabbing your phone first thing in the morning) and to increase your enjoyment online.
15+ Signs that you need a Digital Detox
First, let's identify the reasons why you need to disconnect from tech and social for awhile.
You check your phone immediately upon waking up.
Your phone often gives you anxiety.
You compare yourself to others on social media.
Social Media doesn't bring you joy.
You answer work-related emails and messages during family time.
Your phone is next to you at the dinner table.
You experience F.O.N.S. (fear of not sharing) when you do something fun like a concert, amusement park, or event.
You miss parts of movies/shows because you're staring at your phone.
Your partner or child has complained about you being on your phone too much.
You cannot sit alone without staring at your phone (it's your security blanket).
Your social media followers overwhelm you.
Comparison is a daily practice when scrolling the feeds.
Your personal email inbox stresses you out or annoys you.
Notifications keep you from sleeping.
You've missed deadlines due to distractions online.
You compulsively check notifications or messages.
You're stalking someone online (it's more common than you think).
By now, you definitely know whether or not you need a break from the online world. We've all needed to unplug a time or two but this is more than that.
This is your intervention. Please join me if you'd like to spend the next 4 weeks becoming a better version of yourself.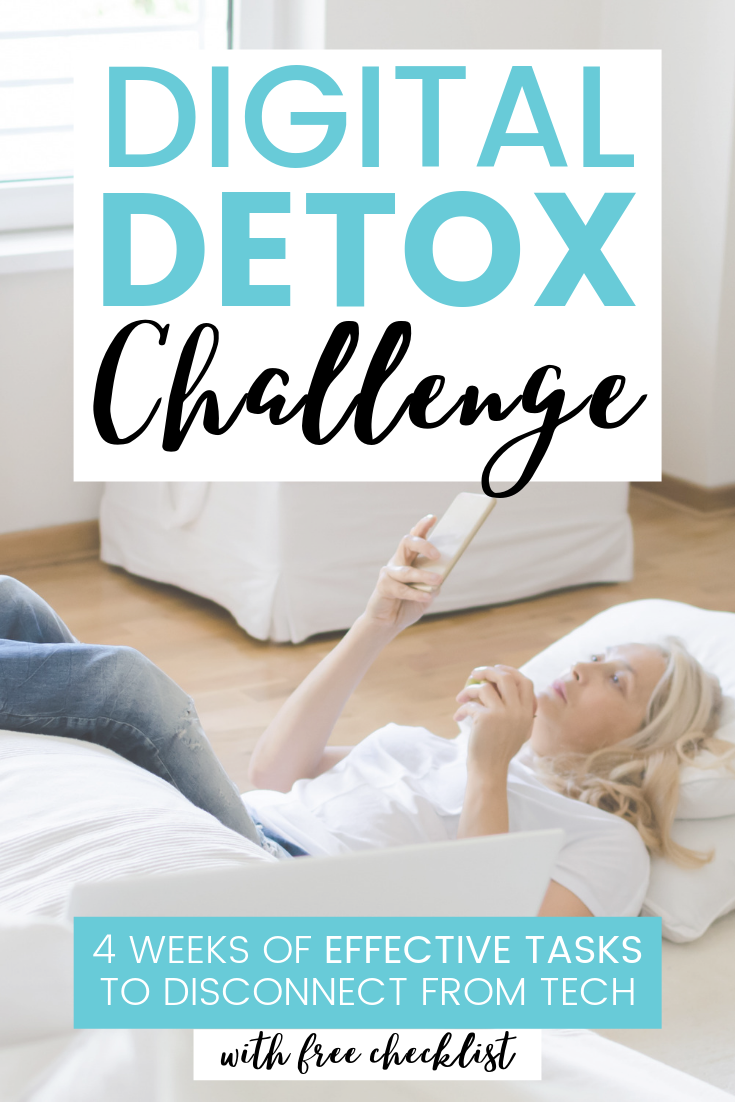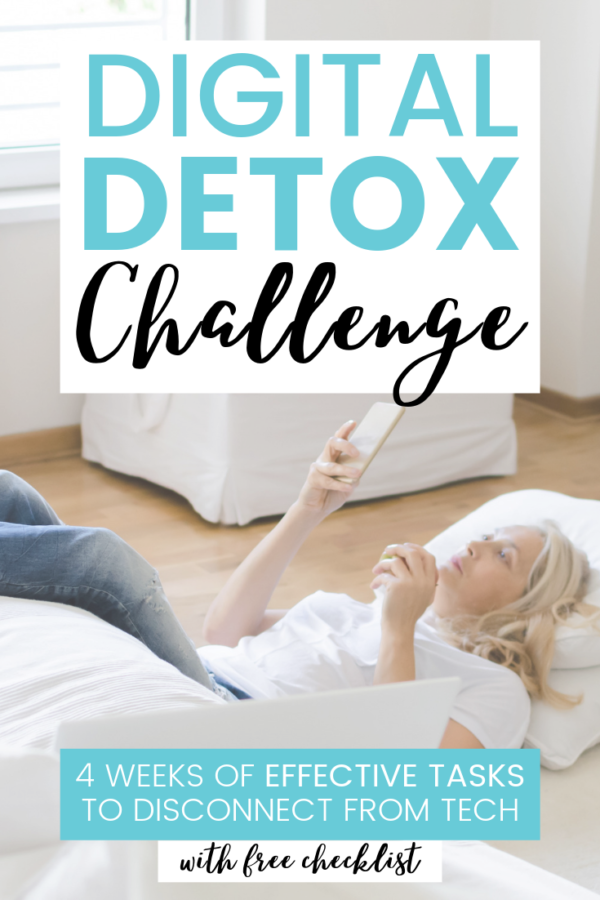 Digital Detox Challenge: 4 weeks of tasks
Week 1: Building Good Foundations
In the first week, I want you to purge your social media accounts and declutter your cellphone. We are going to clear the things that suck joy from our lives.
Don't worry: later we will be adding a few things that bring us joy!
CHOOSE A MINIMUM OF 4 FROM THIS LIST
Unfollow or unfriend people who make you feel bad about yourself (including frenemies, negative nancies, braggers, or anyone you compare yourself to).
Remove unwanted apps from your cellphone.
Unsubscribe from email newsletters that you're no longer interested in.
Delete contacts from your phone that you no longer speak to.
Clear space in your phone by deleting unwanted photos.
Leave Facebook groups that no longer interest you.
Block exes, ex-friends, and relatives who are toxic – block from social media and from calling/texting you. If you need help breaking up with a friend, you can use this guide.
Make a list of things you enjoy that aren't digital.
If you're feeling really ambitious, you can clean out your cellphone using the KonMarie Method
Week 2: Slowly Disconnecting & Breaking Habits
This week will be all about breaking those bad digital habits by slowly disconnecting.
CHOOSE A MINIMUM OF 5 FROM THIS LIST
Enjoy a family meal without the TV or a cellphone.
Don't check your phone for the first hour of your day.
Completely turn off your phone for an hour, as you do something you enjoy.
Turn off email notifications on your days off.
Do something fun outside of the house without sharing about it on social media.
Make the last hour of your day (before bed) cellphone-free.
Sit in public alone without looking at your cellphone.
Choose a space to leave your phone when it isn't in-use. This will help with the urge to check social!
If you enjoy reading, choose physical copies rather than digital. Read physical magazines or newspapers
Week 3: Life Outside of Tech
This will be the most challenging week so please, stay strong! This is the week where we put our will and strength to the test!
CHOOSE A MINIMUM OF 4 FROM THIS LIST
Don't check your phone until after lunch.
Turn off your notifications for an entire day.
Don't log into your favorite social media account for a full day.
Don't scroll on a single social site for longer than 5 minutes.
Do something fun outside of the house without sharing about it on social media.
Leave your cellphone at home as you do something with family (movie theater, dinner at a restaurant, and event or festival)
Charge your phone in another room (use a traditional alarm clock if needed). Keep it away from your bed.
No TV for a full day. Only choose this option if TV consumes you.
Week 4: Better Digital Experiences
This is the fun week because it's when we slowly allow ourself to reconnect adding more positivity to our digital worlds.
CHOOSE A MINIMUM OF 5 FROM THIS LIST
Complete 3 major tasks before picking up your phone for the day.
Subscribe to a few email lists that inspire you (ahem, the But First, Joy email list is a good one). These lists will make your inbox a lot less stressful to open.
Join Facebook groups that bring you joy, inspire you, or are relevant to your hobbies/lifestyle.
Choose a room in your home to be a phone-free space for everyone in the family.
Follow social media accounts that bring you joy!
Watch a documentary or educational program rather than a reality TV show.
Create an uplifting/happy/motivational music playlist to play as you clean.
Create a folder/album on your cellphone of motivational quotes or funny memes to look at when you need a mood booster.
Do something fun on your computer or phone that isn't related to work, productivity, or social media.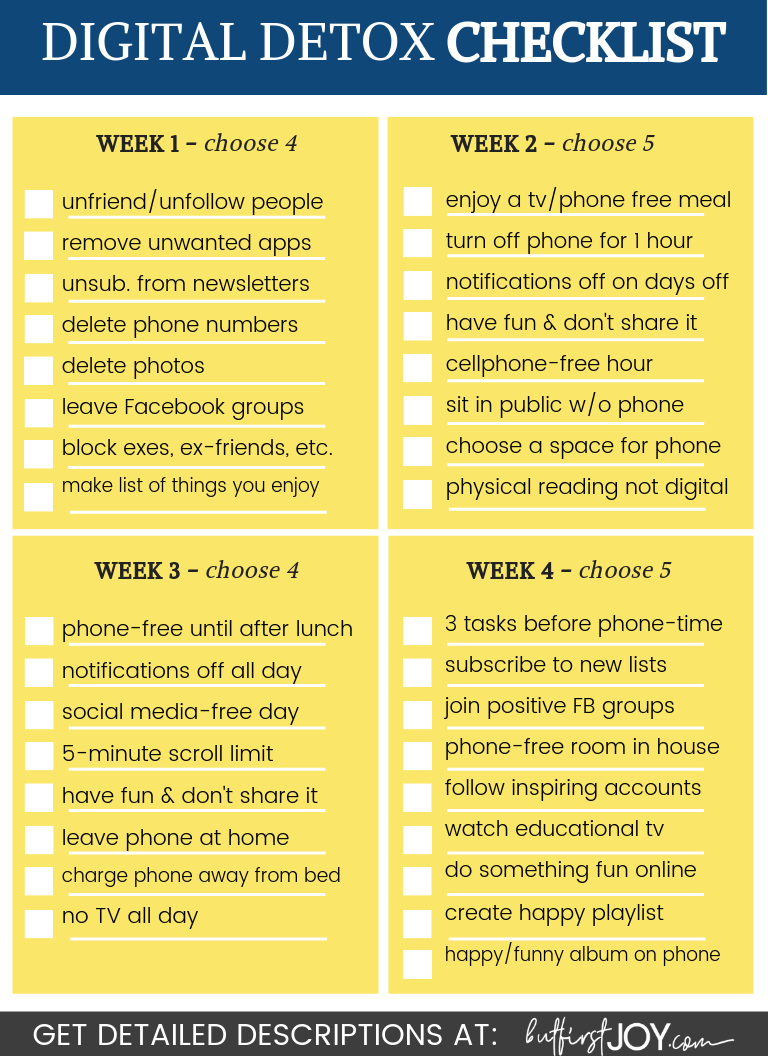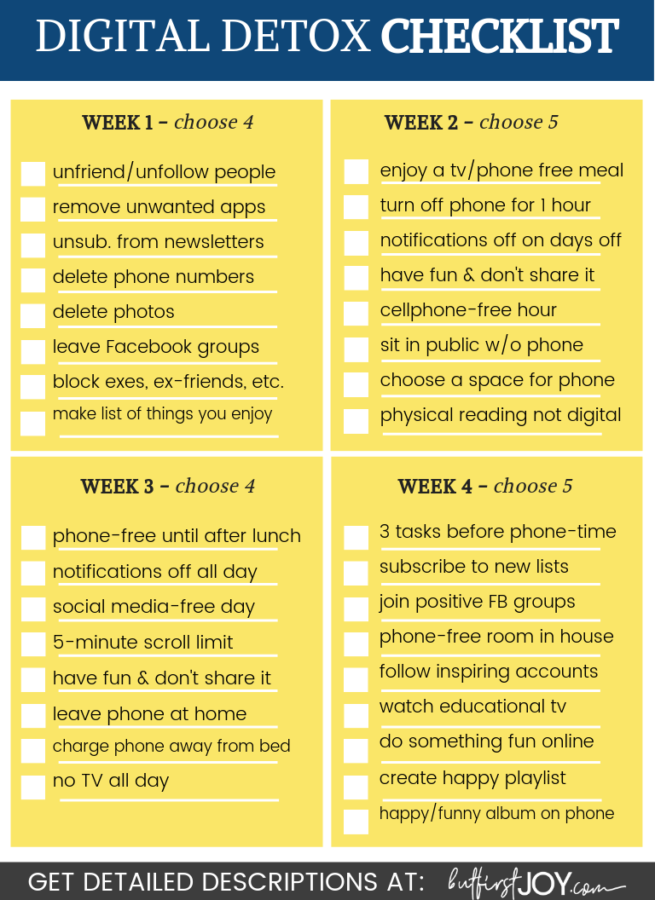 Do you have any questions or ideas that you'd like included in this challenge? Let me know in the comments below!
CLICK HERE TO DOWNLOAD THE DIGITAL DETOX CHECKLIST!
If you'd like accountability tags on Instagram Stories, comment below or DM me on Instagram!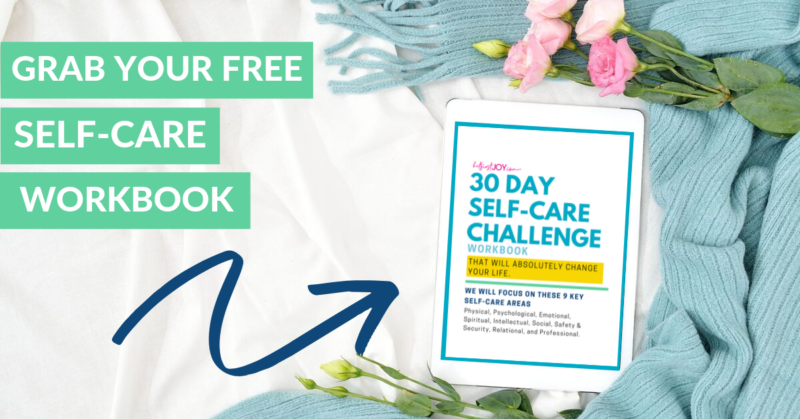 DISCLOSURE
This post may contain affiliate links and/or promotional products, all opinions expressed are that of But First, Joy only. Read my full disclosure.