Are you stuck at home and feel completely unoccupied? This list of 101 Productive Things to Do When Bored will give you a sense of accomplishment in no time!
Let's all be honest – we have our lazy days. And you know what? It feels damn good to relax after working hard. However, it gets bored fast. This is especially true if you have a Type A personality.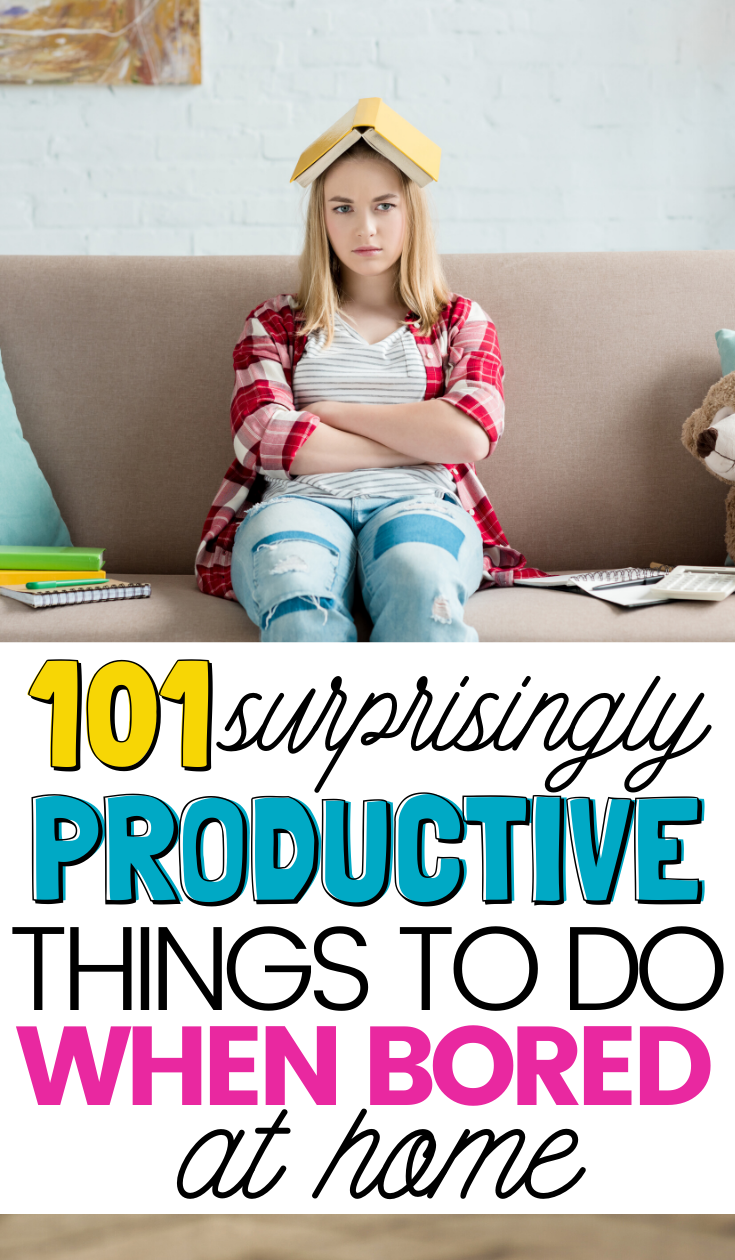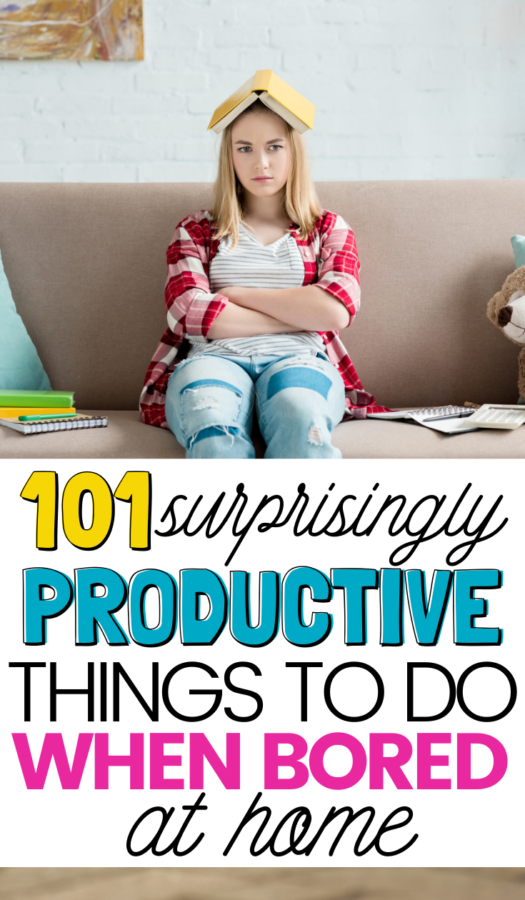 101 Productive Things to Do When Bored at Home
If you're home for an extended period of time or simple want to get things do but don't know where to start – this list of productive things to do when bored is a great way to get started.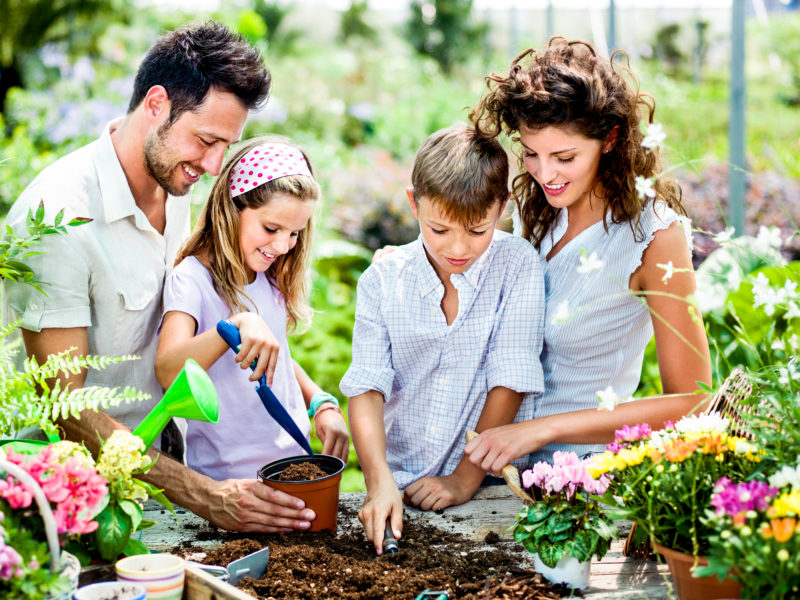 30 Productive Things to Do In The Home and Yard:
Finding productive things to do when bored at home can actually feel overwhelming. With the following list, you notice I've included lots of things you can do in the home and yard to make it feel more comfortable.
While much of this is considered chores – it's still something you can do now that will make you thank yourself later.
Declutter and clean inside drawers and cabinets.
Hang photos, art, and decor.
Dust hard-to-reach areas.
Clean baseboards.
Sort through children's clothes. Resell outgrown clothing on thredUP.
Recycle boxes you've kept for products out-of-warranty.
Clean out your pantry – throwing away expired foods.
Donate old books to libraries or schools that accept them.
Clean and Organize the garage.
Pressure wash driveway, walkways, and patios.
Update a room by painting it. This is particularly fun for children!
Disinfect EVERYTHING. I like to use Lysol spray or Lysol wipes.
Rearrange living room or bedroom furniture. This will make your space feel new!
Steam mop tile, concrete, or hardwood floors.
Deep clean carpets.
Pay bills.
Tax prep for this year or the next.
Pull weeds and spread Weedkiller.
Water plants.
Clean windows – inside and outside.
Change or clean bedsheets in all rooms.
Decorate the home for an upcoming holiday or celebration.
Wash cloth hampers and laundry baskets.
Wipe down your mailbox – inside and out.
Clean trash cans with soap and water.
Deep clean vehicles.
Change air filters and water filters.
Shred old bills and documents that you no longer need.
Make important phone calls (schedule appointments, return calls, etc.)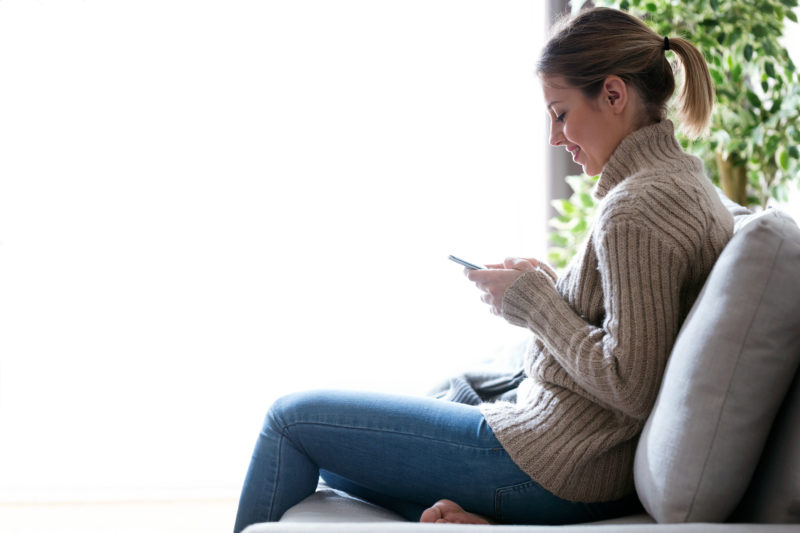 15 Productive Things To Do on Your Phone
Many of us use our phones as a distraction or a form of entertainment. However, there are plenty of productive things that can be done on your phone while you're stuck at home.
Delete unwanted photos. This post with ways to declutter your phone the Marie Kondo way should be helpful!
Remove apps you don't use anymore.
Clean up your contact list.
Turn off unwanted notifications.
Download productivity apps.
Block spam callers and texters.
Add new music and update playlists.
Setup your emergency contacts.
Delete old alarms.
Remove notes and lists that you no longer need.
Update software, as needed.
Unfollow any person or page on social media that makes you feel less than.
Organize photos in folders: family, baby, holidays, events, by year, etc.
Disinfect phone, remove case to clean underneath.
Delete text messages (they take up a lot more space than you realize)
I always love to recommend my 4 Week Digital Detox Challenge to get your digital life in a happy place!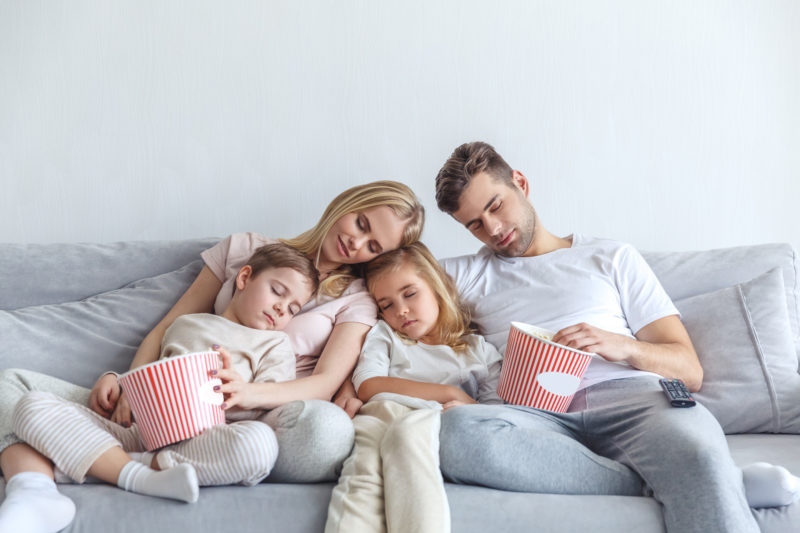 15 Things To Do When Bored at Home With Family
Make productivity a family thing. For many reasons, this is something you should practice together. First of all, it takes away from your workload. Secondly, it can bring you closer as a family and make new memories. Finally, it teaches children responsibility and good habits!
Work on a new budget.
Meal plan for the rest of the month.
Deep clean the entire house.
Cook a meal together.
Have each family member teach someone in the home something new.
Meal prep for the week.
Plan your month's even calendar.
Discuss & plan upcoming vacations or birthday parties.
Plan days off, vacation days, and work schedules.
Work on emergency plans for natural disasters, health scares, etc.
Update memory boxes and scrapbooks.
Take new family photos.
Help children with homework and learning.
Update wardrobes to prepare for the next season of weather.
Start a workout routine together!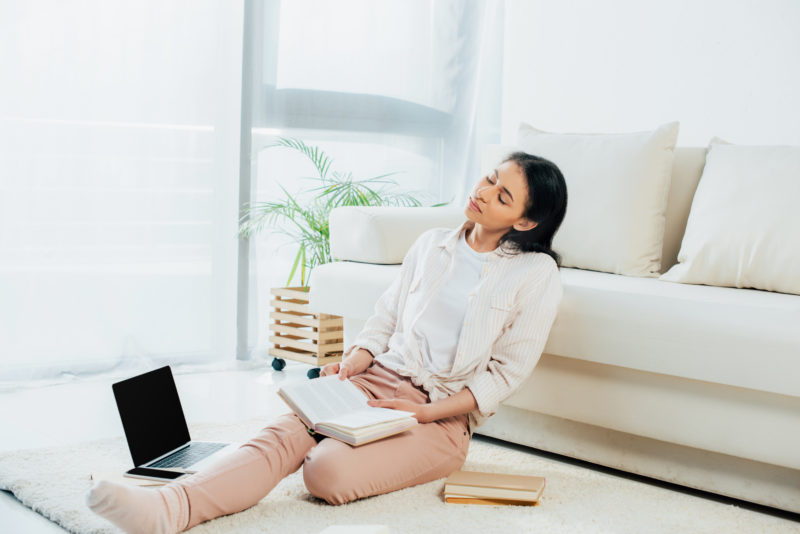 20 Productive Things To Do at Home For Your Mental Health and Mindset
Don't forget about YOU when you're stuck bored at home. Be sure to keep your mental health, stress levels, and self care in check at all times. Here are a few great ways to keep your mind active and happy!
Learn a new language with the free Duolingo app.
Listen to an educational or self-help podcast.
Learn a new skill (YouTube or Lynda.com) or brush up on an old one.
Begin guided meditation.
Try your hand at Yoga.
Print out positive affirmations and hang them.
Lose yourself (or find yourself) in journaling.
Get rid of clothing that doesn't make you feel confident. Try selling it on thredUP for some extra cash!
Declutter a space that stresses you out.
Setup a phone-free zone.
Take an online course or class.
Grooming – wash hair, do nails, shave, etc.
Make a real and detailed plan to accomplish goals.
Call friends or family who you enjoy talking to.
Spend quality time with family and/or pets.
Enjoy an at-home workout.
Take a nap.
Play solo puzzle or strategy games to strengthen your mind.
Figure out a good skincare routine.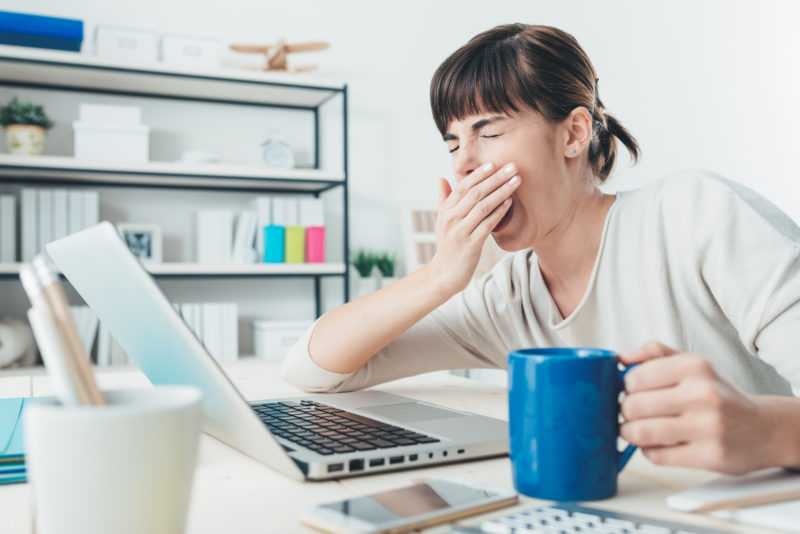 11 Productive Things to Do On Your Home Computer
Another way to be productive at home when bored is to get important things done on your home computer and home workspace. This tends to be an area that causes a lot of stress for many. Don't let it be that for you.
Declutter inbox.
Delete unwanted files, photos, and screenshots.
Do any software updates you've put off.
Clean screen and keyboard.
Add photos to an external hard drive.
Setup a screensaver and wallpaper that will bring you and your family joy.
Buy new ink for your printer.
Update digital calendar.
Clean under computer, mousepad, keyboard, erc.
Declutter top of computer desk and inside desk.
Add a personal touch to your home workspace, if you haven't already.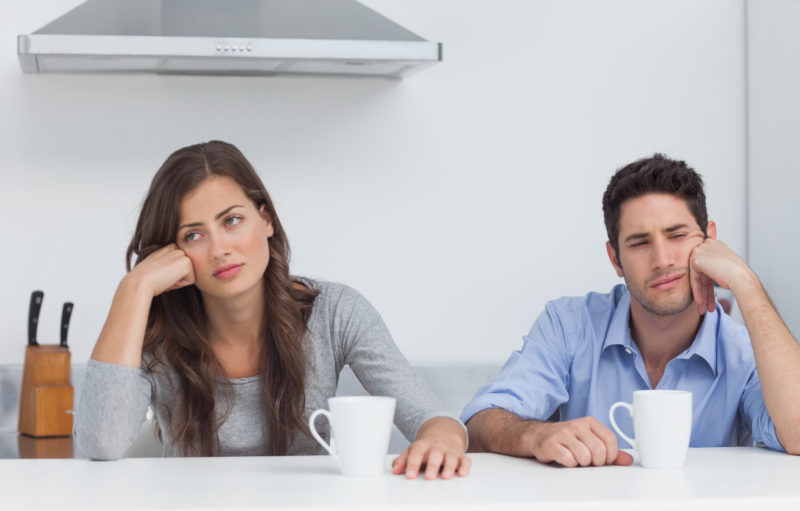 10 Productive Things to Do at Home with Your Spouse
Finally, I wanted to share a few of my favorite things to do when bored at home with your spouse. I love to take advantage of this free time with my husband and I hope you do the same. Even little things feel productive when you do them together.
Finish watching a TV series.
Take on a home project together.
Have an important/hard conversation.
Start a scrapbook.
Talk about goals, hopes, and dreams with one another.
Make intimacy a priority.
Tackle a cleaning or organizational project.
Cook a fancy meal together.
Do something your spouse enjoys – join their hobby (like video games or puzzles).
Exercise together. It will bring you closer because it brings out a very vulnerable side.
What do you do at home when you're bored out of your mind? Give me some more ideas in the comments below!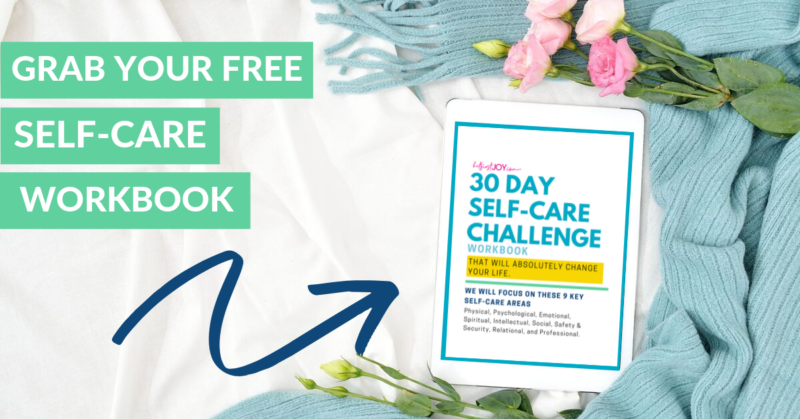 DISCLOSURE
This post may contain affiliate links and/or promotional products, all opinions expressed are that of But First, Joy only. Read my full disclosure.