If you're considering journaling for the first time, you'll want to begin right away after hearing the benefits of journaling for mental health. This beginner's guide will give you everything you need to know.
Over the last few weeks, I've been sharing a few journal prompts for adults. One of my favorites was these 50+ self-discovery journal prompts for women. Self-discovery is on the horizon for those who spend time journaling, but there are more benefits than just that. In fact, there are many benefits of journaling for mental health.
In this guide to journaling for mental health, I'll be sharing the following:
---
Mental Health Journaling Frequently Asked Questions:
---
Some of you may be unclear about what mental health is and why you would want to journal. In simple terms, mental health is your psychological well-being.
I wanted to share some benefits of journaling with you all, especially in the area of mental health. If you are looking for a way to help your mental health and need something to do, then why not get started on journaling? Let's get started with all these awesome benefits of journaling for mental health.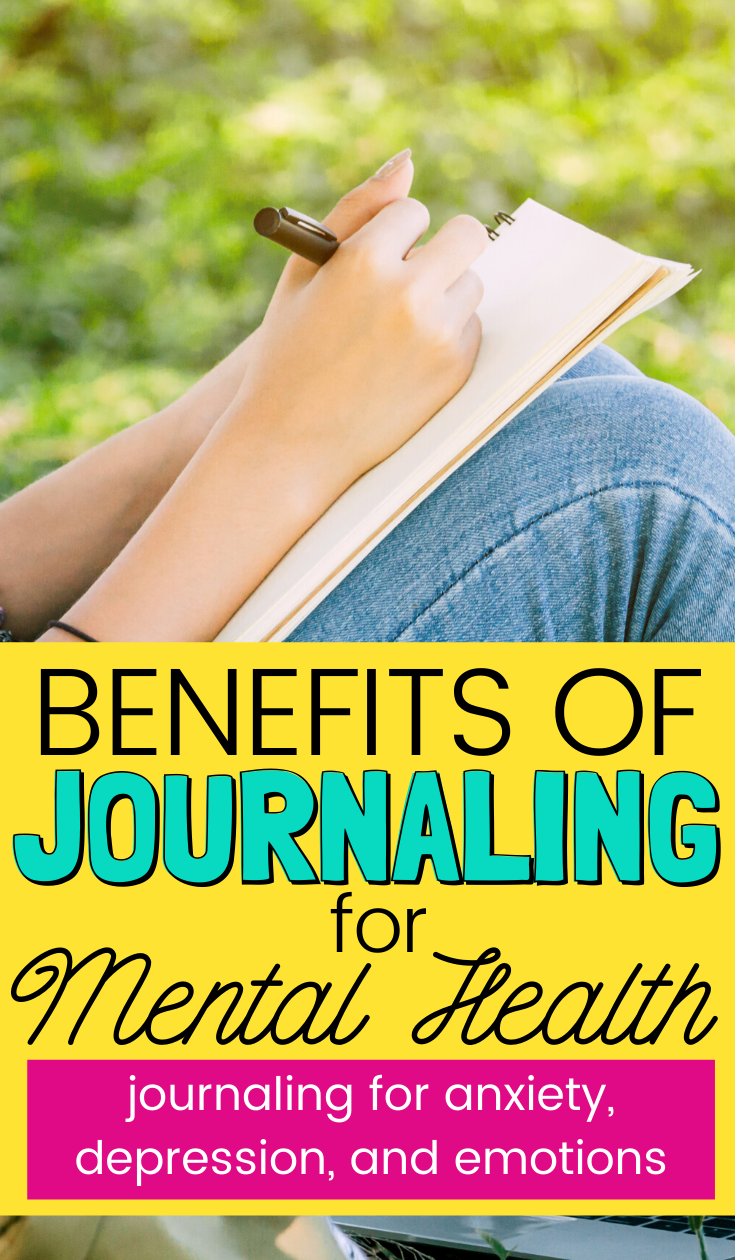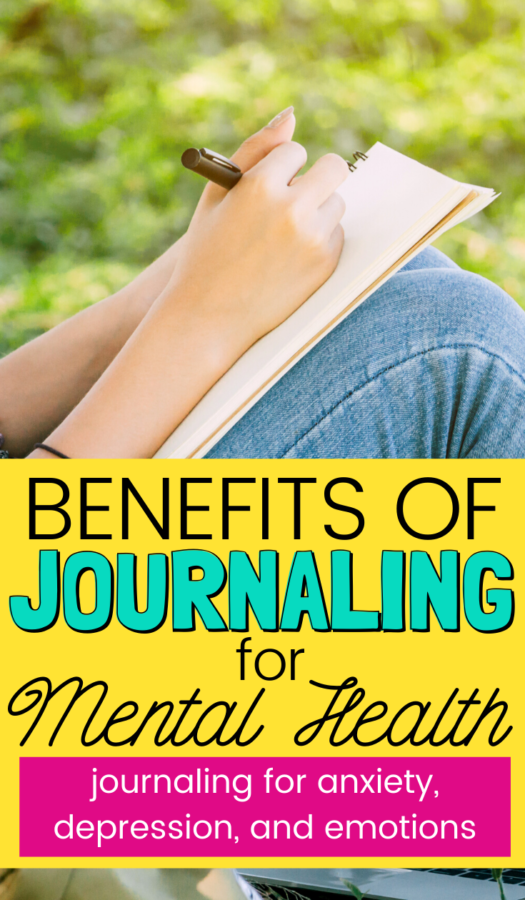 Benefits of Journaling for Mental Health
There are many benefits of journaling for mental health. You may be more inclined to journal if you know of the benefits. Journaling is when you grab a notebook, a pencil or pen, and just start writing.
I think there is so much beauty in journaling. Many people don't even know the true benefit of spending a little time each day writing down their thoughts. Journaling helps your mind get clarity and understanding. Most importantly it's a great way to take care of yourself and your mental health!
1. Relieves Stress
You guessed it! One major benefit of journaling is actually relieving stress. If you live a stressful life or have a lot of built-up stress, then you may discover that journaling is a great way to get rid of this!
2. Allow You To Put Your Thoughts & Feelings on Paper
Another reason for journaling is that you get to put your thoughts on paper. If you are going through life without anywhere to put those thoughts, they can build up and add unnecessary stress in your life. Putting your thoughts on paper gives them a home.
3. Get Your Ideas Down
Do you have a lot going on in your mind? If you do, then it's important to get those thoughts down on paper. A benefit of journaling is being able to get your ideas down on paper!
4. Helps Connect Your Emotions
When I think of journaling, I think of emotions. When I think of mental health, I also think of emotions. Journaling helps you to connect to your emotions! You may be in more touch with how you think and feel when you take the time to journal.
Sometimes mental health brings along with it certain negative thoughts that are hard to get rid of. When you journal, you have the opportunity to ditch those negative thoughts and store them somewhere safe.
6. Journaling Can Reduce Risks of Depression
Think about it for a second, journaling has the power to help reduce the risks of depression. How? Well, it's like having a friend to talk to. You can share your deepest thoughts and emotions and no one is going to judge you!
7. Helps Relieve Stress & Calm Nerves
What happens when you are upset and you have no one to talk to? Journaling for mental health is a good thing because it can help calm you down. When you see no other way out, journaling is going to help calm you down.
8. Helps You Recognize Your Triggers
Every single one of us has triggers. Journaling can help you narrow down your triggers. You're able to go back and see patterns of what has upset you so greatly.
9. Enhances Self-Awareness
Mental health is such an important part of living. You have to find ways to cope and survive when you are struggling. I believe that journaling helps so much with self-awareness.
10. Shifts Your Perspective
What if you view things one way, but you need to see them from a new perspective, try journaling. Shifting your perspective can be a good thing for mental health!
11. Journaling Can Ease Your Anxiety
Are you dealing with anxiety? If you are, then you may realize that journaling for mental health may be the right answer. Anxiety can really mess with someone's mental health and having a way to ease that anxiety is important.
12. Journaling Can Help You Sleep Better
Your mental health can be affected if you don't get enough sleep. Spending time journaling can help you sleep better. Writing about your emotions is an important part of healing and can help your mental health and your sleep patterns.
13. Helps with Self-Care
Just like some people go to the gym for self-care, others may journal for self-care. Good mental health comes from practicing self-care. So, taking the time to write in a journal can really help with your overall self-care and mental health.
14. Creates Emotional Stability
It's important to feel in control of your emotions as much as possible. Honestly, there aren't a lot of safe places to share your emotions and how you feel. It's amazing how a journal can help you feel emotionally stable.
15. Beats Boredom
Sometimes the battle with mental health is that you're bored and don't have a lot to keep you busy. When it comes to journaling for mental health, sometimes you need to just beat the boredom. When you have nothing else to do, sometimes journaling is the best thing to do. It can help beat boredom.
16. Gives Time for Reflecting
Your mental health is so important. Sometimes time spent in reflection can help your mental health. So, journaling can help you spend time self-reflecting.
17. Helps You Understand Yourself
As a human, you're one big ball of emotions. Journaling for mental health is a good thing because it can help you start to understand yourself. Understanding yourself is an important part of being a human. Most people don't want to spend the time doing this for themself, but it's so important.
18. Journal Becomes Your Companion
You don't always have someone to talk to. In fact, sometimes you don't want to talk to anyone. Your best bet is to use your journal as someone to talk to. That journal can be your lifeline in your time of need!
19. Helps Creativity Flow
I have found that journaling helps with the creative flow. When you have the opportunity to be creative, it can improve your mental health! Remember that mental health is what's important to you. To society it just means "being able to function at a satisfactory level of emotional and behavioral health." source
As you can see, there are many journaling benefits for mental health. What works for one person journaling wise may not work for you. However, journaling is very flexible and accommodating to all who seek help through it.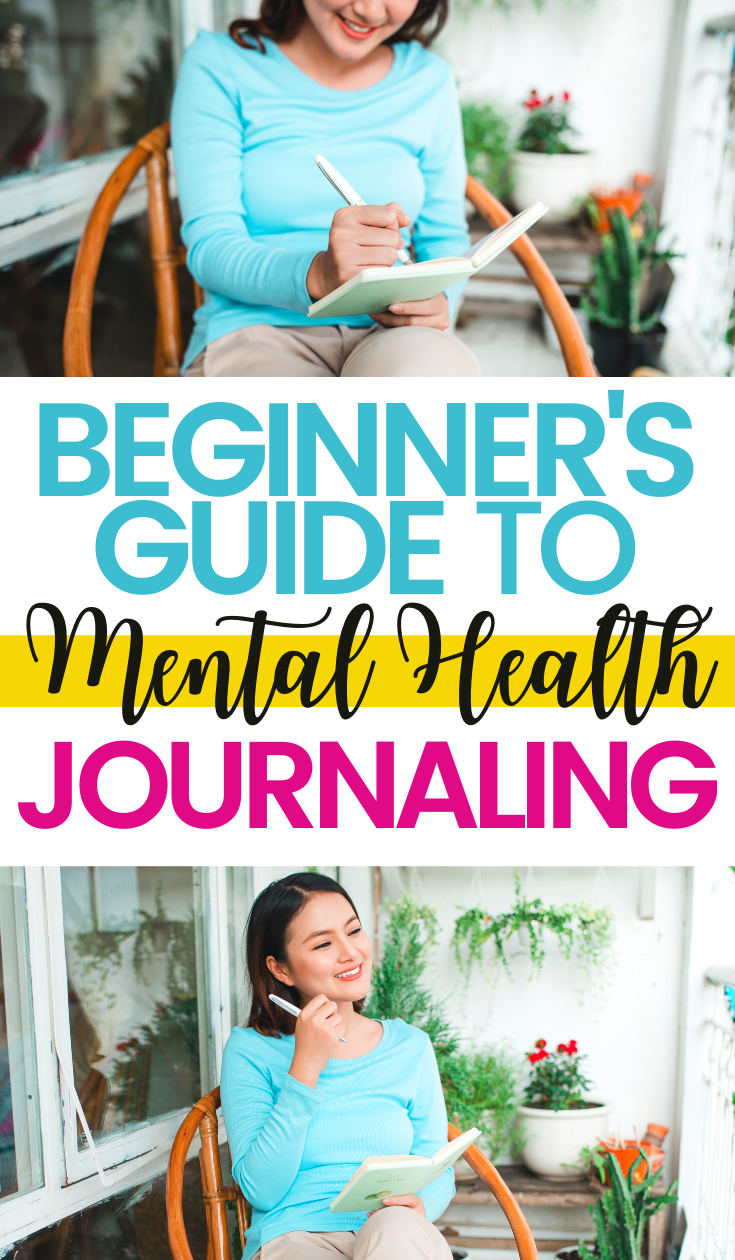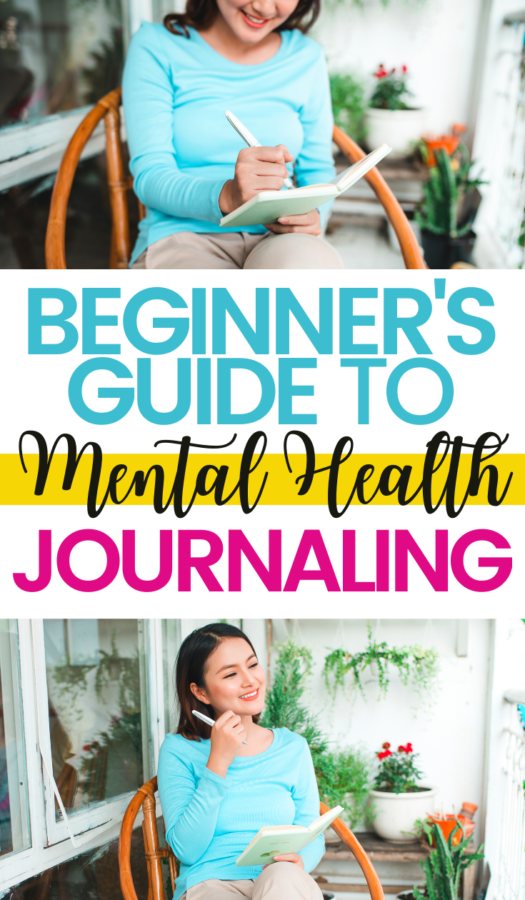 How to Journal for Depression
First of all, it's important to note that depression affects all people differently. You may deal with depression in one way and another person may deal with depression in another way. Journaling for depression isn't a one-way street.
Depression is categorized as a loss of interest in activities and or a depressed mood. Depression can last a day or a couple of months, sometimes years, depending on the person. Knowing this information, you may be wondering how to journal for depression.
1. Take Journaling Seriously
If you want journaling to help you while you're dealing with depression, then you need to take it seriously. Journaling has to be something you're committed to!
2. Write About What You Want
I know I have said that journaling for depression looks different for every single person in the world. It's important that you write about what you want to write about.
You can write about your feelings, your emotions, your life, your hurt, your trauma. Anything! The ball is in your court and you get to decide what you'll write about.
3. Don't Stop Journaling!
Make sure you understand that journaling for mental health isn't a one and done thing. If you want it to work for you, then you need to keep at it. Journal as much as you can, get those words and feelings out! Keeping at it is one major part of journaling for depression.
Tips when Journaling for Emotions
If you are going to be journaling for emotions, then there are other things that you can do alongside journaling. Doing certain activities, along with journaling is an excellent way to work through certain things you may be going through.
1. Spend Time Relaxing Each Day
Before or after you spend time journaling, you'll want to spend time relaxing each day. Relaxing is a great way to calm your mind and your soul.
2. Get Plenty of Rest
Another benefit of journaling is that you start looking to other aspects of your life that need work. If you aren't getting enough sleep, this is an area of your life that you will want to work on. Pairing rest and journaling together is a great idea!
3. Stay Active
Journaling for emotions is great, but you may also need to add a little movement to your day. Journaling exercises your mind and emotions, but you also need to take care of the outside of your body! Get moving and watch how that works as an awesome stimulus for conquering mental health too!
4. Eat a Balanced Diet
When you are working on the mental health portion of your brain with journaling, consider eating a balanced diet. Eating fruits and veggies can only add good stuff to your body and your brain. Journaling for emotions and eating a balanced diet go hand in hand.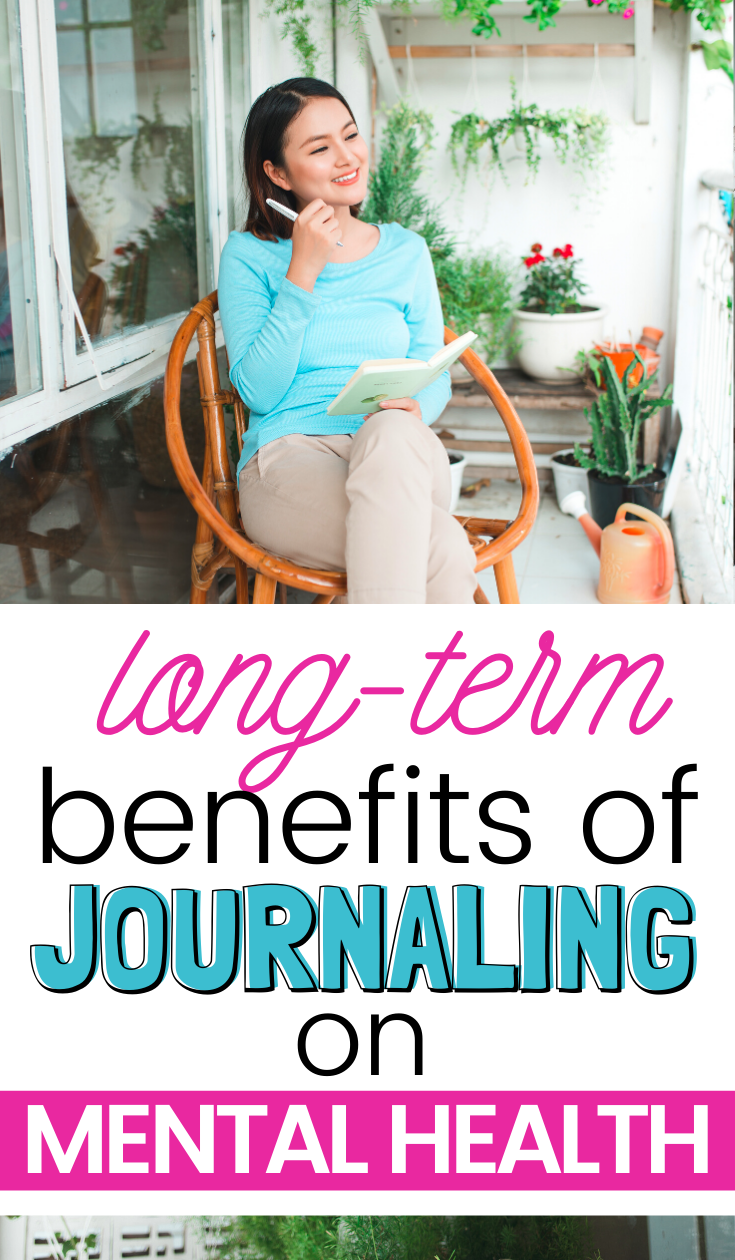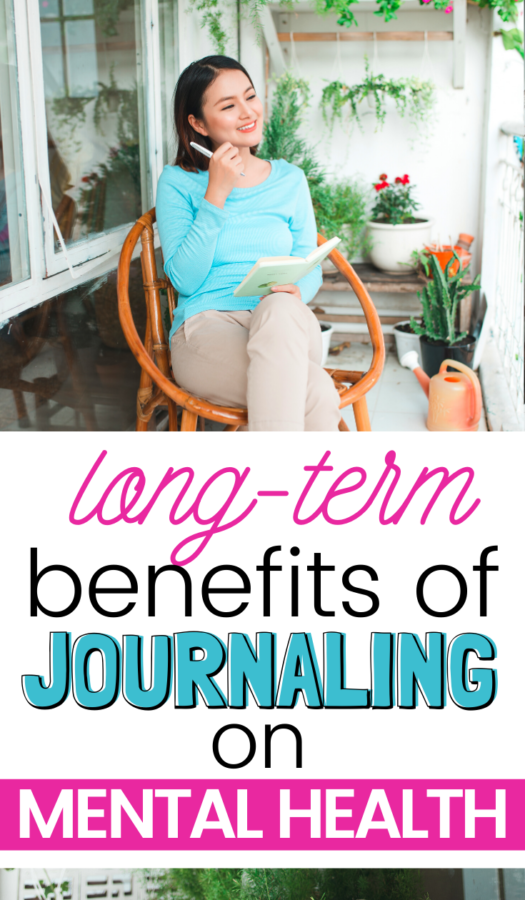 How to Start Journaling for Mental Health
Now that you know the benefits of journaling for mental health, you might as well know how to start journaling. Just like you would start doing anything in life, there are some things you do need to do to be successful when journaling for mental health.
I want to share some of these tips for getting started because sometimes getting started is the hardest part.
1. Be Consistent
I'm not advising that you sit down at 10 o'clock every single day and journal for 60 minutes. However, you should be consistent. Consistency may look different from you. But whatever it does look like, spend time journaling when you can and do it as often as you can.
2. Keep One Journal
Although you can totally have multiple journals, it might be easier to just have one journal. In order to start journaling for your mental health, you just need one journal. To get started, you can easily have this journal on hand and write in it whenever you want.
It'll be nice to have your thoughts in one spot. Whenever you need to add to something or you get the urge to journal, everything will be right there.
3. Get Something on Paper
The really cool thing about getting started with journaling is that sometimes you don't even write. You can simply jot down words, lines, or anything that you want. You can doodle or scribble. Getting started is simple, just take the pressure off yourself!
4. Use Writing Prompts
Another way to get started with journaling for mental health is to use writing prompts. Sometimes you just don't want to sit there and come up with what you need to write. You can simply write based on the writing prompts. Plus, it helps you to be more consistent when you use writing prompts. All the hard work is done for you and you just need to write, write, write.
I hope you'll be able to use these tips for getting started with journaling and mental health. When you don't know where to start, you just need to start somewhere! Grab your favorite journal, your favorite pen, and a writing prompt and start journaling. You won't regret it.
What is the purpose of journaling?
I guess there are lots of reasons to journal. Most of the time, the purpose of journaling is to get something down on paper. Whether it's to help deal with mental health or to help relieve stress. There are so many reasons and purposes to journal!
Does journaling help with anxiety?
Are you someone who struggles with anxiety? If so, you may enjoy journaling for the sole purpose of helping your mental health. Journaling helps with anxiety because it helps you work through those anxious feelings that you may be having. Having anxiety isn't fun, but having ways to manage it is.
Is journaling good for depression?
If you are struggling with depression you may be wondering if journaling is a great thing to do. The answer is YES! Journaling can help improve your mood. It can also help with managing symptoms of depression. It may not help everyone in the same way, but it's a good place to start if you're struggling with depression.
How does writing help mental health?
Simply put writing helps mental health in so many ways. I will say that writing is a very creative way to help improve your mental health. It improves it in so many ways that it's hard to narrow it down to just one way writing improves mental health.
There you have it, the benefits of journaling for mental health are there. You just have to find out what works for you and do it. If journaling helps your mental state, then go for it!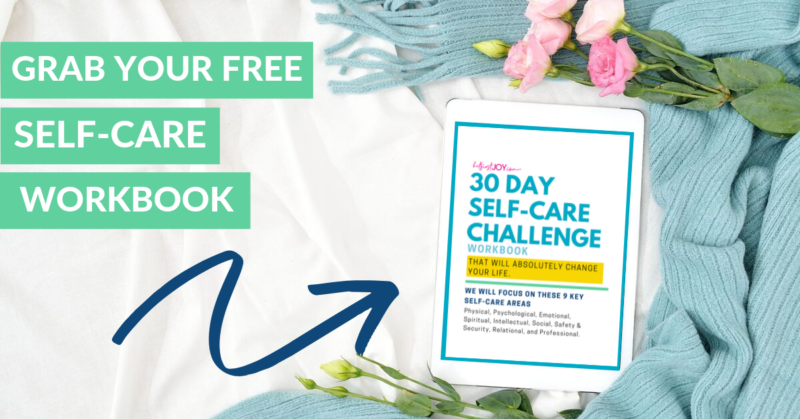 DISCLOSURE
As an Amazon Associate I earn from qualifying purchases. This post may contain affiliate links and/or promotional products, all opinions expressed are that of But First, Joy only. Read my full disclosure.