It's easy to be overwhelmed with boredom when stuck at home but I want to change that! These Family Date Night at Home ideas will make home life more fun!
It's easy to get sick of the boredom and tired of the productive tasks. It's important for families to have fun and even enjoy a little healthy competition. So, this is a challenge for you and your family. Actually, it isn't much of a challenge because it's all fun family date ideas!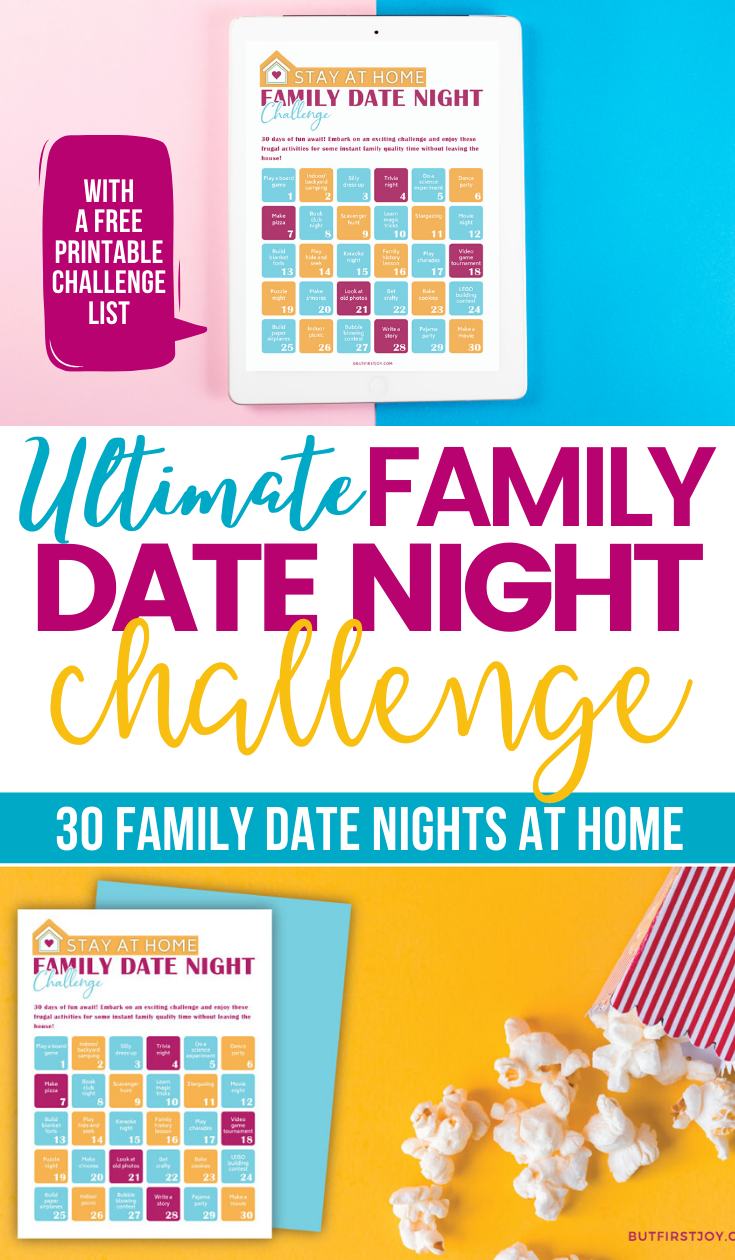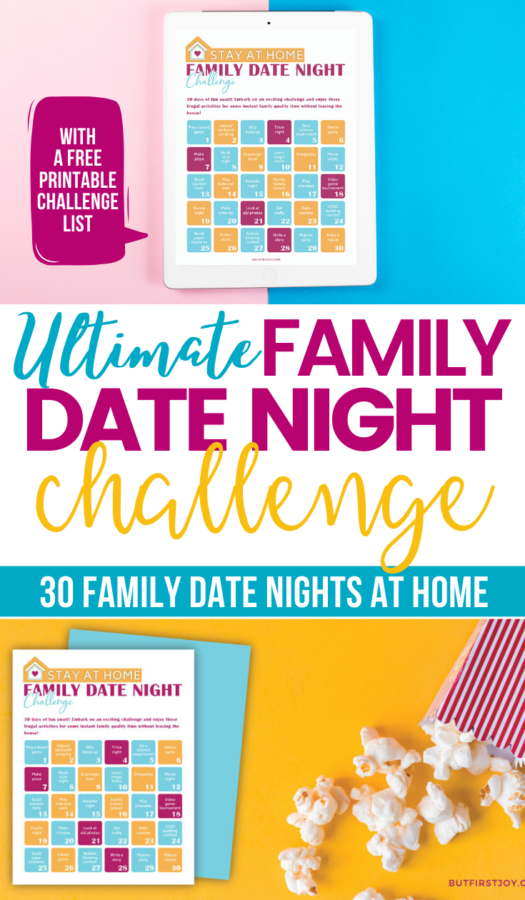 Actually, I challenge you to let go of responsibility, worry, or stress and have fun with the family. These activities run much deeper than a family date night at home. These are memories to be made and quality time to be had!
Family Date Night at Home Challenge – 30 Fun Ideas
30 days of fun await! Embark on an exciting challenge and enjoy these frugal activities for some instant family quality time without leaving the house!
1. Play Board Games.
One of my favorite things to do with family is to play some good 'ole fashioned board games. I love all the classics but there are a few new board games I find myself enjoying, as well.
Here's a list of my favorite family-friendly board games:
2. Indoor or Backyard Camping.
Camping is a great way to unplug from technology and enjoy the simple things in life. If you choose to enjoy this fun family date night, be sure to make it feel as authentic as possible. Use flashlights, sleeping bags, eat camping food (hot dogs, beans, s'mores).
3. Play Dress Up and do a Fashion Show.
You don't have to be a child to love playing dress up. This is a time to show off your silly side. Not only will the kids get a chance to laugh at you – they get an opportunity to express themselves.
Break out the costumes and let the kids raid all the closets for this one. Then, create runway with a sheet for a fashion show. To switch things up, have someone be the judge!
4. Family Trivia Night.
We all love some healthy competition. Family trivia night is a learning experience but also fun. You can either create your own trivia game or buy a popular one on Amazon.
These are my favorite family trivia games:
5. Do a Science Experiment.
Science Experiments are a fun way for children to learn without it feeling like a lesson at all. Actually, depending on their age and education, the kids may be able to teach you a thing or two.
If you're looking for an easy and current Science Experiment – I recommend Modern Mom Life's Rain Cloud in a Jar.
6. Have a Dance Party.
Parents – it's your time to show off all those funky fresh dance moves in an at home family dance party! Pop on your favorite tunes from all the decades and try to reenact the popular dances from back in the day!
7. Make DIY Personal Pan Pizzas.
One of my favorite childhood memories was making DIY pizzas with my dad. It was so fun to pick out my own toppings!
8. Start a Family Book Club.
I love the idea of a family book club where you collectively choose a book as a family and discuss it on a designated day each week.
9. Scavenger Hunt in the house or in the yard.
Scavenger Hunts are another favorite past time from my childhood. This is a great way to teach children to follow directions and for you to get creative. If you need a little inspiration, here's a great list of Scavenger Hunt Ideas to do at home.
10. Learn and Perform Magic Tricks.
Magic tricks are really cute for kids to try their hand at. Have everyone in the family study a trick on YouTube and choose a night for everyone to perform their assigned trick.
Likewise, you could grab a Magic Kit from Amazon!
11. Enjoy an evening of Stargazing.
Lay out blankets in your backyard, pop some corn, and look at the stars! I recommend this book for identifying stars and constellations.
12. Family Movie Night.
Family movie night is probably the easiest family date night at home! Load the couch with snacks and treats, get a stack of movies (let everyone pick 1), and relax!
If you need a good place to start – here's a list of Movies to Watch in a Lifetime – with a free checklist!
13. Build Living Room Forts.
This is a way for the kids to see that parents aren't all serious business. Let them wreck the living room for once – or even your bedroom. And get in on the fun. Bring out the blankets and pillows.
14. Play Hide & Seek.
Hide & Seek is an easy classic for all ages. I play this with my 2 year old regularly and I have so much fun that I always get caught because I'm laughing too hard.
15. Karaoke Night.
There's nothing like some good (or bad) karaoke to lighten a mood and cure some boredom! Put YouTube on the TV or on your phone and get right to it!
16. Fun Family History Lesson.
I recommend using YouTube and resources on Pinterest for history lessons that can be made fun for kids!
17. Play Charades.
Charades is another family classic! You can get free ideas all over the internet!
18. Video Game Tournament.
A video game tournament is probably something everyone will say yes to! I recommend a game like Super Mario Party to get the party going!
19. Puzzle Night.
Puzzles are great for the brain. Doing puzzles together encourages quiet time, but also quality time. If you really like the puzzle afterward, slap on some puzzle glue and frame it!
20. Make S'mores.
Making S'mores is probably a favorite for everyone. There are some great S'mores kits on Amazon to make it a little bit easier on all of you.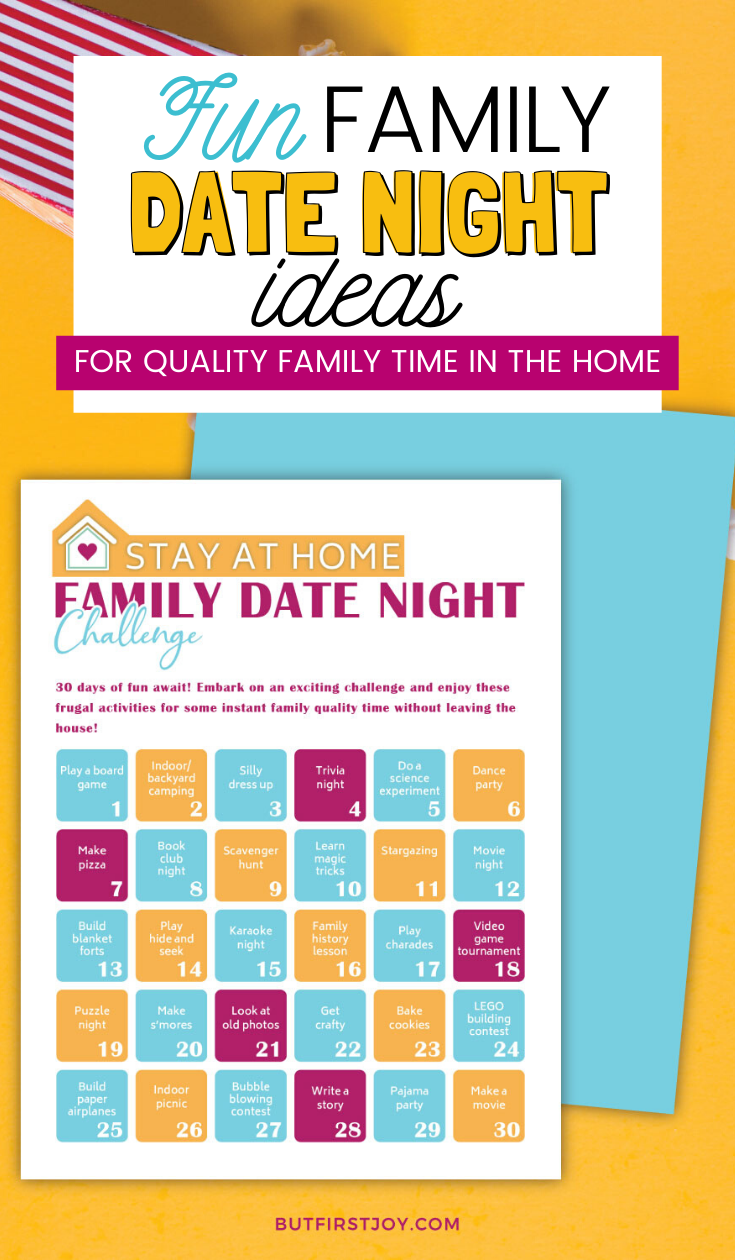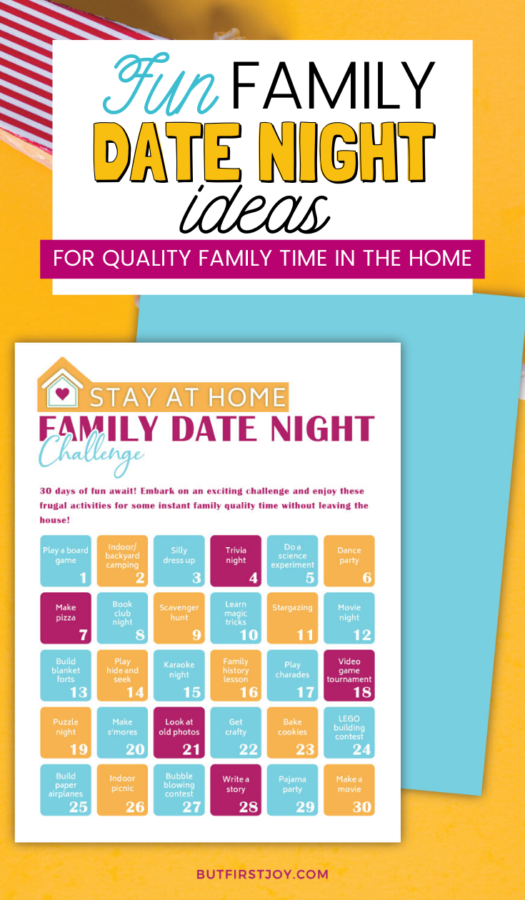 21. Look at Old Photos and Scrapbooks Together.
Reminiscing on old times is always a great way to connect with family. Making this a family date night at home is a great choice if you want to get nice conversations started. Plus, this may spawn the planning of new family adventures.
22. Arts & Crafts Night.
Never underestimate the power of a good arts & crafts project! You find different craft ideas for kids of all ages.
23. Bake Cookies Together.
Cooking together is a fun way to build new memories and start new family hobbies. You can make them from scratch to give the kids the option of choosing their own ingredients.
24. LEGO Building Contest.
A LEGO building contest is a fun idea for those with a love for the blocks. You can find ideas on YouTube.
25. Build Paper Airplanes.
Building paper airplanes can be quite the craft. Believe it or not, there are tons of ways to build paper airplanes. Have a little competition with paper airplanes. It's a small but fun task. Plus, you can all design the planes with markers and stickers.
26. Have an Indoor or Backyard Picnic.
It's something simple but enjoyable. Just a little change in routine can make a world of difference. Since this is a family date night, I recommend doing something a little special for everyone involved. Flowers, a card, or a special treat are a few ideas.
27. Bubble Blowing Contest.
Blow bubbles, blow bubble gum bubbles – biggest and best wins!
28. Write a Story Together.
Writing a story together can be a lot of fun. You can either come up with each piece of the story together OR everyone can write a paragraph and pass the notepad to the next person. Eventually, the story ends and can all be put together.
29. Enjoy a Pajama/Slumber Party.
Pretend you're a kid for the night. Get in your comfy pajamas, break out the board games, make palettes on the floor and couch, watch movies, and gossip. Just enjoy it and don't take it too seriously. Oh, and don't forget to stay up ridiculously late.
30. Make Your Own Movie.
Finally, for a fun and unique family date at home, make a movie with your family. Discuss plot lines, write scripts, etc. Then, act the movie out while someone records on their phone. This can be as detailed or as random as your family would like. Either way – it should be fun.
You could also use this Movie Making Kit to switch things up a bit.
Grab Your Free Family Date Night Printable Here
If you're still at a loss for what to do for your Family Date Night at Home, I recommend checking out my 101 Productive Things to Do When Bored at Home or check out some great boredom busters for kids.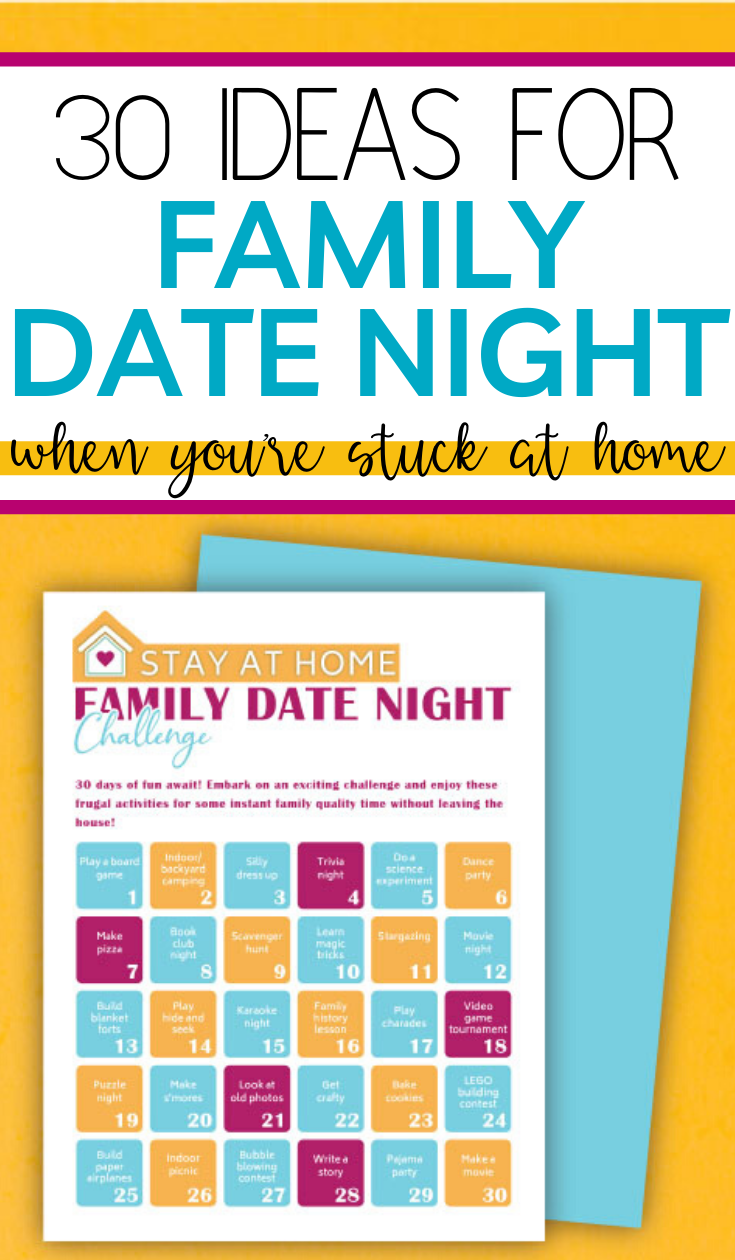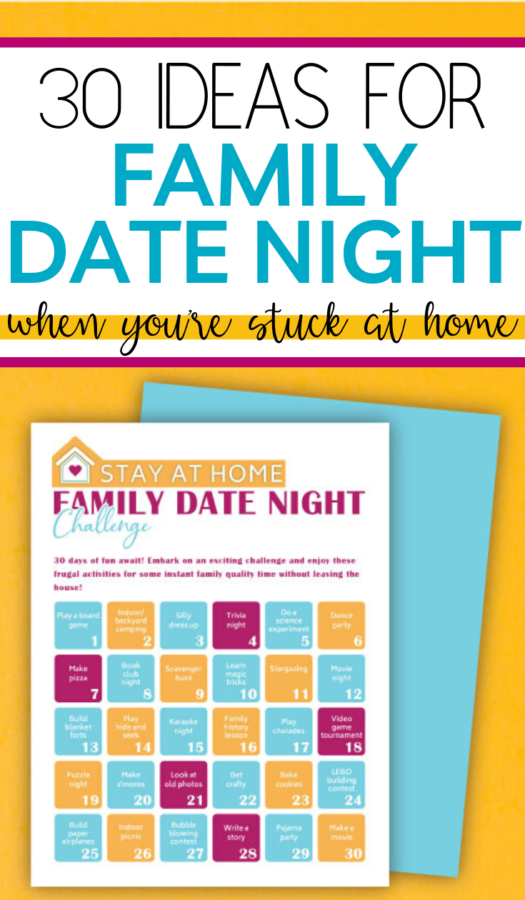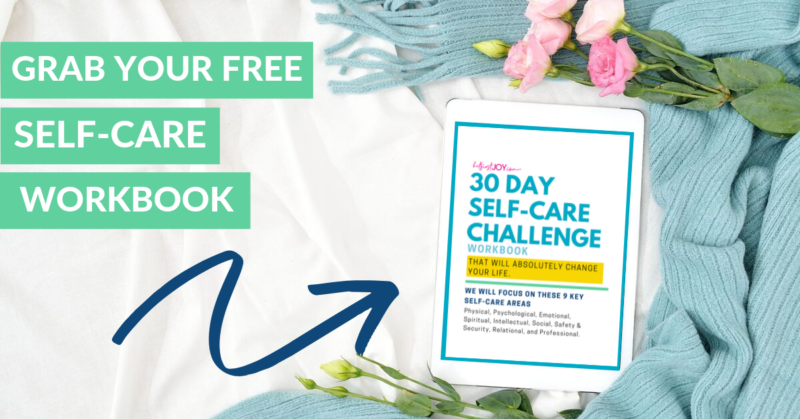 DISCLOSURE
As an Amazon Associate I earn from qualifying purchases. This post may contain affiliate links and/or promotional products, all opinions expressed are that of But First, Joy only. Read my full disclosure.