These personal development podcasts will encourage you to become a better version of yourself through self-discovery, self-care, and a deeper dig.
There's something very enthralling about anything that makes you dig a little bit deeper into your very soul. Whether it be journaling, podcasts, therapy, or even self-help books, a personal development journey is never one wasted.
So, along my journey, I jumped down the rabbit hole of personal development podcasts, finding only the best of the best.
While I may not listen to every single one of these podcasts, they all come with very high recommendations. After reading this list, I'm certain you'll be encouraged to begin a journey of self-care!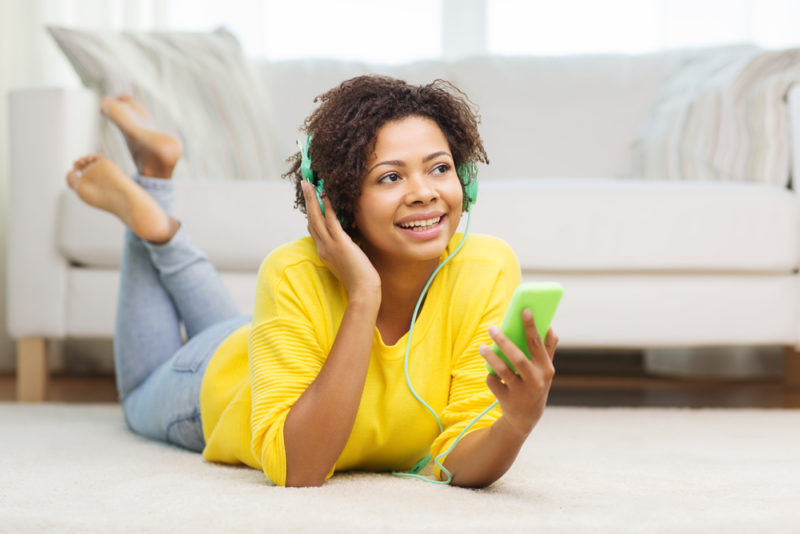 The Best Personal Development Podcasts
I love that personal development looks different for every single person out there. What looks right for your own journey of self development, may not work well for someone else. If anything, I have learned that I am the one responsible for my own growth.
Podcasts are a really great way to work on personal development while feeling connected to the podcaster. There's something about the right voice that makes you feel as if the podcaster is speaking directly to you.
For me personally, it takes some time to find a podcast that connects with my on a deeper level. As an empath, I'm very sensitive about tone, voice, and specific words.
However, podcasts are free to listen to! This means you're investing in yourself at no cost, so you can try multiple podcasts before one really resonates with you.
So, I want to invite you to use any spare time and energy to better yourself. Find the best personal development podcasts that work for you, grab your journal, and get to work!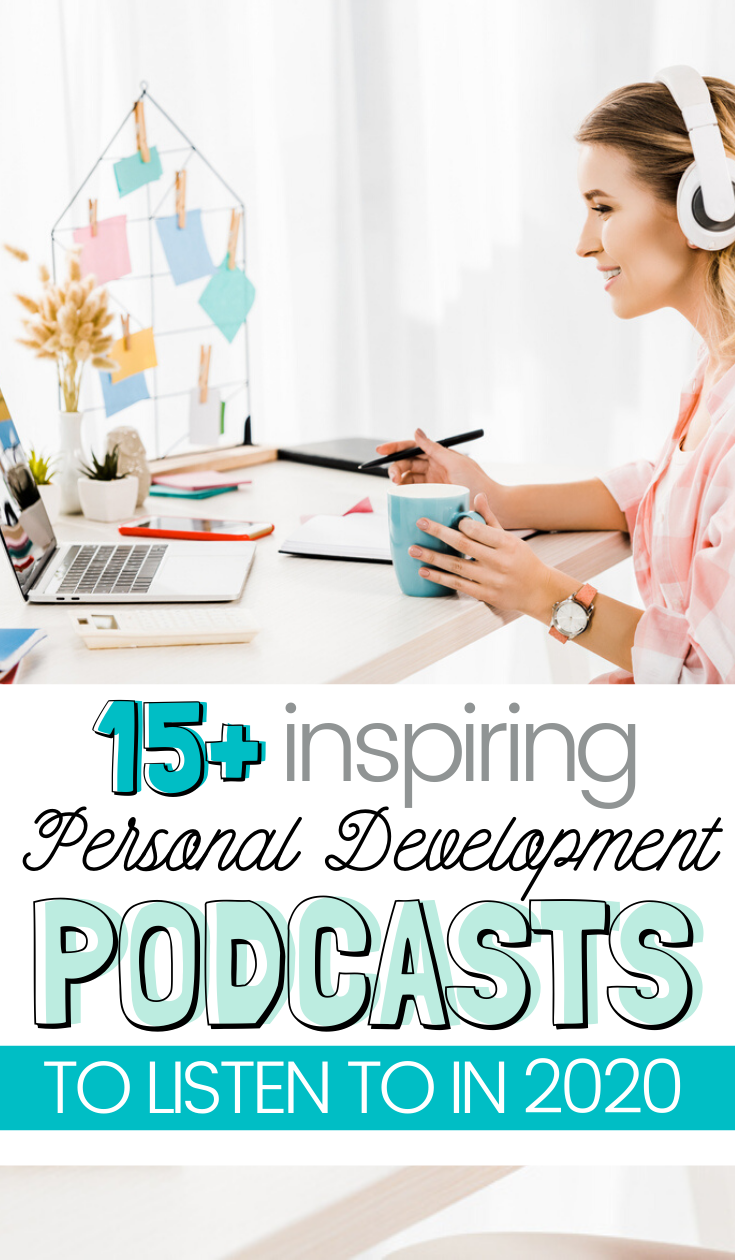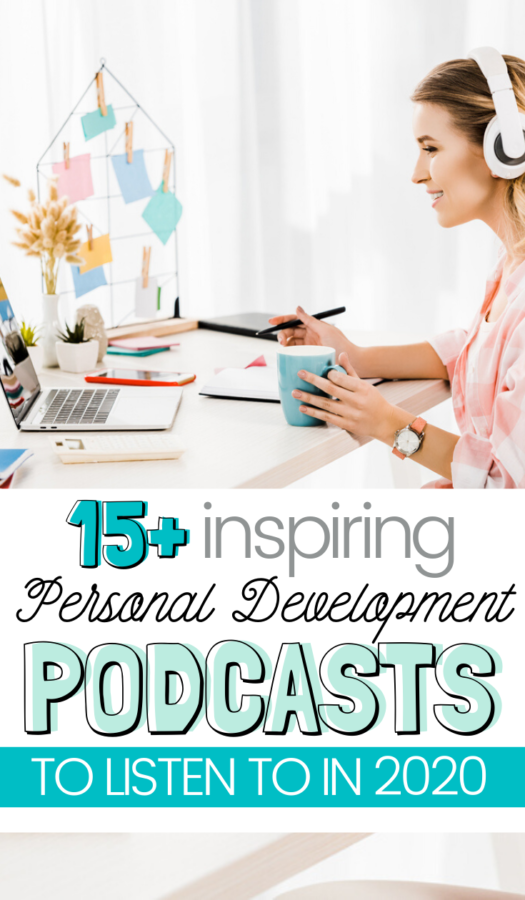 1. The GaryVee Audio Experience
While I realize that GaryVee is a little rough around the edges in how he speaks, he has such a great podcast. You will def want to listen to this one after the kids get to bed. The GaryVee Audio Experience has a lot to offer someone who is wanting to do a little personal development.
Gary Vee is always adding someone new and creative to the podcast. Some of the guest speakers have been:
Jon Taffer
Mark Bell
Ashton Kutcher
Todd Kaplan
Rebecca Jarvis
If you're looking for different thoughts and opinions on marketing, business, and personal development, I think you'll like this podcast.
ABOUT THIS PODCAST: Welcome to The Garyvee Audio Experience, hosted by entrepreneur, CEO, investor, vlogger, and public speaker Gary Vaynerchuk.

On this podcast you'll find a mix of my #AskGaryVee show episodes, keynote speeches on marketing and business, segments from my WEEKLYVEE video series, interviews and fireside chats I've given, as well as new and current thoughts I record originally for this audio experience!
2. Happier with Gretchen Rubin
Who wouldn't want to be happier in life? Gretchen Rubin helps us all understand what it looks like to work towards happiness with her podcast Happier with Gretchen Rubin. She gives a lot of practical advice that can help anyone with their personal development.
Gretchen Rubin is the host, but she has had guests like Susan Cain, Mark Duplass, and Pete Holmes. You'll be able to walk through her podcast with her as she encourages you to be happy and make continuous good habit choices. This is probably my favorite of all the personal development podcasts.
ABOUT THIS PODCAST: Gretchen Rubin is HAPPIER, and she wants you to be happier too. The #1 bestselling author of The Happiness Project and Better Than Before gets more personal than ever as she brings her practical, manageable advice about happiness and good habits to this lively, thought-provoking podcast.

Gretchen's cohost and guinea pig is her younger sister, Elizabeth Craft, a TV writer and producer living in Los Angeles, who (lovingly) refers to Gretchen as her happiness bully. Part of the Cadence13 Network.
3. The Chalene Show
Many of us have heard of Chalene Johnson. She's been a leader in the fitness industry for quite sometime. Well, now she has a podcast that is rocking and rolling.
Her podcast focuses on personal development, family, and fun, and much more. While Chalene is the host, she also has tons of guests that add to her show. Dr. Daniel Amen, Heather McDonald, Mel Abraham, and James Altucher are just a few of the people she's had on her show. Take some time to listen to The Chalene Show if you're interested in what she has to say!
ABOUT THIS PODCAST: Top tips & practical steps for diet, fitness, organization, self improvement & more. Get healthy, balance your life, and improve relationships and productivity with New York Times Best Selling Author, Celebrity Fitness Trainer & Diet Debunker Chalene Johnson and guests.

No BS. Chalene delivers straight talk and simple strategies (with a side of humor) so that every show delivers a return on your investment of time. The Chalene Show is life coaching, personal development, nutrition, exercise, focus, faith, family & fun all rolled into one! Want to be happier, healthier and more organized? This is your podcast.
4. Earn Your Happy with Lori Harder
We all need a little help finding that inner happy person from time to time. Lori Harder can help you earn your happiness with the help of her podcast. This podcast focuses on giving you the tools you need to take the right action in your life.
Lori is the host, but she also has guests like Jesse Chappus and Ted Ryce. This podcast will help you dig a little deeper in your personal development journey. Earn Your Happy with Lori Harder is one podcast you'll want to check out.
ABOUT THIS PODCAST: Get all the inside secrets and tools you need to help you bust through your fears, connect to your soul and get focused and clear so you can elevate your life, business and relationships…

Listen in as Lori Harder, founder of the Bliss Project, 3X time fitness world champion, fitness expert and cover model, turned self love junkie – lifestyle entrepreneur and author digs in shares the goods! Each episode is designed to give you the tools, ideas, and inspiration to take action in your life.
5. The Marie Forleo Podcast
Do you have time to work on yourself? If you want to work on your own personal development, then The Maria Forleo Podcast may be for you. This podcast focuses on so much good.
Her podcast is full of laughter and fun, but she also covers some very serious topics. She has several guests on her show that also help spread the same message.
ABOUT THIS PODCAST: Named by Oprah as a thought leader for the next generation and one of Inc.'s 500 fastest growing companies, Marie Forleo's goal is to help you become the person you most want to be.

In this show, Marie and her guests share actionable strategies for greater happiness, success, motivation, creativity, productivity, love, health, contribution and fulfillment — often with a lot of laughs.

From business, marketing and career advice, to tackling failure, disappointment and fear, to philanthropy and doing our part to make the world a more loving, just and equitable place — we cover it all. Get inspired, grow stronger, more confident and create a business and life you genuinely love. Have a question or topic you'd like to see covered on the show? Go to marieforleo.com/marietv.
6. Beyond the To-Do List
You are more than just your to-do list. You may be working on personal development, what does that look like? As you navigate through these times, you may be wondering how to get through it all.
Erik Fisher spends time interviewing various guests that can offer all sorts of insight. Your life isn't just your to-do list. This podcast can help you refresh your life and your soul.
If you're looking for a podcast, you may find that Beyond the To-Do List by Erik Fisher is just what you needed.
ABOUT THIS PODCAST: If you're often finding yourself overwhelmed by your to-do list, your obligations, and all the hats you wear in your career and at home, listen and learn as Host Erik FIsher talks with real people who implement practical productivity strategies in their professional and personal lives.

We explore all aspects of productivity, including getting the right work done, getting good work done, and the true end goal of productivity: living a meaningful life. Learn how to choose the right projects, tasks, and goals in work and life. You'll be refreshed and inspired after hearing how others fail and succeed at daily productivity and be inspired and instructed on how to move forward yourself.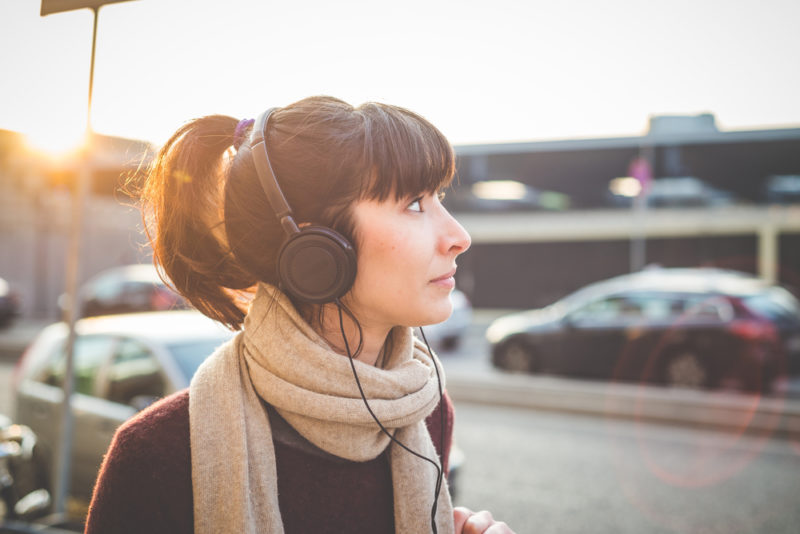 7. Self Improvement Daily
Working on ourself is a daily task. I love that this podcast by Brian Ford really helps you with personal growth and personal development.
You are the only one that can make the choice to work on you. Brian helps you navigate what this looks like. He helps to open your mind! He may introduce to you some ideas for personal growth that you've never thought about before.
Sometimes you need a little help in the self-improvement department and Self Improvement Daily by Brian Ford can help!
ABOUT THIS PODCAST: It's time for practical personal development! In just two minutes every day you can hear a new self-improvement tip that will help you get more out of your time, energy, and effort.
Hosted by TedX Speaker Brian Ford, inch closer to your potential by opening your mind to new opportunities for personal growth!
Give your first episode a try and see what we're talking about! Be sure to subscribe to jumpstart your pursuit for personal development.
8. Self Help for Life Podcast
It's amazing how much time, effort, and energy our brains take. At some point, you may need a podcast to help you work your way through your thinking.
If you are working through your own personal development, you may find the podcast Self Help for Life Podcast by Paul Thomas just what you're looking for.
He focuses on sharing tips for helping you master your life. He gives you tips that you may not have thought up on your own.
ABOUT THIS PODCAST: Paul Thomas from the Self Help for Life blog shares the best ideas, concepts, strategies and techniques to help you master your mindset, emotions, health, business, finances and spirituality.

This podcast contains Paul's top strategies and principles that he covers in depth on his blog and popular YouTube channel. Paul is a successful clinical hypnotherapist in Sydney Australia who loves to share what works for his clients and himself with the whole world!
9. RISE Together Podcast
What if you're not on a personal development journey by yourself? What if you have your partner involved in the process too? RISE Together Podcast is done by Rachel and Dave Hollis.
While they are focused on some relationship content, that is not all this podcast is about. Becoming your best self is a real part of this podcast. Only, you get to work with your partner on this journey.
If you're all about the personal development, but want to include your spouse, then this podcast may be what you've been looking for!
ABOUT THIS PODCAST: RISE Together is more than just a conversation about this relationship. Each episode is filled with tangible advice that will get you and your partner to be the best version of yourselves. Hosted by New York Times Bestselling Author and Hollis Co CCO Rachel Hollis and Hollis Co CEO Dave Hollis.
10. No More Excuses: Monday Motivation
What if Mondays are your hardest days? What if you're looking to start your week off with more success? Well, with No More Excuses: Monday Motivation Podcast with Sandi Ballard, you can get there.
This podcast is focused on helping you do something with your future self. Hey, some of us need a little bit of help when it comes to getting motivated in the area of personal development.
ABOUT THIS PODCAST: Welcome to my weekly Monday Motivation podcasts – NO MORE EXCUSES!! Each week I will have a new topic to discuss. I call it "Monday Motivation with an edge!" Listen in and learn ways to STOP with the excuses and live life to its fullest! If you're ready to GET OFF YOUR ASS and do something your future self with thank you for… then these podcasts are FOR YOU!
11. Practicing Human Podcast
If you're like most people, you get caught up in the daily grind. Life gets mundane and dull and you don't know where to turn. If you desire to focus on self-improvement, then you may understand how powerful this podcast is.
The Practicing Human Podcast by Cory Muscara is focused on helping you be the best you! He has tons of experience in self-improvement and personal development. This podcast seems like it could offer a lot to those who are willing to listen.
ABOUT THIS PODCAST: Practicing Human is a daily podcast, hosted by Cory Muscara, offering insights and practices into how to live a fulfilling life. Cory pulls on his time living as a Buddhist monk in Burma, his many years as a mindfulness and meditation teacher, and his work in Positive Psychology at the University of Pennsylvania.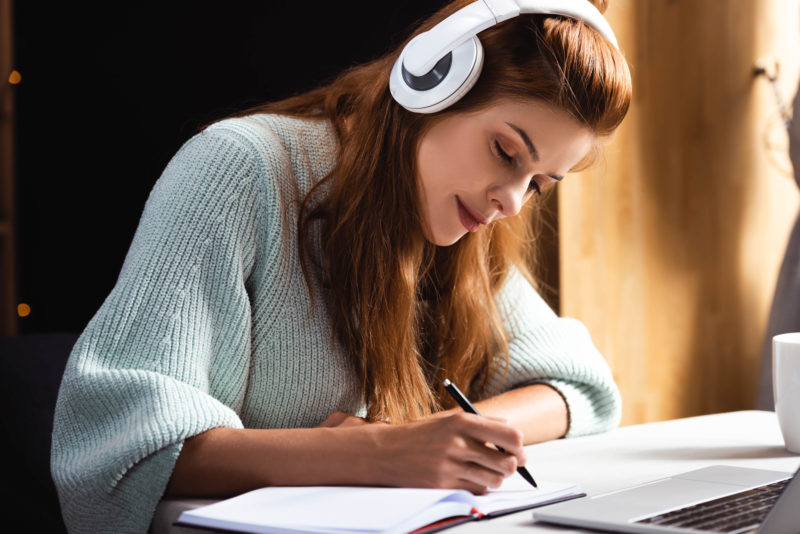 12. Style Your Mind
If you're a career-driven woman and want to focus on personal development, this podcast may be for you. Style Your Mind is a podcast by Cara Alwill.
Sometimes you just need the expertise of someone who has been there before. Cara has been there. She is a powerful speaker and has a lot to offer someone who is trying to better themselves.
ABOUT THIS PODCAST: Style Your Mind is a podcast for success-driven women who want to design their thoughts, empower themselves, and build a beautiful life and career.

Hosted by bestselling personal development author and entrepreneur Cara Alwill Leyba, this show is for every woman on the edge of change who is ready to reinvent herself, elevate her thinking, and transform her life. Join Cara each week for powerful conversations, uplifting interviews, and a mega dose of inspiration.
13. Expect Success Podcast
George Balek is the host of the podcast Expect Success. He is focused on providing inspirational content that can help you in your road of personal development.
I love that he has had so many awesome speakers on his podcast. This is one show worth listening to if you're focused on your self-development.
ABOUT THIS PODCAST: Don't just expect success… prepare for it. Expect Success – is an inspirational, motivational and educational podcast featuring some of the most prominent personal development leaders in the world.

Each episode features an inspiring motivational self-help audio clip to help you develop your mind and live out your true passion. Featured speakers include Art Williams, Darren Hardy, Tony Robbins, Will Smith, Bob Proctor, Les Brown, Jim Rohn, Steve Harvey and more. Hosted by entrepreneur George Balek.
14. Achieve Your Goals
Although some people make achieving your goals look easy, it's not that simple for everyone. Hal Elrod's podcast helps give advice to help people like you and me.
We may not know in a straightforward manner how to achieve our goals and dreams, but his podcast can help! Achieve Your Goals podcast has a lot of practical advice that you can apply to your personal development journey.
ABOUT THIS PODCAST: Achieve Your Goals with Hal Elrod is a weekly podcast dedicated to empowering and equipping you with practical advice and strategies to achieve your goals and dreams.
15. The Zigler Show
When you are on the personal development path, sometimes you need a mentor of sorts. Zig Ziglar had quite an outlook on personal growth.
The Ziglar Show is focused on helping you with personal growth in your own life. Listening to this podcast by Kevin Miller is one way to get on the straight and narrow path of self-improvement.
ABOUT THIS PODCAST: Ziglar Show Host Kevin Miller has one quest, to help you actually apply the most innovative and timeless principles of personal growth to your life. Success principles are a dime-a-dozen. The glory is in getting ourselves to take action and make the positive changes we desire, so we can get the positive results we want.

Kevin is a lifetime personal development expert, former pro athlete, and leaders such as Michael Hyatt cite him as a master in getting to the root of their messages. Here we continue the legacy of renowned author, speaker and, humanitarian, Zig Ziglar, to inspire YOUR true performance!
Additional Personal Development Podcasts
How to Listen to Podcasts
Some of you may be wondering how anyone can find the time to even listen to a podcast. I wanted to share some of my tips because podcasts can truly be an awesome resource. Here is how to find time to listen to podcasts.
Listen in the car
One of the best times to listen to a podcast is in the car. If you have a long commute or just have the time during your drive, then listen to podcasts in the car.
While you do chores
If you are doing chores, why not listen to a podcast? Podcasts can be life-changing, so finding the time to listen to them is important. I have listened to so many podcasts as I do chores around the house.
Get up early or stay up late
I know the thought of getting up early or staying up late can be nerve-racking. However, it's smart! If you struggling to be able to listen to podcasts when the rest of your family is awake, this is a good move.
Personal development isn't something that happens overnight. It's going to take time and sacrifice. What are you doing to work towards your own personal development? Which one of these personal development podcasts is your favorite?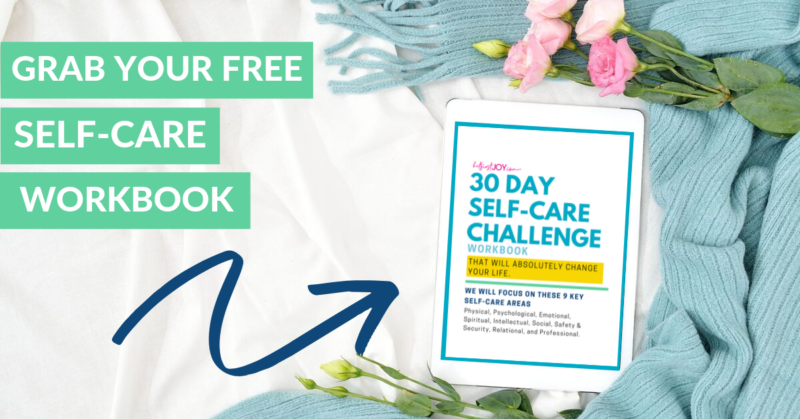 DISCLOSURE
This post may contain affiliate links and/or promotional products, all opinions expressed are that of But First, Joy only. Read my full disclosure.