This year, I wanted to focus on the modern mom for Mother's Day. I've gathered a list of 20 Gifts for the Modern Mom that you'll probably want yourself. Shop for mom, shop for your girlfriends, and don't forget to pick up a little something for yourself. Thanks to The Hopping Bloggers for sponsoring this 2017 Mother's Day Gift Guide.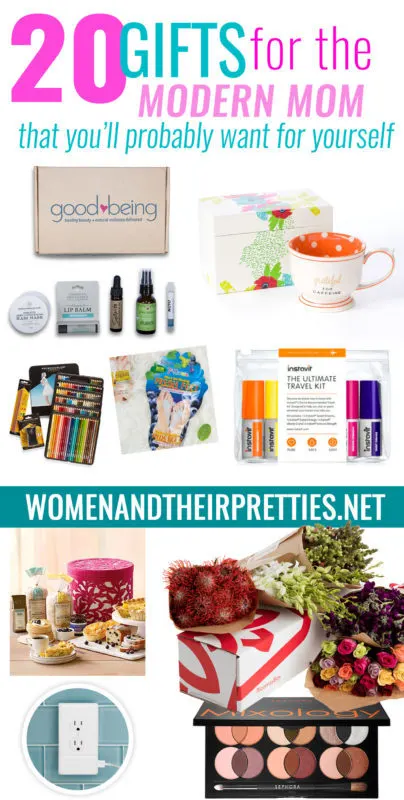 Are you a modern mom? Do you define yourself as tech-savvy, trendy, and stylish? You could even be looking for a few things to help you, your mother, your wife, or best friend become more of a "modern mom". I've got your covered, ladies! I've gathered my top 20 gifts for modern moms and I promise, she/you will not be disappointed!
20 Gifts for the Modern Mom
1. Fitbit Flex 2
The Fitbit Flex 2 is a little piece of modern technology that every mom should already own. Mamas are always on their feet, so they deserve a little recognition for all the activity they do. The Fitbit Flex 2 not only allows mom to track her fitness, activity, and sleep, but it's quite the fashion accessory. You can remove the tracking device from the regular Fitbit band and add it to one of the many Fitbit Flex 2 accessories: the bangle, necklace, and even a clip. This would be a beautiful gift for mom. I have to recommend the beautiful rose gold bangle.
Get the Fitbit Flex 2 on Amazon and pick up these accessories: bangle | necklace | clip
Visit Fitbit.com for more information.
2. Goodbeing Beauty Subscription Box
Goodbeing (formerly goodebox) is a premium discovery & trial service providing expertly curated, healthy beauty products, non-toxic cosmetics, natural wellness & sustainable, toxin-free living goods. Each box is customized for each customer! Simply fill out the profile to tailor towards the mother you are gifting this to, and they will receive a box filled with 4-5 products to try out! Any mother will love this box because they will be able to pamper themselves (which we all know is a must for moms!) with the items included.
3. Mama Bear Tote
Give mama bear something stylish and trendy this year. Gold is totally in and the shimmery gold straps on this tote are everything that can turn an average mama into a fashionable, modern mama. This canvas bag has a shape that's essential for mama to use it as her go-to handbag, reusable shopping bag, or even her carry-on. I'm not a mama bear, but I'd rock this beauty (if it wouldn't make me feel like a poser). This is a great gift alone, but also a great way to package your Mother's Day gift. Put all of her goodies in there instead of a gift bag. Ba-da-bing, ba-da-boom!
Pick up this Mama Bear Tote on Papyrus.com
3. Bead For Life jewelry

This Mother's Day give back while giving the gift of beautiful jewelry to the mom in your life. Bead for Life helps women find their spark. They provide business training and support so that women in Uganda who live in poverty can rise and become entrepreneurs. Your purchase helps ignite potential. When you wear BeadforLife paper bead jewelry, you'll feel good knowing that you're doing good! This affordable beaded jewelry is handcrafted by Ugandan women working to lift their families out of poverty. When you buy from BeadforLife, women are empowered to change their lives! Choose from a colorful selection of beaded necklaces, bracelets and earrings – all fair trade products that are handmade in Uganda.
4. Mom Confession Magnet Pin Set
Adorn your fridge or board with this set of magnets that feature hilarious confessions that most moms are sure to relate to. I don't know a single mom that can't relate to these. Give her a little something to make her giggle this Mother's Day!
Grab this magnet pin set on Papyrus.com

5. Garcinia Cambogia
Every mom wants to get her old figure back. Maybe she wants that 20 year old body back or maybe she just wants to lose a few pounds to enhance those mommy curves. We all know it isn't easy! Give Mom a little push this year with Garcinia Cambogia, a clinically tested, 100% pure and natural weight loss supplement. Help Mom curb that appetite and reduce hunger this Mothers Day. She'll thank you later. Combine this with a few healthy snacks, her favorite magazine subscription, and some fitness gear to get Mom back to the body she's confident in!
Purchase at GarciniaLab.com / Coupon Code: MothersDay for 12% off your order (valid through May 20)
6. Grateful for Caffeine Mug
Every mom is grateful for caffeine. Let's be real. Without caffeine the days would be unbearable. Get cozy with your favorite hot beverage with this lovely handmade mug. Gold foil lettering and an orange polka-dot interior add a vibrant touch that will make it a household favorite.
Grab this Grateful for Caffeine Mug on Papyrus.com
7. Wellness Tribe
Every mother needs to take care of herself sometimes, which can be sometimes be difficult. With Wellness Tribe, you can provide the mom in your life with everything she needs to do it. Wellness Tribe is the one subscription box for everything wellness. Each month receive 5-8 hand picked products from the best natural, non-GMO, organic, eco-friendly brands. Every box is designed to promote vitality and is your loving reminder to make time for self care. You can expect everything from green beauty essentials, to superfoods, and healthy lifestyle. No B.S. just the goodness from Mother Earth!
Purchase at WellnessTribe.com
/
COUPON:

MOTHERSDAY9
for a
bonus gift
with your purchase!
8. Sephora Collection Brush Set
Every mommy needs a little something to help her feel sexy. Whether she's a mom of a toddler, teenager, or adult, it's still important to dedicate to time for herself. Every woman should feel beautiful and this low-cost, high-quality brush set will do the trick. These brushes feature super soft synthetic bristles for a perfect blend and adjustable coverage with any formula, wet or dry. This is a six-piece brush set with bristles infused with charcoal powder, which has antimicrobial properties to keep brushes fresher for longer.
Purchase on this Sephora Collection Brush Set on Sephora.com
9. BloomsyBox
Who doesn't love to brighten their home with fresh flowers? With Bloomsy Box, mom will get fresh flowers delivered right to her door every month. With BloomsyBox you get no mixed bouquets with unnecessary extras – they only deals in "single-variety"- hand-tied bunches. The flowers are sourced direct from suppliers in South America, Holland, Thailand and California meaning no middle-man mark-up to increase the price. Skip a month or cancel at any time – with no hassle! Mom will feel special each time a new bouquet arrives!
Purchase at BloomsyBox.com
10. SleepPhones
Every mother deserves rest, relaxation, and "me time". You'd be surprised at what a little rest and relaxation can do for a woman. You can give Mom exactly what she needs this Mothers Day with SleepPhones. Not only does this headband have built in speakers, it's cute and comfortable. Mom can listen to her favorite music or even an audio book by simply connecting her SleepPhones headband to her favorite device with Bluetooth. Whether you're shopping for yourself, your wife, your mother, or your best friend, she'll love her SleepPhones – especially when paired with a good book, nice candle, and soft robe.
11. SnapPower Charge
The SnapPower Charger (starting at $20) allows you to easily convert your outlet coverplate into an attractive USB charger. It requires no wires or batteries and leaves all outlets free for use. Busy moms can easily charge their phones while multi-tasking (working from home, curling her hair, or cooking).

12. Mommy Mailbox Subscription Box
Each month Mommy Mailbox sends out a box full of stylish gifts meant to pamper women of all ages. Moms deserve a reward for all they do, and Mommy Mailbox is the perfect gift to remind her how much you care. Boxes include beauty products, gourmet treats, stylish jewelry and accessories, home decor, fitness, stationery and more. A treat for mom that she will look forward to every month.
Purchase at MommyMailbox.com
COUPON: Use the code GIFT10 for 10% off any subscription for life or LC15 for 15% off any Limited Collection box!
13. Prismacolor Premier® Colored Pencils
Sometimes relaxing means embracing a creative side that you don't always get to enjoy. Moms like to color, too. Why not grab mom an adult coloring book and some puzzle books to go along with these colored pencils? Relaxation and meditation means something different to every woman. Give mom a new creative outlet that she'd never buy for herself. You know, because her kids always come first.
Grab this colored pencil set on Amazon.com
14. 7th Heaven Foot Spa products
Treat her feet! While we tend to give our faces all the love, the skin on our toes, soles and heels deserve attention too. Three new specialty foot treatments from the UK's 7th Heaven do the trick with pampering botanical ingredients and luscious scents, leaving feet relaxed,refreshed and smelling sweet. "Duo" sachets (Foot Soak/Foot Lotion and Foot Pumice/FootButter) offer a two-step at-home treatment, with products housed in separate compartments,while Fresh Feet is a quick one-step solution for pristine, odor-free feet. Mom's sore and tired feet will be happier than ever before!
Sold in mass market and grocery outlets throughout the US including Walmart and Ulta Beauty.
15. Datebox
Datebox
is a subscription box service that delivers unique dates to your door every month. They have AMAZING dates ranging from cake pop making, sushi making, and indoor camping night. This is perfect for the busy mom who still wants to get some quality time with her hubby. They also include some quick words on relationship building and quality time. This is a great gift from a husband to his wife or from a child that realizes his mom deserves to have some fun too.
16. Instavit
Does your mom, friend, or wife need a little boost in the morning? Does she need a little push to get to sleep at night? If there's a healthy alternative then you should always take it. Sleeping pills and coffee aren't always healthy, so give her an alternative that will give her exactly what she needs. Instavit sprays are perfect to give mom a vitamin-packed boost of B12 in the morning and a spray of melatonin at night. With delicious scents and an easy-to-carry spray bottle, every mom would find these useful! These are great for Moms with kids (Instavit for Kids) or Mom's on the go to stay healthy! No better gift for your mom than the gift of health!
Grab these Instavit sprays on Amazon.com
17. Wolferman's Mother's Day Brunch Box Gift
This year, send your love and gratitude to Mom with a delicious gift filled with sweet and savory bakery creations. We start with a full-sized triple cheese and caramelized onion quiche, two varieties of thick signature English muffins, and tangy blueberry preserves. To complete this tasty Mother's Day brunch, we've included a delightfully sweet lemon vanilla blueberry loaf cake and robust Tiffin coffee.
Order this on 1800flowers.com
18. Sephora Mixology Eyeshadow Palette
If she thinks she knows "nothing" about makeup then this is for her. Even if she's a makeup guru, this palette is for her. The palette contains a a ton of gorgeous colors that are perfect to combine together. Create the perfect smokey eye, go with a natural look, or even make those eyes POP. Give the modern mom a palette she will use every single day. A palette including six color combinations to mix, match, and create a customized look, plus a dual-ended eyeshadow brush.
Pick it up on Sephora.com
19. Massage Heights
What is Mother's day all about? It's about celebrating the moms that have made our lives easier to live. They have cooked, cleaned, and supported us in ways that have made life a lot more relaxing. It's time to get that gift back to mom by giving her a day that she will remember forever – a day at the spa! At Massage Heights, moms can enjoy different types of massages and facials to suit all of her comfort needs. Give mom a day to herself or a mommy/daughter day. Maybe you're shopping for your bff? A girl's day out is exactly what she needs! Make mom an appointment at a Massage Heights in her area or even better, pick up a gift card online!
Locations: 145+ locations in the U.S. and Canada
About the Mothers Day promotion:
The massage deal ranges from $99-$114, and facials from $114-$129 depending on region.
90-minute massage with three complimentary therapy-enhancing elevations: hot stone therapy, a revitalizing face massage and reviving foot scrub
90-minute facial with three complimentary facial elevations designed to purify, refine and enrich your skin using award-winning Dermalogica skin products.
Visit MassageHeights.com to give mom the perfect Mother's Day!
20. Toddy Gear's Stylish Tech Accessories
Toddy Gear's fashionable and functional tech accessories are the perfect complement to our busy, tech-driven lives. This Mother's Day, give her a gift that she'll love (and use) all year round with tech accessories that are as sophisticated and creative as their owner and the gadgets they love. Available in dozens of hand-picked prints, find the product that offers her the quality she expects in designs she'll adore for the convenience she needs, wherever life takes her.
Start Shopping for Mom on ToddyGear.com
One More Thing…
I just couldn't leave this gorgeous pair of shoes out of this guide! Mainly because I want someone to buy them for me. Size 6, please. Hey! I'm a cat mom. That counts right?
Velvet Chunky Heels (Zaful)
These heels are great for women that want to look sexy, but feel comfortable. Chunky heels are the latest trend and every woman can walk in them. The chunky heel gives balance and the minimal straps gives comfort. Throw in the velvet and you have one sexy pair of heels that look really expensive. You can get free shipping on all orders over $30, but if you order from 5/12 – 5/14 all shipping is free! Be sure to pick up a few more stylish accessories/fashion for mom while you're shopping! Purchase Chunky Heels Here
Promo Code: Momsales for: $3 off over $30, $5 off over $50, $7 off over $70
Visit Zaful.com to get mom a stylish gift for her special day! Be sure to shop the Mother's Day sales rack!