If you follow me on social media you know my love for cucumber water. It is delicious, refreshing, and good for you! I can't just drink one bottle of cucumber water. The only pain about cucumber water is actually making it. You need to take out a cutting board and knife, cut the darn cucumber, and shove it into the bottle or glass/cup. I don't recommend using a cup or glass without a lid because the cucumber will end up in your mouth. That isn't necessarily a BAD thing, but if you want your water to taste like cucumber, you need the darn cucumber to stay in the cup. Full Circle Home makes a Water Bottle that is perfect for cucumber water!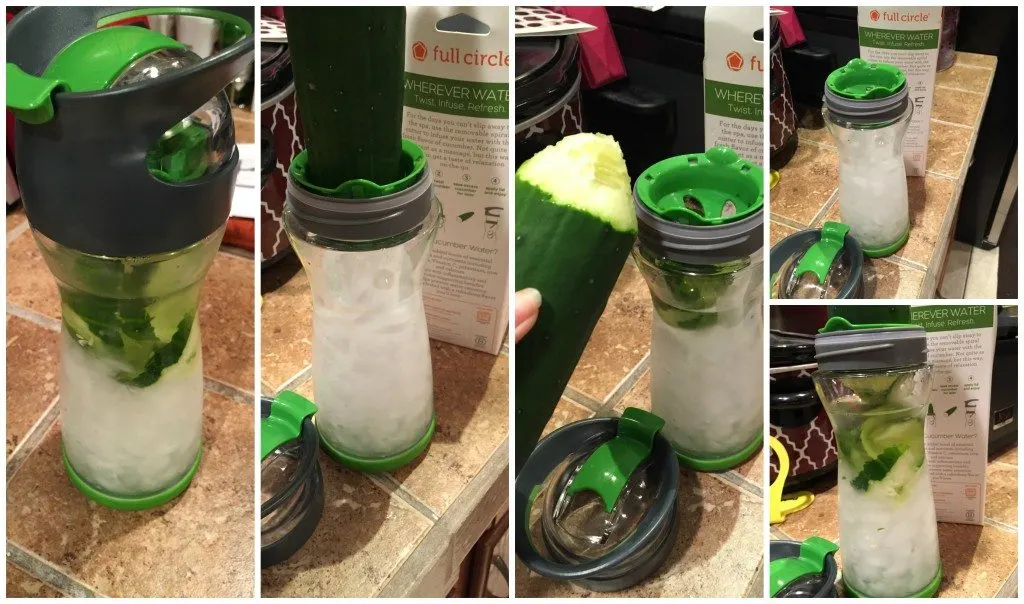 The Full Circle Home Wherever Water Cucumber Bottle is a 20 oz. glass water bottle that is designed specifically for making cucumber water quickly! You can immediately tell that this water bottle is incredibly quality and made thoughtfully. The thick glass on top of the silicone base is a great design technique because it keeps the table from getting wet. It also balances out the heavy glass to keep it steady on the table. What really sets this bottle apart from others is the removable cucumber cutter that fits right into the top of the bottle. It's so simple to use. Just fill your bottle with water (and ice if you choose), fit the cucumber cutter into the top, then twist your cucumber into the cutter, slicing off as much cucumber as you choose. The sliced cucumber falls right into the water. Just twist on your lid and you are ready to enjoy your healthy drink! You can leave the cucumber cutter in the bottle to keep the seeds and cucumber from coming out of the top. I definitely recommend the Full Circle Home Wherever Water Cucumber Bottle to anyone. It's great for health conscious people, as well as anyone who enjoys a well made bottle!
Tip: Squeeze lemon or lime into cucumber cutter to add a twist to your drink. The cucumber cutter will protect seeds from falling into your drink! If you prefer a lemon or lime drink, check out their Wherever Water Lemon Bottle. It comes in a variety of pretty colors!
Click here to see where you can buy Full Circle products!