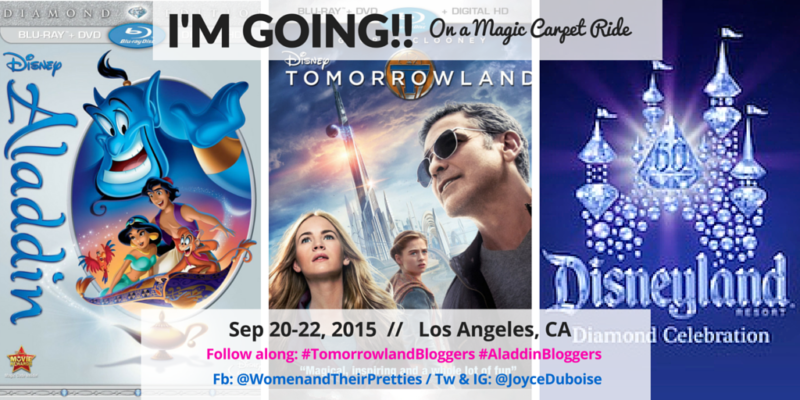 That's right, my pretties. I am going on a magic carpet ride to good ole' California! Well, it's a plane but it's still a magical trip for me. This will be my very first visit to California and honestly, it's a dream come true. I can check a few things off my bucket list because I am not only going to LA, I am going to Disneyland! I will be attending the Tomorrowland, Aladdin, and Disney Movies Anywhere Press Event! I will be there from September 20th until September 22nd. The entire time I will be posting about my experience all over social media. You can expect for me to be tweeting my life away during all of our fun adventures because I want to bring you pretties right along with me. Make sure you follow the hashtags #TomorrowlandBloggers and #AladdinBloggers to see what's happening.
So, what's this trip all about? Well, it's for the dreamers. It's for the lovers. It's for the Disney dolls like myself. The event will take place at the headquarters for Dreamers everywhere, Disneyland Park & Walt Disney Studios!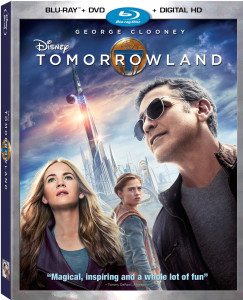 Follow the #TomorrowlandBloggers for updates on this part of the event!
Follow @JoyceDuboise on Twitter and Instagram
I am sure that you've heard all about Tomorrowland by now. I am assuming that you're a part of the cool crowd and you've seen it. If you haven't, don't worry too much because you can blast off with this family adventure by watching on the Blu-ray combo pack, Digital HD, and Disney Movies Anywhere (DMA). All of these options will be available on October 13th, 2015.
I am super excited because on my trip I will be meeting with and learning more from the great minds behind this epic film! The group of Disney Dreamers that I am meeting with includes filmmakers, talent, imagineers, and even an award winning chef! In fact, I will enjoying a lunch hosted by this chef. There's quite a lineup for the Tomorrowland talent and I am stoked to meet them. I could have never imagined a day when I would be taking a peek at the brilliant minds behind Disney name! I wont tell you everyone that I am meeting (don't wanna ruin the surprise) but just know that we will be meeting some pretty awesome people!
Synopsis
Dreamers Wanted…Disney invites you to an incredible world of epic imagination where anything is possible. Buckle your seat belt, as the director of The Incredibles takes your family on an action-packed thrill ride.
Join former boy genius Frank (George Clooney), optimistic, science-minded teen Casey (Britt Robertson), mysterious Athena (Raffey Cassidy) and the brilliant David Nix (Hugh Laurie) in a world of pure Disney imagination. Tomorrowland transports you on an inspiring and magical journey of wonder and adventure to a place where if you can dream it, you can do it.
Cast
George Clooney as Frank Walker ("Gravity," "Up in the Air"), Britt Robertson as Casey Newton ("The First Time," "The Longest Ride"), Raffey Cassidy as Athena ("Snow White and the Huntsman," "Dark Shadows"), Hugh Laurie as Nix ("Monsters vs. Aliens," TV's "House M.D."), Tim McGraw as Eddie Newton ("The Blind Side")
Connect with Tomorrowland on Social Media: Facebook / Google+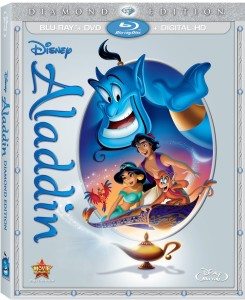 Follow the #AladdinBloggers for updates on this part of the event!
Follow @JoyceDuboise on Twitter and Instagram
Oh it's such classic! I cannot wait to learn every little detail that I possibly can about the making of Aladdin. I just have to say RIP to the great Robin Williams who played The Genie is this childhood classic. I wish I could have met his hilarious self, but it will be a pleasure meeting the Aladdin Genie Animator, Eric Goldberg. I can't help but wonder what he thought of Robin Williams playing The Genie and if he (Robin) brought the character to life more than he every imagined. We will be meeting Mr. Goldberg on the Disney lot! How many people can say that they had this experience? I am so grateful, excited, and just of my mind about this! It's surreal really!
Want to relive the love for Aladdin? You can relive this animated comedy with the Aladdin: The Diamond Edition which will be released on Digital HD and Disney Movies Anywhere (DMA) on September 29th and on Blu-ray Combo Pack – October 13th.
Synopsis:
Climb aboard for a magical carpet ride with nonstop laughs, action-packed adventure and Academy Award®–winning music that will make your heart soar (1992: Best Music, Original Song, "A Whole New World," Original Score). Now for the first time ever, a whole new world of Walt Disney Animation Studios' Aladdin is revealed in a whole new way on Blu-ray and Digital HD—with never-before-seen bonus!
With the help of a hysterically funny, shape-shifting, 10,000-year-old Genie, street-smart commoner Aladdin and clever, confident Princess Jasmine join forces against the evil sorcerer Jafar to put an end to his plans to take over the kingdom!
Voice Cast
Robin Williams (Jumanji, Night at the Museum) as The Genie, Scott Weinger (TV's "Full House") as Aladdin, Linda Larkin as Jasmine, Gilbert Gottfried (TV's "Saturday Night Live") as Iago, Jonathan Freeman (Aladdin: the Musical on Broadway) as Jafar, Douglas Seale (Rescuers Down Under, For Love or Money) as Sultan and Frank Welker (Mulan, The Smurfs 2) as Abu.
Connect with Aladdin on Social Media: Facebook / Twitter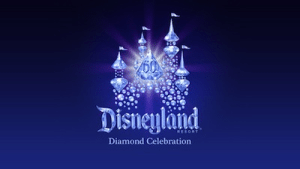 Download the DMA app here
Follow @JoyceDuboise on Twitter and Instagram
We will also be learning more about Disney Movies Anywhere (DMA) and apparently, they have some surprises in store for us, along with a special presentation! I will be giving you guys more information on this at a later time.
About DMA
Disney Movies Anywhere (DMA) is an engaging and family-friendly cloud-based digital movie service that makes it simple to buy your favorite Disney, Pixar and Marvel movies once and watch them anywhere. With DMA you can explore Disney's library of over 400 eligible digital movies, discover hours of new and exclusive short-form content, and watch your digital movies from the comfort of the living room or across multiple mobile devices. In addition, you can redeem Digital Copy codes found in Disney, Pixar and Marvel Blu-rays and DVDs, as well as earn Disney Movie Rewards points with every digital purchase. Sign up and access Disney Movies Anywhere for free on DisneyMoviesAnywhere.com and through the Disney Movies Anywhere iOS and Android apps. Users can then simply connect their iTunes, Google Play and/or VUDU at VUDU.com/DMA accounts to begin enjoying their Disney, Pixar, and Marvel digital movie collections across platforms and devices.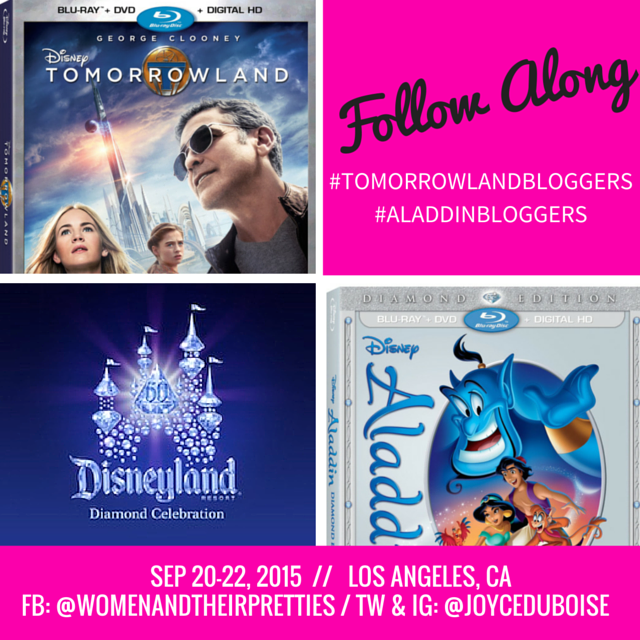 "All ourdreams can come true, if we have the courage to pursue them" -Walt Disney
I will be LIVE tweeting, graming, and facebooking for these three incredible days. I will also be posting more information on all of these on my blog. I hope that you all follow along and feel like you are a part of this fun adventure! Everything here is tentative and subject to change. Keep an eye out for some surprises and exclusive information!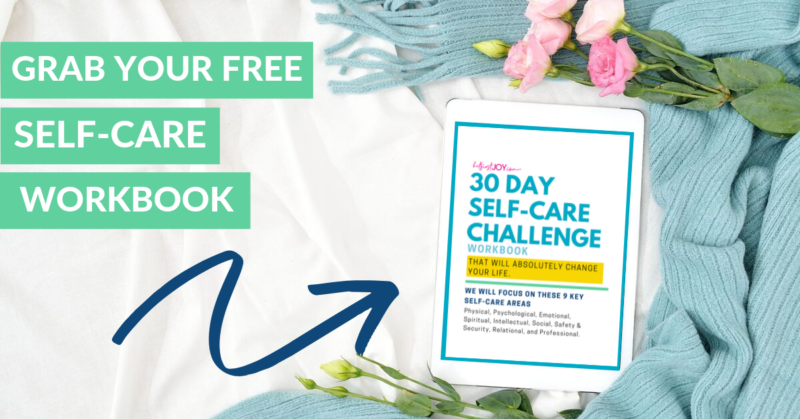 DISCLOSURE
As an Amazon Associate I earn from qualifying purchases. This post may contain affiliate links and/or promotional products, all opinions expressed are that of But First, Joy only. Read my full disclosure.