Inside Out is my favorite animated movies of 2015. I watched it in theaters before it released and I was just in love with it. If you haven't seen the movie or you'd like to learn more about it, read my full Inside Out review movie here. Inside Out is now available on DVD, Blu-ray, and Disney Movies Anywhere. If you've seen the movie, the chances are that you've already purchased the DVD because it's too incredible to pass up! If you are still considering purchasing it, I want to tell you all about the special features! The special features are what really make the Disney movie home releases so special.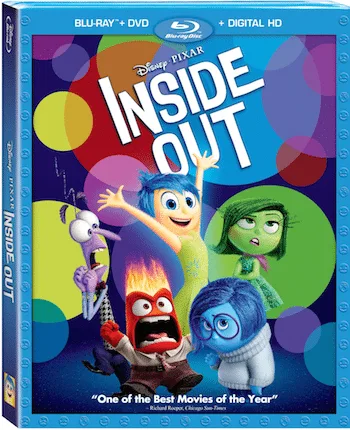 First, is the Lava short clip. Now, if you saw Inside Out in theaters, this clip was before the movie. I absolutely love it. It makes me cry every time I watch it. I can't help it. It just makes me emotional, which is incredibly fitting for the Inside Out movie.
So, an exclusive to this release is the "Riley's First Date?" Pixar short. Sweet Riley is going on her first date or is she? Take a look at this special clip to see how her parents emotions react to Riley hanging out with a boy for the first time. I just have to say that I love how hilarious Riley's mom is when she's trying to be cool and hip to get the "down low" on Riley's date. Also, don't you just love Jordan's emotions? Out of control!
Other bonus features include Paths to Pixar: The Women of Inside Out and Mixed Emotions. Also, in honor of the movie releasing, I have the "Behind The Scenes of Designing Sadness" bonus clip and "Behind The Scenes of Designing Disgust" bonus clips.
Finally, you can grab some of these awesome free Inside Out activities to enjoy at home with the kids!

Synopsis: Growing up can be a bumpy road, and it's no exception for Riley, who is uprooted from her Midwest life when her Father starts a new job in San Francisco. Like all of us, Riley is guided by her emotions – Joy (Amy Poehler), Fear (Bill Hader), Anger (Lewis Black), Disgust (Mindy Kaling) and Sadness (Phyllis Smith). The emotions live in Headquarters, the control center inside Riley's mind, where they help advise her through everyday life. As Riley and her emotions struggle to adjust to a new life in San Francisco, turmoil ensues in Headquarters. Although Joy, Riley's main and most important emotion, tries to keep things positive, the emotions conflict on how best to navigate a new city, house and school.
Buy it on Disney Movies Anywhere
Connect with Inside Out: Facebook / Twitter / Instagram
Learn More about Disney Movies Anywhere
Grab more Inside Out Activities Here
Read my full Inside Out movie review here