Are you looking for new ways to explore the city of Orlando? This visitor's guide includes the most interesting Orlando museums to visit for history and education.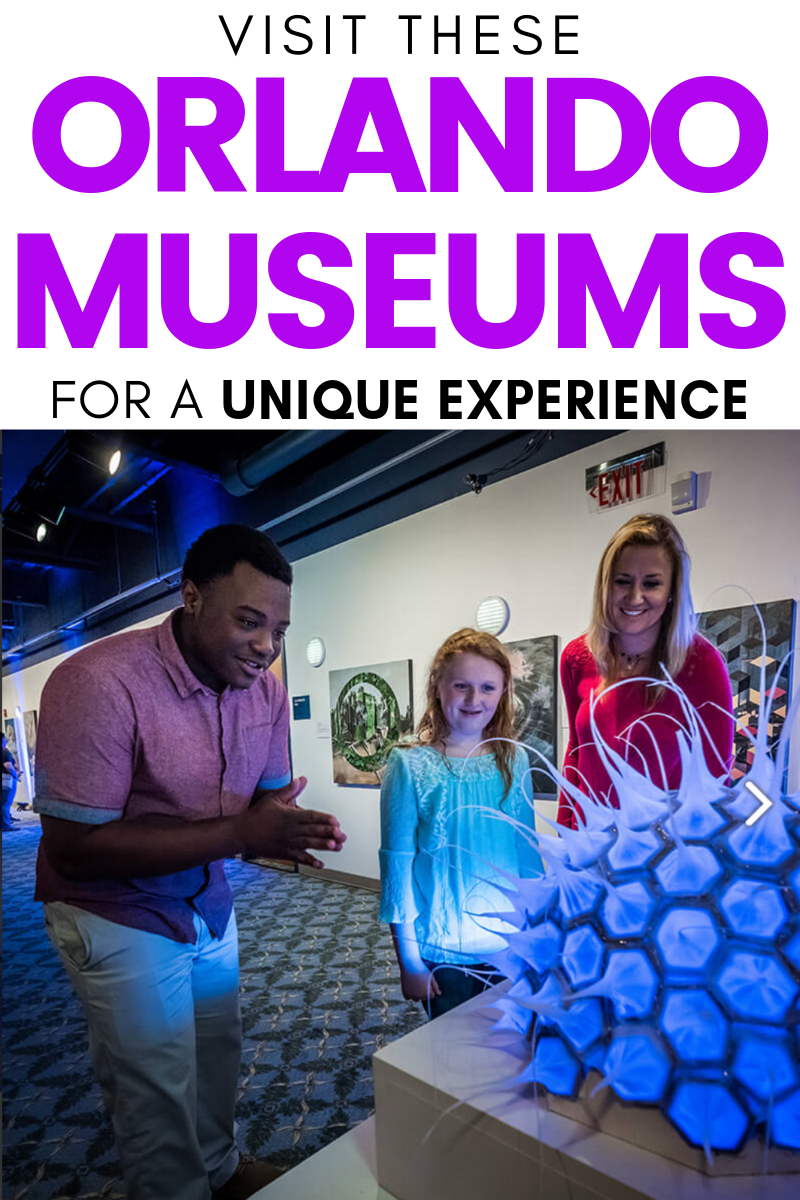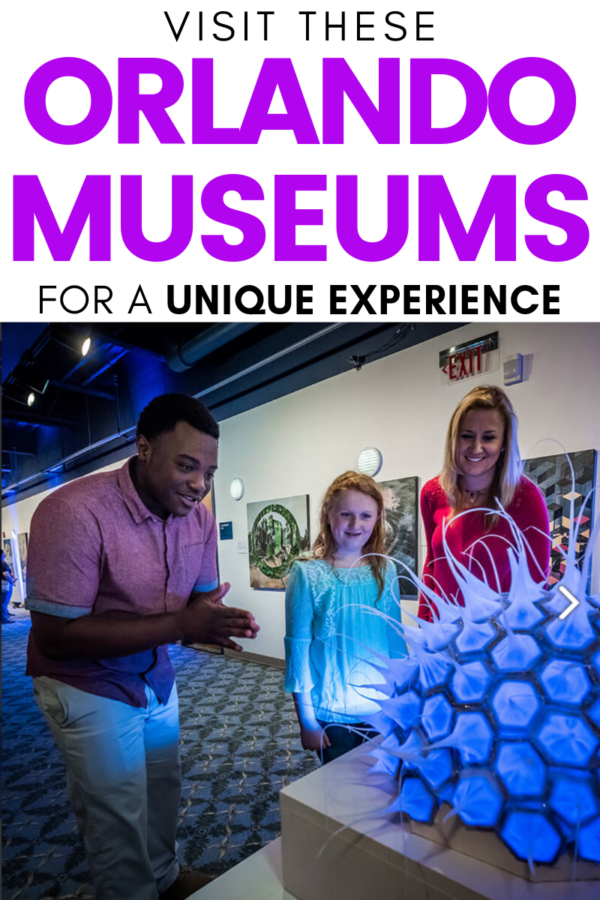 Orlando, Florida is a fantastic place to have fun with your family. There's even something fun for the toddlers to do in Orlando.
Best Orlando Museums to Visit
Are you worn out by the local theme parks in Orlando? Do you want to mix things ups a little? Then, I recommend visiting one of the many fascinating museums Orlando has to offer!
1. Orlando Science Center (OSC)
This is a wonderful place to take your children for hands-on fun away from the heat!
So, what makes this Orlando Science museum so interesting?
The entire environment inspires curiosity and the desire to explore, like looking through the huge "skywatch" telescope, or taking in a laser light show.
To add, the center has been in business for over fifty years. With several engaging and interactive exhibits, it's sure to delight everyone!
Location: 777 E. Princeton St. Orlando, Florida 32803
RELATED: 6 Fun Places to Take Children During a Heat Wave
2. SKELETONS: Museum of Osteology
Orlando's newest and quite possibly most unique museum is the SKELETONS: Museum of Osteology. You can find it right on International Drive in Orlando.
The museum features over 500 real skeletons making it the most creepy museum in this Florida city. Don't worry! Only animal skeletons are featured in this Science museum.
With over 40 exhibits, this could very well be an all-day experience.
3. Orlando Fire Museum
The Orlando Fire Museum is an actual fire station turned historical site. Basically, it's a must-see for visitors near and far.
The most interesting thing to see in this museum is the restored 1926 American LaFrance fire engine! Kids and enthusiasts can explore the old fire house and take part in the variety of events.
Location: 814 E. Rollins Street in Orlando, FL
4. Holocaust Center of Florida
A unique museum in Orlando, the Holocaust Center of Florida offers permanent and traveling exhibits for visitors.
This free Orlando museum tells the heart wrenching stories of the Holocaust. Specifically, visitors can expect local survivor stories, photos, video, audio, and so much more.
The most interesting thing in the Orlando Holocaust museum is the recorded testimony of survivors who settled in Central Florida. This is a great learning experience for all visitors.
Location: 851 N. Maitland Avenue, Maitland FL, 32751
5. The Wells' Built Museum of African American History & Culture
The Well's Built Museum in Orlando, FL was a hotel converted into a museum in an effort to honor African American History & Culture. This fascinating and historical Orlando museum offers visitors the opportunity to discover the history in a unique way.
By taking the "Parramore Historic Walking Tour", visitors can see the highlights of individuals who made an outstanding contribution to the area and community.
Additionally, visitors can embark on the "Cultural Tapestry Tour. This is a visual history lesson dating back to the 1500s during the Seminole wars.
Location: 511 West South Street Orlando, FL
6. Chocolate Museum and Cafe
The Chocolate Museum and Cafe offers guided tours for those interest in the history of the world's favorite treats.
Located on International Drive in Orlando,visitors can explore sculptures and learn the history of cacao. To end, they can visit the sweets cafe to indulge on coffees, baked goods, and more!
I mean, who wouldn't want more chocolate in their life? I know I would!
7. Orlando Auto Museum
The Orlando Auto Museum is currently being relocated from Miami to Orlando. Unfortunately, it doesn't have a specific open date yet.
However, the promise of the 007 James Bond car is enough to have my attention.
Location: 5232 International Dr, Orlando FL, 32819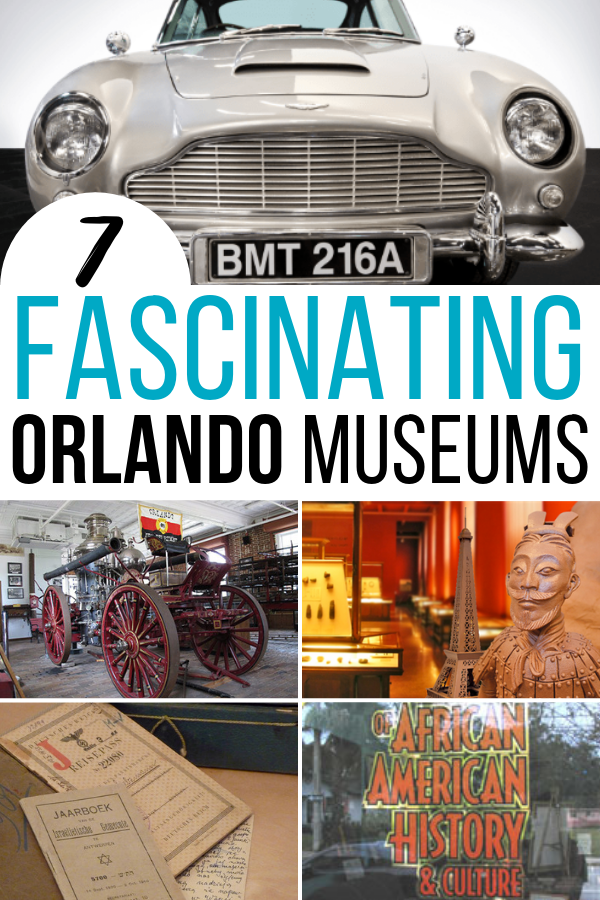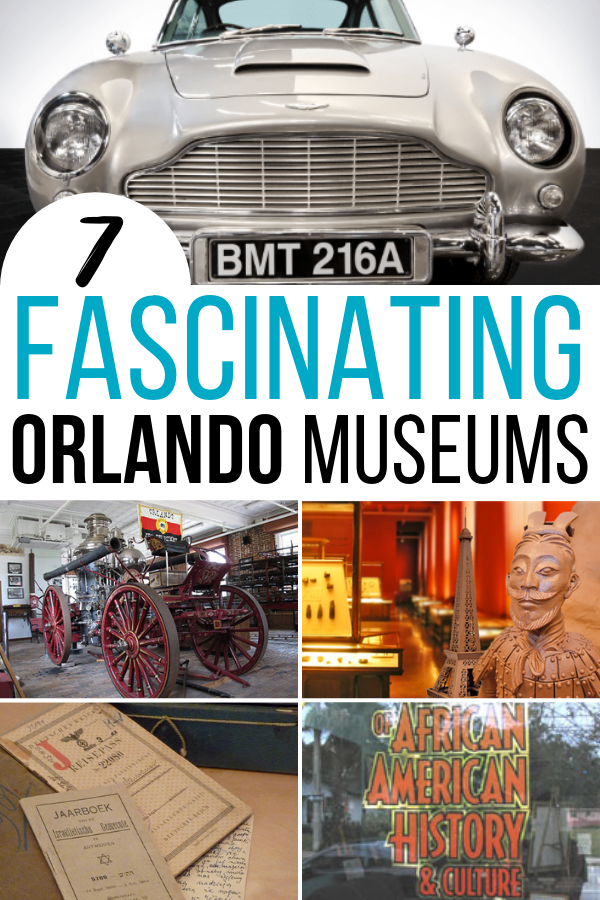 Orlando locals or tourists are sure to find something that peaks their interest in these unique museums. Be sure to plan your day wisely by checking the museum hours and dates.
To add, I want you to tell me your favorite museums to visit in Orlando, FL! Just comment below.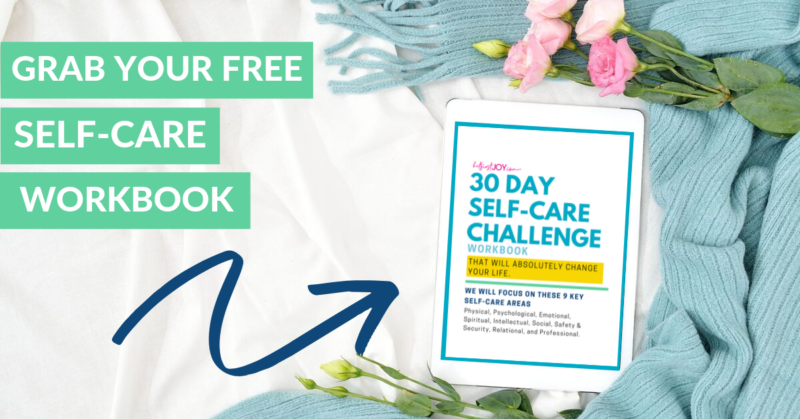 DISCLOSURE
As an Amazon Associate I earn from qualifying purchases. This post may contain affiliate links and/or promotional products, all opinions expressed are that of But First, Joy only. Read my full disclosure.