What have you had your eye on that you absolutely need for July? These are the top 10 pretty little July Must-Haves. I need them all in my life. Maybe you'll add these to your wish list too.
I am the biggest sucker for a trendy product. I'm the type of woman to stay up all night watching infomercials, only to wake up the next day with a few dollars to my name. There are a few little things that I feel like I need to try, like that damn strapless bra! You know which one I'm talking about. There are, as always, some beauty/fashion pieces that I also have my eye on. I hope you find a little something you like.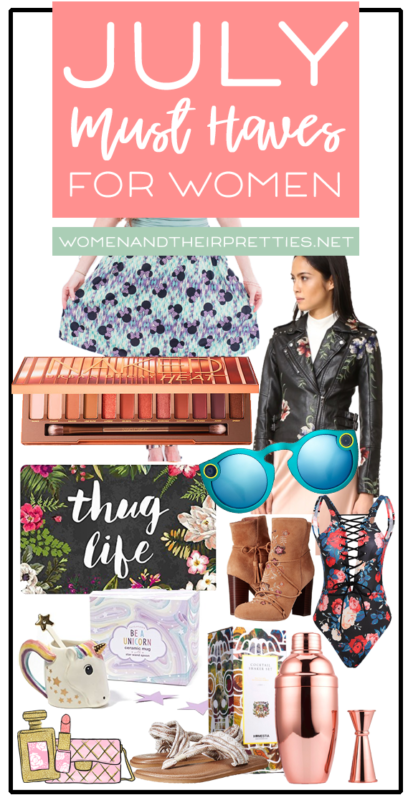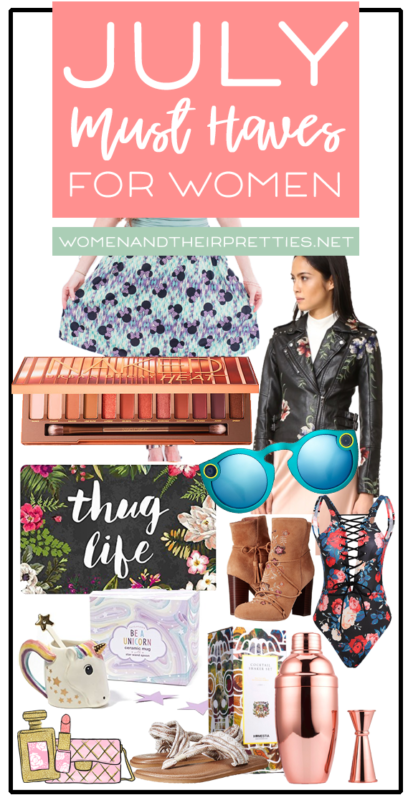 My July Must-Haves: All the Pretties for women
So, below are my favorite pretties that I had my eye on in June, which are now my July Must-Haves. Some of them were so darn pretty that I took the plunge and bought them. Others, are on my watch-list because I'll most likely just stare at them until they appear at my front door.
Urban Decay Heat Palette – I am obsessed with Urban Decay palettes and this new Heat palette is on FIRE! Every girl needs this in her life.
Disney LuLaRoe – I've been waiting for this day since the announcement was just a rumor! Disney LuLaRoe is finally here and it's glorious. At this point, I already own two LuLaRoe Disney Carly's and 1 pair of leggings.
Embroidered Moto Jacket – Embroidery is a fun little fashion trend right now and I'm all on board. This Black Denim Embroidered Jacket could glam up any outfit. Add some edge to a little black dress or finish off a casual concert look!
Sanuk Women's Slingback Sandals – I keep seeing these on women everywhere. I bought a cheap pair of slingback sandals and they are the most comfortable pair of sandals I've ever owned. Now, I wonder if the Sanuk brand would be worth the price!
Sam Edelman Women's Winnie Boot – I told you I love embroidery. These are so darling. I could totally see myself rocking these with a tight pair of jeans. I need them in my life.
Sexy One-Piece Swimsuit – It's Summer, friends! Sexy one pieces are all the rage, right along with criss-cross tops. I bought this one-piece as my first July purchase. Hopefully it fits!
Thug Life Floral Doormat – Don't judge me. This is hilarious and so pretty for summer. I need this in my life asap.
Unicorn Mug & Stirrer – Don't pretend that you haven't wished you were a unicorn at least once in your life. Rainbows and glitter – oh my!
SnapChat Spectacles – Capture life from your point-of-view. This is a dream piece of technology that would be worth using SnapChat again!
Rose Gold Cocktail Shaker Set – Drools. Rose Gold is life.
What are your July Must-Haves?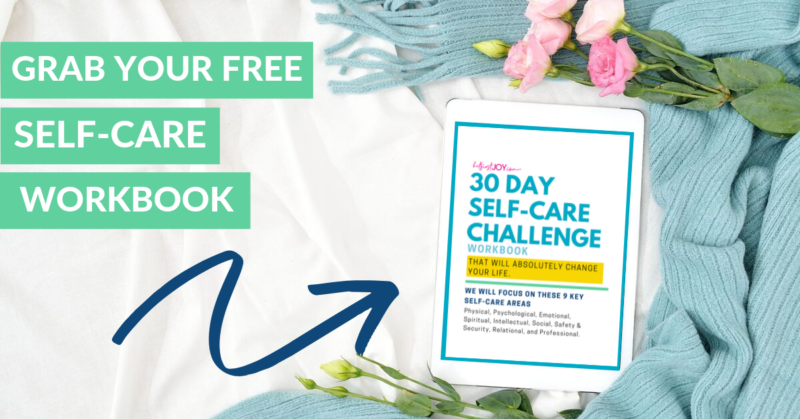 DISCLOSURE
This post may contain affiliate links and/or promotional products, all opinions expressed are that of But First, Joy only. Read my full disclosure.