Pumpkin Spice granola may not be entirely keto but it's definitely a great low-carb fall snack! With a variety of nuts and seeds, you'll want to snack on this all day long!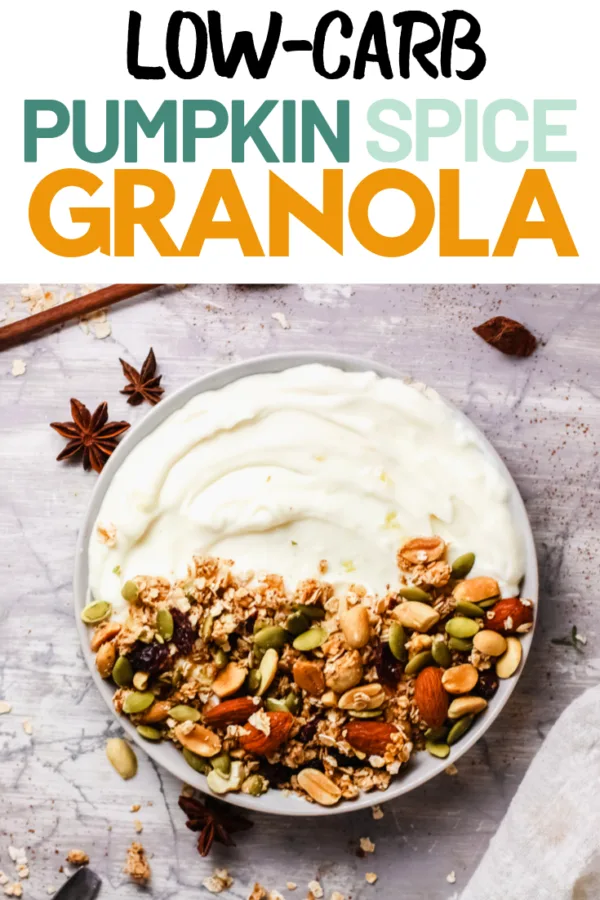 I wanted to come up with a pumpkin spice granola that would be easy to snack on without the guilt. As much as I brainstormed, I couldn't quite figure out how to turn this yummy treat into a keto one. Since oats just don't work on keto, I compromised by making it as low in carbs as possible.
If you are in need of a Keto fall dessert to satisfy your sweet tooth, these Pumpkin Spice Brownies are everything!
The nice thing is the holidays are a perfect time to cut yourself a little slack. So, fill up your favorite jar, toss this low-carb pumpkin spice granola into your purse, and go on a hay ride.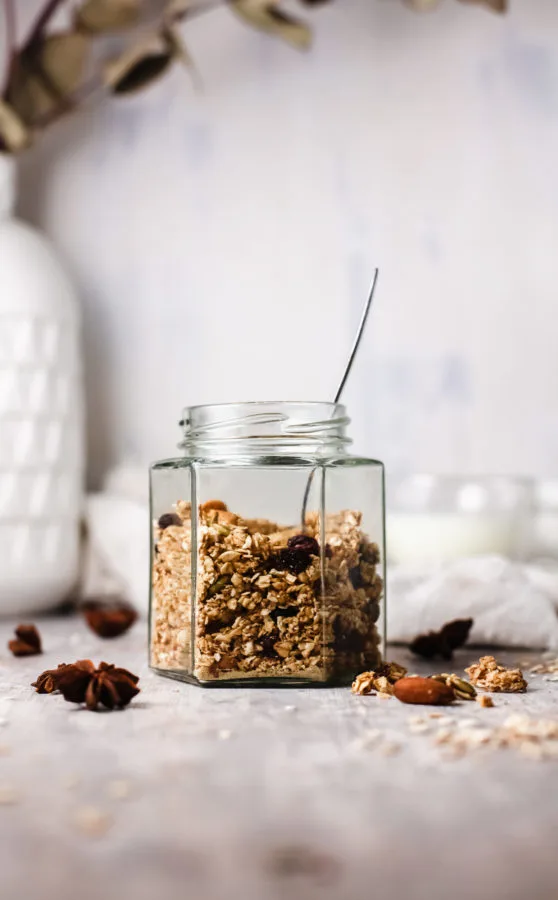 Or, sprinkle this granola on your morning smoothie bowl or in your Keto ice cream!
You may have noticed that I'm a bit pumpkin obsessed. From pumpkin spa nights, to pumpkin drinks and canned pumpkin recipes, it's a surprise I haven't turned orange already.
Even my toddler can be found munching on a pumpkin donut hole or Pumpkin Spice Cheerios. I mean, why not fully immerse yourself in the season? Ahh, I can smell that delicious spice calling my name!
Low-Carb Pumpkin Spice Granola
This low-carb granola can be Keto depending on your daily carb intake. However, I wouldn't exactly call it Keto.
This recipe is for a single serving so it's easy to double, triple, or just make as much as you want or need to use.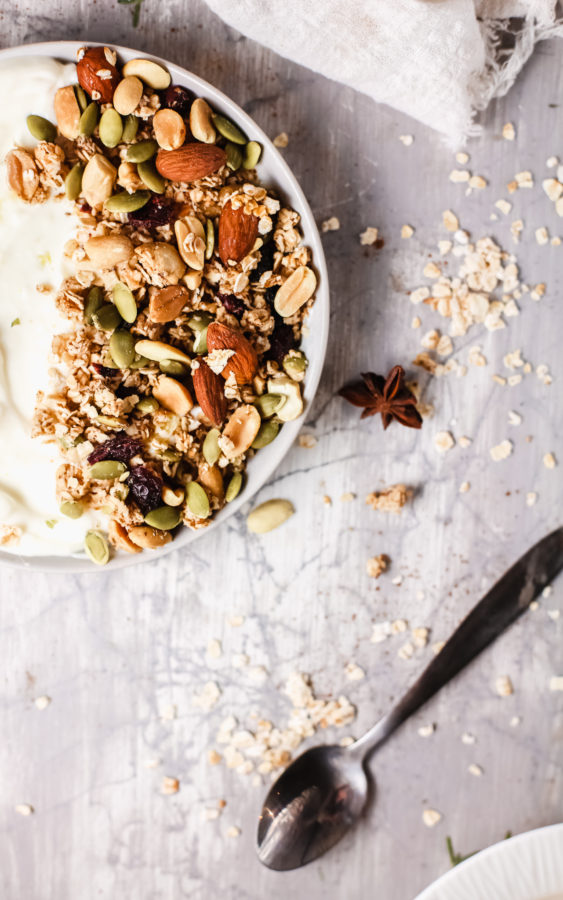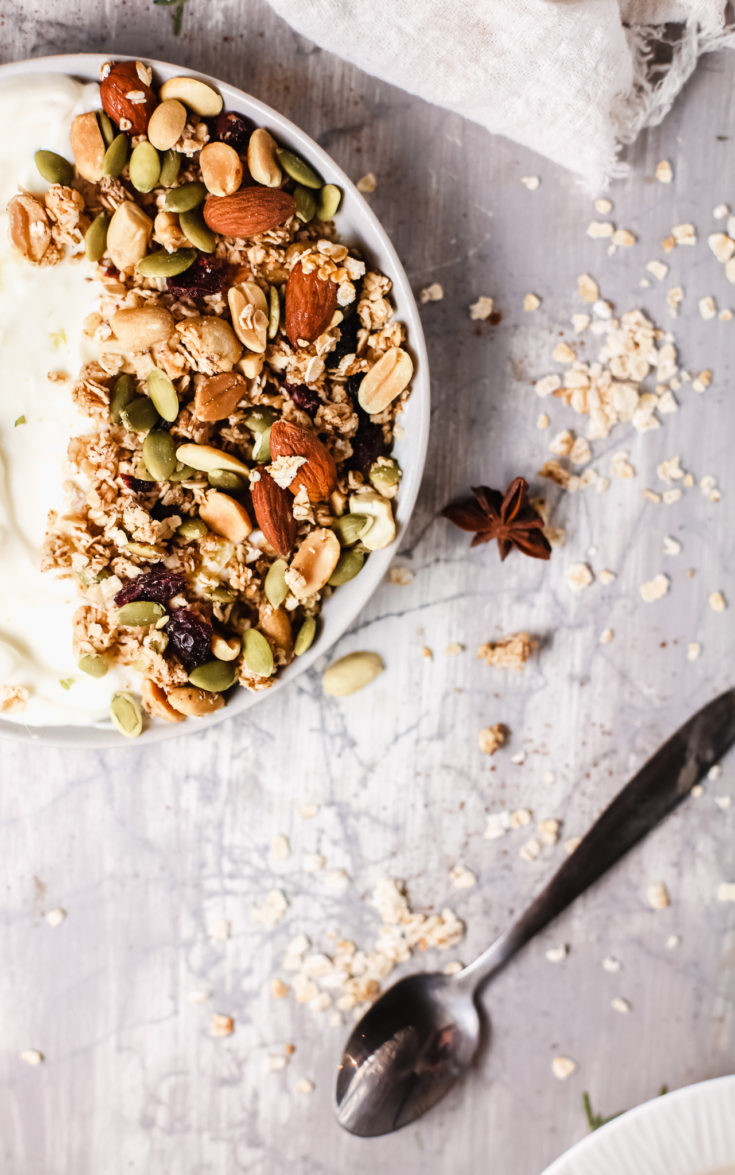 What makes this a low-carb granola?
The secret to make it lower in carbs is to go heavy on the nuts and seeds and add just a teeny bit of dried fruit. This way, you still have the traditional taste of granola. Additionally, use a high ratio of nuts to oats.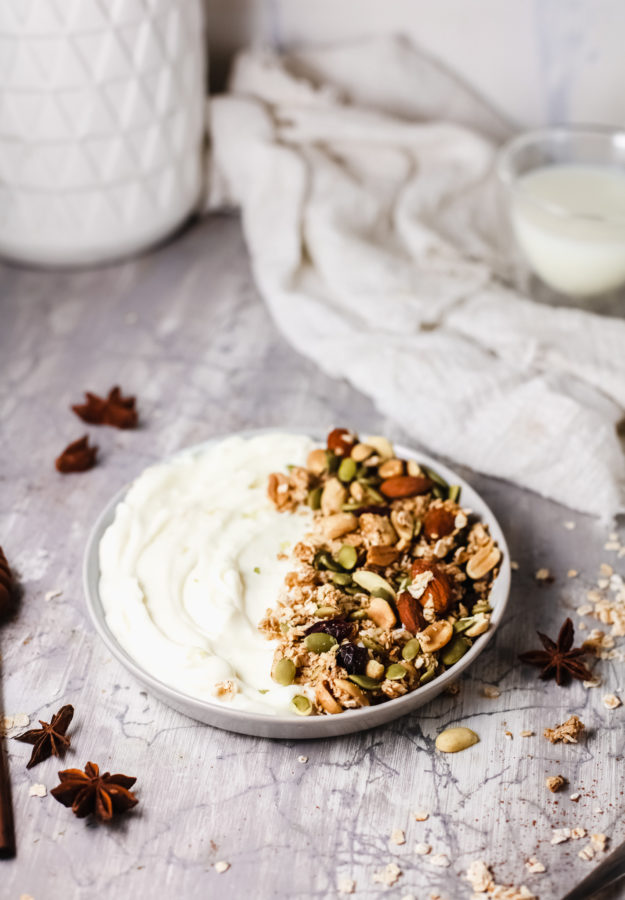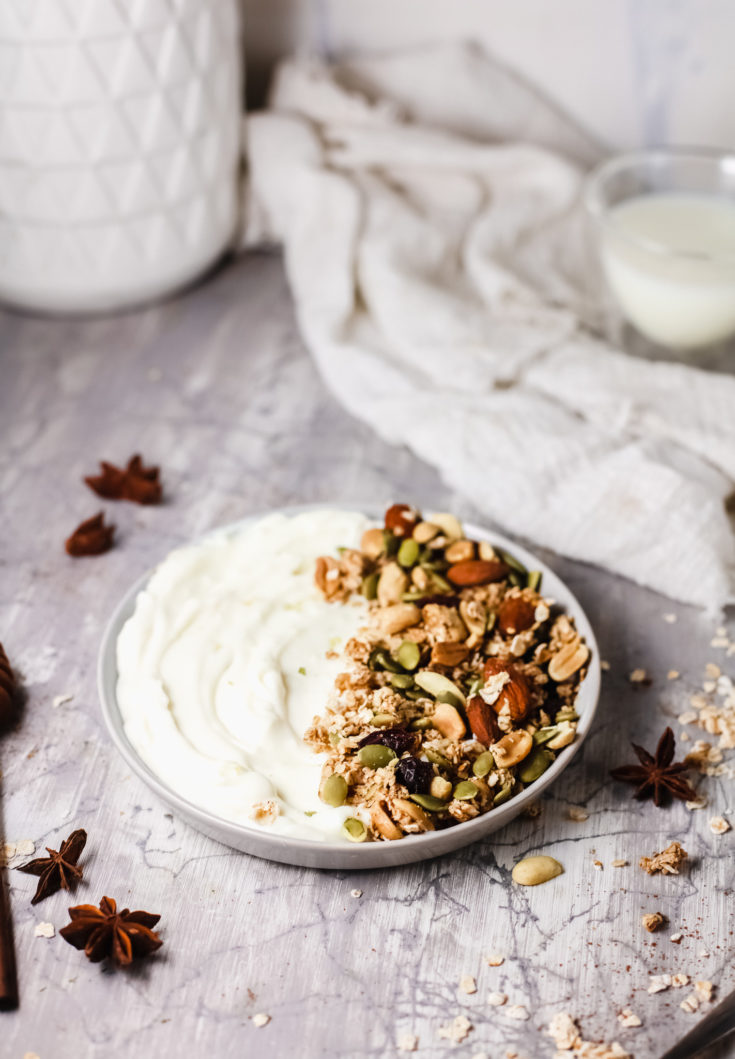 What about the syrup?
To sweeten it up, I used a Keto "maple" syrup. You can buy a bottle on Amazon or just make your own like I did.
It's basically a combination of water and erythritol + some maple extract that tastes almost like the real deal.
The syrup recipe is below. Typically, we make a big batch and refrigerate it to use in other recipes or meals.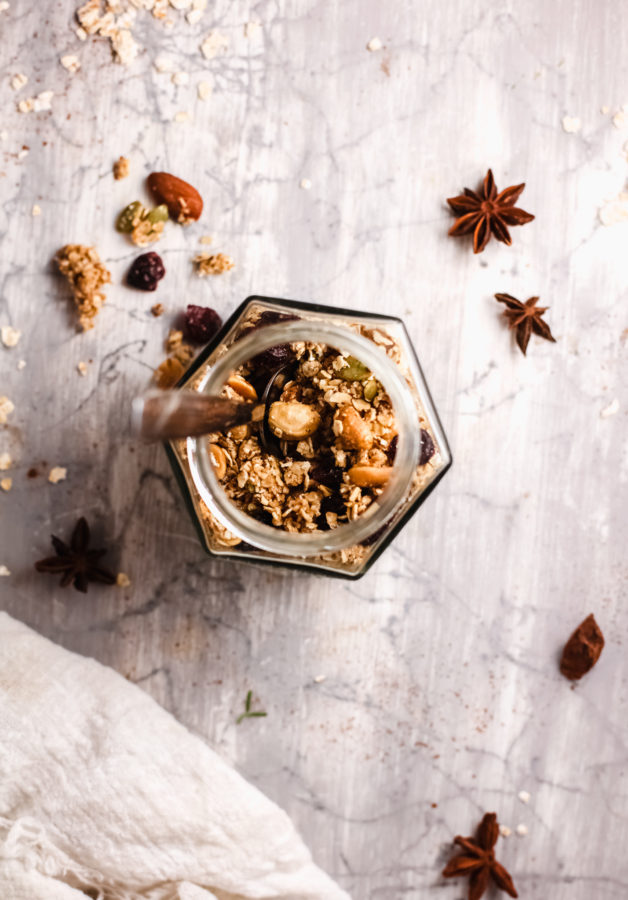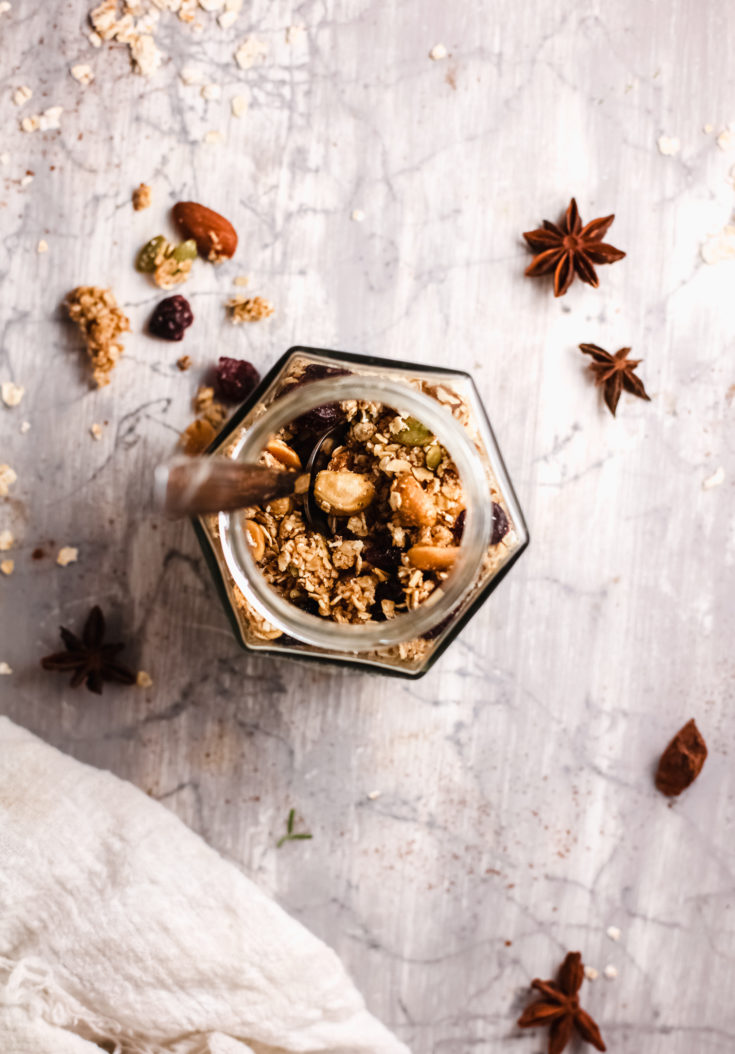 How to Store Granola:
Finally, the granola lasts for around 2 weeks and should be stored in an air tight container.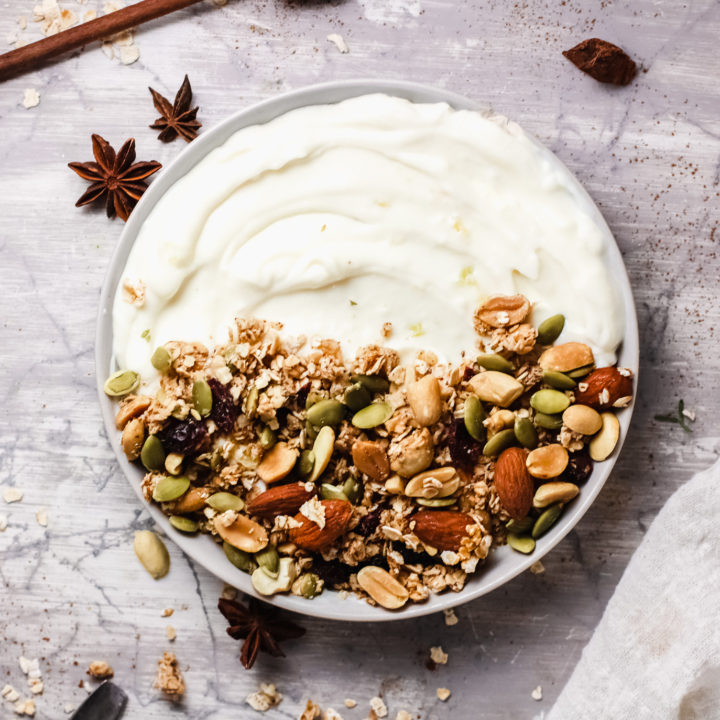 Pumpkin Spice Granola
Additional Time:
10 minutes
Ingredients
Pumpkin Spice Granola
¼ Cup oats
3 Tbsp almonds
1 Tbsp pumpkin seeds
2 Tbsp peanuts
½ Tbsp dried cranberries
2 Tbsp "maple" syrup
½ Tsp cinnamon
¼ Tsp ginger
Pinch of ground clove
Pinch of ground nutmeg
Keto "Maple" Syrup
¼ Cup water
¼ Cup erythritol
2 Tsp maple extract
¼ Tsp xanthan gum
Instructions
For The Granola
Preheat oven to 400 degrees.


In a bowl combine oats with almonds, pumpkin seeds, peanuts, and dried cranberries. Add spices and toss to combine. Pour "maple" syrup and mix until everything is sticky and well incorporated.


Transfer to a baking pan, making sure the granola is on a thin layer and take to the oven. Bake for 20 minutes.


Remove from oven and toss. Return to oven and bake for 20 more minutes. Repeat the process until everything is golden brown.


Let cool completely before storing in an airtight container.
For the Maple Syrup
In a small saucepan over medium heat mix all the ingredients except xanthan gum and bring a gentle simmer. Simmer for 8 minutes, stirring constantly until the erythritol dissolves completely.


Transfer to a blender, sprinkle xanthan gum and pulse. Let cool completely so it thickens.

Notes
Enjoy with breakfast, yogurt, or as a snack!
Nutrition Information:
Yield:

1
Serving Size:

1
Amount Per Serving:
Calories:

503
Total Fat:

25g
Saturated Fat:

3g
Trans Fat:

0g
Unsaturated Fat:

20g
Cholesterol:

0mg
Sodium:

247mg
Carbohydrates:

63g
Fiber:

8g
Sugar:

30g
Protein:

14g