I visited the new Lucky's Market Vineland in Orlando, FL a little over a week ago and it's officially my new favorite grocer! I walked in with little expectations and walked out with lots of great impressions. If you've never visited a Lucky's Market – you don't know what you're missing!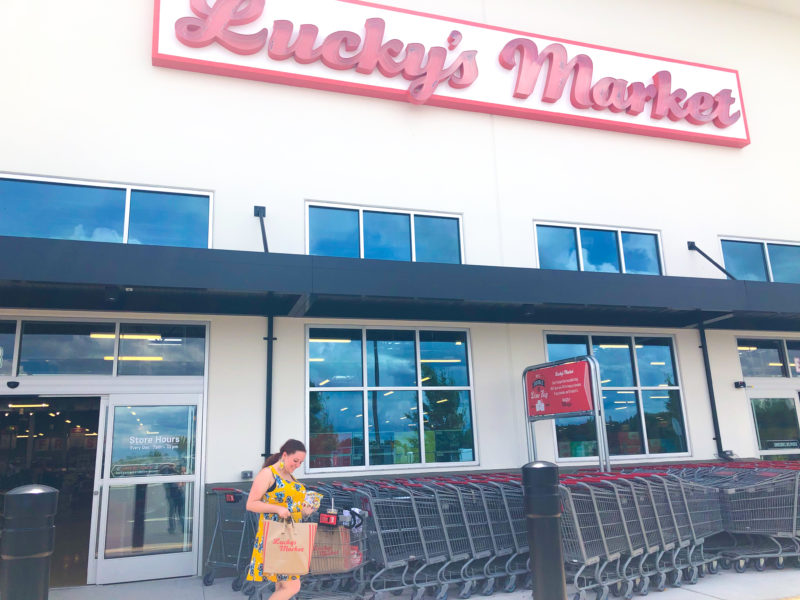 Lucky's Market Vineland provided my family a gift card to buy groceries for the week. Their only request was to share my honest experience on social media and my blog. Be sure to check out my full grocery haul over on IGTV.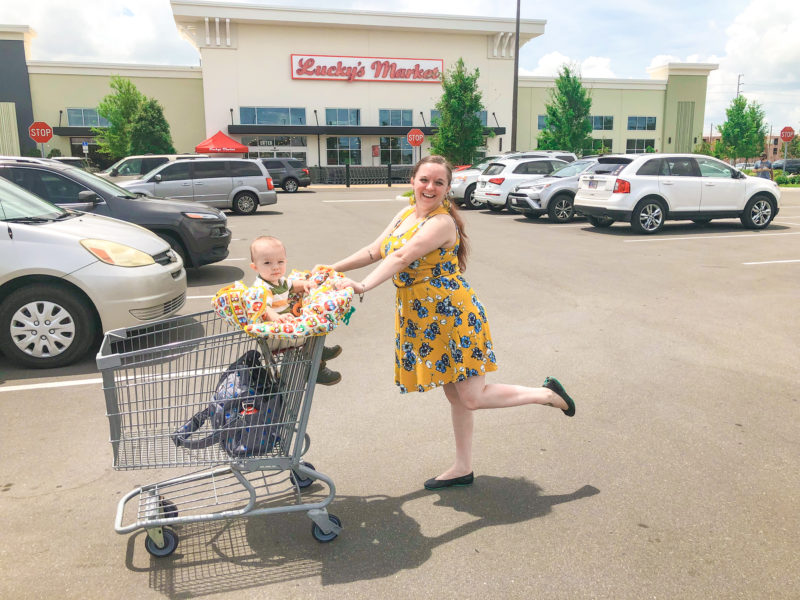 Something I've never shared with my audience is how we grocery shop. We visit 3-4 grocery stores every month to complete our shopping. We buy in bulk from one store and buy our meat from another. Each grocer fulfills a specific need. We even dabble in meal delivery services every once in awhile.
Now that we've been introduced to the unique shopping experience of Lucky's Market – at least 2 of those grocers will be cut out completely. *Insert Happy Dance Here*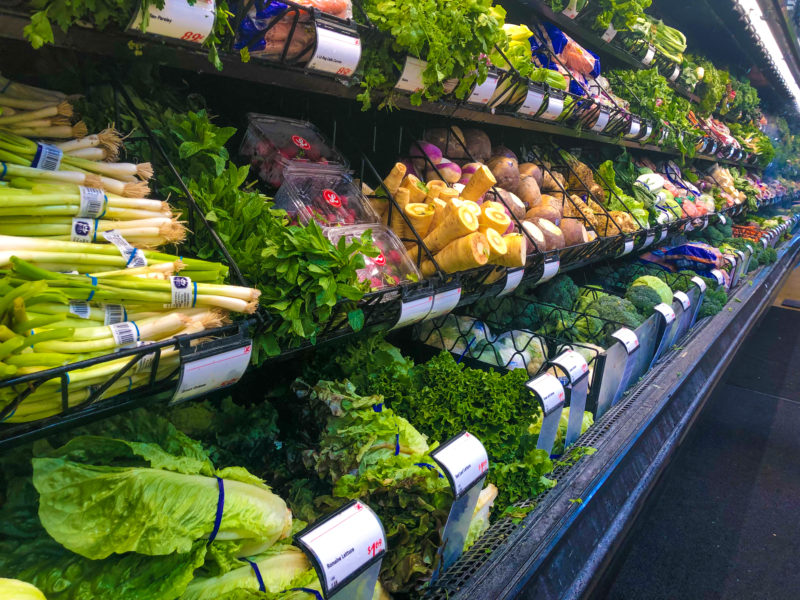 As a mother, what I buy and where I shop is really important to me. When choosing a grocery store, I look for 5 important things: price, variety, freshness of produce, organic/natural options, and convenience. Lucky's Market provides all of the above, plus some.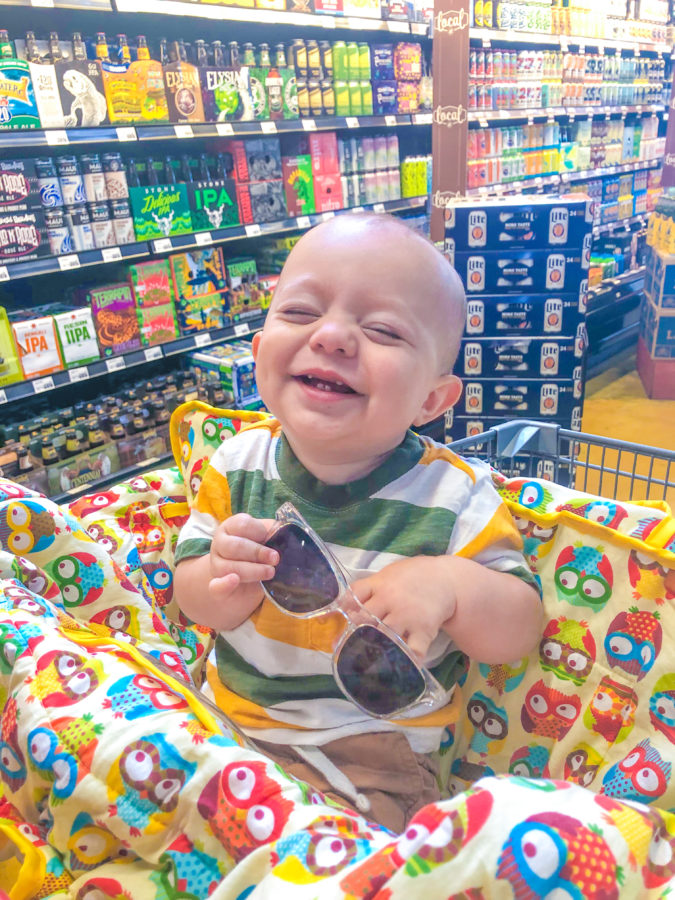 Why All Moms Should Shop at Lucky's Market
They not only offer a unique shopping experience, it's a really enjoyable experience. The environment is clean, inviting, and easy-to-navigate. They make me feel like a full-on adult because of how giddy I am to shop for groceries again.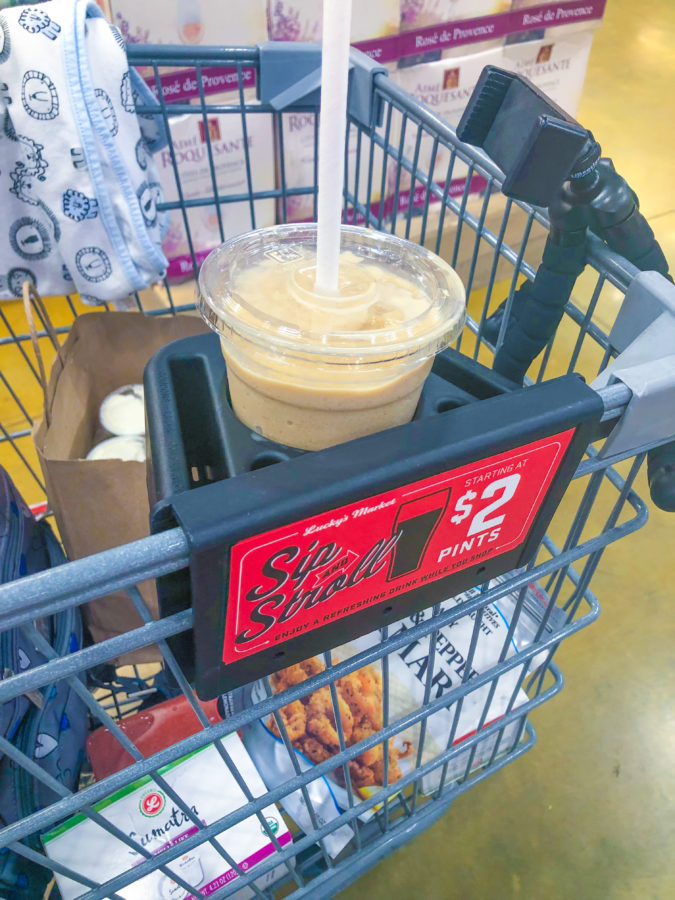 1. You can drink wine as you shop!
Isn't this every mom's dream come true? Tell the husband and kids that you're headed to the grocery store and drink a little wine as your stroll through the aisles. WIN!
2. There's an Apothecary section.
All of your soaps, essential oils, and wellness products are in one place. When you walk into Lucky's Market you can instantly smell the lovely oils in the infusers. From soaps to infusers, you can get it all in the Lucky's Market Apothecary section!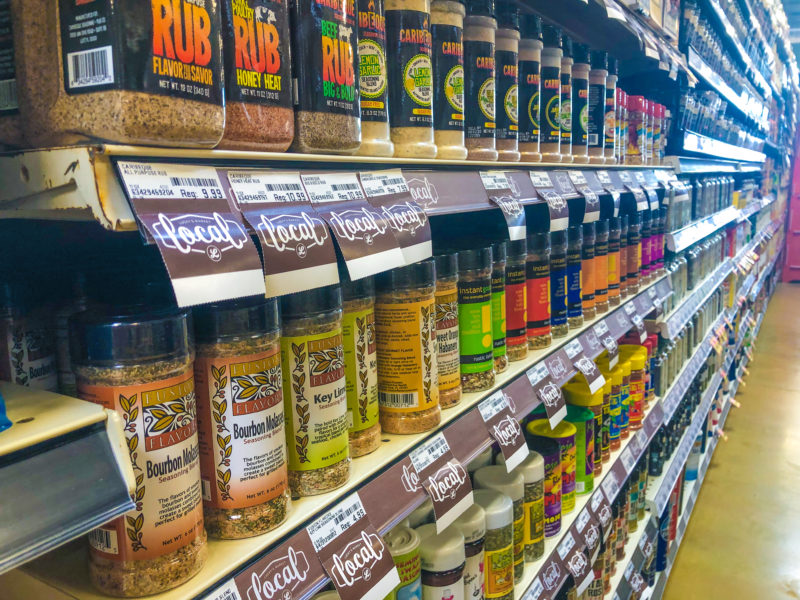 3. Support the locals.
This is the only grocery store (that I'm aware of) that offers local products, other than produce. Lucky's Market had aisles loaded with products made in Florida. It's a great feeling to know you're supporting your city and state.
You can easily find these local products because they are marked with giant "local" labels! No more hunting. Lucky's Market makes it easy for you!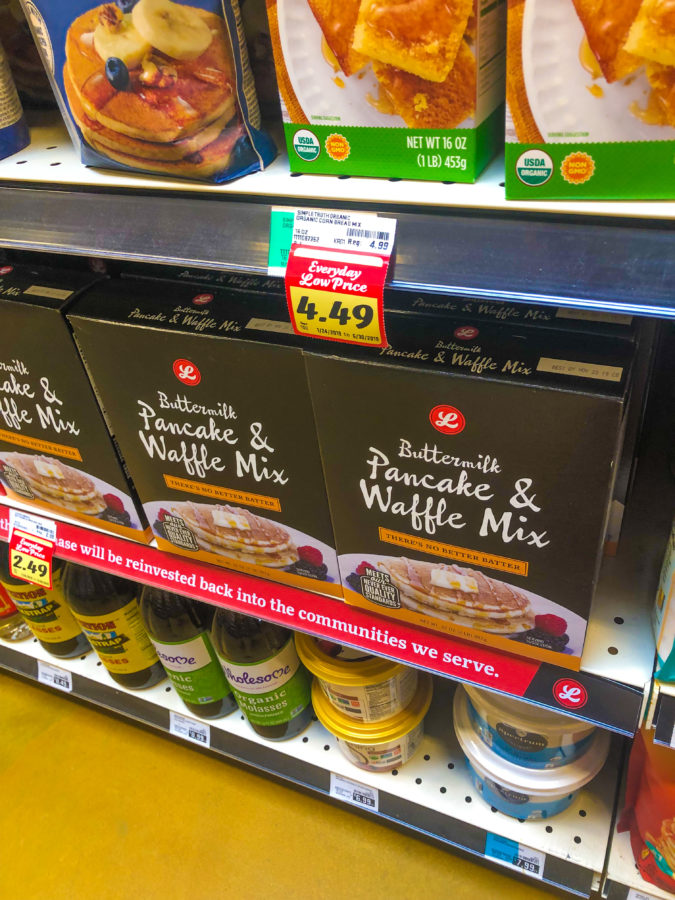 4. Lucky's Market brand products
I love when stores have their own branded products because it gives moms an opportunity to save money and try new things. I had to try the Lucky's Market coffee k-cups. I'd definitely buy it again!
5. There's a Ramen & Sushi Bar
Umm, hello! Ramen and Sushi – count me in! Basically this grocery store is a mom's day off. She can enjoy lunch, coffee, and wine all in one trip! The only thing they need is a day spa.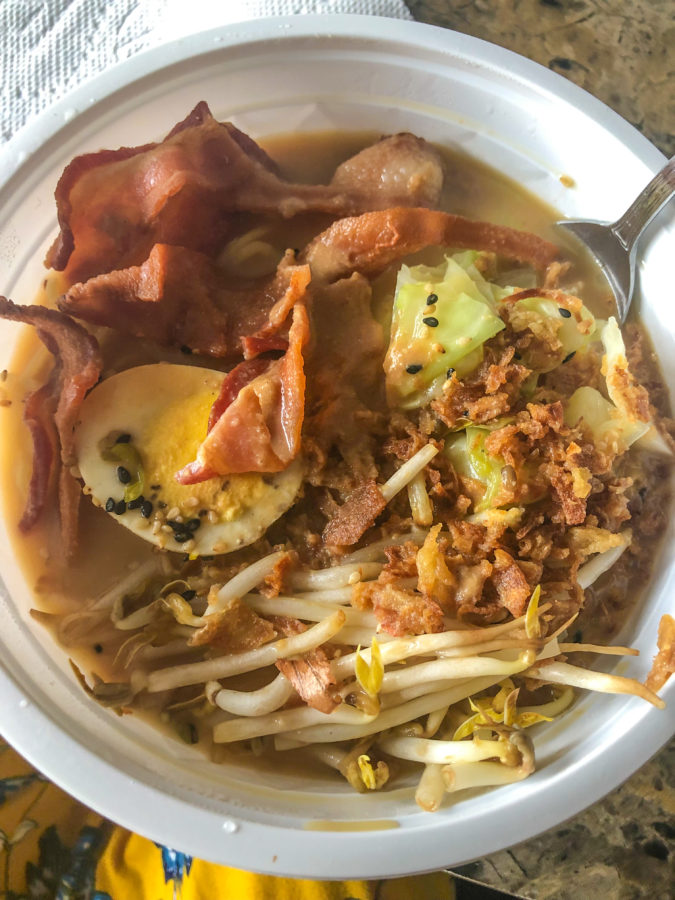 I got a Ramen bowl to go and it was so delicious! You can order it right at the Ramen bar using a tablet. It's easy to order and made quickly. I personally recommend the Lucky's Market bacon as your protein. Yum!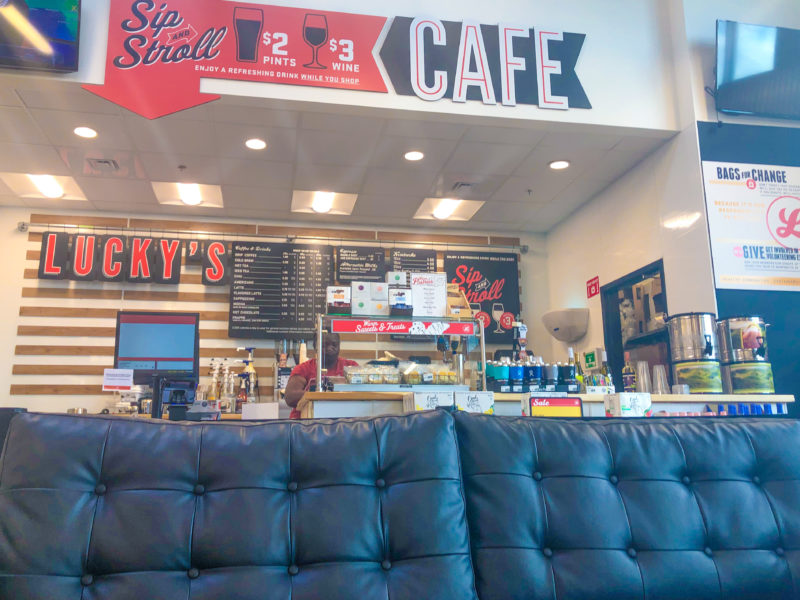 6. Get your caffeine fix
That's right – there's a cafe in Lucky's Market. While many health food stores have cafes these days, this one has a comfy couch to lounge on and lots of tables and chairs. It's a great place for meetings, work days, or just a little bit of relaxation.
7. Enjoy a hot lunch.
Along with the incredible Ramen & Sushi bar, you can enjoy food from their hot bar. It's the perfect spot for a lunch break without the crowds.
8. There are Kids' carts!
If you're braving the grocery store with the kids, make it fun for them, too! Lucky's Market has shopping carts for kids! I squealed when I saw this because the nostalgia kicked in from my childhood. I rarely see kids carts at grocery stores anymore so this was a real treat!
9. Grab some Quick Prep Meals
Lucky's Market offers something called "Good Eats" meal kits. These kits have all the ingredients you need to make a delicious meal quick! Every busy mom needs something easy to cook for dinner.
10. Buy necessities in Bulk
Something else that impressed me during this unique shopping experience was the option to buy lots of necessities by the pound. You can get your natural waffle & pancake mix, nuts, granola, etc. by the bag. I thought this was a great idea for large families and for waist-free families.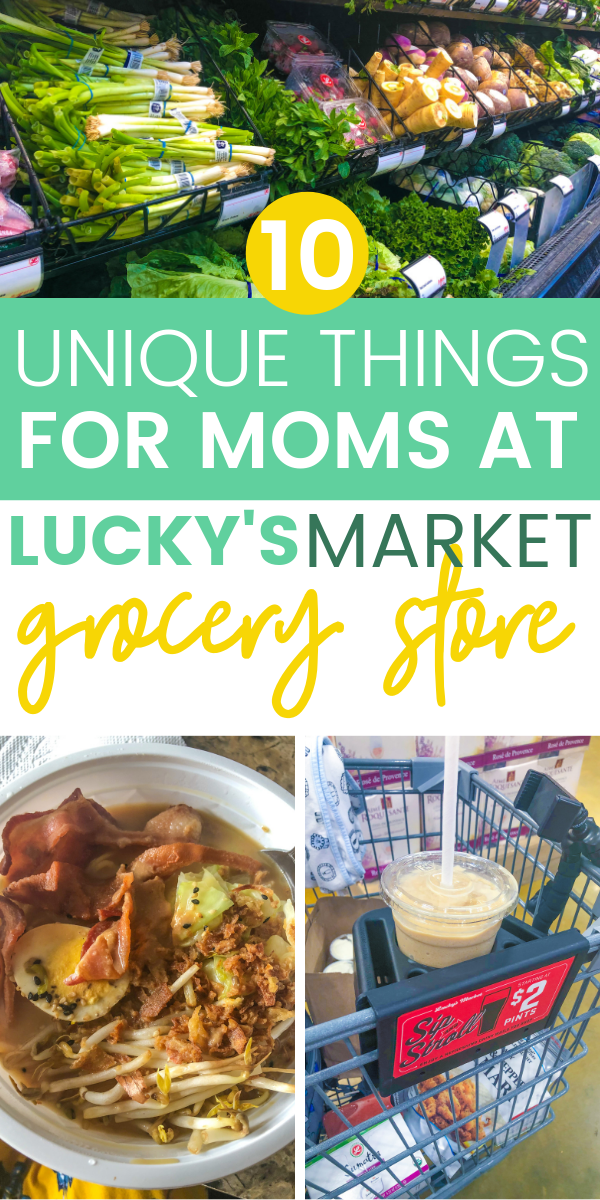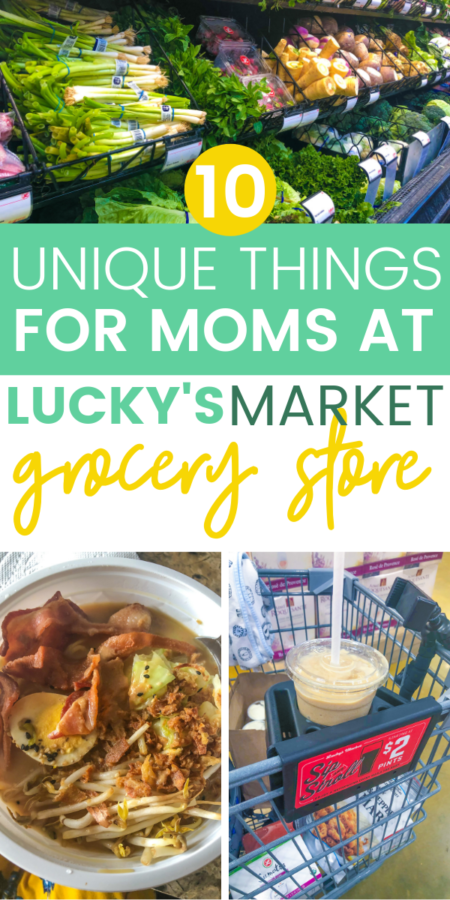 What qualities do you look for in a grocery store?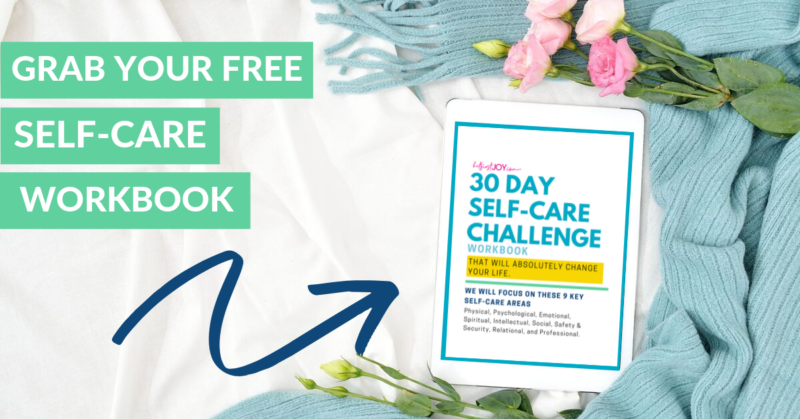 DISCLOSURE
As an Amazon Associate I earn from qualifying purchases. This post may contain affiliate links and/or promotional products, all opinions expressed are that of But First, Joy only. Read my full disclosure.