This event was hosted by Disney. All opinions are my own.
I had the pleasure of being invited to celebrate Mickey's Very Merry Christmas Party at Walt Disney World last week. It's always been my dream to visit Disney at Christmas. To combine my three true loves – Disney, Christmas, and my fiancé – was a dream come true! Disney is the only place in the world that makes me happy no matter what. Their number one concern is keeping the magic alive for their guests. It's no wonder why adults are flocking to Mickey's Very Merry Christmas Party. It the only place that makes us all feel like kids again.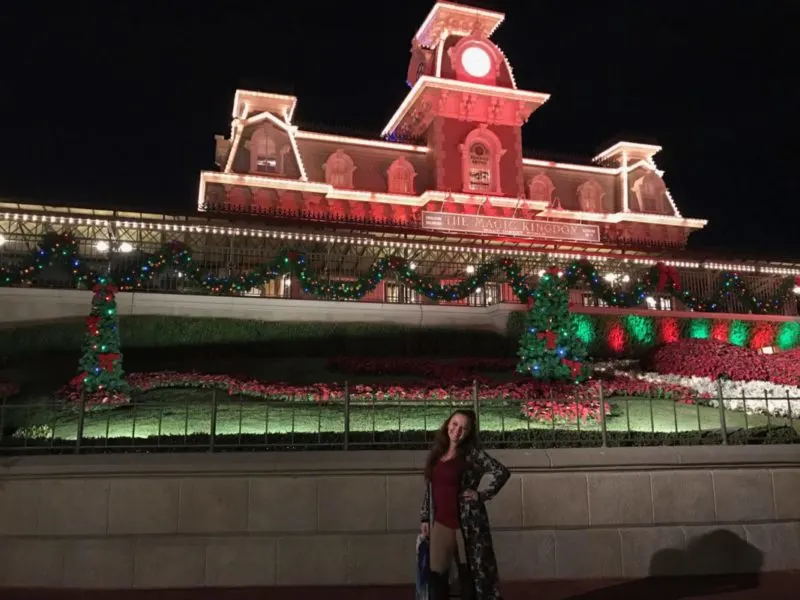 Here's a few reasons why adults are loving this Disney Christmas Party so much! PS. I was so excited about this event, that I forgot my DSLR camera, so excuse the grainy photos!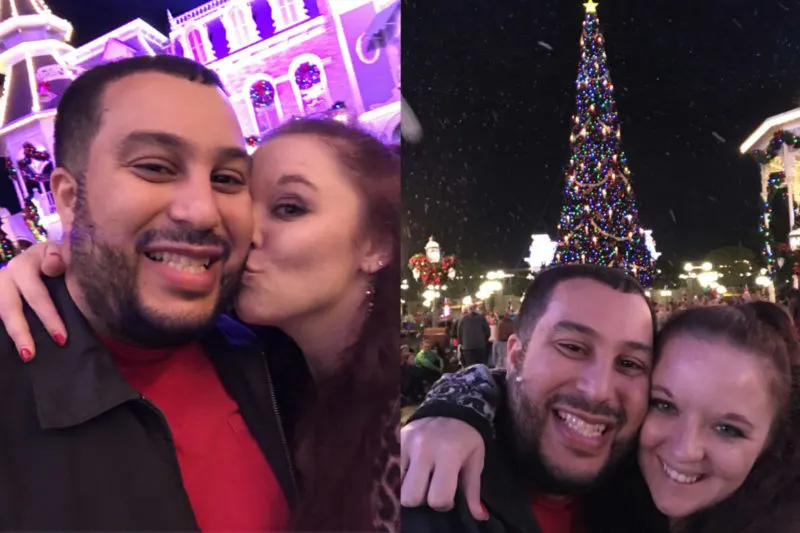 Christmas Decorations
The very first thing we noticed, before entering the park, was the Christmas decor! They had the tallest Christmas tree I've ever seen in my life! It was tall and skinny wit giant gifts (taller than me) underneath. The tree was all decked out with ornaments. My eyes were so fixated on the tree, that I almost forgot to look around! There were beautiful wreaths and garland all over the place. String lights lit up Walt Disney World.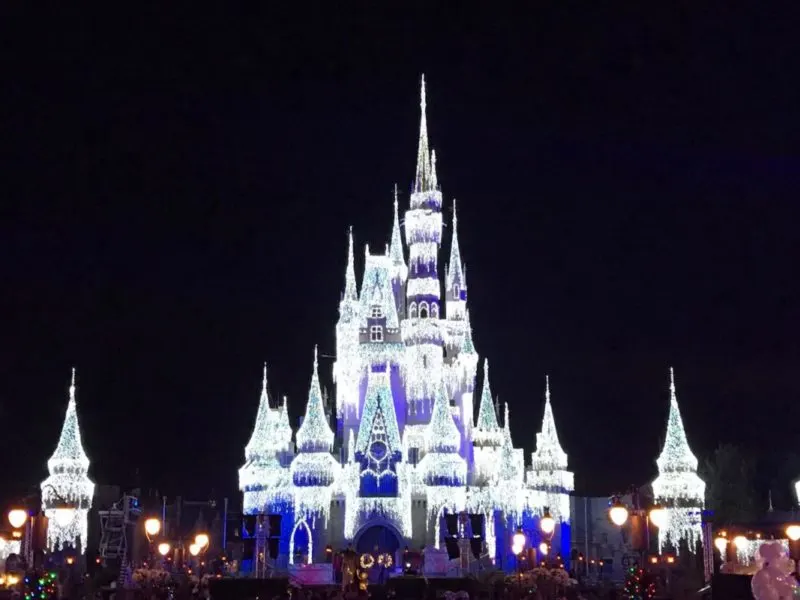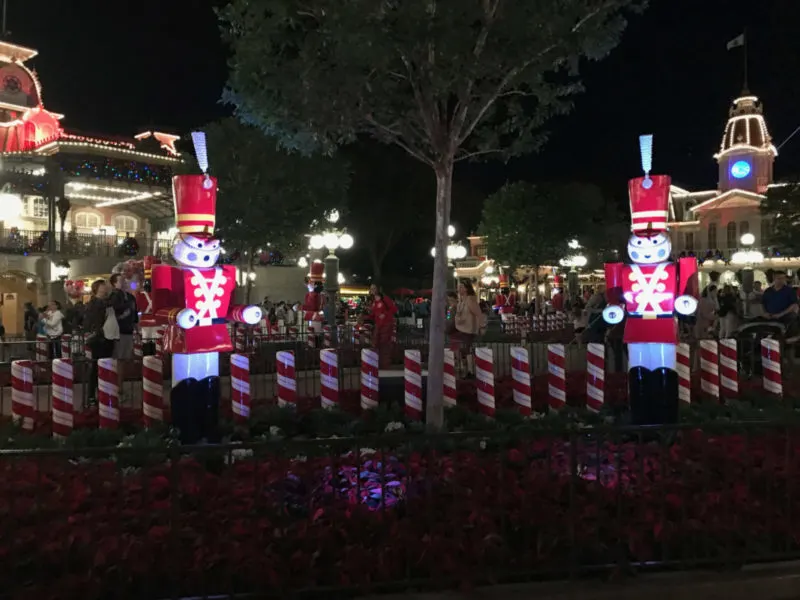 Adults appreciate decorations in a different way than children do. A kid sees Christmas Decor and thinks of magic, Santa, gifts, and maybe even Christmas treats. Adults see the beautiful decor and appreciate the intricate details, like the perfectly placed ornaments. Which I must say, are absolutely flawless. We appreciate the time, heart, and effort put into decorating. We question how the heck people hung decorations in the highest and strangest places. We appreciate the even flow of it all.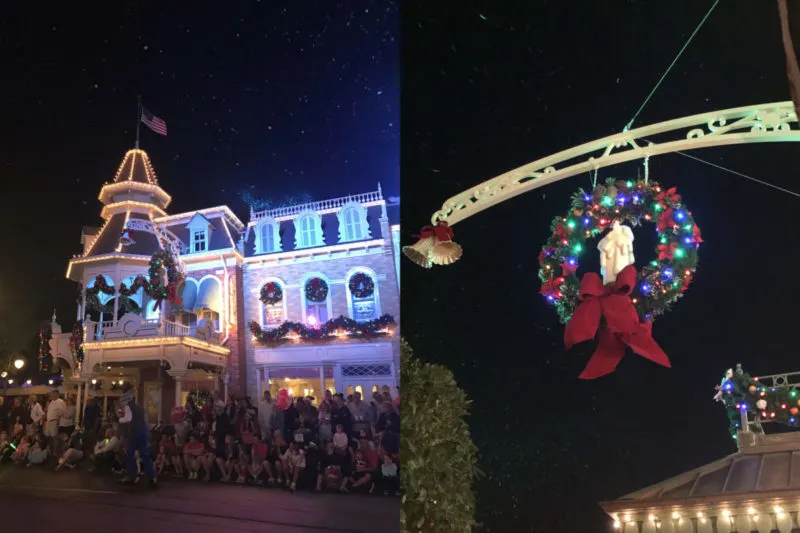 The Disney Christmas Decorations alone are a huge reason why adults love this Disney Christmas Party! I could simply walk through the park all day long, just to see the beautiful decor.
The Snow!
Since I live in Florida, I don't get to enjoy a true Winter Wonderland. I usually fill my home with winter scents, Christmas Decor, and lots of holiday movies! Basically, I make it feel like Christmas even if I can't have the snow day that I dream of. When I heard that Disney was making it snow for this Mickey's Very Merry Christmas Party, I didn't know what I would be walking into. I was intrigued, nonetheless.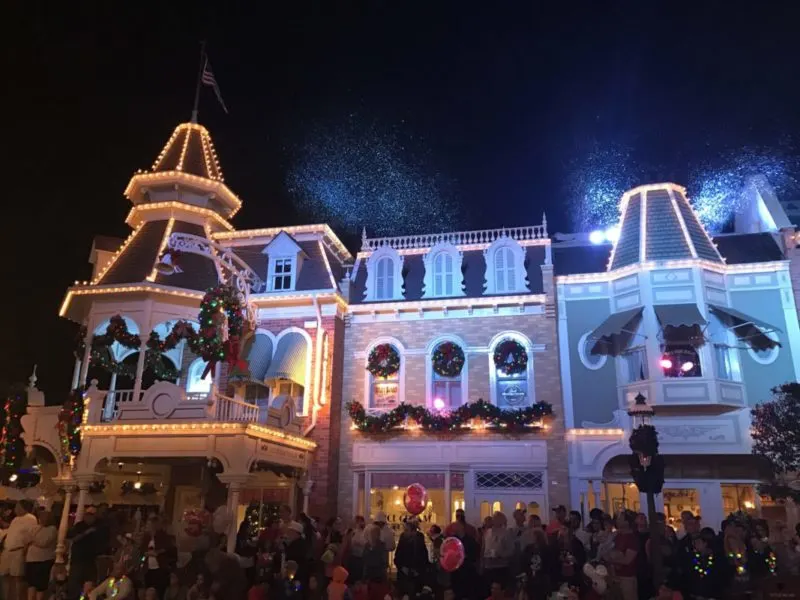 Right when we walked onto Main Street we saw the snow. To say I was giddy, is an understatement. I don't think it's ever felt more like Christmas than it did on that cool November night.
Christmas Shopping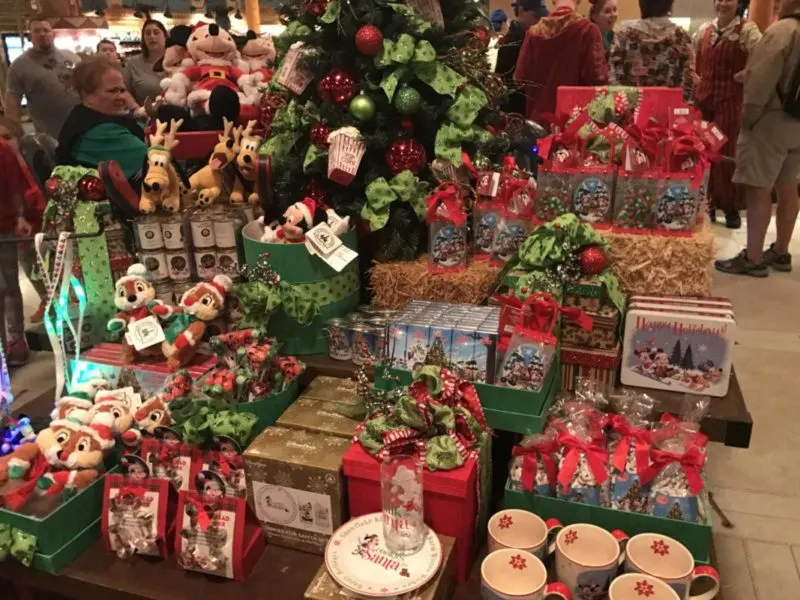 Walt Disney World is the perfect place for Christmas shopping. There are plenty of gifts you'll find at a Disney park that you can't find online or in a regular Disney store. At Mickey's Very Merry Christmas party, you will not only get Christmas-themed gifts, you can pick up their Limited Edition Very Merry Christmas Party pins!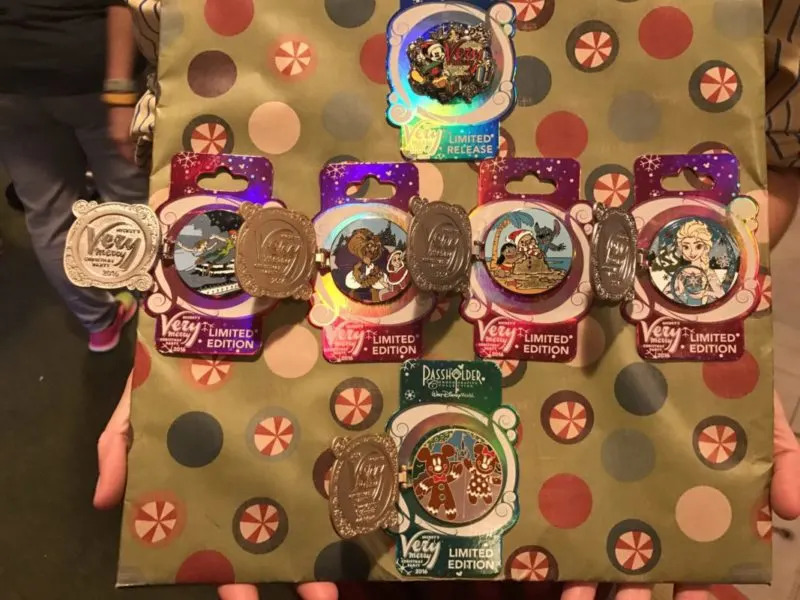 I'm a huge Disney Pin Collector. Every time I visit, I pick up a pin. I specifically have to have pins that are specific to the event, park, or year. I was in awe of the 2016 Very Merry Christmas Party pins. I stared at them for a good 15-20 minutes trying to pick just one. Finally, my fiancé decided to buy me the entire box set for my birthday! How lucky am I?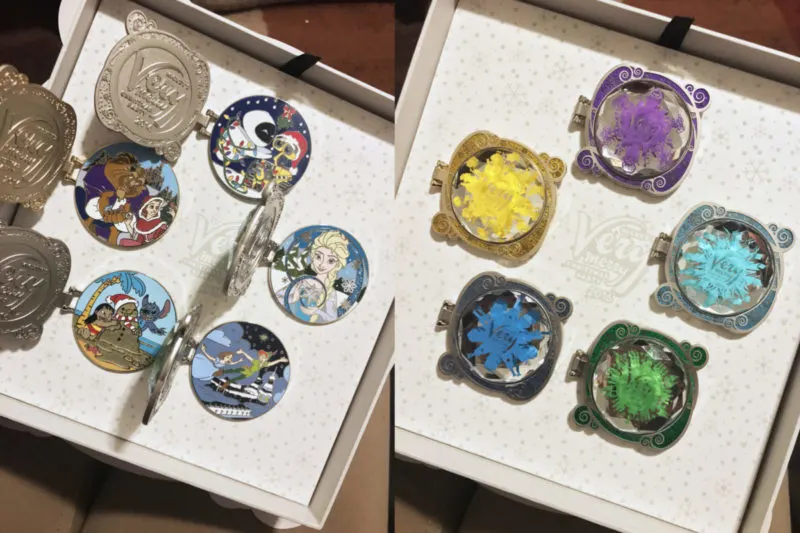 More about the Limited Edition Mickey's Very Merry Christmas Party Pin Box Set
The only place selling the pins was Big Top Souvenirs in Fantasyland, so that was the very first thing we did when we got to the park. We wanted to grab the pins we wanted before they sold out because they usually go pretty quickly! The box set was totally worth every penny (a little over $100 for 5 limited-edition NUMBERED pins). What was really special about the pin box set was that it included one pin that couldn't be purchased individually – the Wall-E Christmas Pin! My heart exploded when I saw how cute that pin was. They come in a beautiful box and the pins aren't your average pins. They have cute little doors o them with a large, colorful gemstone. These alone are a good enough reason to head to this party!
Free Holiday Treats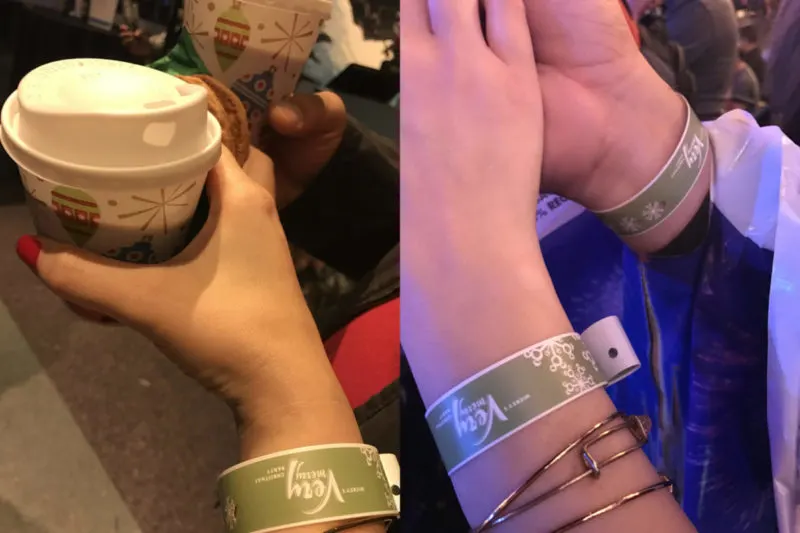 We were pleasantly surprised to stumble upon the free holiday treats! We were too excited to read the pamphlet given at the entrance of the event, so we had no idea! We kept seeing these large, lit-up candy canes around the park. We wondered what they were, but passed it off as cute decor. Finally, I saw guests walking out of a shop with cocoa and cookies. I still didn't realize these were complimentary until we walked in to grab some. Delicious hot chocolate and snickerdoodle cookies – nom nom nom. It made me feel like a kid on Christmas eve!
Tips: Each treat stop has a different cookie and one had apple cider!
Mickey's Once Upon a Time Christmas Parade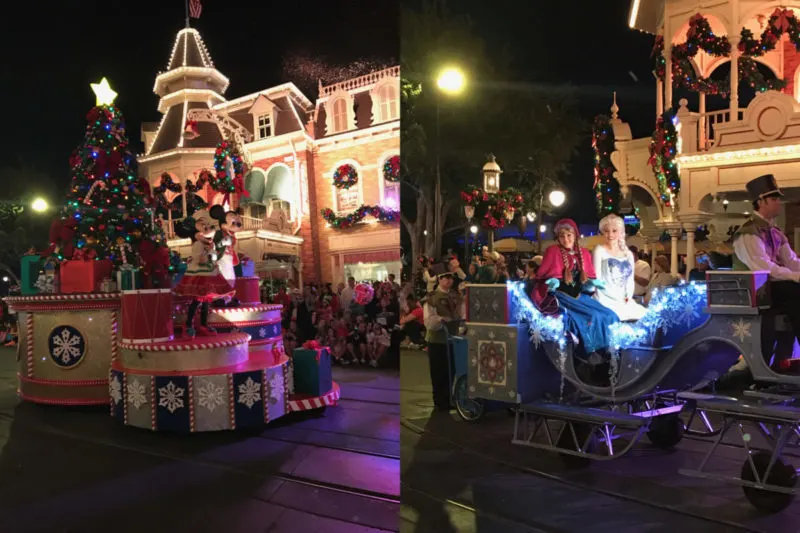 Oh, the parade. I cannot express how incredible this parade was. I've been to many Disney parades and this by far exceeded the others. Disney awakens all of your senses during Mickey's Once Upon a Time Christmas Parade. You'll see all of your favorite Disney characters in their lovely holiday attire. There is music playing and the characters are talking! The snow is falling and you really feel like you've stepped into a movie. You're drinking your hot chocolate, munching on the soft cookies, and smelling… yes, smelling the wonderful Christmas scents that each float carries.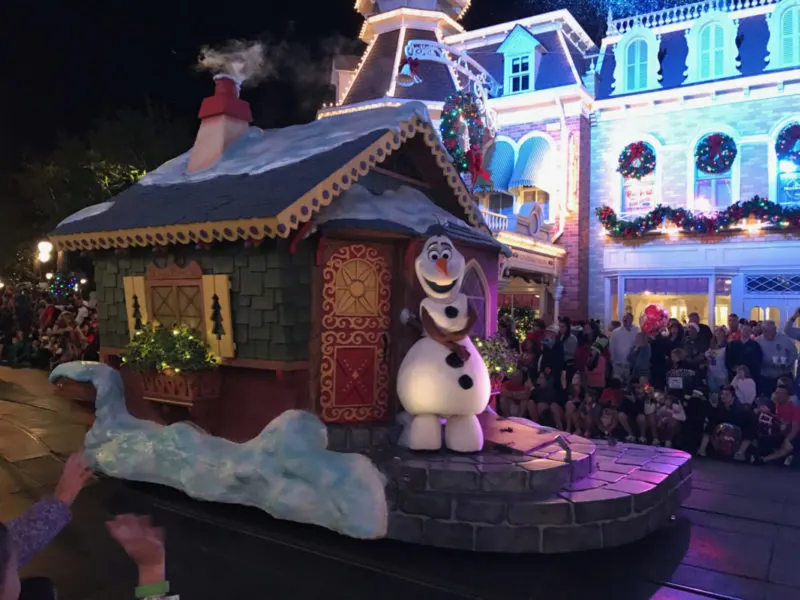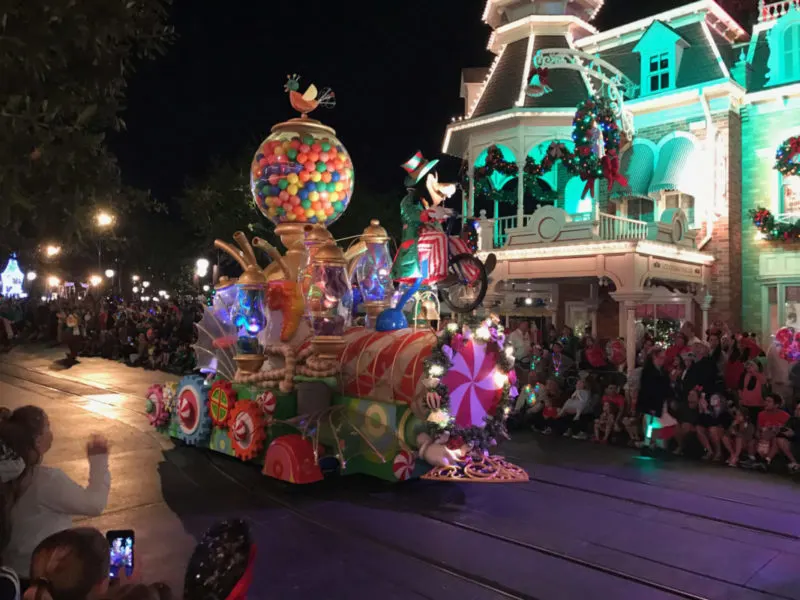 I don't know how Disney does it. I don't know and I don't want to know. I don't want the magic spoiled for me, so I wont even ask! What I do know is that I smelled candy, cinnamon, gingerbread, pine, and every other scent of Christmas that you could possibly imagine. I was completely in awe of this parade.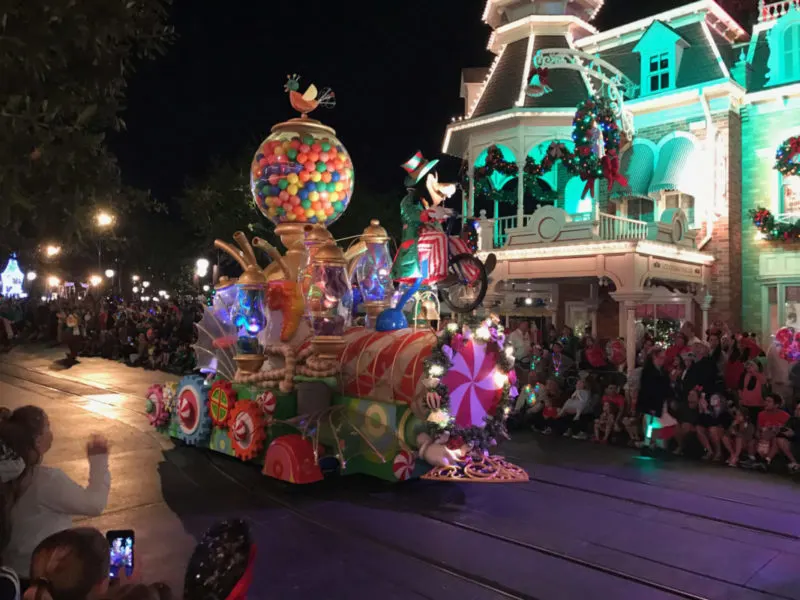 Finally, I have to mention the incredible Tin Soldiers! I swear it felt someone took these guys out of a cartoon and threw them into the parade. Their costumes are so realistic! The entire crowd cheered as these guys marched down Main Street!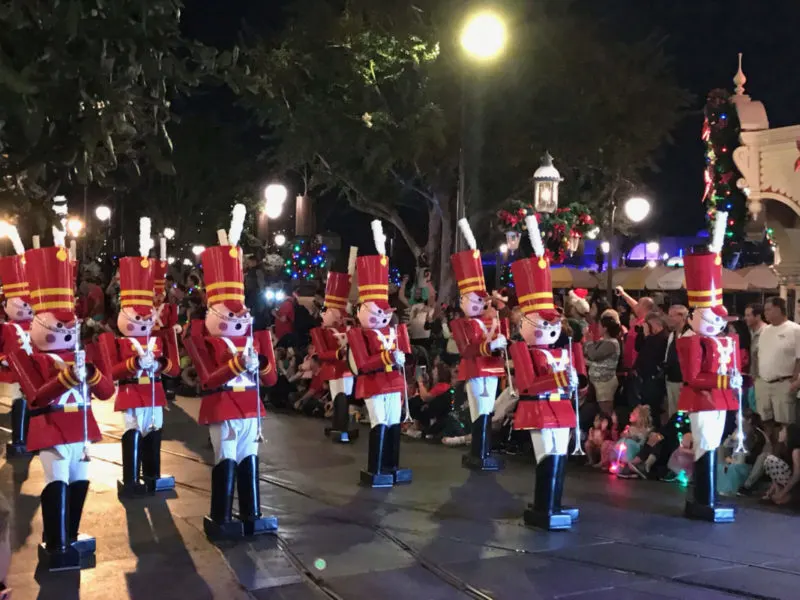 Because of this parade, I am going to this party every single year – no matter what!
Mickey's Most Merriest Celebration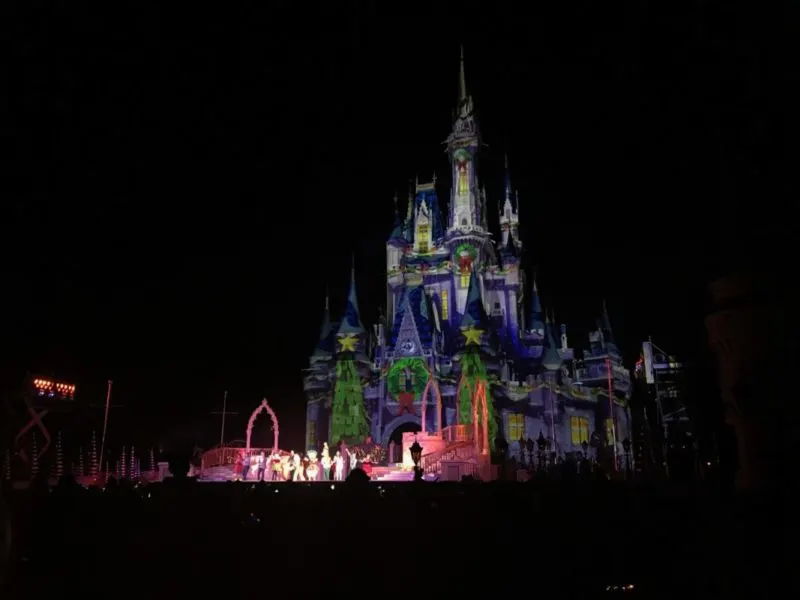 This celebration takes place on the Castle Forecourt Stage! I had a blast singing and dancing around as my favorite Disney characters put on a fun show! There were quite a few surprise guests that showed up to the celebration. This celebration is definitely for Disney lovers of any age. I haven't had that much fun in quite some time!
Holiday Wishes – Celebrate The Spirit of The Season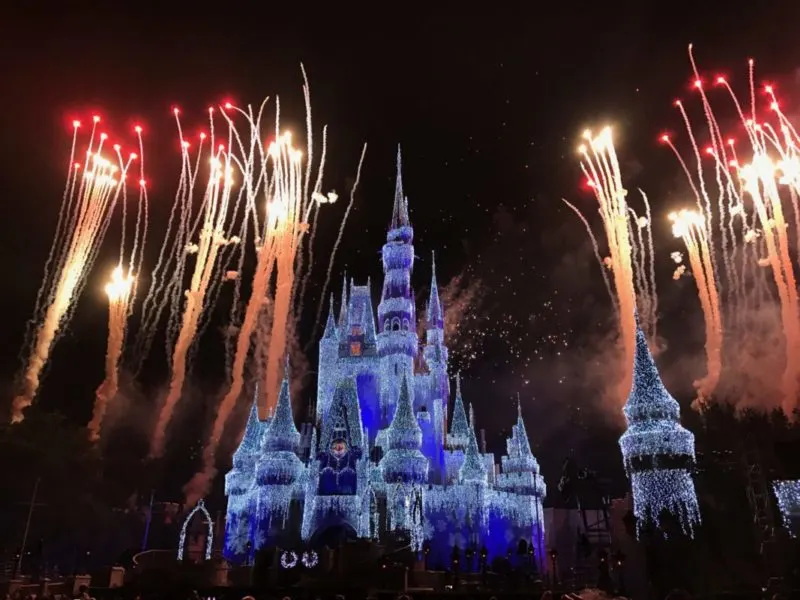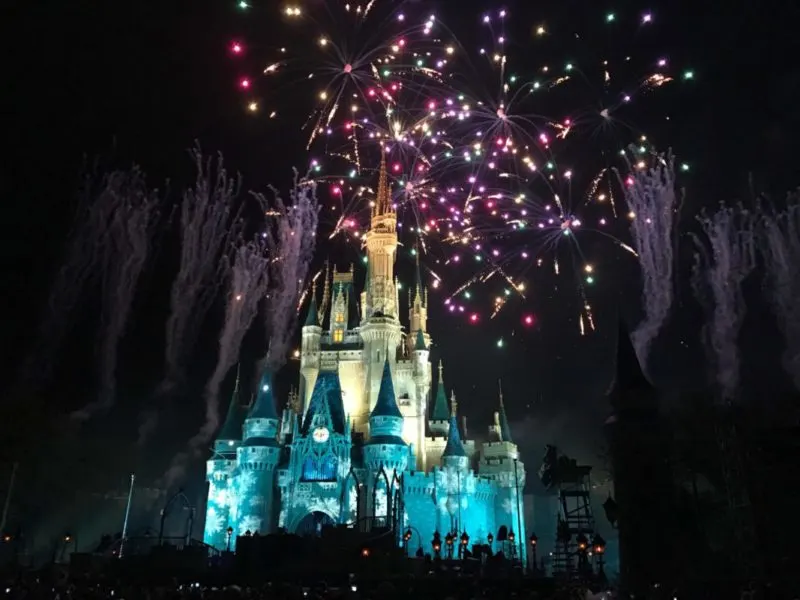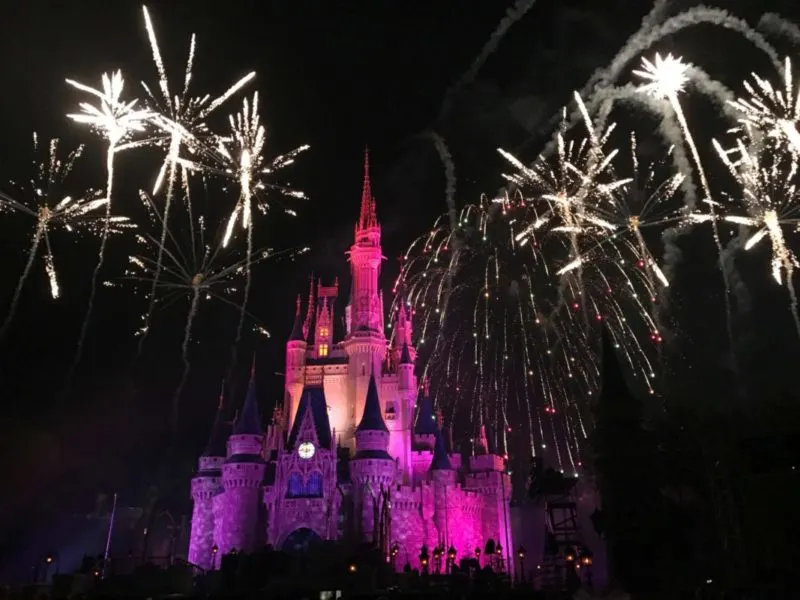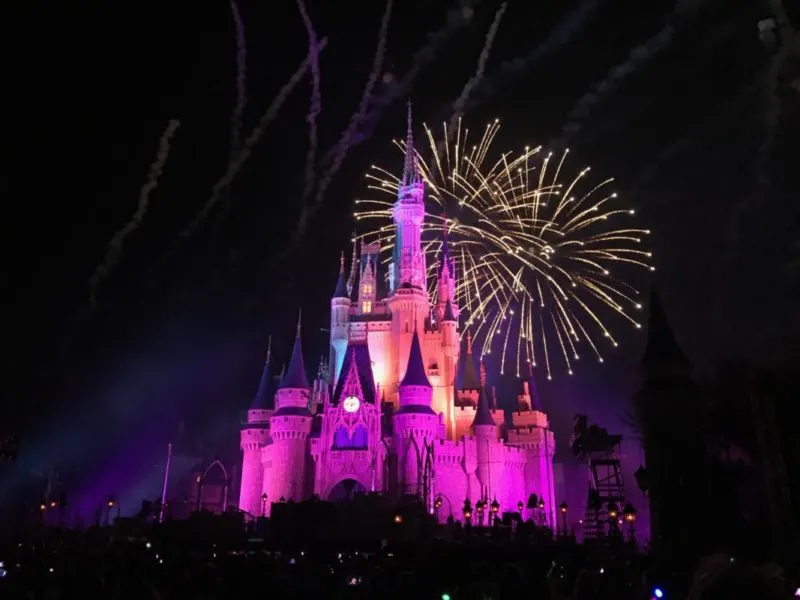 In true Disney fashion, the evening concluded with a beautiful firework show that lit up the sky, Holiday Wishes – Celebrate The Spirit of The Season. We were impressed by the way the fireworks exploded right along with the beautiful music. It made me emotional, but it always does. I don't care who your are, you'll be impressed this show. It's definitely worth staying until the very end, even if you're exhausted!