Are you and your family thinking of spending Christmas at Disney? Here's everything you need to know about Mickey's Very Merry Christmas Party, the attractions, entertainment, and more! This event was hosted by Disney, but all merry opinion are my own.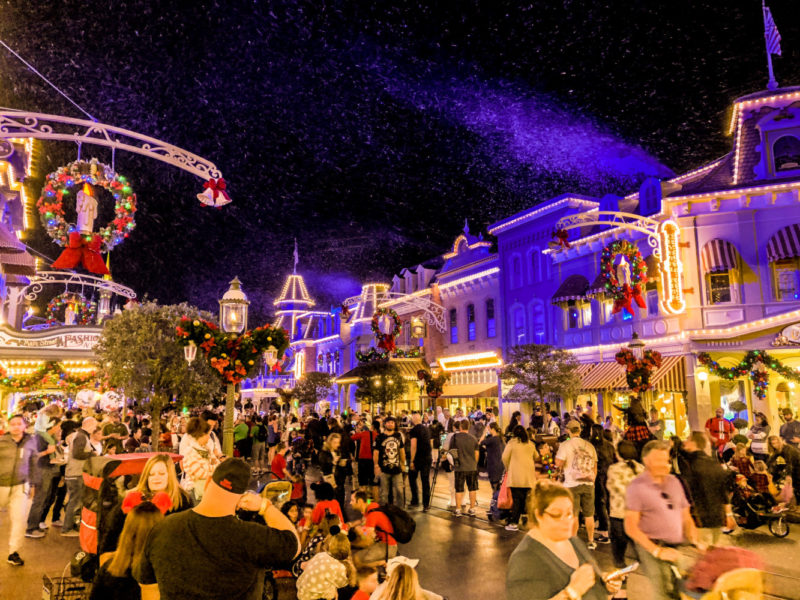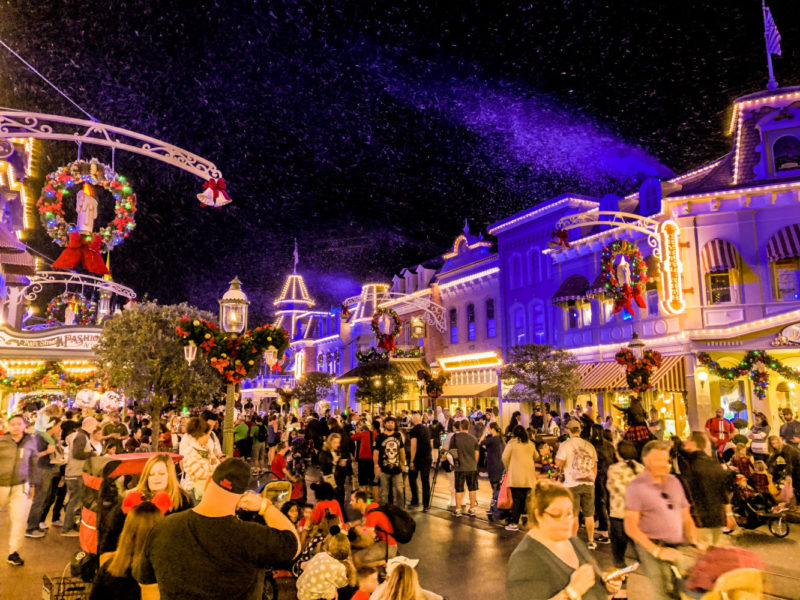 Christmas has always been the most wonderful time of the year. Christmas music rings through stores as we shop for the very best gifts for everyone on our list. Pretty lights and decor fill the windows of cozy little homes and the downtown shops. And, if you're lucky, you wake up to see the white flakes filling your quaint little town. What could possibly be better than this? Spending Christmas at Disney – that's what!


Need to Know: Christmas at Disney
For the second year in a row, I've strolled down Magic Kingdom's Main Street during the Christmas season. No matter who you are, where you're from, your age, or love of Disney – I can promise you that Christmas at Disney never gets old. There's an unspoken feeling of genuine holiday cheer that fills the Walt Disney World parks this time of year. Disney puts Christmas magic into everything you experience and everywhere you look during the holidays. If I didn't know any better, I'd think that Disney hired Santa and his little elves to bring the perfect amount of magic to their parks. So, if you're thinking of spending Christmas at Disney, whether it be on the big day, before, or after – I say to go for it! You cannot go wrong with Disney during the most wonderful time of the year and this is why:
1. Mickey's Very Merry Christmas Party (new and improved)
This is a special ticketed event, which is separate from your regular Disney pass.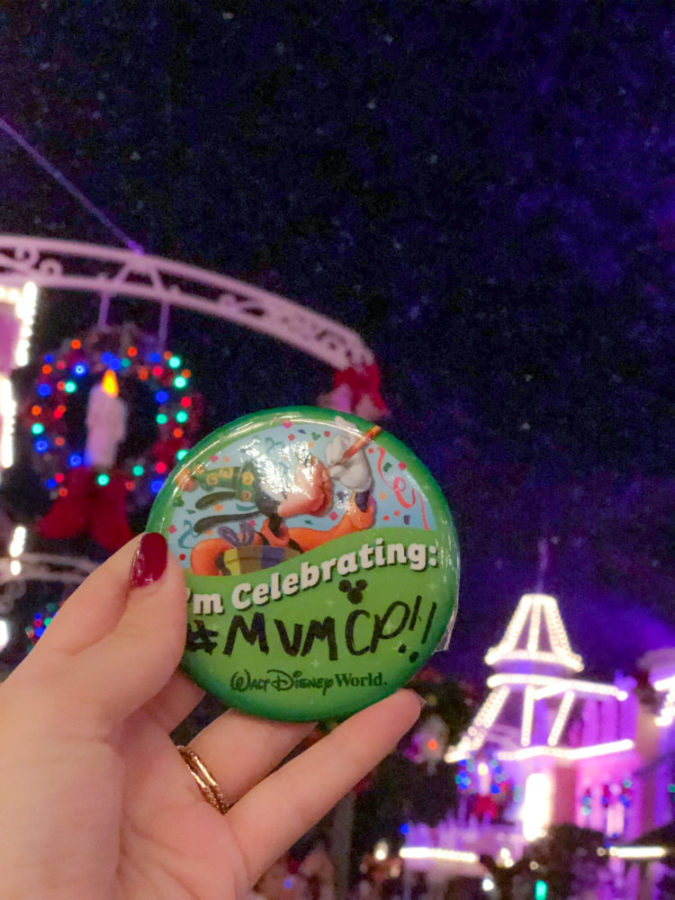 After attending Mickey's Very Merry Christmas Party last year, I knew that it would be on my Christmas bucket list for years to come. Even at 6 months pregnant, I couldn't wait to lose myself in Mickey's Christmas magic again this year. Disney's Christmas Party isn't like any other Christmas party you've attended. There's magic everywhere and yes, Santa will be there!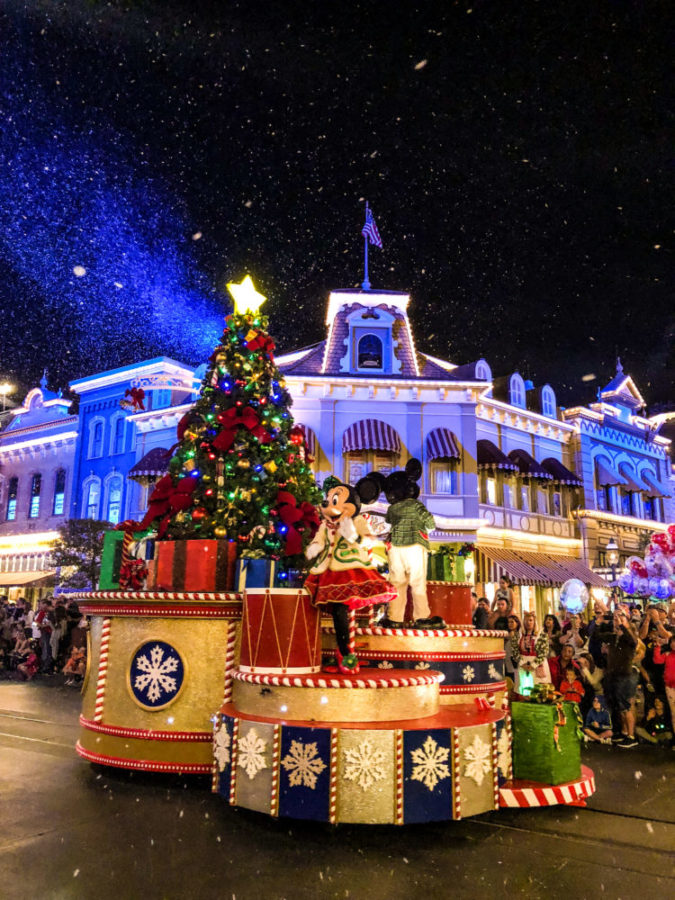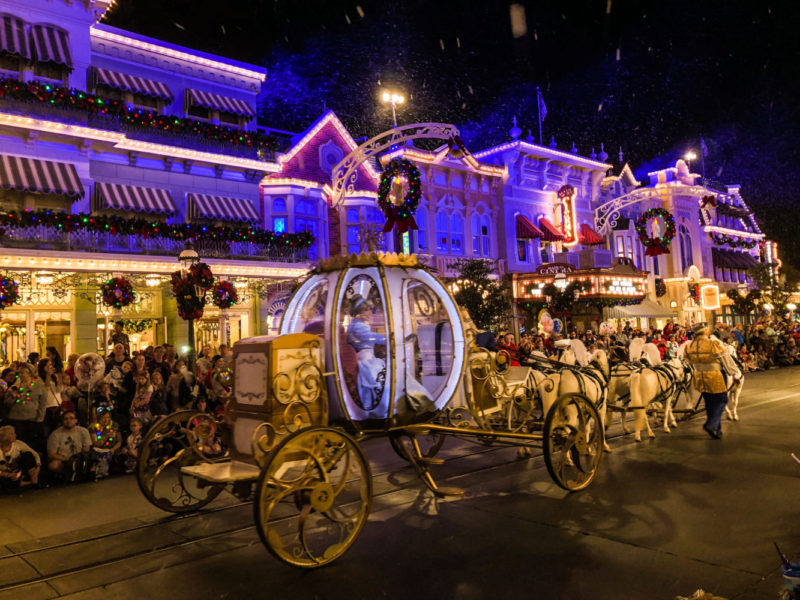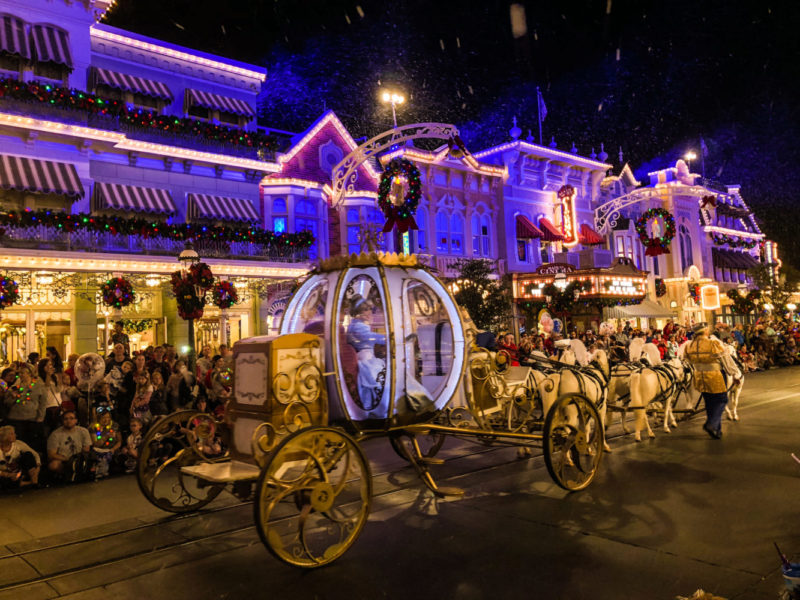 Once Upon a Time Christmas Parade
The most magical and memorable thing about MVMCP is the Once Upon a Time Christmas Parade. Find a place to relax along Main Street, U.S.A as many of your favorite Disney and Christmas characters dance down the street bringing holiday cheer. The street will be filled with holiday music, scented floats (!!), and snow. Yes, I said snow – in Florida! Only Disney could make it snow outside in Florida.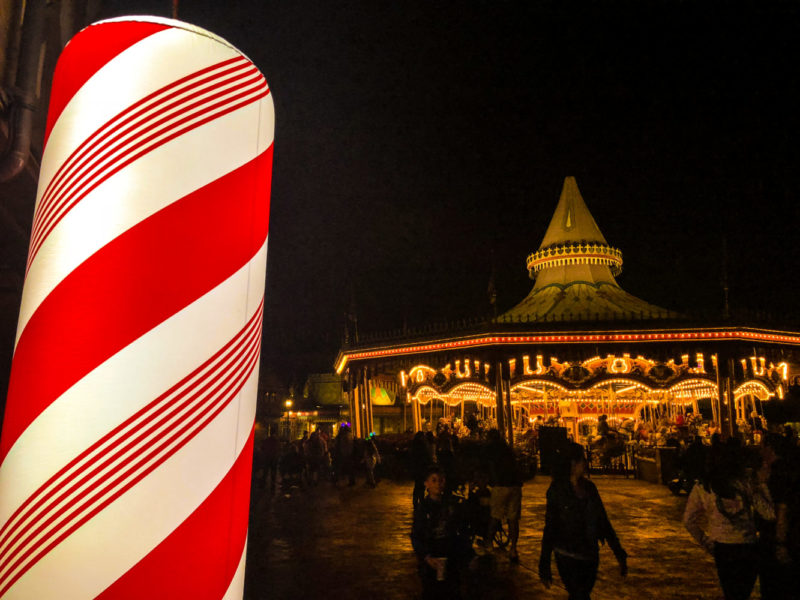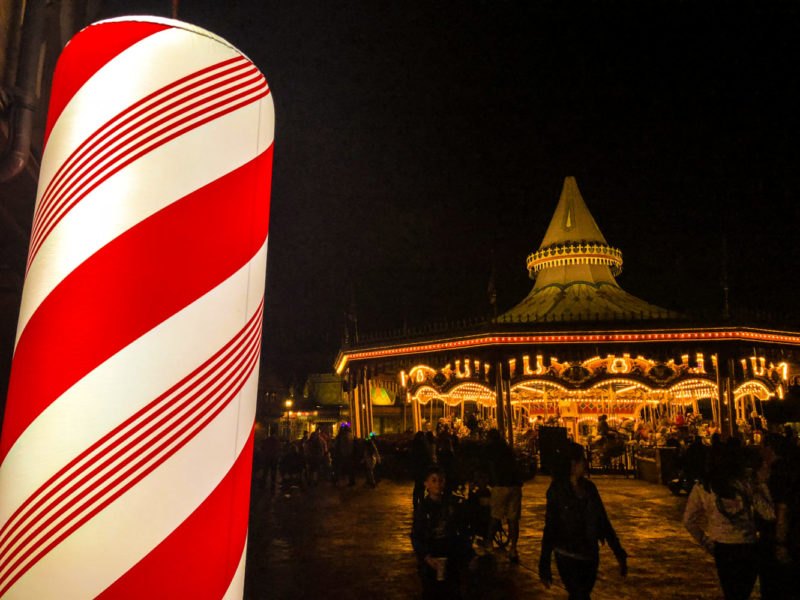 Free Holiday Treats
One of the most impressive things about this party is the complimentary beverages! In various locations throughout the park, you can stop in to get holiday delights such as sno-cones, cookies, hot cocoa, cider, and more! These locations are lit up by large candy canes, so you really can't miss them. The snacks are unlimited and can be devoured until midnight. Don't miss out!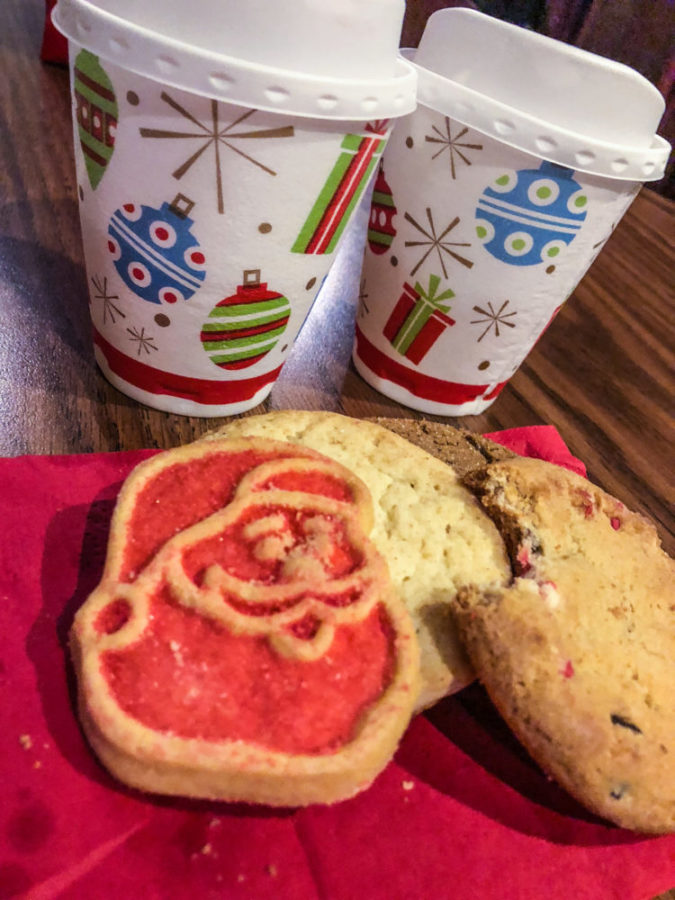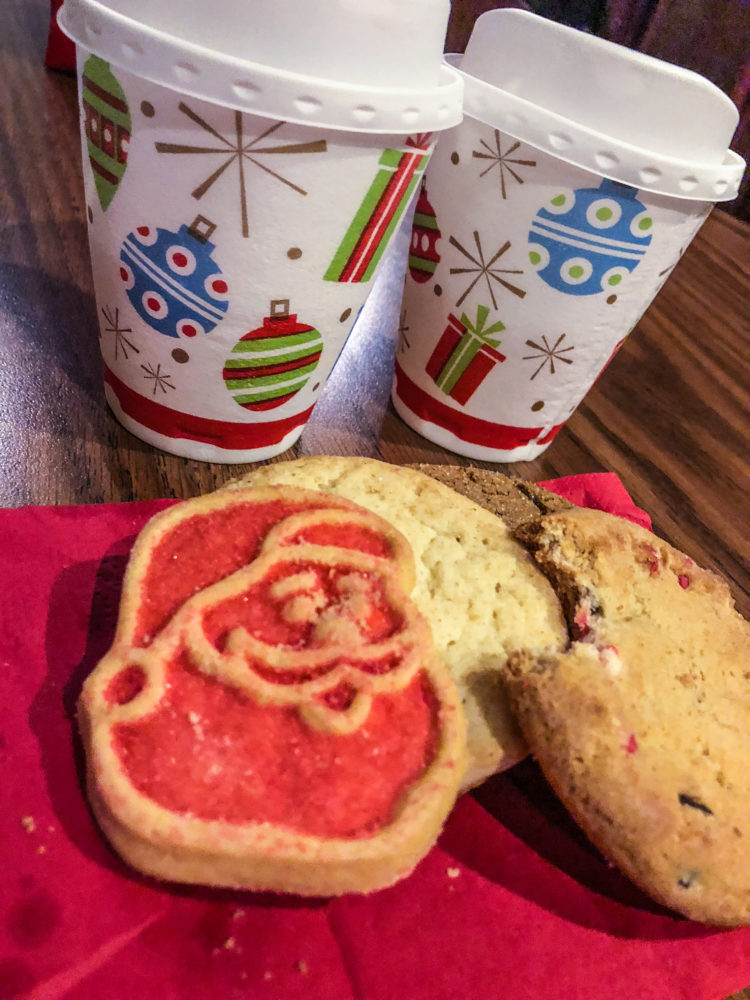 We were also surprised to see cast members handing Santa cookies out right before the parade. This is a new addition from last year's Christmas Party!
A Frozen Holiday Wish (quick castle light show)
Get swept up in the holiday spirit when Queen Elsa transforms Cinderella Castle. Featuring appearances by Anna and Elsa, along with rugged mountain man Kristoff and the lovable snowman Olaf, this merry-and-bright seasonal show culminates in Queen Elsa using her incredible powers to present a gift to everyone in the kingdom—transforming Cinderella Castle into a sparkling, icy centerpiece for the celebration.
You don't want to miss a Frozen castle!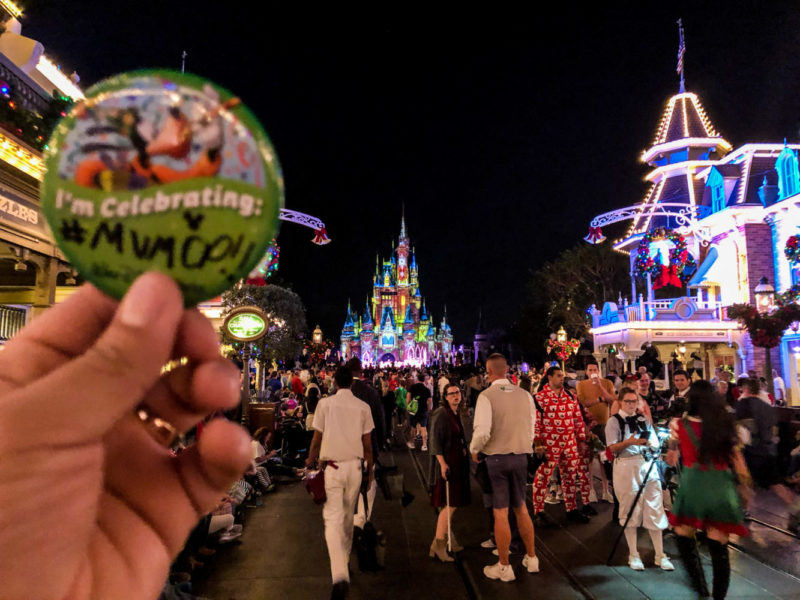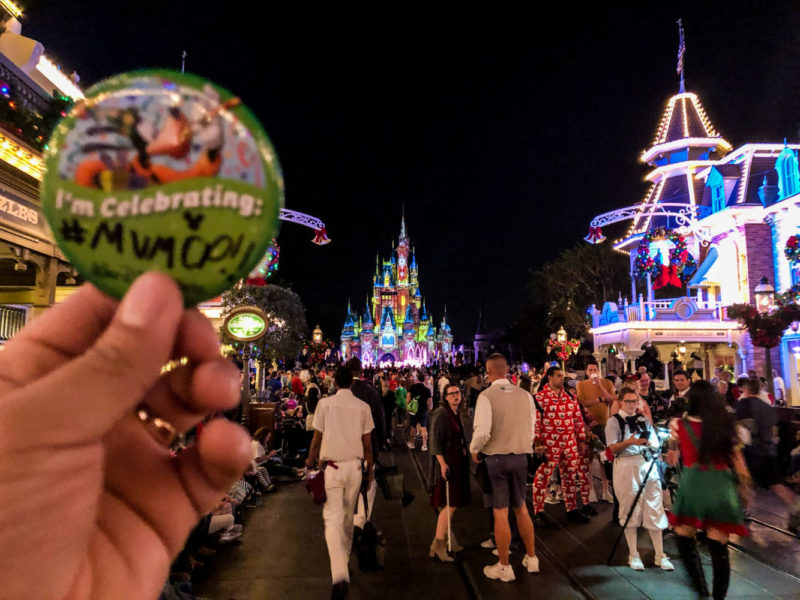 Mickey's Most Merriest Celebration (stage show)
Christmas fun awaits as Mickey invites his pals over for an unforgettable party.
During Mickey's Most Merriest Celebration, you'll feel the holidays come alive during a jubilant stage show that fills the air with music, dancing, laughter and shimmering snowflakes!
It's just days before Christmas and all through this house, excitement is stirring thanks to Mickey Mouse.
Mickey is thrilled that the holidays are here, and he knows the only way to make this season more special, is to share it with friends. So he's throwing a Most Merriest Celebration and inviting lots of Disney pals—and you—to join the festive fun!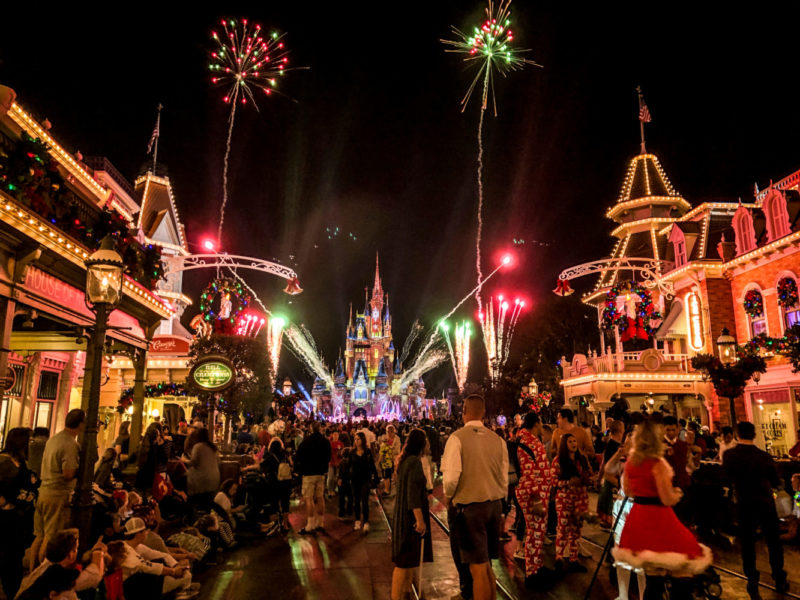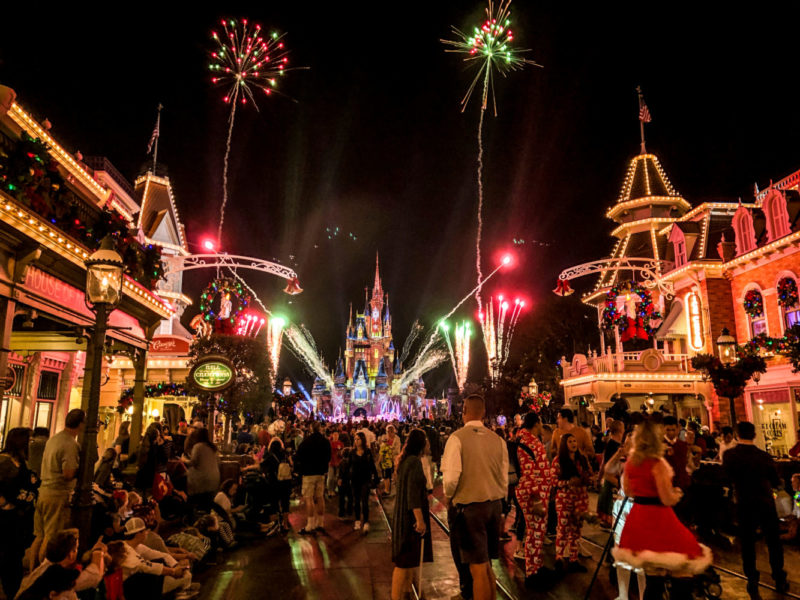 Holiday Wishes (fireworks show)
Light up your night with a holiday fireworks spectacular over Cinderella Castle.
Can you hear it? Can you feel it? There's something magical in the air—and it's the spirit of the season… a spirit that sparkles with its own magic and memories… a spirit that you can experience for yourself during Mickey's Very Merry Christmas Party!
Hosted by Jiminy Cricket, the Holiday Wishes fireworks spectacular features dazzling pyrotechnics, transformational lighting on Cinderella Castle, holiday-themed projection effects and seasonal songs that includes such classics as:
"Sleigh Ride"
"Jingle Bells"
"I'll Be Home for Christmas"
"Santa Claus Is Coming to Town"
"O Christmas Tree"
"Rudolph the Red Nosed Reindeer"
"Spirit of the Season"
2. Disney Christmas Decor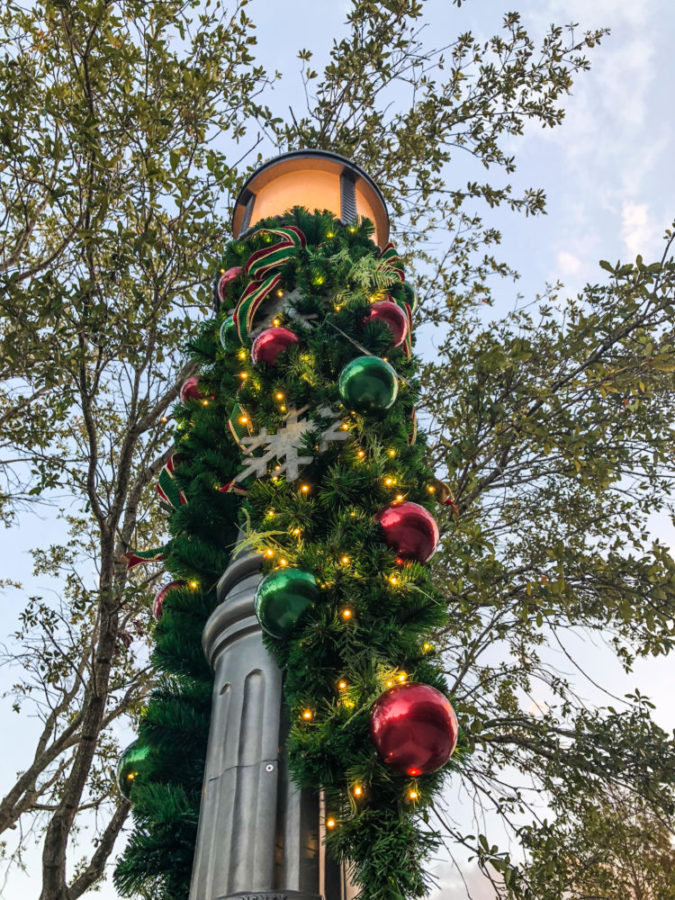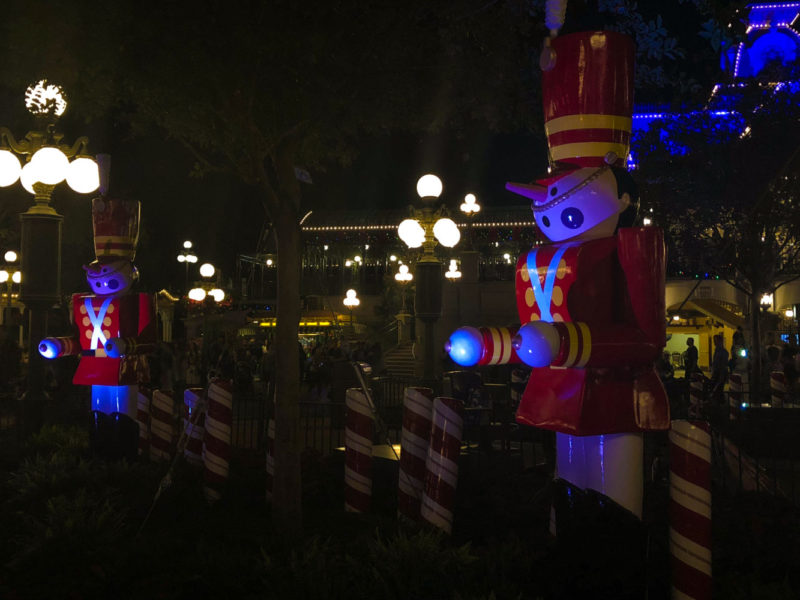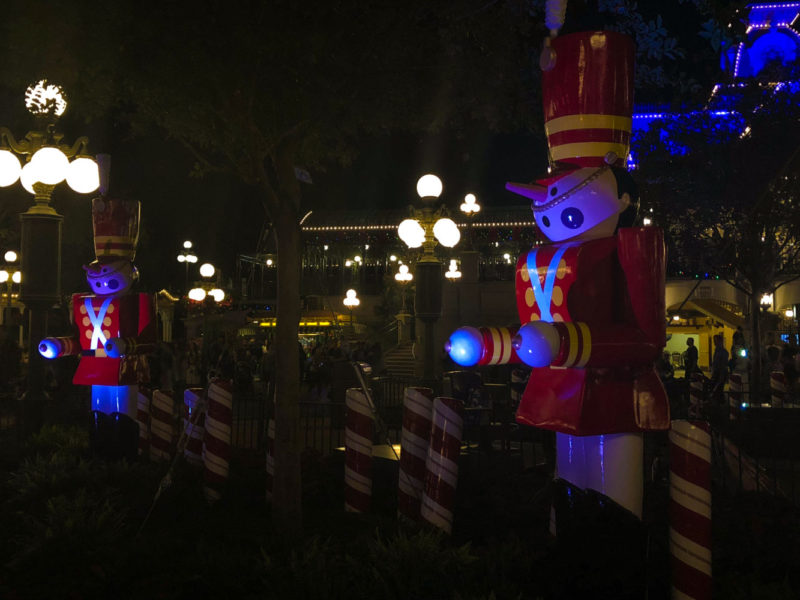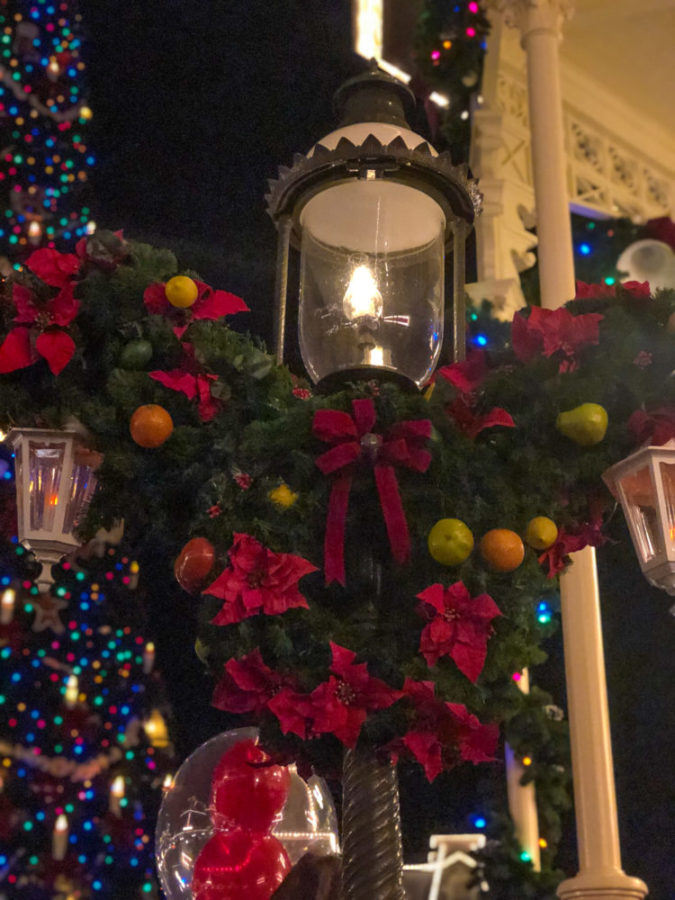 I live for Christmas decor. I can never get enough of it. The festive colors sprinkled all around you are more that my heart can even handle. Disney goes all out with decor. There are wreaths, candles, lights, and garland every where. And the giant tree in Magic Kingdom is perfect for family photos! The parks are completely transformed with Disney Christmas decor!
3. Disney Christmas Shopping (grab those exclusive pins!)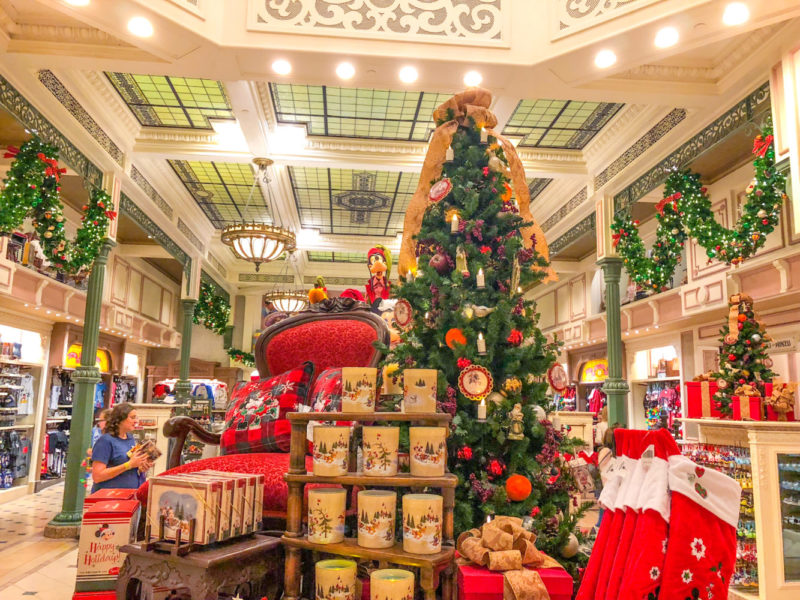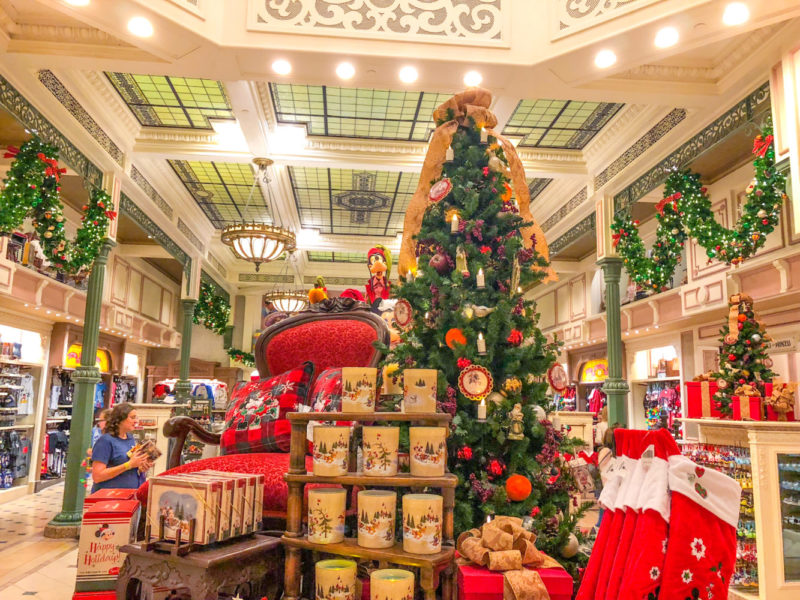 Oh, the shopping. Disney has ornaments year round, but the massive amounts of Christmas tree ornaments at Christmas time will fill your entire tree with the Disney magic you need in your home. There are exclusive Christmas pins, Christmas Minnie and Mickey ears, and lots of Disney holiday fashion pieces. I could spend my entire income at the Disney parks stores!
4. Epcot's Candlelight Processional
Just like Mickey's Very Merry Christmas Party, Epcot's Candlelight Processional another of my favorite holiday celebrations at Disney. They have celebrity narrators, such as Whoopie Goldberg, Neil Patrick Harris, and Kurt Russel. Every year the celebrity narrators vary but the real stars are the incredibly talented performers in the 50-piece orchestra and massed choir! With Christmas stories and Christmas music, it's an event that you cannot miss during Christmas at Disney! There are even special dining packages for Epcot's Candlelight Processional!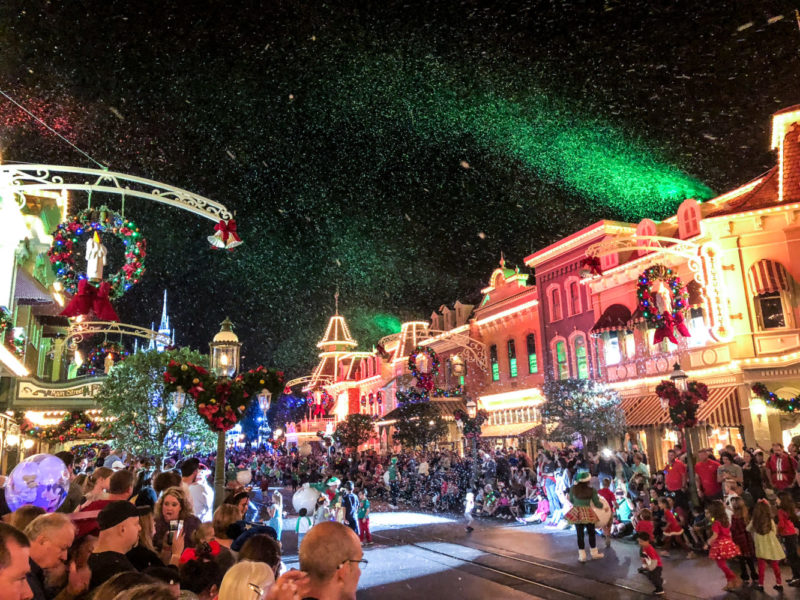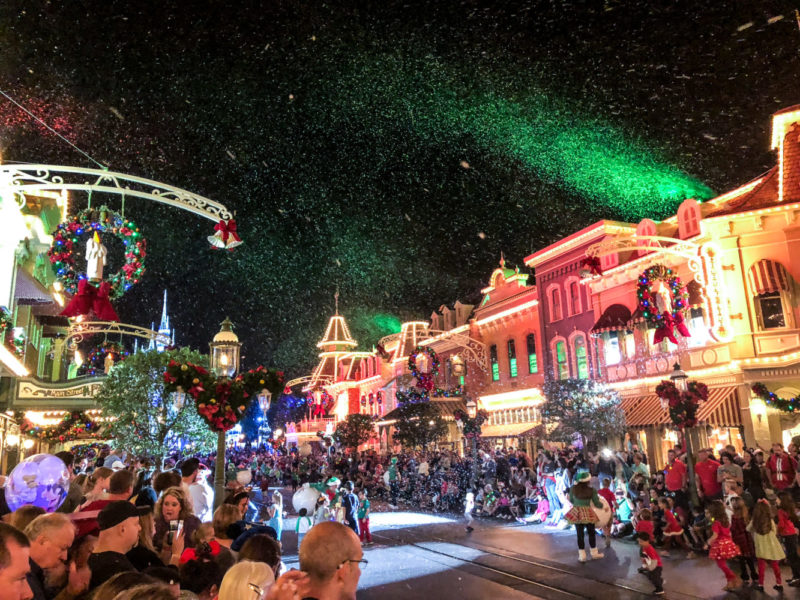 5. Special holiday deals at Disney Springs
Another fun thing to keep in mind are the holiday shopping deals you can find at Disney Springs. America's favorite stores are in Disney Springs and it's a prime time for shopping! You can even marvel at the gorgeous holiday decor and the Christmas Tree Lane which is filled with Disney themed Christmas trees and… it's snowing!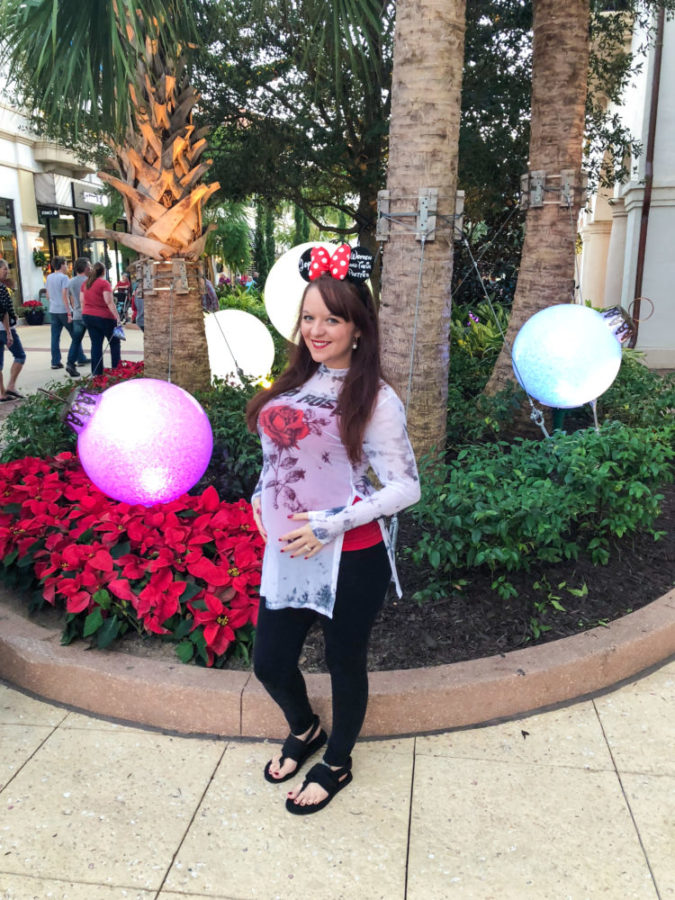 6. Christmas character photos
You can also take advantage of photo opps with Disney characters all dressed up in their holiday costumes for Christmas. And a little elf told me that you can take picture with Santa at some locations!
7. Christmas snacks
Other than the free holiday treats during Mickey's Very Merry Christmas Party, you'll find specialty desserts and drinks throughout the parks – especially at Epcot. So, be sure to take advantage of all that YUM!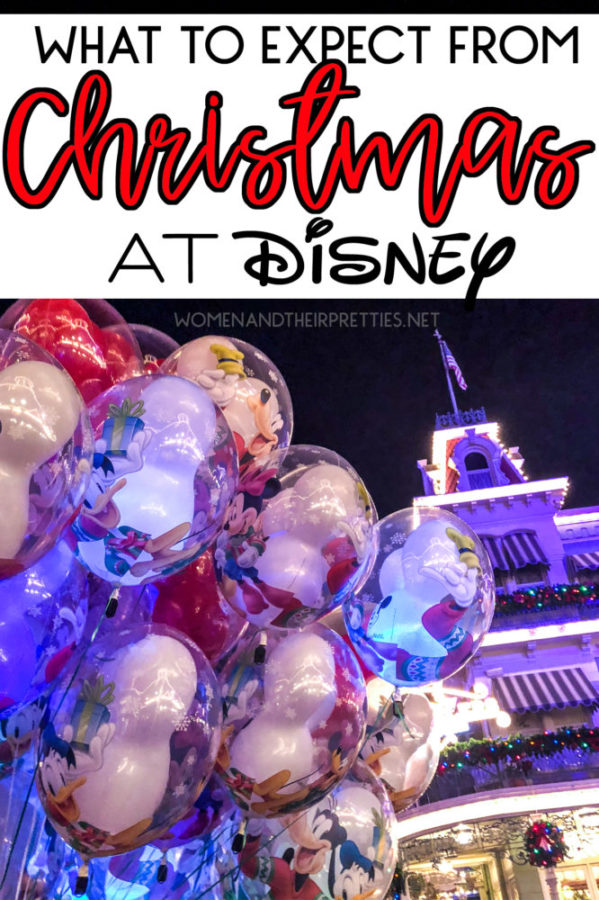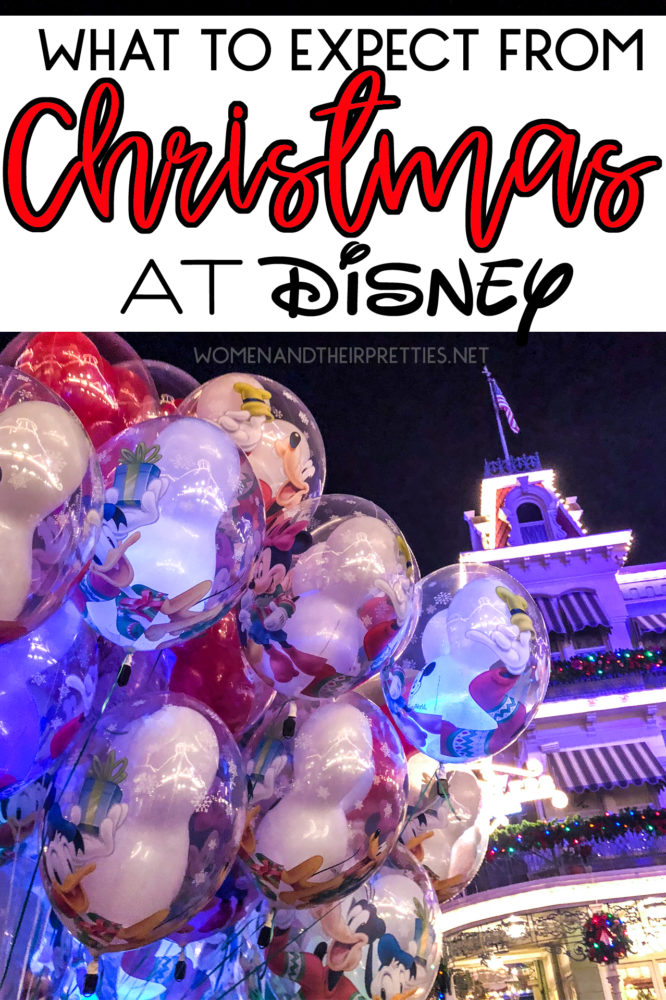 Will you be spending Christmas at Disney this year?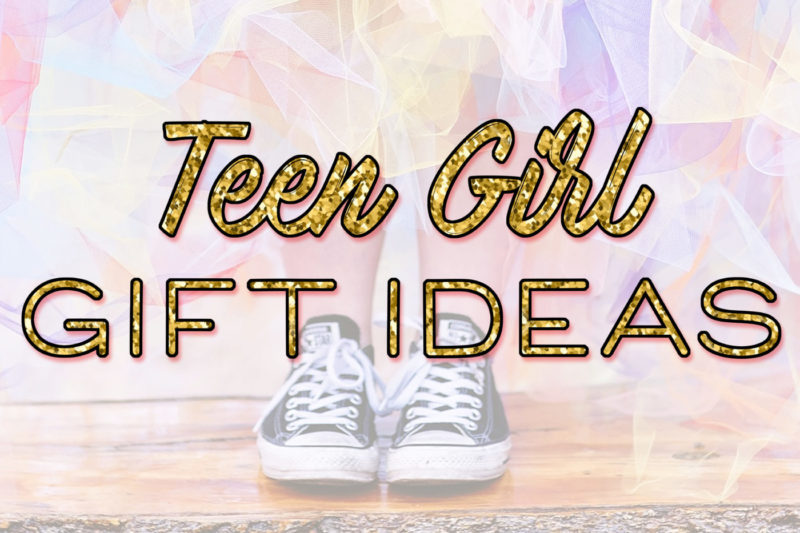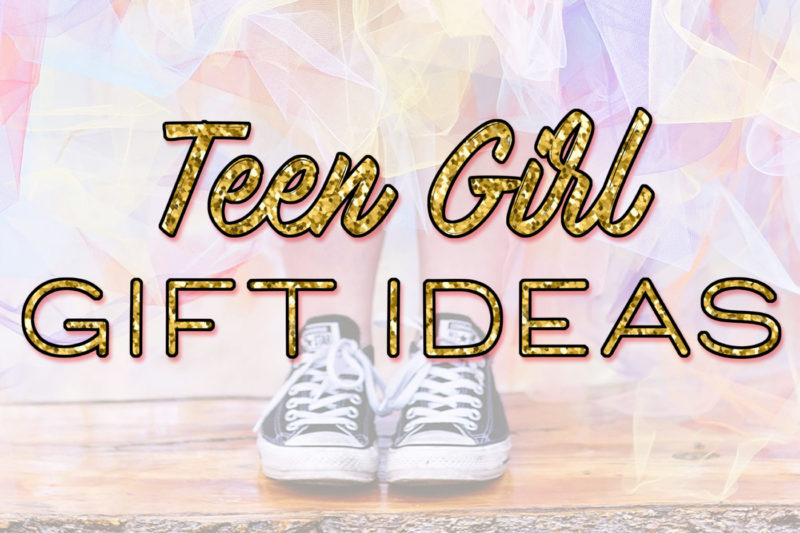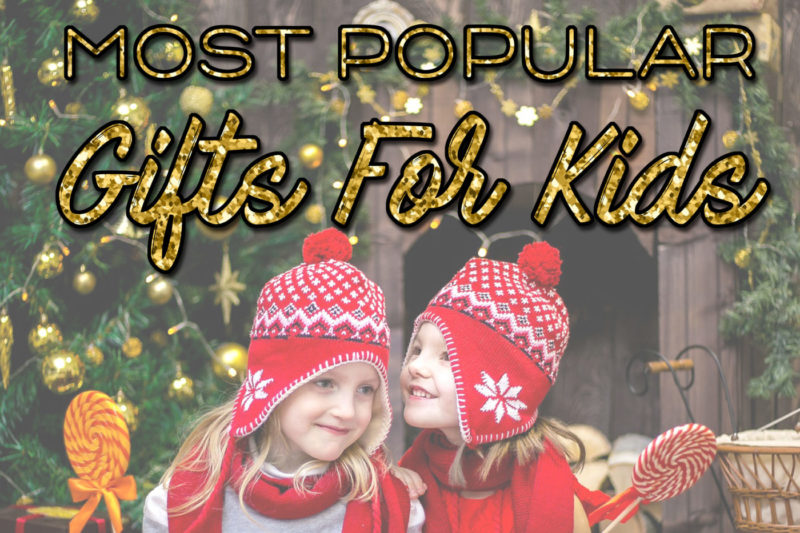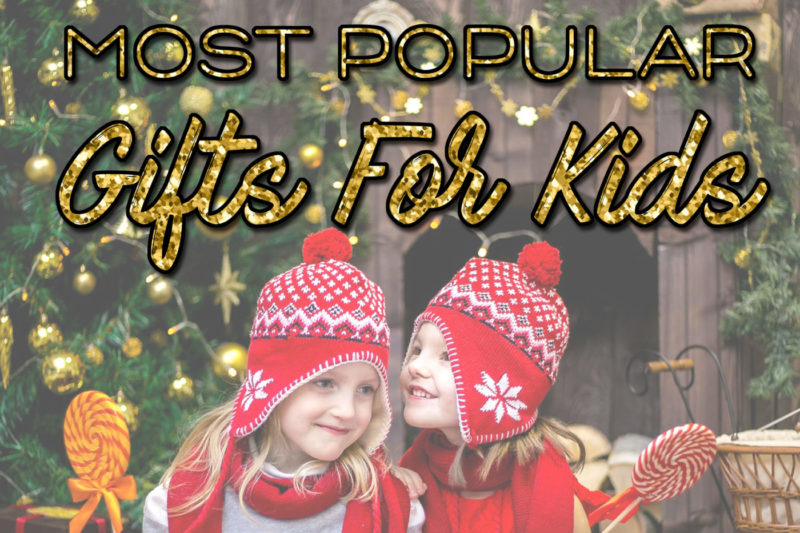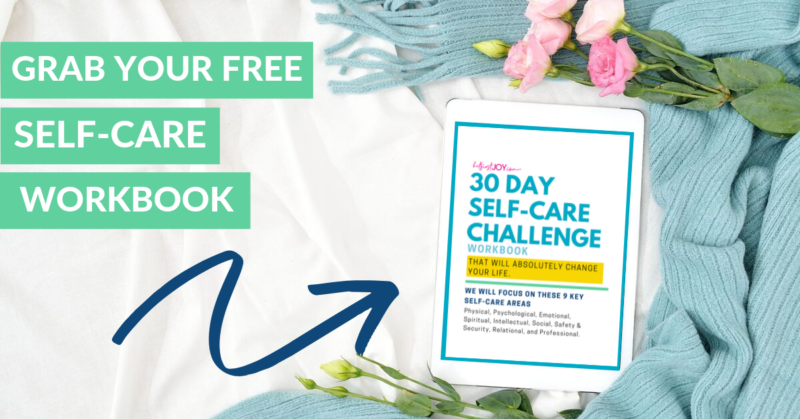 DISCLOSURE
This post may contain affiliate links and/or promotional products, all opinions expressed are that of But First, Joy only. Read my full disclosure.