This post is in partnership with Universal Pictures.
If you've ever seen Bridget Jones's Diary then you probably remember how imperfect Bridget Jones was. She would drink, smoke, say inappropriate things, and was quite clumsy. Bridget Jones was the perfect example of a normal woman. She wasn't the perfect, well-kept woman that we were so used to seeing in Rom Coms back then. She was actually a breath of fresh air, if you ask me! I think that we can all relate in some way. I've had plenty of "Bridget Jones Moments". My most recent one will make you giggle.

My Bridget Jones Moment
So, for the past few months I've been going every other week to get my nails painted at a local salon. Each time, I get a Shellac nail color because the gel polish lasts way longer than regular polish. Since I received a gel polish manicure kit for my 20 Things For Women in Their 20s guide, I decided to skip the salon this week to save some money. I thought, "Oh, I've got this!" I bought a gorgeous nail polish that I've been dying to try out and followed the instructions in the kit for doing my own manicure. With gel manicures, you use a UV light to cure the manicure and you use base gel coats and top gel coats. Well, thinking that I know it all, I decided that I could use a regular nail polish and just use the two gel coast and I'd be fine – boy was I wrong.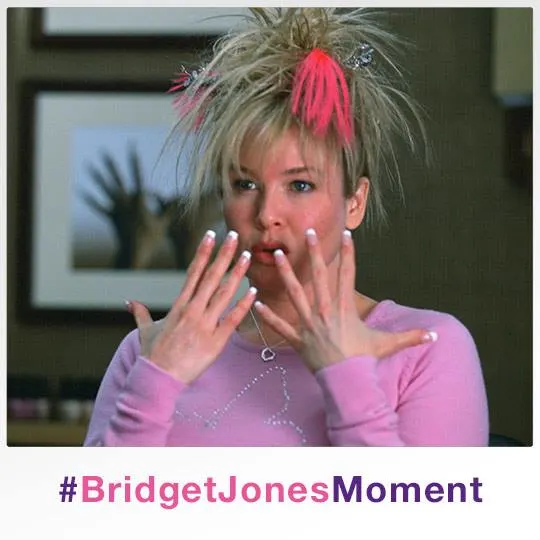 My nail polish literally started MELTING! Yes, MELTING. Haha. I felt like a dummy. I tried correcting it by adding more coats – nope. That didn't work so well. And with a gel manicure, you can't just wipe the polish off with nail polish remover. Basically, I've been walking around with a jacked up manicure for the past week. Do I have a picture of it? NO! I don't have a picture because if there isn't a picture then it didn't happen.That's my most recent Bridget Jones moment – what's yours?
Bridget Jones's Baby – In Theaters 9/16
So the entire reason I am bringing up Bridget Jones is because there's a third movie in the series coming out – Bridget Jones's Baby! Okay, I'll let you fangirl, hyperventilate, and squeal for a few moments…
You good? Okay, great! You have every right to be really excited because not only is Renée Zellweger back on the big screen for this Romantic Comedy, partner in crime, Colin Firth is back! They have also brought in the Rom Com legend, Patrick Dempsey. Basically, there's going to be lots of love, lots of laughter, and a BABY! Seriously, I hope this is the start to a few more movies. Read all of the details below.
Oscar® winners Renée Zellweger and Colin Firth are joined by Patrick Dempsey for the next chapter of the world's favorite singleton in Bridget Jones's Baby. Directed by Sharon Maguire (Bridget Jones's Diary), the new film in the beloved comedy series based on creator Helen Fielding's heroine finds Bridget unexpectedly expecting.
After breaking up with Mark Darcy (Firth), Bridget Jones's (Zellweger) "happily ever after" hasn't quite gone according to plan. Fortysomething and single again, she decides to focus on her job as top news producer and surround herself with old friends and new. For once, Bridget has everything completely under control. What could possibly go wrong?
Then her love life takes a turn and Bridget meets a dashing American named Jack (Dempsey), the suitor who is everything Mr. Darcy is not. In an unlikely twist she finds herself pregnant, but with one hitch…she can only be fifty percent sure of the identity of her baby's father.
The much-anticipated third installment of the Bridget Jones's franchise welcomes fellow Academy Award® winner Emma Thompson to the cast. Longtime collaborators Tim Bevan and Eric Fellner of Working Title Films produce alongside Debra Hayward. Universal Pictures will distribute Bridget Jones's Baby in North America and select international territories.

Win a Bridget Jones Prize Pack
To celebrate the release of Bridget Jones's Baby, I am giving one lucky winner a Bridget Jones's Baby Prize Pack! I want to help you take your girl's night to the next level. Check it out below and good luck!
One (1) winner receives a Bridget Jones's Baby Prize Pack:
$25 Visa

gift card to see the film in theaters

September 16
Tote Bag, Eye Mask, Lip Balm, Candle, Nail File
Bridget Jones's Baby Prize Pack Giveaway
Visit all the BRIDGET JONES'S BABY websites