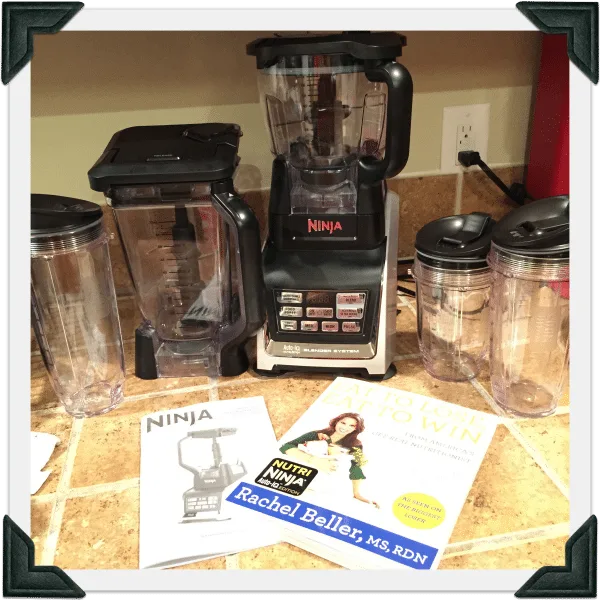 I recently received my first Nutri Ninja product and I must say, I am in awe. It makes me feel like a pro chef because of all of the different things that I can do with it. This advanced technology system is not only a blender; it is a food processor, mixer, a kitchen's best friend! The Nutri Ninja – Ninja Blender System is a chef's dreamland! I am serious! It includes everything that you need in your kitchen to create your own delicious delights! I am not much of a cook, but the Ninja Blender System motivates me to try new recipes and to come up with creative ideas!
Your creativity is never limited because the Nutri Ninja Blender System includes all the following:
72 oz. Blender Pitcher
Small 18oz Nutri Ninja Cup
Regular 24 oz Nutri Ninja Cup
Jumbo 32oz Nutri Ninja Cup
1 Pro Extractor Blades
3 Sip and Seal Lids
Food Processing Bowl and Blade Accessories
It also includes these extras:
Inspiration Guide
Rachel Bellar 3-day Jump Start Plan
The Nutri Ninja Auto-iQ™ Edition of Rachel Beller's Book Eat to Lose, Eat to Win
Call me boring, but I really do enjoy watching Food Network. In fact, it is one of most watched channels in my household. My boyfriend and I love the competitive shows the most, but on occasion you will find us caught up in a great cooking show. One of the recent shows that grasped our attention was teaching a delicious soup recipe. All of the ingredients were well known and easy to find, so we put our chef hats on and delved right into the show. There came a point when the professional chef used a nice food processor. That is where I stopped and whined about not having one. I thought, "I could never chop veggies like a food processor does." Well, with my Nutri Ninja Blender System, I really don't have to worry about those disappointing moments ever again.
Why the Auto IQ is so impressive
The Auto IQ basically does everything for you. You really don't need to do much thinking because the Auto IQ does it for you. The prepping that you used to dread, is now as simple as the push of a button, literally. The buttons are really direct. In other words, you will not get confused because the button explains it all. If you need something frozen or hard (like nuts) blended, simply push Ultra Blend. For basic blending (fruit, veggies, yogurt), use the Blend button. Do you need a puree (baby food, sauces, dips)? Push Food Puree. I told you, it is completely simple! Want to create a nice smoothie or milkshake? Push the Frozen Drinks Smoothies button. There are a few other buttons that are typically found on blenders: Low/Dough, Med, High, Pulse, and On/Off.
So what are the first Delicious Delights that I created with my Nutri Ninja Blender System?
My boyfriend and I have thrown around the idea of making homemade hummus for awhile now. After receiving the Nutri Ninja Blender system we knew that it would be a PERFECT handy little helper. So here what we made!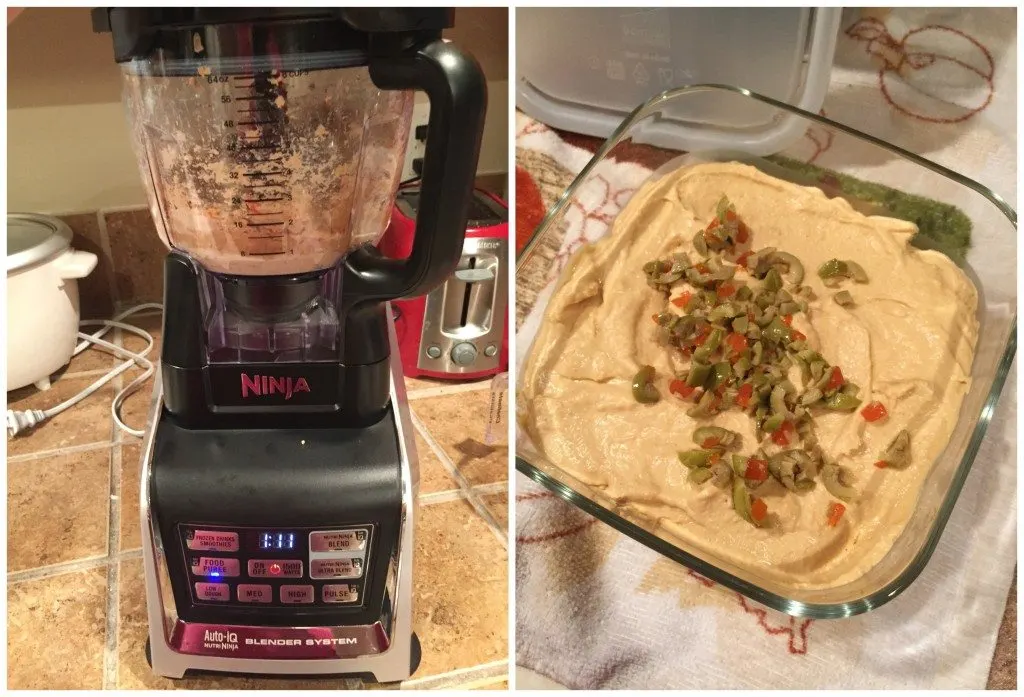 Hummus
This was SO simple to make with the food processor! We threw all of our ingredients into the processor bowl, snapped the lid on, and blended for about 10 seconds. We stopped the blending, scraped the hummus down the sides, added oil to smooth it out, then pushed puree and that's it! After the Ninja Food Processor attachment finished the puree, our hummus was the PERFECT consistency. This turned out so much better than we expected. It was so easy! Instead of smashing, chopping, and cutting, we let the Nutri Ninja Blender System do all of the work!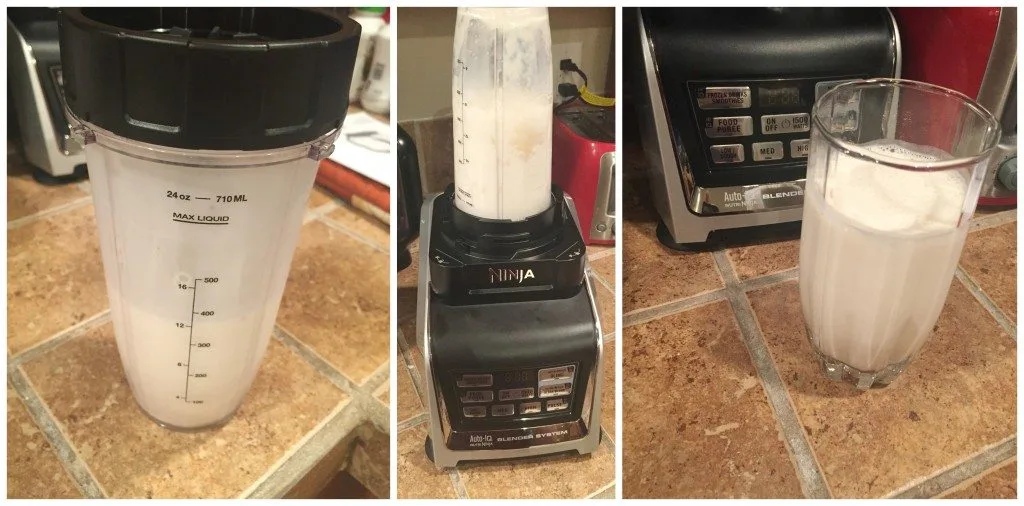 Banana Smoothies
When I was a kid my Mom used to make us banana smoothies with a banana powder mixture. Well, I found the mixure at Publix the other day and I had to get it! So, I grabbed the Medium 24oz Nutri Ninja Cup threw in one ripe sliced banana, milk, ice, and the banana smoothie mixture. I pushed the BLEND button and that was it! My shake was perfect and delicious; even more so than when I was a child. Had I used a typical blender, this probably would have been a 10 minute process because I would have to stop, shake the blender (because the ingredients were blended or were stuck), and then blend again. With the Nutri Ninja Blender System my perfect banana smoothie was ready to drink in 3 minutes! Ahh I love it!
Purchase and Connect
The Nutri Ninja | Ninja Blender System can be purchased at Bed, Bath, & Beyond. However, other Nutri-Ninja products can be found at Target or at www.ninjakitchen.com.
Connect on Social Media: Facebook / Twitter / Instagram / YouTube / Pinterest