A huge thank you to my affiliate Perdue Farms for sponsoring this post. All opinions expressed here are my own.
I never thought the day would come when I'd be ordering groceries online, much less ordering quality, organic meat from a brand that I've trusted for years.
With the Perdue Farms delivery service, you can get all natural and organic meat delivered right to your front door at a discounted price!
These are called the Perdue Farms direct-to-consumer bundles. With a variety of bundles to choose from, you can get exactly what your family needs without leaving the house.
You know what that means?
You can stick to all those goals you set at the beginning of the year!
After reading this post, you will have learned the following:
Why my family chooses to shop for meat online & how it helps with our healthy lifestyle.
Why Perdue Farms is my go-to brand of choice to order quality meat online.
How to bundle & save with Perdue Farms direct-to-consumer boxes.
Exactly how ordering meat online will help the planet.
How to get a Freebie & A Special Discount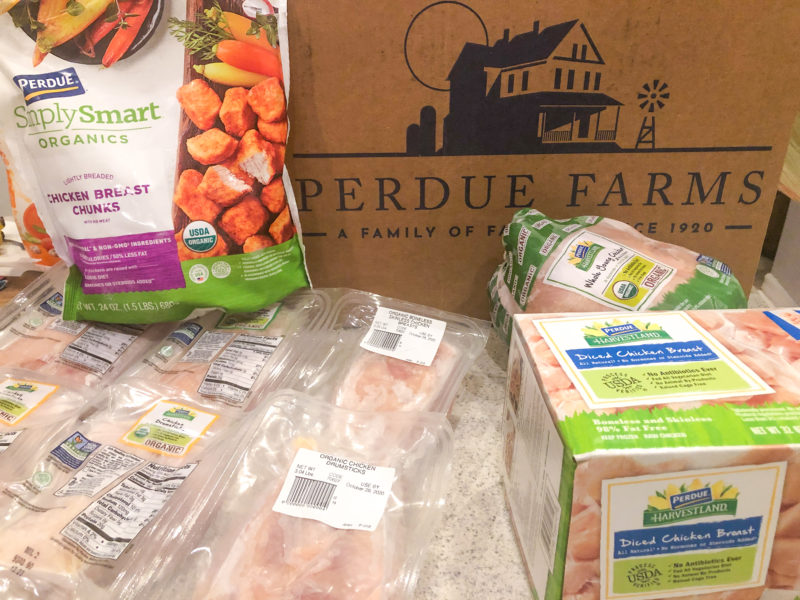 Why ordering meat online is a great choice for a healthy lifestyle:
Before I begin, I want to disclose that as much as I love new technologies, I've always been pretty old fashioned. I like to shop in actual stores and read actual books. There's something satisfying about physically touching something.
However, when it comes to food – I'd much rather shop for groceries online and for a number of reasons. This is especially true when it comes to purchasing poultry and other meats online.
In fact, after Perdue Farms introduced me to their new direct-to-consumer delivery service, I realized how much this service benefits our healthy lifestyle. If this benefits my little family, then it would definitely help other health-conscious families.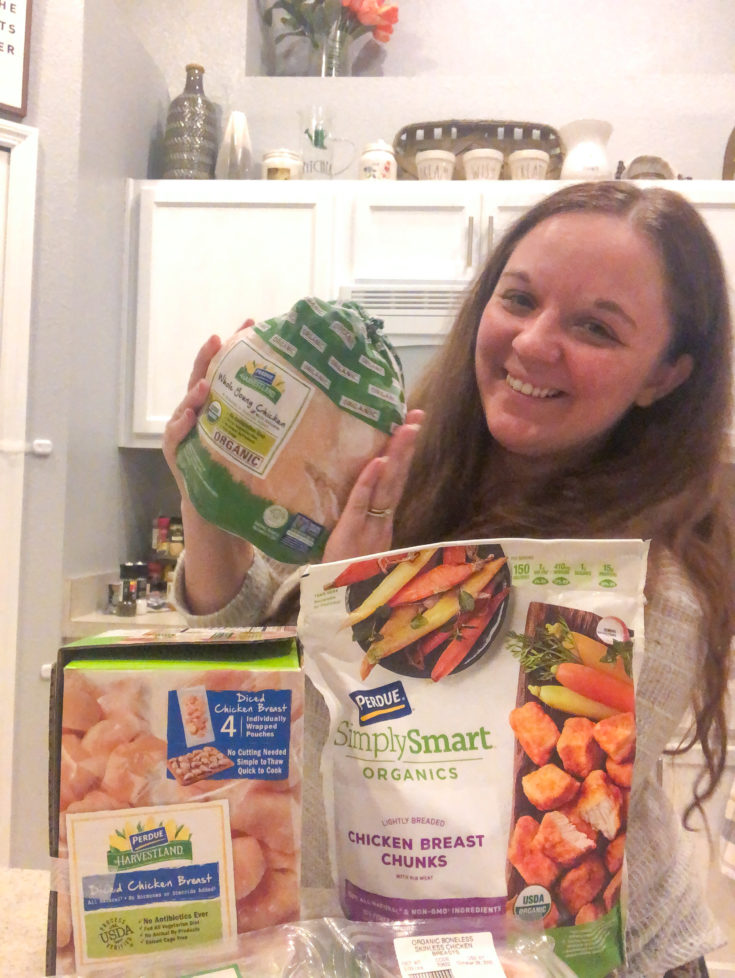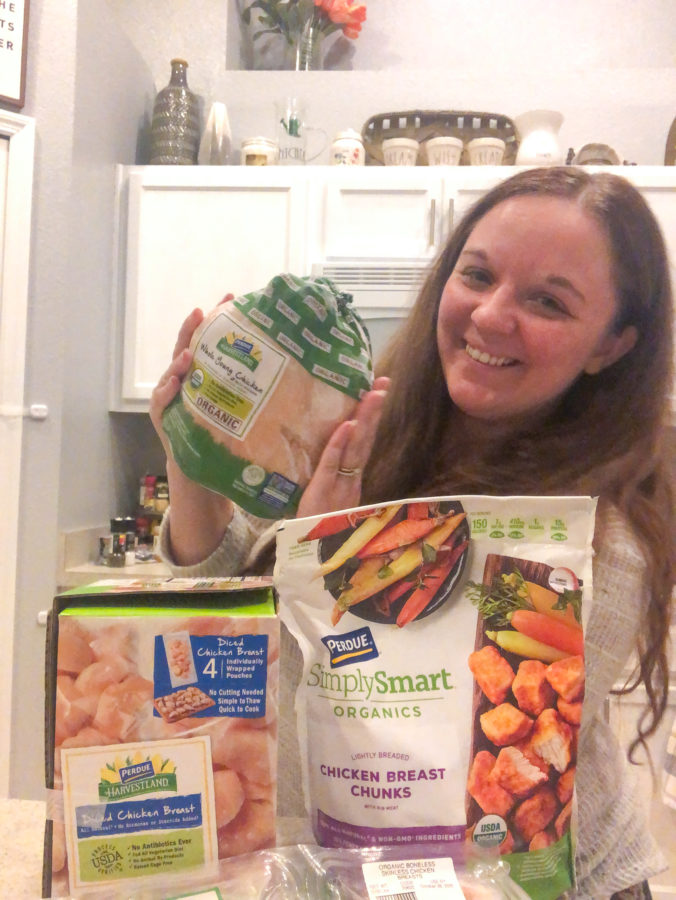 Reasons Healthy Families Should Order Meat Online:
1. You aren't tempted with unhealthy options in a grocery store.
Let's be real, it's very hard to stroll through the grocery store without grabbing something you don't need. All of the junk food is cheaper (but less quality) products can be very tempting. That's why shopping online for your meats can help maintain your healthy diets.
2. You save money when you bundle with Perdue Farms.
Perdue Farms values their customers. That's why they are offering up to 25% off when you purchase one of their bundles. See more details below.
3. Buying meat online makes meal planning a breeze!
If you're into meal planning, which I highly recommend, then buying meat online makes it easy. You know exactly what you're getting so you can get those meals planned ahead of time.
4. You can read all nutritional facts and ingredients without feeling rushed.
One of my favorite things about buying meat online is that I can get a real and good look at ALL the nutritional information. This is particularly great for those with allergies. Never be surprised about what you eat again!
5. It's easier to find and use coupons online.
Don't you hate when you walk into the grocery store only to realize you left all your coupons at home? Or even worse… your coupons are expired. Buying online helps you find coupons in a matter of clicks, which tends to translate to buying exactly what you want rather than what's cheap!
6. You'll be more willing to eat at home as opposed to eating out.
When you have a refrigerator and freezer stocked full of meat, there's no reason to eat out. Plus, our family tends to grab fast food after grocery shopping because who wants to cook after shopping for over an hour. Not me!
7. Not only can you meal plan but you can meal prep!
Along with planning your meals, you can actually prep them ahead of time. This means cooking those freezer meals in advance so you can heat and eat!
Why Perdue Farms is my favorite place to order fresh meat online:
Perdue Farms is a brand you can trust to provide natural and organic meats at a reasonable price. What's really great is that a number of other brands fall under the Perdue Farms name:
Perdue
Perdue Harvestland
Coleman Natural
Niman Ranch
Skagit Red
Sonoma Red
This means you can order all of these brands right on the Perdue Farms website within your bundles! That's one reason I love buying meat from their website.
The most impressive thing about buying from Perdue Farms is knowing that they work directly with small family farmers to raise animals with care and deliver premium proteins! As of 2020, Perdue Farms has been at it for 100 years!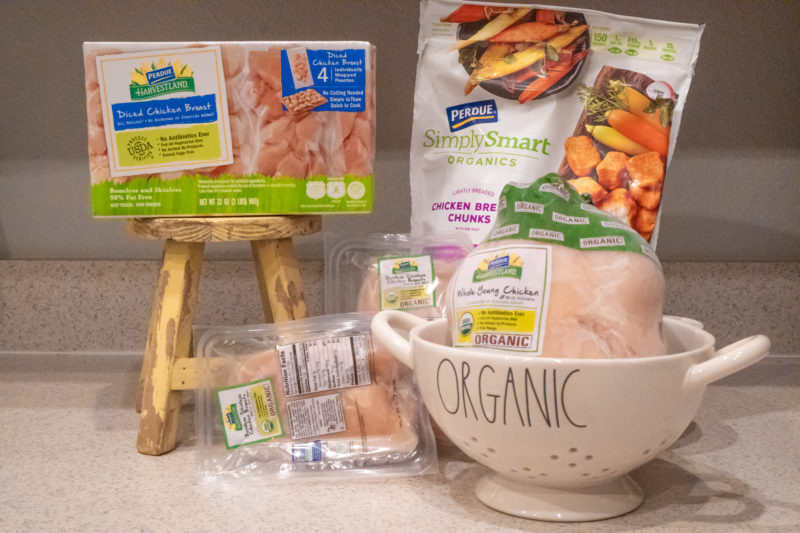 How to Bundle & Save with Perdue
You can save up to 25% on meats when you purchase bundled products from Perdue Farms. With 9 bundles to choose from, you can definitely find something perfect for your family.
There are 3 types of bundles which are available in sizes small, medium, and large. These are the bundles you can choose from:
Gatherings Bundle: A collection of foods hand-picked for impromptu gatherings as well as sit-down family feasts
Family Bundle: A versatile assortment sure to please the whole family
Organic Bundle: Making healthy choices at mealtime easier than ever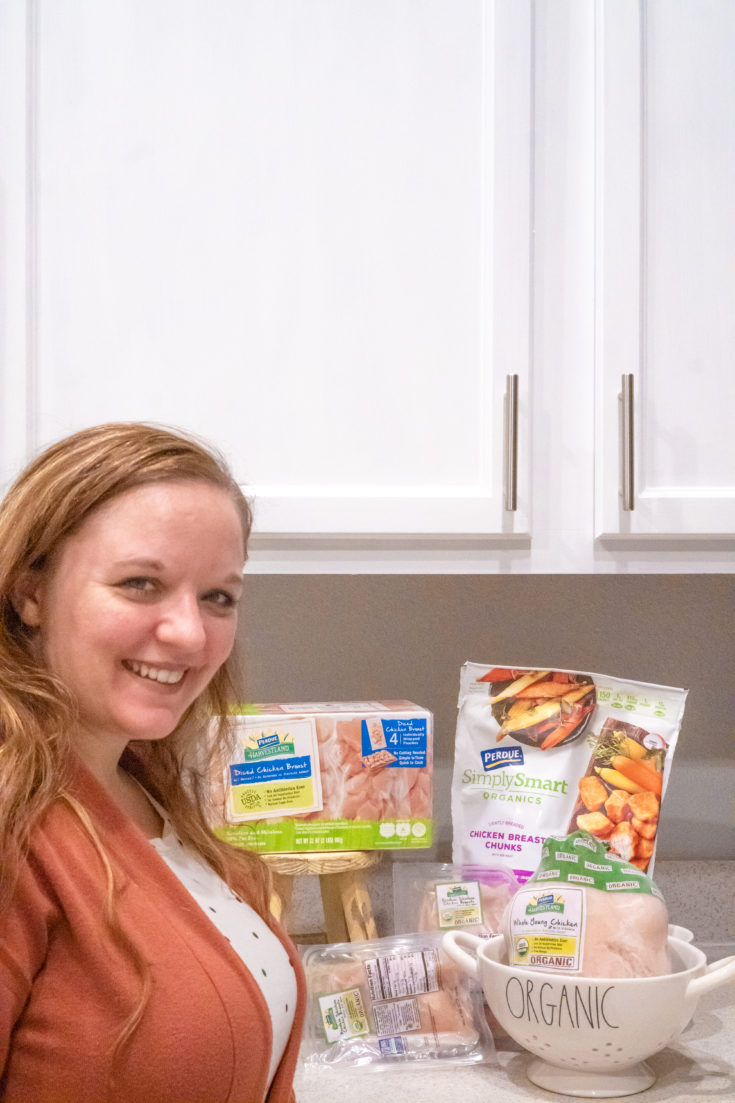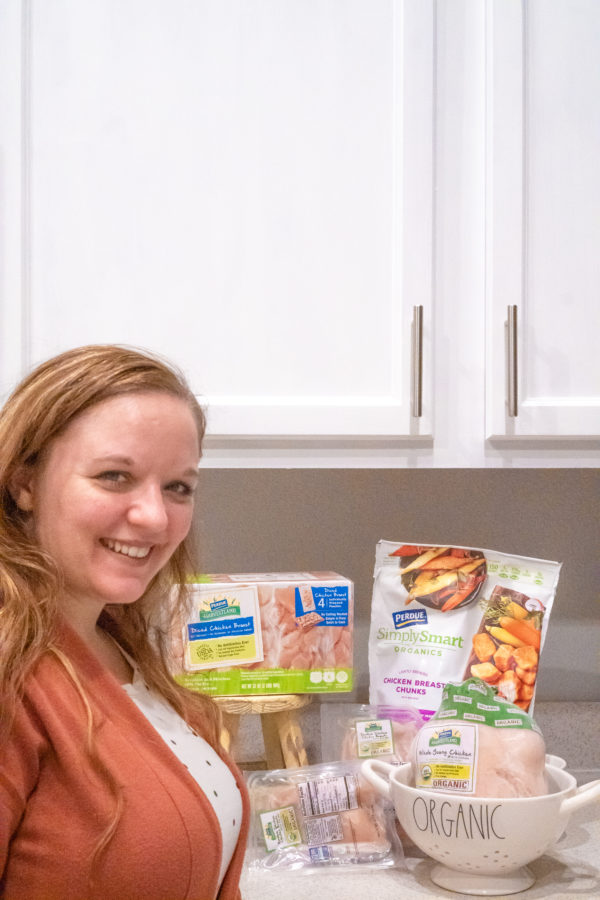 I received the Medium Organic Bundle which contained the following:
Perdue Harvestland Organic Whole (With Giblets)
Perdue Harvestland Organic Boneless Skinless Breast
Perdue Harvestland Organic Drumsticks
Perdue Simply Smart Organics Lightly Breaded Chicken Chunks
FREE ITEM – Perdue Harvestland Diced Chicken Breasts
How ordering meat online with help the planet.
When you order poultry and other meats from Perdue Farms, you're not just getting a great deal on quality food, you're helping our planet. That's right, Perdue Farms cares a lot about sustainability. Here's the details:
For every bundle shipped, they will donate to the Arbor Day Foundation, which is working to replant damaged areas of our nation's forests. This donation will help reduce the carbon footprint required to ship their products to you.
They designed shipping boxes with sustainability in mind. Every box is made out of 100 percent recyclable cardboard and insulated with Green Cell Foam®. Green Cell Foam® is eco-friendly packaging and is biodegradable, compostable, and made from high-grade non-GMO cornstarch that is dissolvable in water.
You'll receive a reusable and recyclable grocery bag with every purchase. Reach for our bag next time you go to the store to avoid using paper or plastic.
A pollinator seed packet is also included in every box. We wouldn't be able to produce the food we do without bees and butterflies, which help to make one out of every three bites of food we eat. Plant the seeds to create a robust pollinator habitat near your home!
Learn more about the progress Perdue Farms has made in the areas of food, environment, animal care, people, community and their partners by clicking here.
How to get a Freebie & Save 10%
With every customer's first order, they will receive a FREE Perdue Harvestland Diced Chicken Breasts!
Plus, you will automatically save 10% on your first order!
Looking for recipes and inspiration for Perdue Farms chicken? Visit these sites:
Take advantage of Perdue Farms delivery today!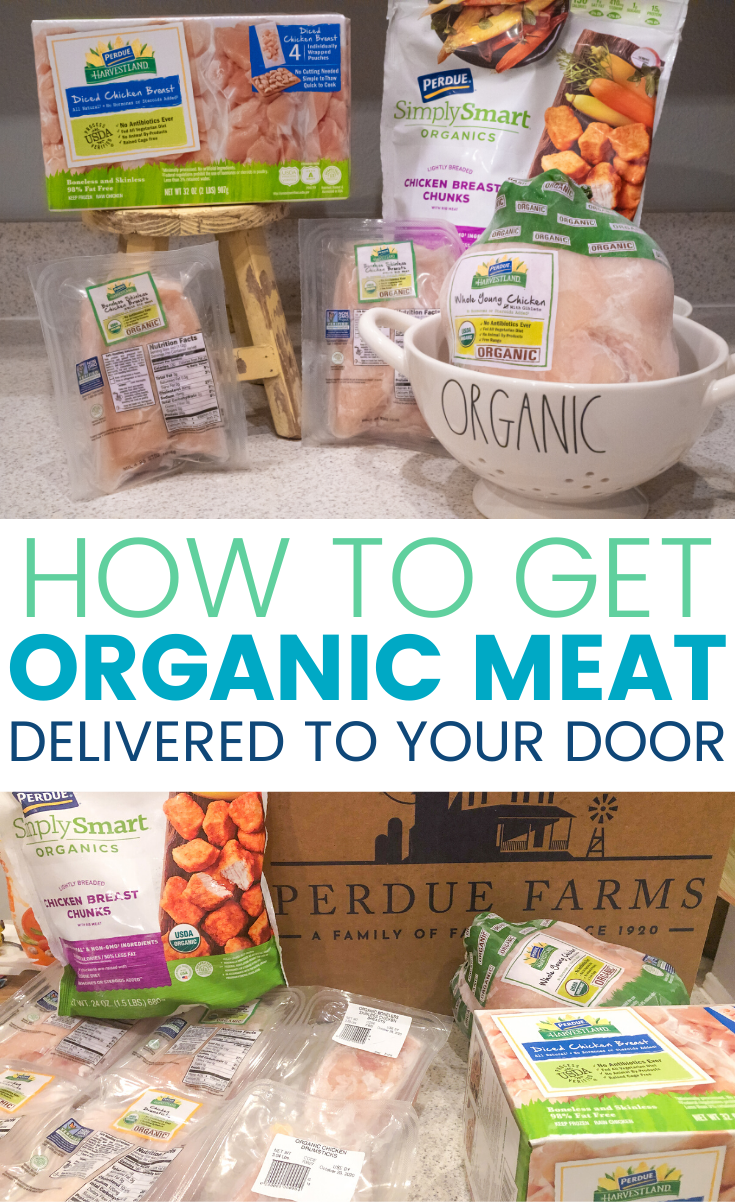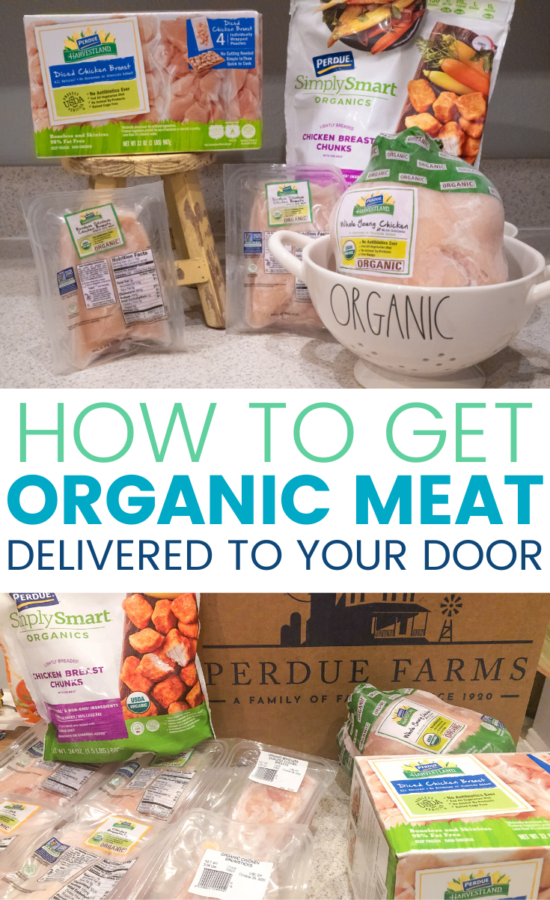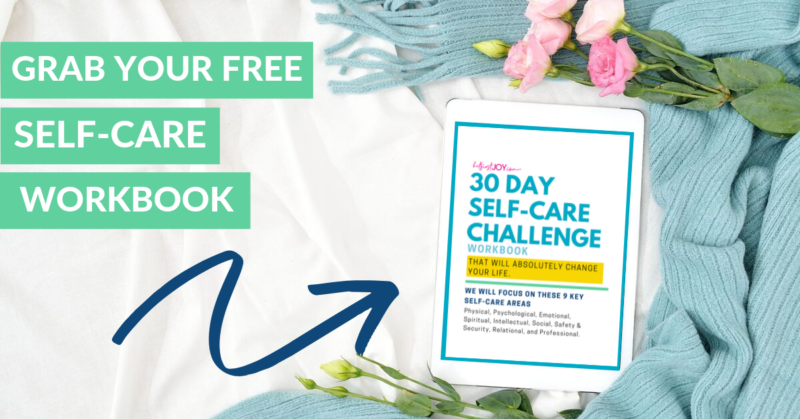 DISCLOSURE
As an Amazon Associate I earn from qualifying purchases. This post may contain affiliate links and/or promotional products, all opinions expressed are that of But First, Joy only. Read my full disclosure.