#PutYourHeartToPaper with @hallmark for #ValentinesDay http://t.co/zNE30jbngh

— Joyce Duboise (@JoyceDuboise) February 8, 2015
Every Christmas I search for the perfect card for my loved ones. Every year the same thing happens: I end up at Hallmark with multiple cards for each person. I just cannot resist and I can never make up my mind. Hallmark is and always has been my go-to greeting card connection. Not only do they have greeting cards; they have the best selection of unique and quality gifts, but that's another story. This year Hallmark released their #PutYourHeartToPaper campaign, along with their 2015 Valentine's Day cards.
There is one hopeless romantic writing these greeting cards. There is some sort of beautiful soul hiding behind these incredible designs. I am so thankful for the artists at Hallmark because they make it possible to #PutYourHeartToPaper. Hallmark has completely won me over with this campaign because they are using REAL love stories for inspiration.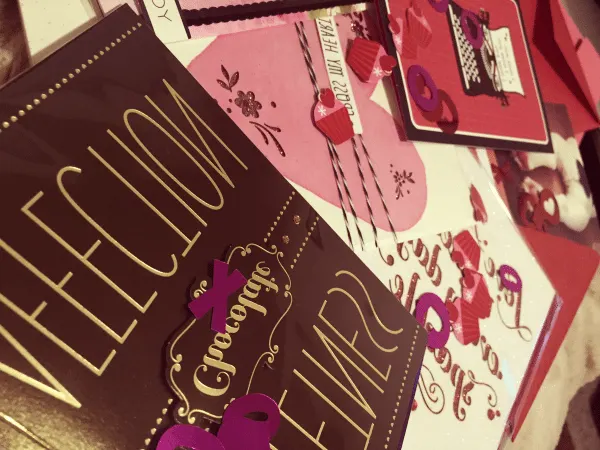 For Valentine's Day this year I am sending everyone that I love a Hallmark card. Not because the cards are beautiful or because I am promoting the Hallmark brand, but because I have so much love in my heart that I need to share it with everyone. This will be my first year away from my family on Valentine's Day and it will be my first year sending cards to everyone. I always love an excuse to spill my heart out and to make someone's day. I think it's important to let your family and friends know how appreciated they are. I am an emotional woman, but I am not great at sharing my feelings face to face. Writing is my forte, so I am going to take advantage of the moment and surprise everyone with a love letter. Who is on my mailing list this year? It is quite a hefty list: My grandmothers, my mom, my niece, my 4 best friends, and my Godson. Not to mention my loving boyfriend that gives me the world (I have 3 cards picked out for him).
Basically, the point of this post is to remind you to #PutYoutHeartToPaper with Hallmark this year. They have stylish, romantic, sweet, friendly, and funny cards for Valentine's Day. They have a little bit of everything for everyone. Always remember though, the card isn't what matters. It is what you write in the card, the heart that you put into it that matters.
Thank you for reading #PutYourHeartToPaper with Hallmark. For more t
Visit #PutYourHeartToPaper for inspirational tips on how to put your words to paper!
Connect on social media: Facebook / Twitter / YouTube / Instagram / Pinterest