In this Thor: Ragnarok interview, Rachel House speaks on Topaz's serious attitude problem, working with Taika Waititi again, and joining the Marvel Universe. This event is was hosted by Disney as part of the #ThorRagnarokEvent.
Rachel House is known for her continued collaboration with Thor: Ragnarok's Director, Taika Waititi. She's somewhat of a Good Luck Charm to him, so he brings her onto his other projects. What a compliment it must be for Rachel to know that Taika has that much faith in her. I must say, after she voiced 'Gramma Tala' in Moana and then rocked her role as Topaz in Thor: Ragnarok, I completely understand why he chooses her over and over again. She has a way about her that isn't easy to come by. With that said, I was really looking forward to this Rachel House Topaz interview. I just had to get into the mind of this powerful female character.
5 Fascinating Things about Rachel House becoming Topaz in Thor: Ragnarok
1. She had no problem keeping a straight face as Topaz
With all of the humor in Thor: Ragnarok, you'd think it would be quite difficult to keep it together during your scenes. Rachel House's role as Topaz is particularly hilarious, but in the most serious way. It's Rachel's very matter-of-a-fact, serious attitude that makes Topaz so fantastic. Rachel said it's no big deal to remain so serious:
I'm pretty used to keeping a straight face because I've done a lot of Taika's films, and it's always like that! It's kind of a character that Taika always makes me play.

But, some of the other actors weren't so good at it. They were losing it, especially Jeff Goldblum, because he was so funny! It's not even half of it what you see! It's not even a quarter of the improvisation we were doing. And Jeff was just so masterful at improvisation!
2. Rachel had more fun with Taika on Thor: Ragnarok than any other movie
Taika and Rachel have worked together many times, but only on very small, independent films. Usually they are in and out in "5 weeks" as Rachel explained to us. With Thor: Ragnarok, it was much different!
This is the first major film he's done. The others were very independent, therefore we had a very limited amount of time to shoot. And we had to literally run around in the brush, mud, snow and rain.

Yeah, it was fun but we had no time, you know? So, we just had to keep going. Whereas in, in Thor, because of the scale, we got to breathe a little bit.

Taika was allowed to play as much as possible. It was really great seeing him do that without any kind of time restraint.
3. Transitioning into 'Topaz' after voicing 'Gramma Tala' in Moana was easier than you'd think.
Rachel House is one of the sweetest and most timid actresses that I've interviewed. She's soft spoken and seems to be a bit shy. You wouldn't think so after watching her as 'Topaz' in Thor: Ragnarok or listening to her as 'Gramma Tala' in Moana. You'd think it would be difficult for her to become such a stern character, but it's not so bad for her:
It was kind of easy. It's the kind of character that Taika always makes me play.

It's funny because I play all these really mean characters, and I'm not mean at all. So, think he kind of enjoys that.
4. Rachel is actually a big fan of Tessa Thompson, despite the onscreen Topaz & Valkyrie beef.
Topaz's blunt comments about Valkyrie are some of my favorite lines of the film. They are unexpected and laugh-out-loud funny. However, this onscreen beef doesn't transition behind-the-scenes. Rachel House is a big fan of Tessa Thompson – even if she didn't necessarily realize it at first.
How the beef started:
It just happened naturally, with the encouragement of Taika. We were both trying to be warriors.
Behind-The-Scenes with Rachel & Tessa:
She's a darling. She's wonderful. I felt so embarrassed because I watched Creed, and I said to her, "Oh, I loved her in that boxing film." I always forget names of things. And then I realized that I'd seen Dear White People like three times, because I love it so much. And, she's in it! Once I realized it was her in Dear White People, I started Googling and seeing how much else she'd done.
Haha, it's okay, Rachel. We've all been there before.
5. Topaz's costume was the most challenging part of Rachel's role.
Some actors are naturals in the sense that the actual acting isn't difficult for them at all. They kind of just walk onto a set, do their job, and they are done. Rachel House is one of those actors, so when she was asked what the most difficult part of her role was – It was the costume:
To be honest, my costume was really stiff. It was hard to move. And also, when we were doing that spaceship scene, I was like, grr, 'cause it's quite stiff. It's beautifully made. The costume designer is out of this world. But it was a bit hard to move in!
This Rachel House interview was absolutely fantastic. She was truly a treat to chat with and definitely different than we could have expected after seeing her onscreen. She was gracious enough to take a photo with us afterward.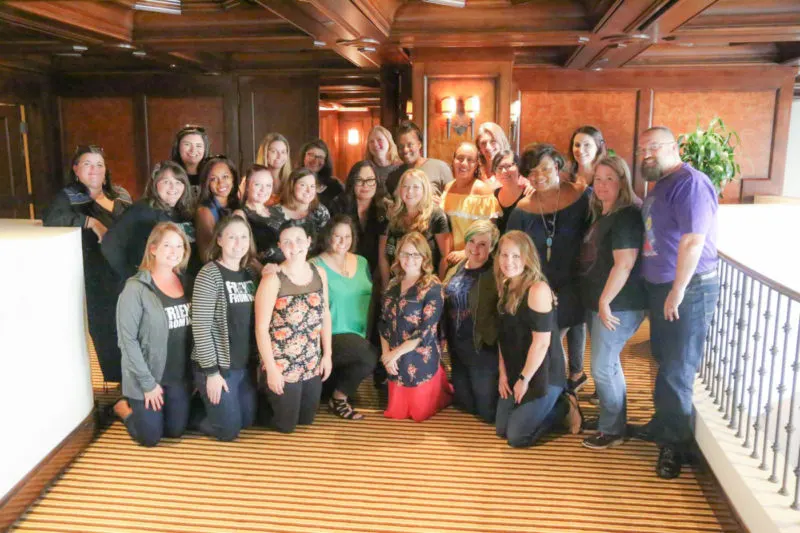 Check out this fun Rachel House Topaz interview from the Thor: Ragnarok red carpet premiere:
See Thor: Ragnarok in theater November 3rd
The newest Marvel movie to crash into the big screen this fall is is Thor: Ragnarok! In Marvel Studios' THOR: RAGNAROK, Thor is imprisoned on the other side of the universe without his mighty hammer and finds himself in a race against time to get back to Asgard to stop Ragnarok—the destruction of his homeworld and the end of Asgardian civilization—at the hands of an all-powerful new threat, the ruthless Hela. But first he must survive a deadly gladiatorial contest that pits him against his former ally and fellow Avenger—the Incredible Hulk! THOR: RAGNAROK is directed by Taika Waititi and returns Chris Hemsworth starring as Thor and Tom Hiddleston reprising his role as Loki. They are joined by Cate Blanchett, Idris Elba, Jeff Goldblum, Tessa Thompson and Karl Urban, with Mark Ruffalo and Anthony Hopkins.