If you're looking for a delicious Spring meal this season – I highly recommend trying the new Seasons 52 Spring Menu. Not only is their regular menu loaded with new spring dishes, they have a Hello Spring deal that's nearly impossible to pass up.
I was invited to my local Seasons 52 to give their delicious "Hello Spring" meal deal a try. After visiting for Valentine's Day, I was really looking forward to another visit. Seasons 52 is a restaurant you want to visit when you want classy dining with a casual atmosphere. The Seasons 52 in Altamonte Springs, FL is always so inviting. As much as we love the indoor dining experience, we decided to take advantage of the perfect spring weather. Plus, it gave my little boy a chance to run around after dinner since there weren't guests dining outdoors.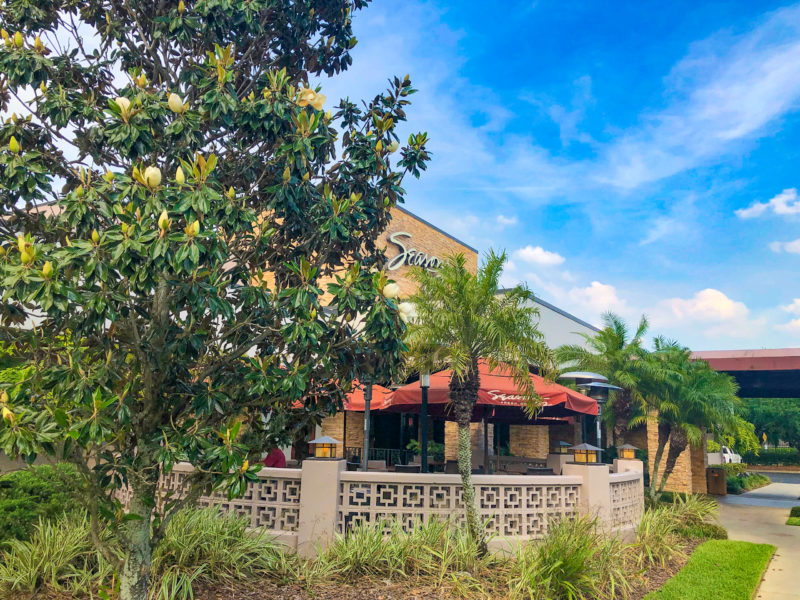 As usual, we were greeted by the pleasant staff and introduced to the new spring deals by our enthusiastic waitress. Because my husband and I are big planners, we already had an idea of what we were going to order. Honestly, I toyed with a few of the different options though. Correct me if I'm wrong by I'm pretty sure they made this menu just for me.
While I was already somewhat familiar with the meal deal due to my research, I didn't expect the new spring additions to the restaurant menu. If you visit your local Seasons 52, just look for the menu items marked with flowers to see which dishes are seasonal.
Seasons 52 Spring Menu & Deals
In an effort to give you a good idea of the menu, my husband and I decided to try one seasons starter from the regular menu, as well as different choices from the Hello Spring menu. So, let's get into it!
Grilled Artichokes with Lemon Hummus (seasonal starter)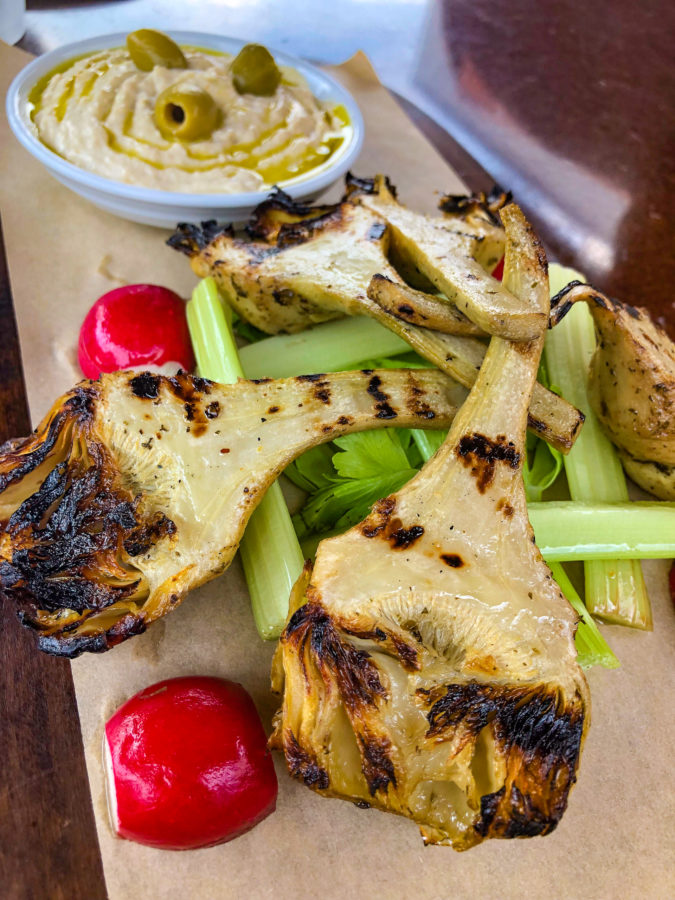 I have a slight obsession with artichokes and hummus. Put the two together and you've won me over. This spring appetizer had me begging for more. I'd eat this everyday if I could. I highly recommend this starter!
Hello Spring 3-Course Meal – $29.95 per person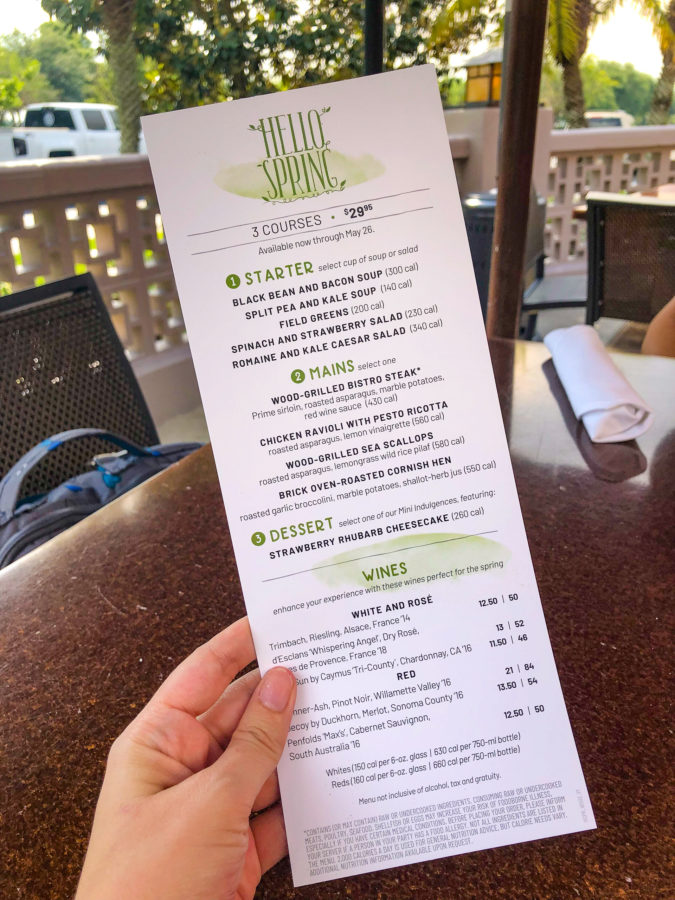 Now that spring has arrived, let's make the most of it with a special 3-course menu featuring the most colorful, flavorful, 100% fresh ingredients of the season. From March 19 – May 26, choose an appetizer, entrée, and irresistible Mini Indulgence dessert for $29.95. With 4 new, event-only entrees!

Spinach and Strawberry Salad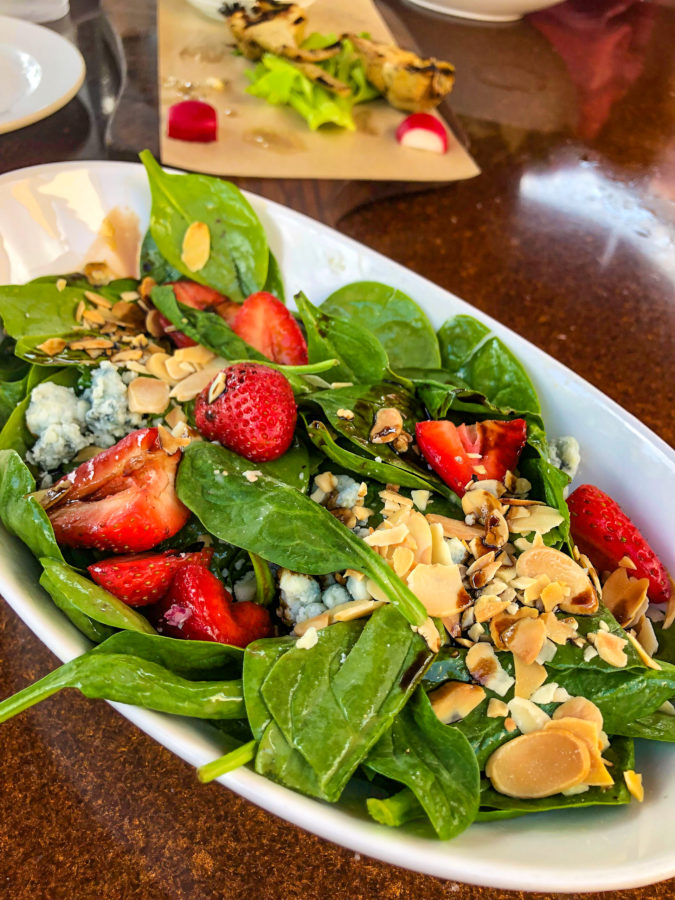 I almost ordered a soup for my starter but this salad sounded too yummy to pass up. I'm glad I tried it because it was the perfect spring salad. The strawberries paired perfectly with the spinach and basalmic dressing.
Romain and Kale Caesar Salad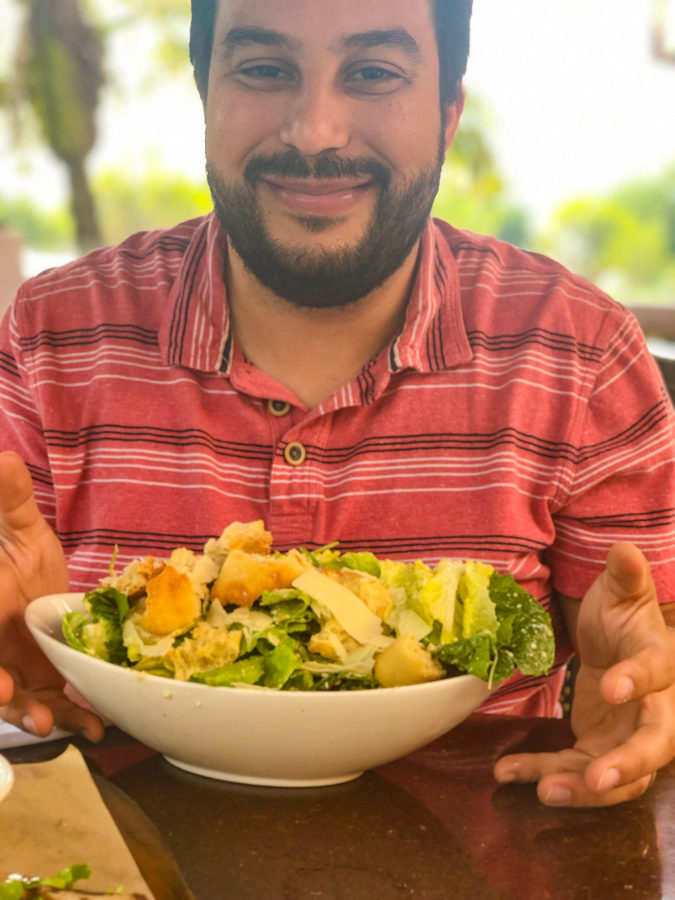 This was my husband's starter of choice and I giggled as soon as it came out. This salad is literally the size of an entree. It was huge and my husband said it was delicious. The housemade croutons are very impressive.
Brick Oven-Roasted Cornish Hen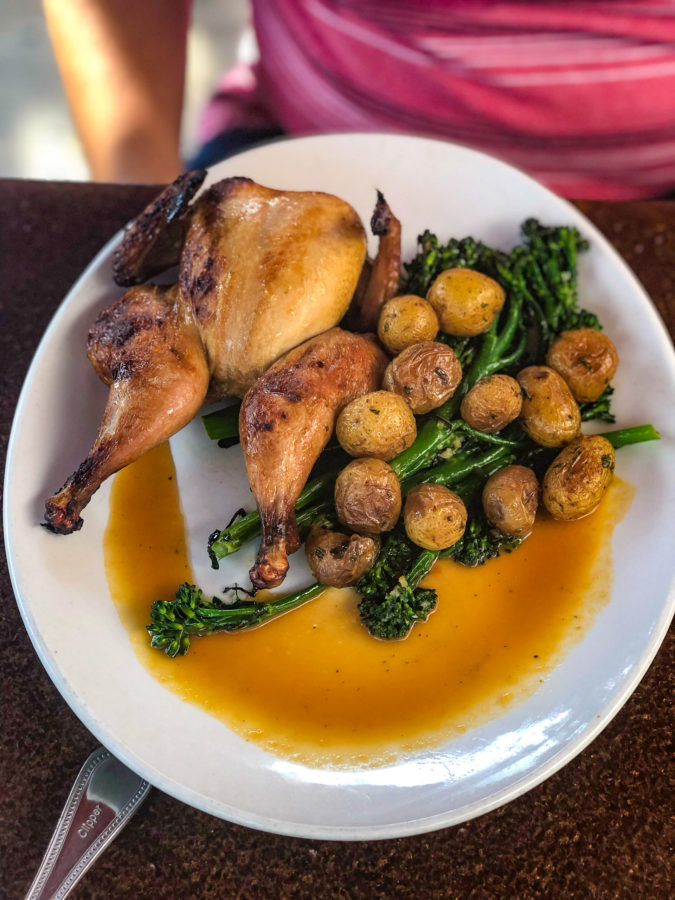 roasted garlic broccolini, marble potatoes, shallot-herb jus
The cornish hen was juicy, flavorful, and a great spring choice. Paired with the broccolini and potatoes, you'll have a meal fit for a king. Seriously, it's a full-size hen so be prepared to eat!
Wood-Grilled Sea Scallops
roasted asparagus, lemongrass wild rice pilaf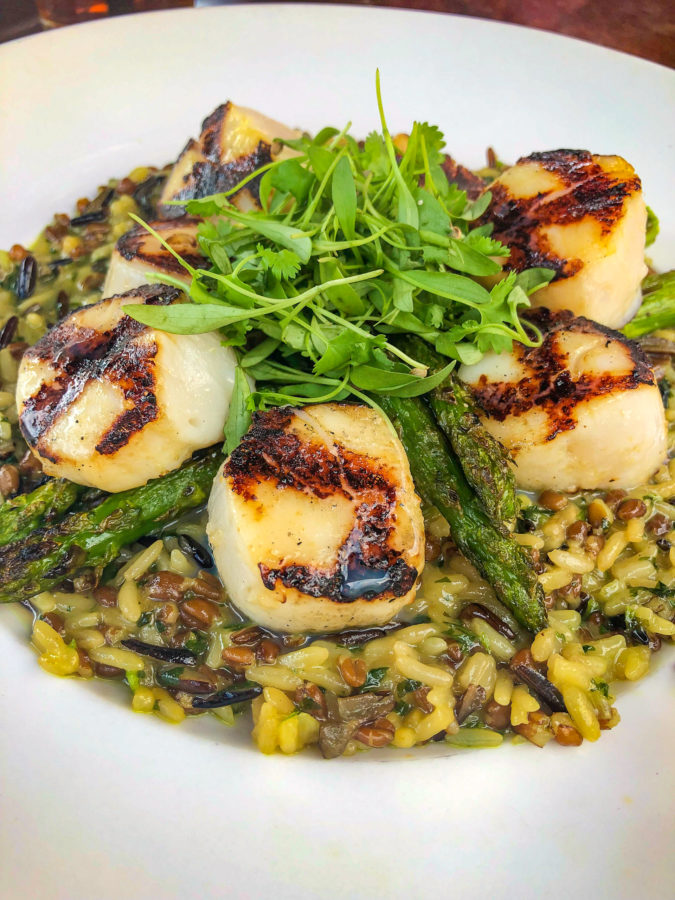 Scallops are a personal favorite so it's typically my entree of choice anywhere I go. The waitress recommended this dish to me with the description of a sweet flavored rice pilaf that ends with a kick. She was spot on! I highly recommend this to anyone who enjoys a little bit of sweet and spicy. The "kick" is just enough, too! So don't worry about it being too spicy. It isn't overpowering at all. This meal was really filling and I'd totally order it again. Also, it's pretty for Instagram.
Strawberry Rhubarb Cheesecake Mini Indulgence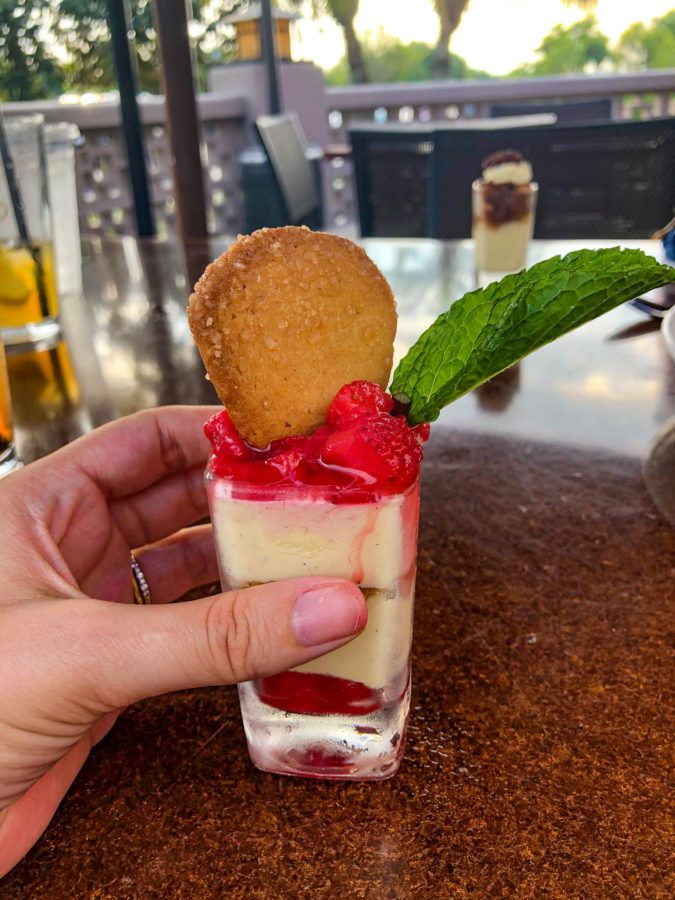 Being that this was featured mini indulgence on Seasons 52's Hello Spring menu, I knew I wanted to choose it. If you've never dined at this restaurant before then you don't know about their fun dessert "menu". Basically, the dessert menu is a palette of mini desserts the waitress brings to your table. I'm not sure if this concept makes it easier to make your choice or more difficult. Personally, seeing the desserts right in front of me makes me want to try a little bit of everything. While I already had the Strawberry Rhubarb Cheesecake in mind, seeing it with the sugar cookie poking out of the top, made me want it even more. I made a really great choice.
Pecan Pie Mini Indulgence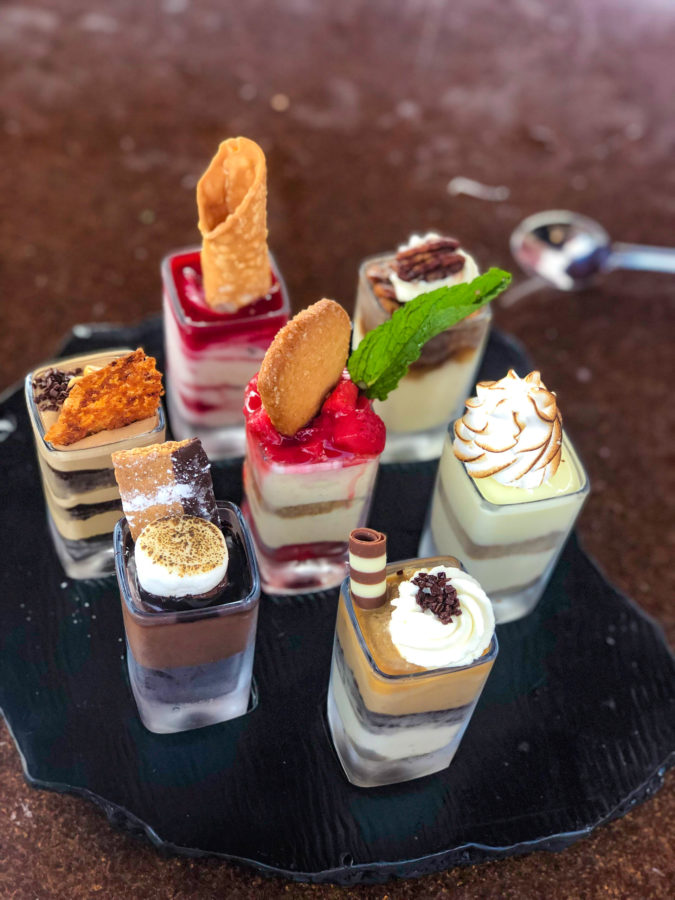 My husband chose the Pecan Pie Mini Indulgence which was his favorite last time. I'm not a big pecan fan but my husband swears that it's the best dessert he's tried in a long time. As you can imagine, he immediately decided that this would be his dessert of choice.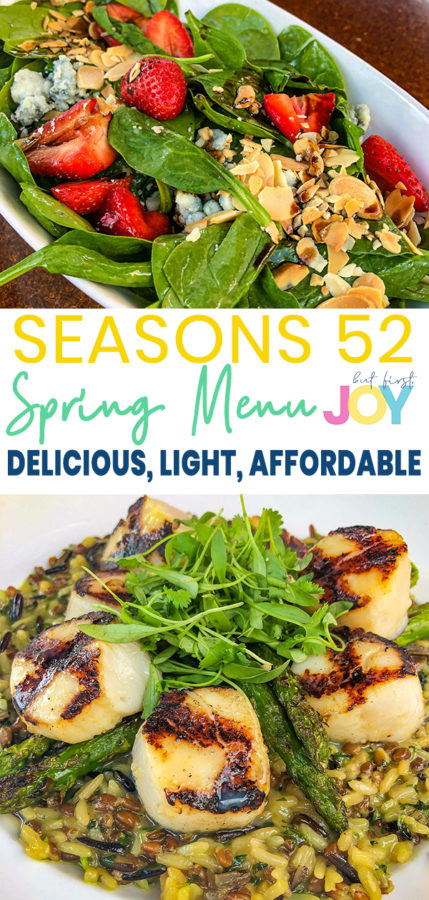 The Seasons 52 Spring menu was really impressive. You get a really great value for your money and the portion sizes are very generous. We definitely had plenty of leftovers.
If you're looking for a nice meal to enjoy with the entire family, visit your local Season 52 to take advantage fo the Hello Spring menu deal. For under $30 a person, you get a lot of quality dishes!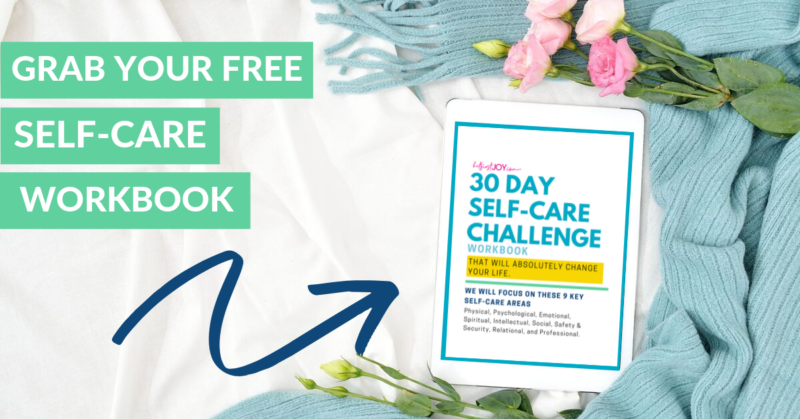 DISCLOSURE
This post may contain affiliate links and/or promotional products, all opinions expressed are that of But First, Joy only. Read my full disclosure.